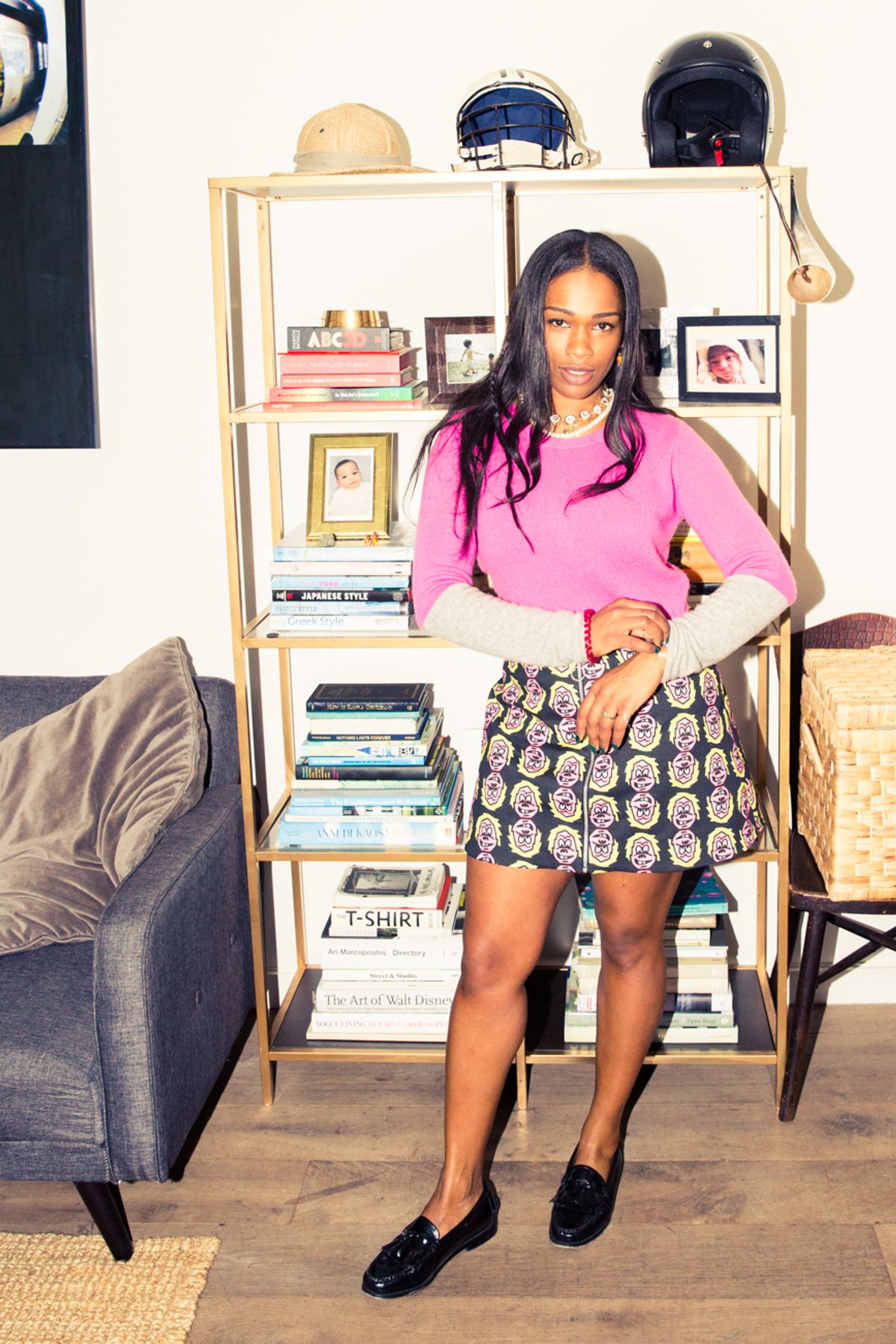 Closet
Wah Nails Founder Sharmadean Reid loves an Alexander Wang sandal and Acne. London.
Renée Rodenkirchen
Meagan Wilson
We like to maintain that around these parts, we don't play favorites. Or at least, we
try
not to. We mean, how could we? There's no comparing or choosing between, say,
Peter Marino
and
Suzanne Rogers
, or
Sarah Harris
and
J.J. Martin
. But when we most recently found ourselves in London, we have to cop to feeling especially excited for the very last shoot of our trip. Why? Two words:
Sharmadean. Reid.
The
Wah Nails
founder has been on our radar since, well, forever: Her nail line possesses a cult following, having had pop-ups in Topshop, Harvey Nichols, Opening Ceremony Tokyo, and Selfridge's, plus its very own eponymous line of products that predates the launch of Coveteur. That, and you can pretty much always find her in some screenshot-worthy ensemble that expertly mashes Balenciaga with high-street pieces and vintage. In other words, the Central Saint Martins grad has the whole London-native, no-fucks-given cool thing down pat. Get it? We showed up at Reid's flat, adjacent to Portobello Market, and were immediately greeted by her super-cute son Roman, who was in the middle of a Sunday
Star Wars
marathon. Pulling on a lilac sports jersey with a holographic miniskirt covered in zippers, we immediately jumped into simultaneously shooting and digging through Reid
'
s wardrobe, where we found everything from a camo Supreme bomber jacket covered in pins, to a pastel pink midi skirt with a furry stole to match. As it turns out, Reid's all about the opposites: "I like to be a bit uptown, and a bit downtown; I think this is a very British attitude to dressing." Told ya so. And the good stuff didn't stop there: We also stumbled across pieces from her pal Nasir Mazhar, an endless supply of strappy black
Alexander Wang
sandals, monogrammed
Smythson
notebooks from every single year of her business, and miscellaneous goodies from
Acne
,
Opening Ceremony
, and
Kenzo
, to name a few. Most fascinating, though, was how varied and diverse Reid's references are: We spied everything from Cindy Sherman and James Turrell coffee-table books to Supreme decks and a Jenny Holzer print. We were also filled in on Reid's career so far—from (fun fact!) how she got her start as a stylist (she assisted Nicola Formichetti) to receiving an MBE (!) for her services in the nail and beauty industry. And with that, she changed into a fire-engine orange-y red kimono, threw her hair into braided pigtails for a few we-had-to shots on her new rooftop patio with Roman (in a Superman bodysuit, because, of course) and some laser guns. Would you expect anything less?