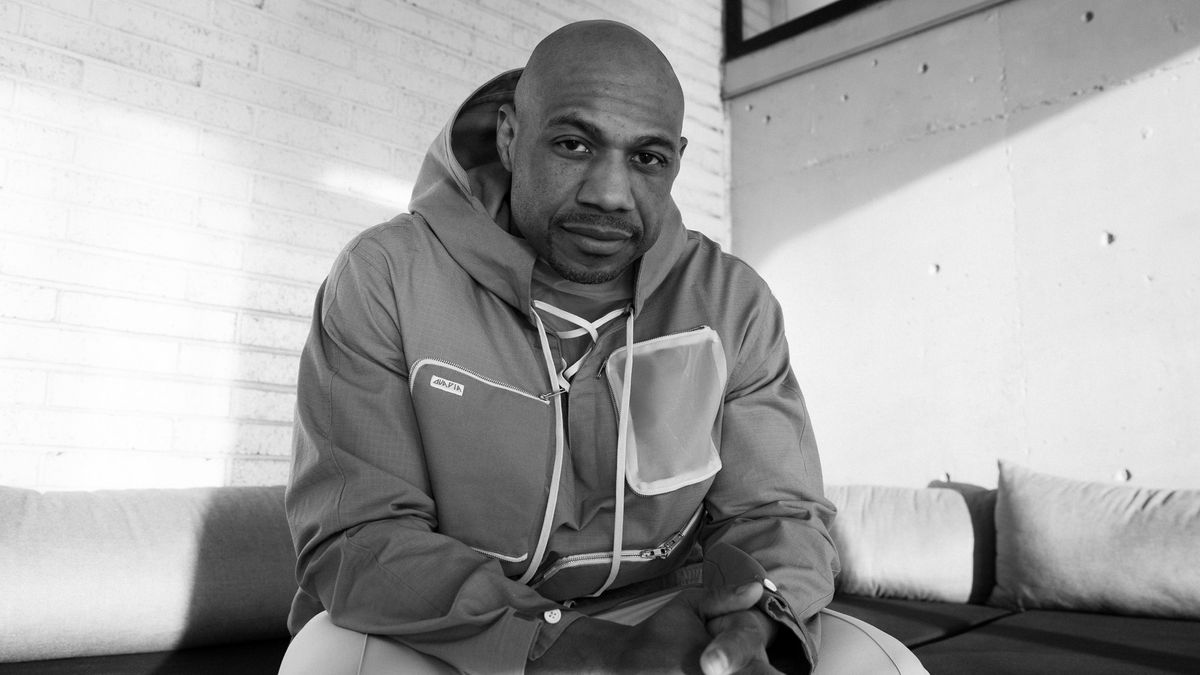 Career
From Roc-A-Fella Records to managing Saint Jhn and diving headfirst into the TV and film space.
Alec Kugler
Graphics
Ashley Combs
It's hard to ignore 
Kareem "Biggs" Burke
's name. It's been in the credits of HBO's new film 
O.G.
, which he executive produced. He's made a big return to music by signing the quickly rising Brooklyn singer, songwriter, and rapper 
Saint Jhn
 to his
new management company
, Circle of Success. His deal with Valence Media probably caught your eye—the company recently inked a production deal with Burke's own Bolo Media. His national prison ministry program, NCS-Inside, is worthy of even more attention. And let's not forget Burke's two clothing brands, ReDo96 and 4th of November, the latter of which he relaunched with Emory "Vegas" Jones.
---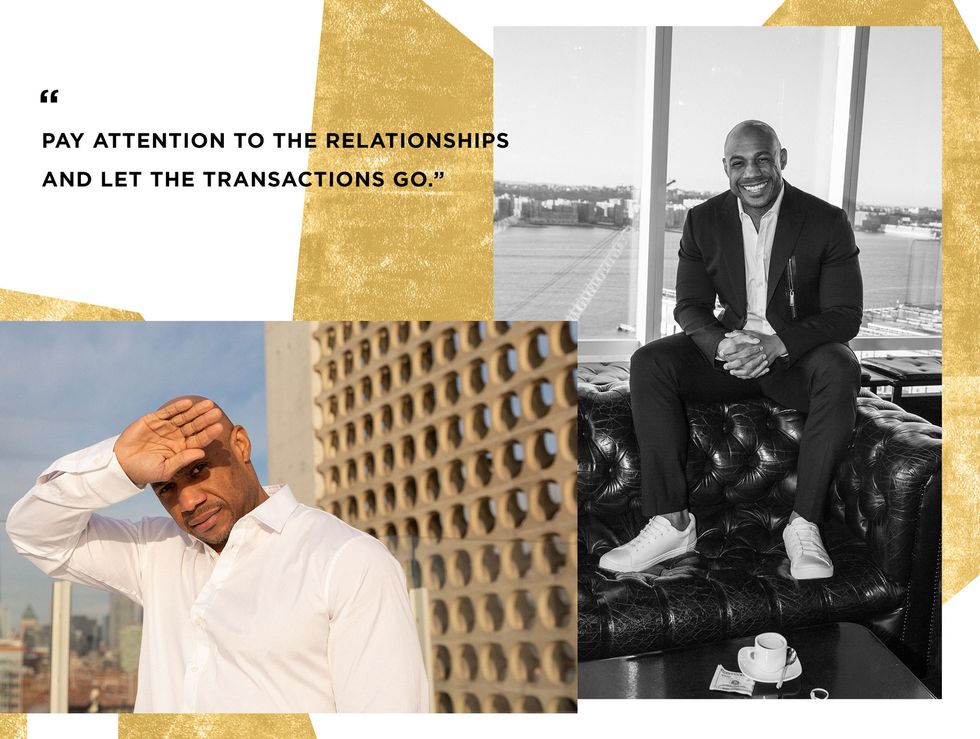 To say that the Harlem-born mogul has been busy would be an understatement. While you might question how one person manages to juggle so many ventures at once, remember that this is the same man who co-founded Roc-A-Fella Records alongside Shawn "Jay-Z" Carter and Damon "Dame" Dash in '95 and executive produced every *single* album from the label before they sold to Def Jam in 2005.

Burke is a pioneer in the music industry, and his sights are set on having the same meteoric success he did a few decades ago. But things are a little different this time around. Burke is the first to admit that he used to only focus on the potential transactional outcome of his relationships, but now he's flipped the script and is investing in building strong and meaningful relationships first, and if any business transaction comes from them, then it's a happy plus. It's this evolution that brought us together on a sunny afternoon in New York. As we sipped on coffee, overlooking the skyline, Burke reminisced about his childhood, divulged his thoughts on the current state of the music industry, and told us the one thing he would have done differently.
How his childhood shaped his being:

"Being evicted as a kid and going through tough times, it did two things: It gave me tough skin, but at the same time it gave me so much drive to never be in those circumstances again.

"My brother Bob was somebody that I really looked up to and wanted to be like. Everything he was is who I wanted to be. He was four years older than me, and he taught me everything from packing bags to selling newspapers. As a little kid, at five or six years old, I was selling fireworks, [and] that was probably how I got my business acumen."

The moments from his career he's most looking forward to sharing with his future grandchildren:

"One highlight is starting the business Roc-A-Fella—something that changed the culture all over the world. But I think being diverse and learning so much about different businesses is something that I really loved. Being in film, music, spirits, and fashion is something that I can look back on and be proud of. I would say the biggest thing that I am proud of is the people who came under us, the people who worked hard that were interns and now they're high-level execs and owning their own businesses. That puts the biggest smile on my face."


The most notable changes in the music industry over the last few decades:

"The sound. There's always something new that's coming out. I mean, even when we came in, the older guard didn't appreciate what we were talking about, because we started talking more about lifestyle. Even though Jay was lyrical, he added so much lifestyle to [his songs]. The sound has changed again, so people have to pivot and adapt. At the same time, with the internet, like Gary Vaynerchuk says, [you're] able to use that platform to market yourself. There's more people being independent and taking their business or career in their own hands. I like the newness of what's happening, and I like to pivot and understand what's happening in the marketplace and try to do something that's innovative."

He's paying it forward with his national prison ministry program, NCS-Inside, through non-profit New Canaan Society:

"[It's important to me] because of what happened to me in prison and [to] see that people come out and don't really have anything on the outside. I think the misconception is that when people leave prison everything is fine, but it's the relationships that keep them grounded and help them to not make mistakes. It doesn't matter if you're out and you're married or you have a job, you still go through hardships, you still have bad times. [NCS is] all about relationships and giving them a platform to come out and talk and be vulnerable and hear from people—also bridging that gap with guys who looked at inmates differently. Make them see that, look, just because you made a bad decision doesn't really make you a bad person."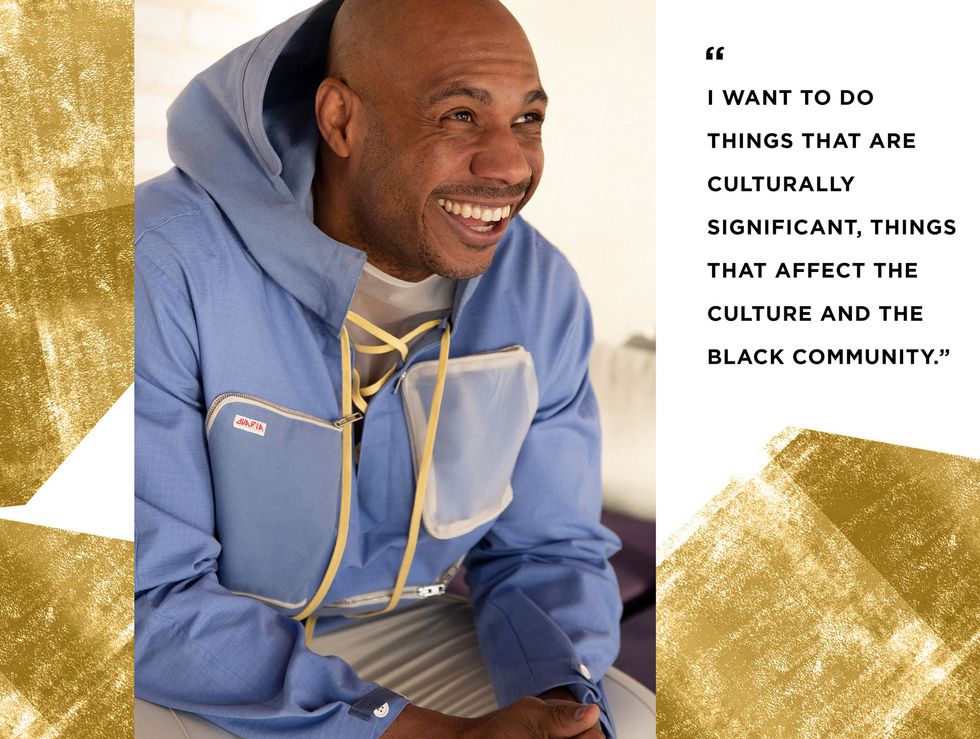 Looking back on everything, there is one thing he would have done differently:

"I would have probably had more faith in the Lord early on. I was atheist, and I didn't believe in God until 2014, when I gave my life to the Lord. If I could change things, I would have been an early believer. [It's changed] the way I look at people, the way I treat relationships, the way I look at life. At the same time, relationships have become more important to me, when early on it was all about the transaction."

2019 is going to be a big year:

"Bolo Media is going to be a big part of that—my media company that I'm launching with MRC, Valiance Media. I'm getting back into the TV and film space. I'm really excited about that. I'm getting back into the music business after 13 or 14 years. I'm excited about that because of Saint Jhn and the energy he has and the talent that he has. I know that there's going to be a day where he's performing in arenas and stadiums, and I'm going to be able to look up and probably have a tear in my eye, like I know that this guy wanted this so bad, and just feel fulfilled that I was able to help him get on that platform.

"I want to do things that are culturally significant, things that affect the culture and the black community."


The best piece of advice he's ever received:
"I would say it's probably to pay attention to the relationships and let the transactions go. Early on, it was all about the money. Now, for me, it's all about the relationship, and if something comes from that, then I'm OK with it, but if it doesn't, I really pay attention to the relationship. I'm more about building that than anything else. It's important to have people around that you want to be in a relationship with and work with. It's more fun. People that work with me, I want them to be able to come to my house for dinner. Early on, it was just about business or the transaction or how we can make money, even if it was something that was volatile."
What he wants to be remembered by:
"I want to be remembered as a child of God. Somebody that tried to help people. I mean, I'm a fallible human being, I always make mistakes, but just somebody that tries to take the time to offer some advice or to help somebody get to the platform, wherever it is that they want to go."
Shot on location at Le Bain at The Standard, High Line.
Want more stories like this?
Gunna's Drip Is Here to Stay
It's Going to Be Impossible to Avoid Saint Jhn This Year
30 Years Later, Slick Rick's Closet Is Still Rammed with Color & Fur