Living
The inclusivity conversation needs to get a whole lot deeper.
High Maintenance
—the HBO comedy-drama about a nameless marijuana dealer that bikes around Brooklyn to serve his eccentric clientele—is the best part of my Sunday nights. For the uninitiated, the thirty-minute show offers a quirky, warmly observant look at the lives of New Yorkers from all different backgrounds (think exhausted immigrant waiter; Jemima Kirke cast as herself, struggling to get through a day of filming) with their varied use of pot acting as the only thread from episode to episode. It's comically mundane and a sure sign of the times: Marijuana is everywhere, and everyone wants to talk about it.
The whole cannabinoid family tree is having quite the moment right now, whether we're looking at actual smoking and vaping, or the rise of
CBD-infused everything
, from
facials and cleansers
to
gummies
and kombucha alternatives. The industry is growing exponentially, quickly shifting its face to one that exudes wellness, mental health, and dollar bills—but like, in a totally chill way.
Legally, momentum is picking up just as fast. The reality is that in California, Washington, D.C., and nine other states across the country, walking into a dispensary to pick up some weed is just as easy as getting your regular order from a bodega. New York could soon be jumping on that bandwagon, too,
after Governor Andrew Cuomo announced
in December of last year that he would push to legalize recreational marijuana in 2019. It's a huge move, one that could bring in more than $670 million in taxes, 
according to a report
by
The New York Times
, along with a
slew of other glowy incentives for the state
. Surely, it's an exciting time to be a fan of cannabis in any and all of its wondrous forms.
But as a black woman in a relative state of privilege, it's hard not to look at all of these things—a silly show, a new Insta-friendly CBD-infused serum, or Governor Cuomo's proposal—and not be left with the messy, complicated feelings of frustration and skepticism that come with knowing that people who look like me don't get a fair shake in this industry.
Figures shared by the Mayor's Office of Criminal Justice show that 89 percent of all New Yorkers arrested for smoking marijuana last year through November were either black or Hispanic, while just 7 percent were white. It's the story of racial disparity and the fallout of the "war on drugs" that plays out in every state across the country. And while Governor Cuomo himself cited those very inequities as a reason to pass this new legislation, there are still a myriad of other systemic disparities that need to be addressed and entered into the public conversation before the industry—with corporate beneficiaries largely comprised of the white, wealthy, and male—can truly start to feel inclusive.
---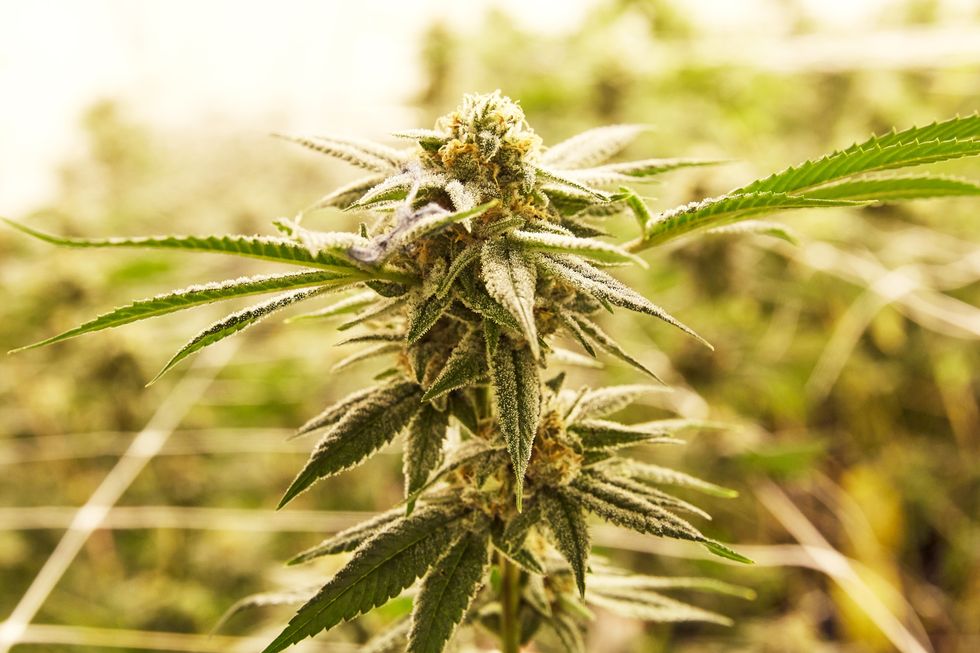 To that point, it's important that we encourage dialogue around the fact that, so far, every state that has legalized medical or recreational marijuana still bans people with drug felonies from being involved with a legal cannabis operation in any official capacity. Meaning that after taking the hardest hit of disproportionate incarceration on both an individual and community level, black and brown people largely miss out on the financial and economic opportunities created by any new, seemingly progressive legislation.
Another tent pole missing from the conversation? Money. It's estimated that at the very minimum, it takes a quarter of a million dollars (!!) to start a legal marijuana operation. Are we, as people of color, supposed to believe that those running the show aren't aware that after centuries of systemic inequity, black and brown folks are far less likely to have access to such capital?
"I would say that's our number one barrier into the industry," Amber Senter, co-founder of
Supernova Women
—an Oakland-based organization that educates and empowers women of color to have a real stake in the flourishing cannabis economy—equity advocate, and dispensary owner, explains over the phone.
"For a consulting firm to write the application, it would be a minimum of $30,000, and this is just a person that's going to guide you through the process. Even if you know what you're doing, you know, your retainer for your lawyer is $10,000. Your architect is $10,000. Then you have go through all of these inspections, maybe even buy a building. If you don't buy a building, you're leasing a building, paying premium rent because it's a cannabis property and you have to pay a ridiculous deposit," Senter continues. "There are so many pitfalls, it's unbelievable."
For people of color who chose to involve themselves in the industry in capacities outside of just growing and selling, the issues of visibility and credibility safe from stigma are a whole other beast to tackle. It's the reason CEO Mary Pryor co-founded
Cannaclusive
, an organization whose mission it is to facilitate fair representation of minority cannabis culture, from networking and educational opportunities to launching a
Flickr stock photo project
aimed at offering up diverse imagery of people of color smoking weed where we don't look "bad" or stigmatized. "You know, there's only so many Wiz Khalifa and Snoop Dogg images we can do," she laughs.
As most black women are, Pryor is hyperaware of the ways in which white folks have had an easier go with cannabis—be it recreationally or for profit—and doesn't shy away from the opportunity to share the ways in which those privileged individuals can be sure they're acknowledging the racial disparity.
"I'm not going to tell anybody who doesn't get it to step outside their zone and to start getting it, right? But I will say this: Look around you," she says. "Remove cannabis from the equation, and look around you. If you don't have any friends that are of color—black, Latinx, Asian, Indian, Arab, gay, trans, bi, lesbian—and all you do is exist in a monolithic bubble of whiteness? That's a problem that you need to fix. By fixing that, it opens you up to the complexities and the realities of the world that is actually here. But you have to want to do that."
It's that truth that brings me back to those messy, complicated feelings about enjoying the new developments in the industry. Do the white folks in the writers room of
High Maintenance
 or the team behind the latest buzzy CBD-beauty treatment understand the muddied history of this industry? And do they care?
While it's not a question for which I really desire an answer, it's comforting to know that there
are
brands out there today playing in the space and doing the work. Take Instagram favorite
Not Pot
, a line of
CBD-infused vegan gummies
meant to relax the body. Accompanying the brand's cutesy millennial-bait packaging and social presence is a
no-frills, up-front mission
meant to address the criminalization of race and poverty present in the industry.
As part of this mission, Not Pot works with
The Bail Project
, a non-profit organization designed to combat mass incarceration by paying one person's bail every month. It's one simple way of giving back to the community that built the industry and desperately needs support because of it. But over email, founder Kati Holland makes it clear that there are plenty of other ways for non-POC in the industry to follow suit.
"Support people of color in the industry, whether it's through purchasing products, hiring talent, or working with organizations that not only acknowledge the unjust history of the cannabis industry, but actively seek to improve it," Holland shares. "It's OK if you make mistakes or get some things wrong in the process of trying to do good, but doing nothing isn't an option anymore."