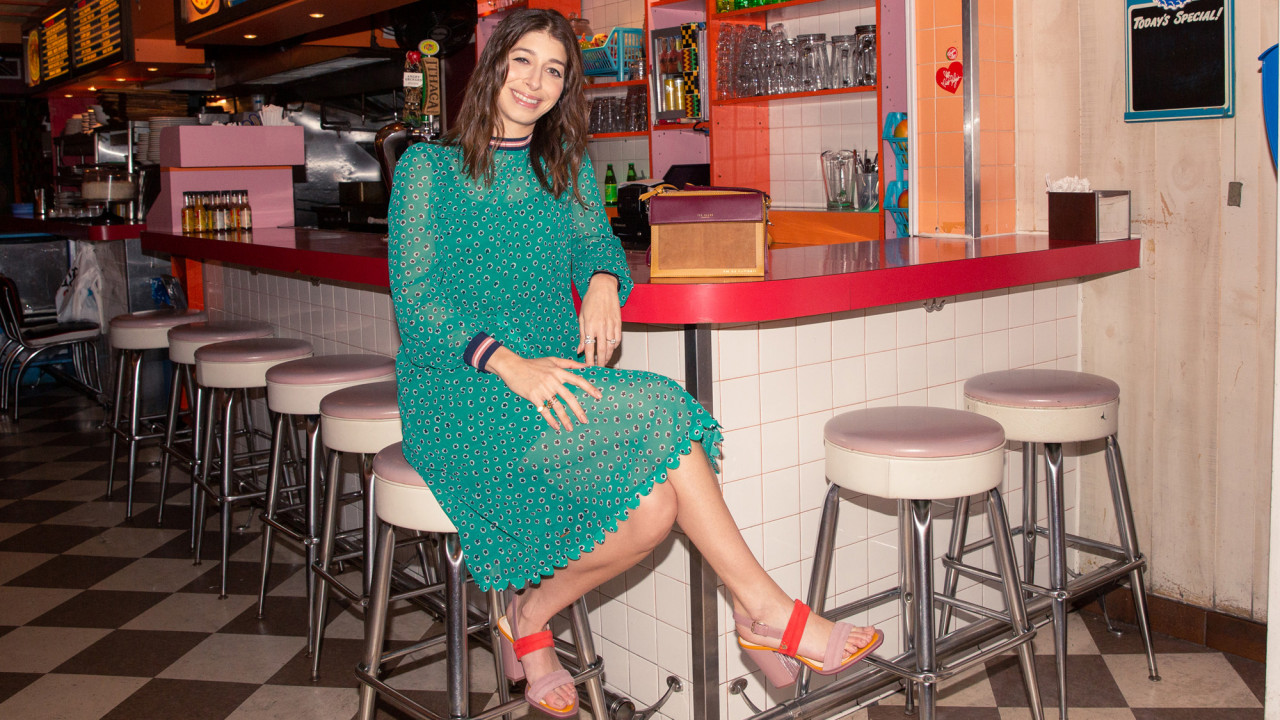 How to Stand Out in a Fashion Capital
We suggest matching your look to NYC's most vibrant places. In collaboration with Ted Baker.
While known as one of the fashion capitals of the world, New York City has an all-black-dress-code reputation. Fashion weeks aside, most New Yorkers rely on monochrome basics to get them through their subway commutes, meetings, and Uber rides home. Plus, being in the thick of the dreary grey winter weather doesn't inspire one to go outside their color comfort zone.
But let's be honest, when you look around, NYC is full of vibrant hues! From graffiti walls to restaurants made for Instagram fame (and beyond), and shops that rival design houses, most establishments in the city are chock-full of color and life. This caused me to think, why blend in with everyone else, when I can stand out and be inspired by the amazing environments I'm in! Basically I want to match with the wallpaper wherever I go and this task was made substantially easier by incorporating pieces from Ted Baker's Colour By Numbers collection. Check out my most colorful places to visit in New York below.
---
MISS LILY'S
---
You can't help but feel happy the second you set foot inside this Jamaican-themed restaurant. There's reggae music blasting, and the decor will transport you to a tropical oasis—and who doesn't want that? To kick off my color experiment, I wore a green dress, perfect to match the palm trees and beachy vibes of the island, and a sandal. This, to me, is a perfect colorful date-night look. It's fun, but the open-toe shoes kick it up a notch.
To match the tone of the record-covered room at the back of Miss Lily's, I opted for a blue-and-red dress, and pared it down with sneakers—perfect for grabbing dinner with friends and perhaps heading to an impromptu dance party. My hands-free hip sack also makes all that a breeze.
One can't help but feel relaxed when walking into Tula House. Although the store is bursting with color, the overall aura and all the plants urge you to take your time and walk around. For an afternoon here, I chose a blue-and-white pajama-inspired look. It's an easy way to depart from what my usual go-to for this would be: jeans and a t-shirt. It allowed me to play around and really nail the look to match my environment. In addition to feeling colorful, I felt special and confident knowing I was having fun with my outfit and going outside my comfort zone.
Bonus points: You can make your own little bags of soil there, and they also have a plant shower!
---
Tribeca Dream House
---
To find some inspiration, I set out to some of the city's most colorful haunts. I started the day at Tribeca Dream House—a haven to escape the city and to come and meditate. Or to simply just chill. Filling up each of the six rooms are different types of music and light installations. Supported by the Dia Art Foundation, this is the perfect place to unwind and de-stress while seeing all the colors of the rainbow. Since comfort is key for a place like this I would pair one of my favorite shirts with either silk pants or a skirt.
---
Coming Soon
---
Perfectly curated, the space has an eclectic assortment of home goods and furniture, and almost anything in between—think designer matchsticks and pink velvet vintage couches. In keeping with our theme, everything in here is supremely colorful and guaranteed to have you leaving with a smile on your face. To fit the stylish decor (and patrons) I would wear an on-trend Prairie style dress in a bold color  and style with neutral flats.
---
Di An Di
---
If you manage to score a reservation at Di An Di, you are in for a treat! This Vietnamese restaurant smack in the center of Greenpoint does not disappoint—in color or flavor. Walking in, you are instantly hit with palm trees and lots and lots of pink, but the food stands out just as much as the decor. Dishes are a great hybrid of traditional Vietnamese food and Di An Di's own twists. My favorites include the shredded chicken salad, pho thin, and the char-grilled Japanese eggplant. Since the restaurant gets packed I would suggest wearing something sleeveless, easy to move in and breathable (and obviously very on trend) like a long flowy dress or jumpsuit.