6 Powerful Women on What It's Like to Be a Woman in Music
They got real about what it's like to work in the male-dominated industry and how they're working to change that.
Career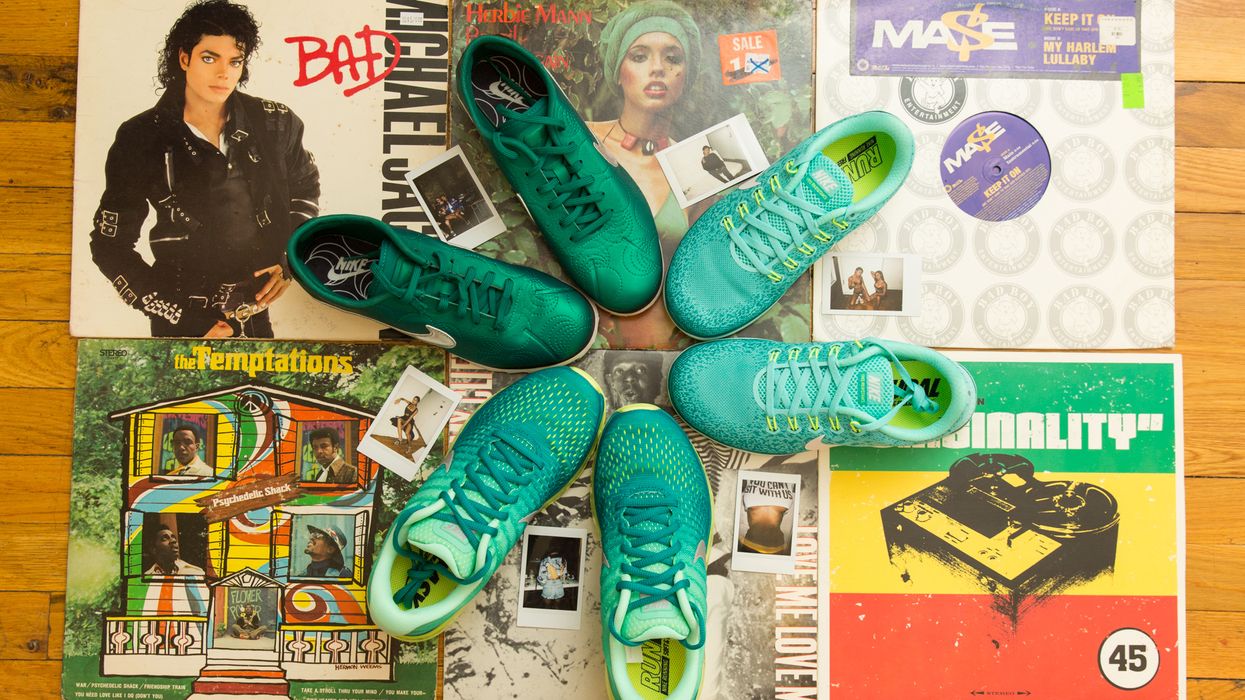 Sure, yesterday was officially 
International Women's Day
, but let's not forget that the other 364 days of the year should be celebrating women just the same. For eight years here at Coveteur HQ, we've been lucky enough to work with some of the most inspiring and influential women, not only within our own company but in hand of creating beautiful content across a
range of industries
. The music industry has been a haven for such women, and so we asked a few of the ones who have inspired us to share their insights on what it's like to be a woman working in a "boy's club,"  how they deal with discrimination, their reactions to 2018's
male-dominated Grammys
, and how we can work to eliminate inequality in the industry. 
---
On women in the music industry:
"Initial thought: [There's] definitely not enough of us. In recent years there has been an increase in conversations on the importance of an equal playing field, equal respect, and equal pay for women. However, to see the same amount of women in the same positions as their male counterparts is rare. Are we supported? I like to think that, but I think the support is more of an awareness at the moment, and maybe a few more opportunities, but not real power allocated or administrated equally."
Her thoughts on it being a "boy's club":
"I've never let gender or the fact that I'm an immigrant dictate what I am and am not capable of doing. While other people have seen me (a woman) with them (boy's club), I've only seen industry professionals working with each other, giving each other the respect we each deserve. I don't see barriers—if I can get the job done, then I do the job."
How inequality can be fought within the industry:
"Offer real, empowering opportunities to one another. The compliments and patting on the back is not good enough—positions of influence and power are. If you recognize someone's talent and abilities, you should be able to reach out and say 'You are great at this, there's this opportunity available,' or 'I have a contract or a position for someone like you.'"
Her advice to young women looking to get into the industry:
"Research the position that is most inspiring to you. Know the people you are doing business with and study them. Study those that came before you, and don't be afraid to get your hands dirty, speak your mind, or fight for what you believe in. Do your research, and be sure of what you are talking about
—
that way no one can ever tell you that you're not good enough because you're a girl."
On women in the music industry:

"Being a woman in the music industry has its difficulties [and] sometimes setbacks. Once you find your space in this industry, focus on being the best version of yourself and dominate! The conversation then no longer becomes a matter of being a woman, it becomes a matter of being the best, [and] whether you have a vagina or a penis won't matter."

Her experience with discrimination in the industry:

"I recently experienced discrimination. My work and my results was being discredited because a man didn't want to say and/or admit how essential I was to the success of a brand, and I felt it was because I was a woman. There were times I couldn't find my name on call sheets because it was important to him that I wasn't seen as a necessity. I stayed focused on doing what I came to do, I maintained my peace and gave it to God. He dealt with it!"

Her reaction to this year's Grammys:

"My thoughts on this year's wins were simple: There should have been more female recognition and representation. The soundtrack to our lives in 2017 was led by women, and it was disappointing to not see that reflected at the Grammys."

The most difficult part of her career to date:

"Finding a balance between newfound success and being a mother. Before I am anything, I am a mom to a beautiful son, Brave, who deserves the world! Everything happened so quickly with my first client dominating the industry and the intake of more clients. It was difficult traveling, being in and out of town for meetings, video shoots, awards shows, etc., and my son not being by my side."

On how inequality can be fought within the industry:

"By calling it out, refusing to work with individuals who don't share our same views, and not tolerating certain behavior."


Director of Marketing & Founder of Sincethe80s and Personal Manager to 21 Savage
On women in the music industry:
"We're killing it right now. There are so many successful women in the music industry, especially behind the scenes, really holding shit together. I feel as though that will only increase because we're finally learning to put one another on, which is important to our growth in this male-dominated industry."
Her thoughts on it being a "boy's club":
"I'd prefer to strike the focus on being a
'
woman
'
and rather be recognized as a hard worker. We're all way too caught up on the gender thing."
Her reaction to this year's Grammys:
"Meh. I wanted to be upset about SZA not winning after all of her well-deserved nominations, however, I just had to be happy she was nominated. My personal album of the year was Childish Gambino's
Awaken, My Love!
, but I'm still very happy for all the wins Kendrick Lamar had—he's in my top five."
The most difficult part of her career to date:
"Combatting old-fashioned thinking within the brand, agency, and marketing world. It's been an uphill battle getting brands to respect [21] Savage for his accolades and influence on the culture—a battle I fight daily. We're thankful for brands like adidas, who have openly "taken a risk" by partnering and supporting him."
On how inequality can be fought within the industry:
"To be honest, I'm not sure that inequality will ever truly go away. Maybe when I'm long gone and my great grandkids are running shit. Right now it's beyond a societal norm, and all we can do is continue to put each other on [and] encourage brands to get more people of color and women of color in the room. If there were more people of color working at Pepsi, that silly Kendall Jenner commercial would've never seen the light of day.
"In the music industry, you have to hire people of the culture. If you're not actively participating in the culture, you shouldn't be allowed to profit from it. I hate the word
'
culture,
'
but you get it."
How she got her start:
"I grew up in Harlem, inspired by its incredible vitality. After graduating from the Wharton School of Business, I took my first job as a secretary at Buddah Records. I started at the bottom, performing a variety of jobs, gaining valuable experience at different labels. I eventually was presented with a great opportunity to become the Chairman of the Elektra Entertainment Group, the first African-American woman to hold such a senior position. I am currently the president of Epic Records, overseeing the label's entire operations. I've been in the business for 40 years, and every day I learn something new."
On women in the music industry:
"No industry is immune from gender bias. We at Sony have been focusing on diversity issues within the corporation, working to identify our company culture's strengths and weaknesses, and implementing policies that continue to foster an inclusive workplace environment."
Her thoughts on it being a "boy

'

s club":
"The 'old boy network' mentality divides the workplace. The increased awareness of sexual harassment has been a catalyst for women across the board—bringing these issues into the national conversation is helping to change the narrative. The ultimate goal for every company should be to eliminate gender inequities and create a racially diverse executive pool that reflects the greater culture as a whole. Diversity breeds success."
On discrimination in the industry:
"We live in a world where the glass ceiling still exists. The key to breaking through is never undervalue your work. Yes, you will have to prove yourself and possess the self-confidence for that next step, but your successes will open doors for those who come after you."
On women in the music industry:

"There's never enough women anywhere. As women, we're conditioned to think that because there are so few of us in these positions, it means that [there isn't room for more]. The internal competition that's created stems from a top-heavy industry."

Her thoughts on it being a "boy

'

s club":

"I don't think men are the problem—I work with plenty of guys that want to work with women not because they're women, but because they're the best people [for] the job. The conversation and how we define the issues needs to change as a whole."

Her reaction to this year's Grammys:

"Everyone who won deserved to win, so let's not take that away from the winners. We always expect the Grammys to champion the underdog at least just once, and it's a reminder of how far we've come and what's left to do."

How inequality can be fought within the industry:

"Change the conversation. If I started an Indian Women in Music group and I didn't allow non-Indian women or men in, it would defeat the purpose. The group [would be] there to educate those who have no idea what it's like to be an Indian woman in music. When things start to become too exclusive, that's when the cycle perpetuates itself."
On women in the music industry:

"I've found there to be a good amount of women working in the music industry. The disconnect has always been about credit and who is at the forefront of the great successes we all know. Every single man in our industry has not just had strong women behind and beside him, but most have had strong women leading them and their team. The top label of last year [

Atlantic Records

] is one of only two run by a woman, so while the conversation tends to center around the quantity and ratio of women to men, it's actually the quality of the women in this industry that we should be talking about."

Her thoughts on it being a "boy

'

s club":

"Because I work in production and crews have always been made up of mostly men, I've had moments on set where I don't see one other female face outside of my staff; less so in recent years, though. I work at a pace that a lot of people probably wouldn't want to, which means I need the best support staff I can get. I never noticed or intended to, but looking for the best team is how I ended up with an all-female staff."

On discrimination in the industry:

"There are a lot of fearful people in the world. No matter who you are, [there is always going to be] someone near you who is too scared to learn about or from you, [and they're] going to project those fears onto you. I deal with it by pushing myself to be my best—if I use that ignorance as motivation to become more successful, then I can elevate and remove myself from those people."

Her advice to young women looking to get into the industry:

"Work harder and smarter than everyone you know, and don't take no for an answer. One of the many social restrictions on women is to not be too pushy or too bitchy, but fuck that! No one owes you anything, especially in business, so fight for what you want, and accept it when it presents itself to you."

Want more stories like this?18 Things to Buy Right Now to Support Women's Causes14 Successful Women on the Age They Found the HardestMeet the Woman Who Plans on Writing the Next Black Panther