7 Beauty Editors on How They Get Rid of Acne, Fast
You don't have to suffer through an unexpected blemish.
Skin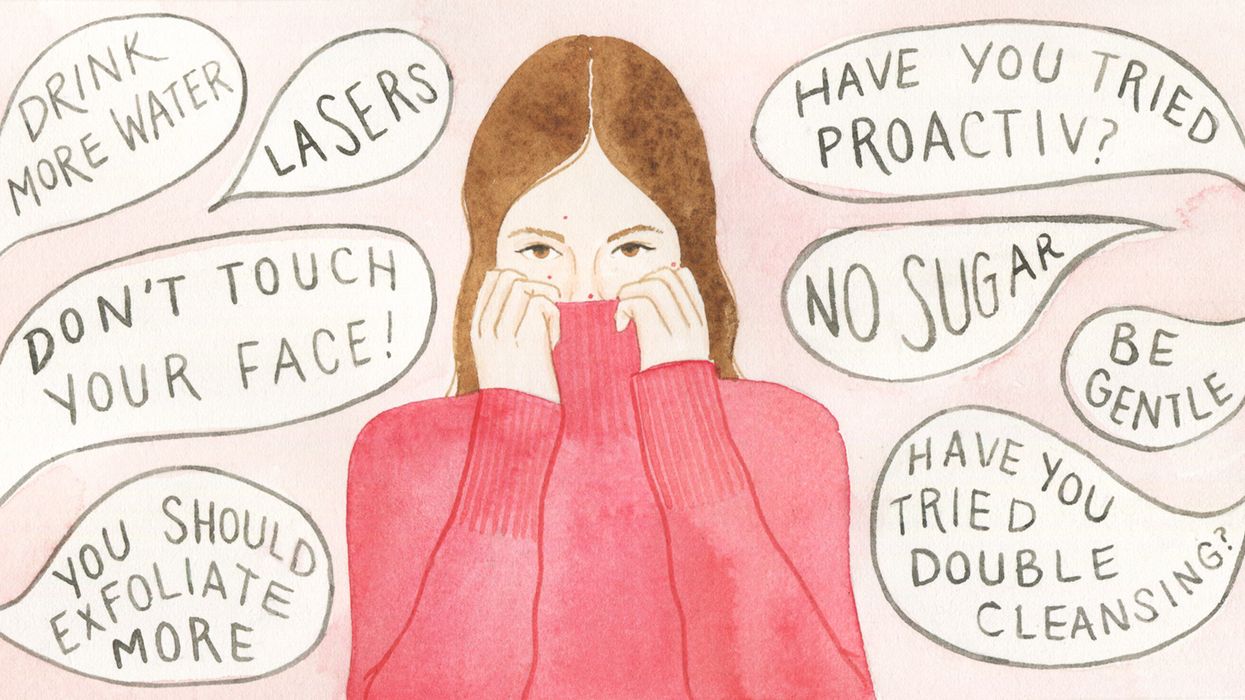 Acne is, unfortunately, a fact of life for most people, and no matter how thorough or thought-out your skin-care routine, a pimple will occasionally pop up when you least expect it. But just because you can't control when or where you'll get a blemish doesn't mean you can't get rid of it just as fast as it comes. To learn some of the industry's best tricks for clearing up your skin (almost) overnight, we turned to seven beauty editors for their tried-and-tested methods. Check out the products and treatments they swear by for
banishing zits
. 
---
"When I feel a breakout forming, my first line of defense is...not to touch it. The more you mess with it, the higher the chance of it becoming more inflamed and angry. Then I grab my tools:
Renee Rouleau's Anti Bump Solution
if it's a cyst, or
Clean & Clear's Advantage Acne Spot Treatment
.
"After cleansing and toning, I'll dab a drop of one of the spot treatments mentioned above onto the pimple. Then I'll finish the rest of my skin-care routine, making sure to avoid touching or further irritating the breakout.
"Usually, the blemish will fade in a day or two after this—if I'm lucky. If not, to the derm's office I go for a cortisone shot!"
Contributing Writer, New York Times
"I typically get nodules around my jawline. These are the hard, flesh-toned acne lesions. Zits are too kind of a word for them. They're painful, they never go away, and are pretty much an emergency because they can and do leave permanent scarring behind if they sit there too long. There's really nothing a product can do for these bad boys once they've arrived, so I go to the dermatologist to get them injected.

"They inject a diluted corticosteroid into the nodule, and after several hours it starts to go down. It feels like a miracle, really. A couple things to note, though. The injection is painful. A needle going into tissue that's already inflamed is no joke. But I've always thought the pain was worth it. Secondly, overly aggressive injections—too high a concentration of the steroid, or injecting too much into the nodule—can cause pitted scars. I've never gotten one from an injection, but I know it happens. So I'd recommend asking your doctor about this risk (before you even get a nodule) to gauge how you feel about her response. Is she conservative, knowledgeable, and reassuring? Or does she dismiss your concerns quickly? Ask as many questions as you can think of. And if you feel comfortable with the responses, I'd say run to the doctor the next time you have a nodule. For me, these injections [have] been real lifesavers."


Assistant Beauty Editor, Elle
"As soon as I see a pimple forming, I grab the
Glossier Zit Stick
. It's formulated with 5% benzoyl peroxide, so it dries the blemish up but doesn't irritate my skin like other BP products I've tried. If the zit is really stubborn, I'll hold a towel soaked in hot (not scalding) water against the spot to open the pore, and then gently press down on either side of the zit to clear it out. Pro tip: Only do this with super-clean fingers, and never dig in with your nails."
"My preferred method for getting rid of a surprise pimple is to resurface my entire face rather than spot-treat it. This always involves sleep and sometimes retinol, so in the words of
Frank Ocean
, you're gonna wanna throw this all on at night. I'll swap my usual cleanser for a gentle exfoliator like
Tatcha's Rice Powder
, follow up with a
really gentle spray toner like Bliss's,
so I'm not touching my face a bunch, then apply
Kiehl's Nightly Refining Micro Peel Concentrate
all over and go to bed.
"By the time I wake up, my face is brighter, smoother, and the pimple is nowhere to be found. (This stuff also fades acne scars beautifully, if you're dealing with those.) If it's more of a Code Red zit situation, I'll swap the Kiehl's step with
Sunday Riley's A+ High Dose Retinoid Serum
, which is really, really good at shutting things down."
"I'm lucky in that I have relatively unproblematic skin. Though no one is safe when it comes to hormonal breakouts. Every month, like clockwork, something red, large, and unwelcome springs up. Usually of the painful cystic variety. When that happens, I employ my time-tested, three-step plan of attack.
"First I make sure to double-cleanse each time I wash my face. My usual routine includes a single wash using my beloved Eve Lom Cleanser. But when I know my period is coming (or I notice a breakout, whichever comes first), I follow the balm up with
Tata Harper's Clarifying Cleanser
. It's the brand's first-ever foaming face wash, and it works to remove buildup, eliminate toxins, and flush away dead skin cells and pollution. It's all-natural and feels super tingly (there's some ginger in there). Then I move on to
Renée Rouleau's Smoothing Triple Berry Peel
—it's one of those products that genuinely works instantly and over time to produce fresh, clear, bright, and entirely unclogged skin.
"Aside from its almost magical ability to nix blemishes, it also helps fade post-breakout marks, lift discoloration, and smooth surface texture. After my usual serums and moisturizer, I apply
Osmia Organics' Spot Treatment
, a blend of evening primrose, lavender, lemon, parsley, thyme, and rosemary essential oils that smells lovely and works effectively in equal measure. I keep it at my desk and keep applying every few hours when I want serious results. And it works."
Beauty Editor, MarieClaire.com
"It feels like I'm always dealing with some sort of bump that likes to show up on my skin uninvited, and dark spots are my skin's biggest ailment. But recently I had my first-ever facial with the inimitable celebrity aesthetician
Renee Rouleau
, and she gave me the most amazing advice. After analyzing my skin, she suggested I employ her
Zit Care Kit
 to treat my blemishes during every step of its vicious cycle. I get to play dermatologist the safe way in my mirror with the lancet it comes with, which allows me to remove whiteheads without injuring my skin.
"Then, to minimize scarring and post-inflammatory
hyperpigmentation
, I treat each spot with her fade oil, blemish oil, and spot lotion. I always follow this up with a soothing mask to spoil my skin and calm down any irritation.
Context White Charcoal Mask
 is a forever favorite because it gives my pores a deep clean without making my skin feel super tight and dry."
"Ever since I started taking Spironolactone three years ago, my skin has been relatively clear, but every once in a while an unwelcome friend rears its ugly head, usually around my T-zone or jaw. It's not sexy, but I swear by
Clean & Clear's Persa-Gel 10
. It contains 10% benzoyl peroxide, which is one of the highest doses you can get without a prescription.
"To use, I follow my normal
skin-care routine
, avoiding any cleansers or serums that use active ingredients (like tea tree oil, for example) so I don't irritate my skin further. I apply a thin layer before my moisturizer of choice, let everything set, and then add a teeny tiny dab on top of the pimple, making sure it's not touching any skin that's not inflamed. Then I let the blemish be—absolutely no picking. I'm prone to scarring and discoloration, so unless I'm visiting a professional in the next day or so, nothing else will be messing with it. If it's a particularly deep cyst, I swear by
Origin's Out of Trouble mask
—just leave it on for ten minutes. I try to drink as much water as I can while I'm marinating to help flush out my skin even more.
"I usually see results after a day or two, and then resume using my
Curology
prescription acne cream, which is my best defense against unwanted acne."