It all comes down to this. In collaboration with Polo Ralph Lauren.
What they say is all too true: Hindsight is always 20/20. If you're lucky enough to be pursuing something you love professionally, we have no doubt there's at least one standout moment that brings to mind that exact maxim. In the age of Instagram, it's especially easy to get caught up in the kind of glossy "highlight reel" moments that make it all look so easy. In reality, the moments that really make us are the quiet ones—that dream gig you didn't get (but brought you to finding the role of a lifetime just weeks later), hearing a hard "no" (which you then figure out how to turn into a "yes"), even losing a job (finally giving you the push you need to start your own thing). And so, in the spirit of celebrating the setback (if only for giving us the momentum to propel forward), we spoke with three women we admire (big-time) to take us through those defining moments in their own careers. Plus, the bossed-up wardrobe staples and styling secrets they rely on day to day to step up a look. Here's what we learned.
Samantha Wasser; Founder, By Chloe, Dez
HOW SHE REALIZED SHE WANTED TO GO INTO THE FOOD INDUSTRY:

"As a kid growing up in New York City, where backyards aren't so much a thing, I found myself spending most of my free time hanging with friends and family in restaurants. From a young age, I developed an interest and appreciation for diverse cuisines, different spaces and inspired designs. After graduating from college and working in celebrity endorsements for three years, I found myself unfulfilled creatively. I knew if I went into the family business, it needed to be on my terms. The ability to create beautiful spaces and truly unique brands that spoke to myself and my friends was ultimately what inspired me to take a leap of faith. I knew at 25 years old, I needed to listen to voice in my head or I would regret it forever. PS I haven't looked back yet!"

HOW SHE LEARNED TO DROWN OUT THE CRITICS:

"I would say my very first tough lesson I learned is that you can't satisfy everyone but if you are confident in what you are doing, find confidence in that! Being one of the first mainstream plant-based restaurants to open made us a prime target for criticism. We received a ton of positive reviews when by CHLOE. first opened, but of course we also saw some not so fabulous feedback. I remember reading each and every review and completely taking it to heart. It drove me crazy and totally stressed out those around me. I quickly realized that I needed to filter through the negative and focus on the positive and stay true to what we set out to do; serve delicious, accessible plant-based foods."

HER WORK STYLE:

"I try not to subscribe to any philosophy or rules in fashion! I like to dress for my mood or since I live in New York, I sometimes find myself dress for the weather. l don't shy away from mixing accessories, patterns or colors. I believe it is about what makes YOU feel good and not what people tell you should make you feel good. I think it's ok to be a bit extra!"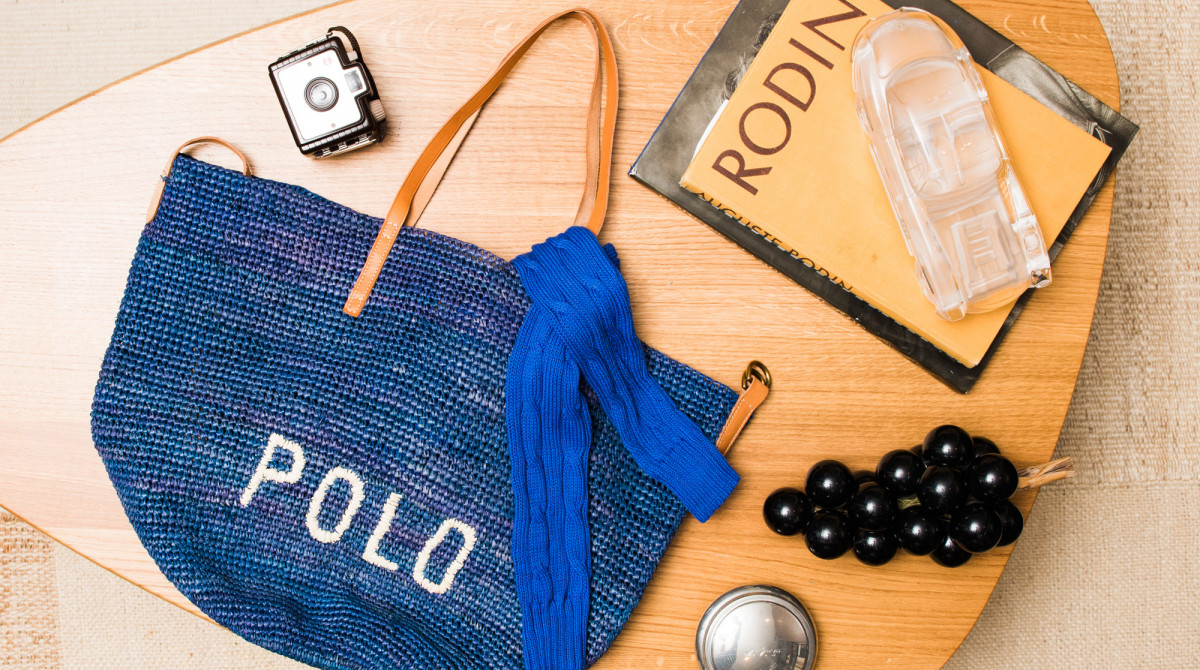 HER ADVICE FOR PROFESSIONAL DRESSING:

"My advice would be to dress for yourself. I feel most confident when I feel and look like myself. In terms of professional work, I would say it's important to know your setting but most importantly, you need to dress for you. Be appropriate of course, but if wearing a pair of hoop earrings makes you feel more you, then wear a pair of hoop earrings, because if you dress for you in a way that makes you feel great then it will bring out your true confidence in that meeting or interview."

THE HARDEST-WORKING ITEM IN HER WARDROBE:

"I would have to say my hair clips, which I have been collecting for years. I have so many at this point which range in colors, patterns and even shapes! If I want to spruce up my look or feeling a bit down, I can always put one or two or three on to cheer me up and feel like my best self."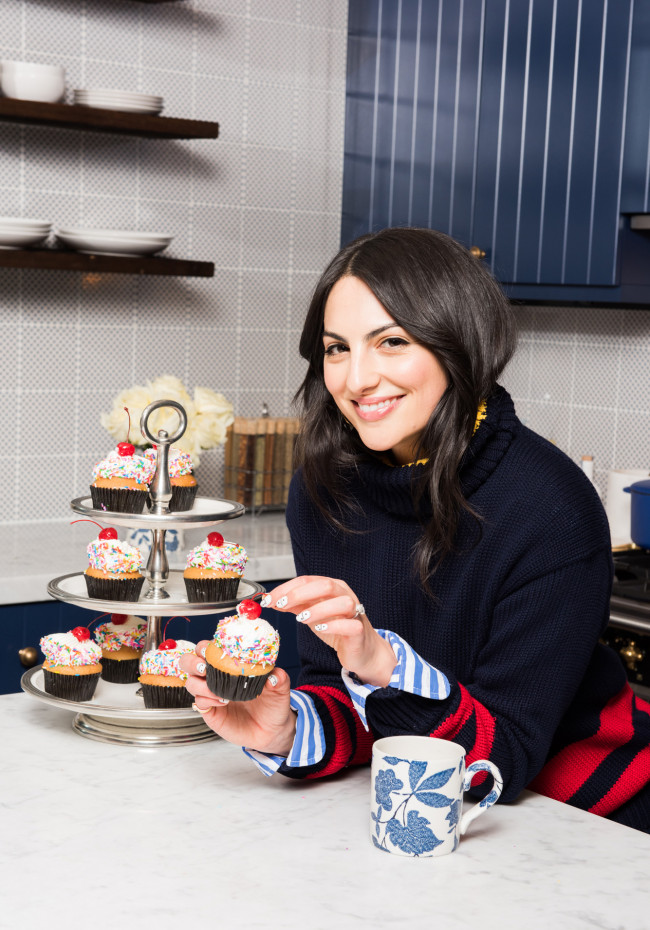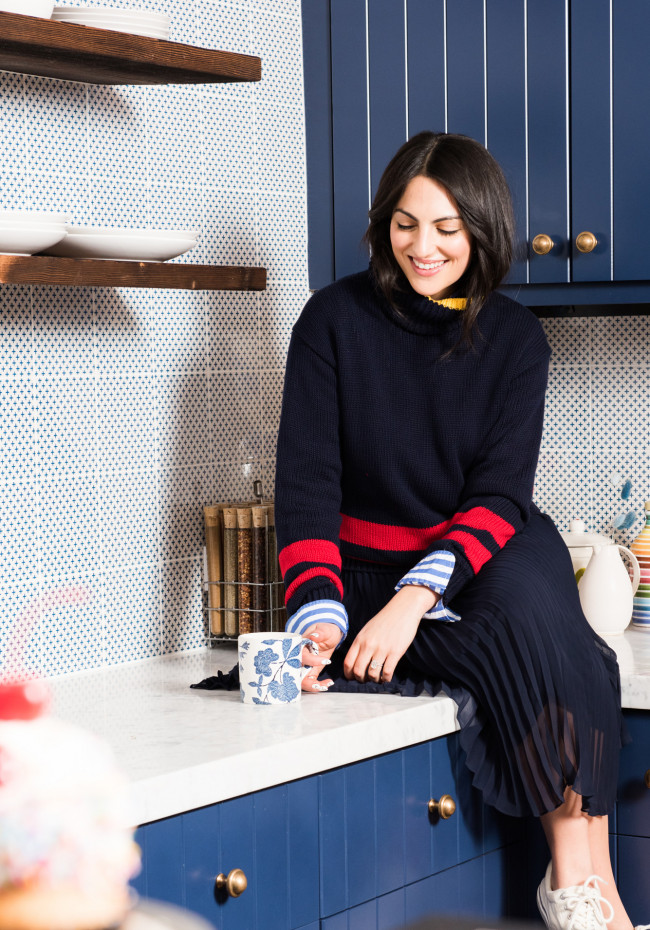 HOW SHE KEEPS HER PROFESSIONAL STYLE PERSONAL:

"Pick something that you truly love and stick to it! Whether that be hair clips, a piece of jewelry, or even a pair of shoes, it is always great to have that one thing that acts as your creative outlet or simply makes you happy. That creative outlet for me are my nails. I love to come up with original designs with my friend Mei. We honestly have so much fun collaborating together, the crazier the better. Plus, I get to appreciate her art for the next two weeks until we start all over again!"

HOW SHE ACCESSORIZES FOR THE OFFICE:

"Honestly, I try my best to dress for comfort in the office. As much as I would like to spend more time building my outfit for the day, I just don't have that time, especially as a new mom. If I have an event at night or lunch meeting, I may put together something a bit cuter, but I will most likely pair it with flats because most of my day is spent running around. I find it is a lot easier to get my work done when I am comfortable, especially after a big by CHLOE. tasting!"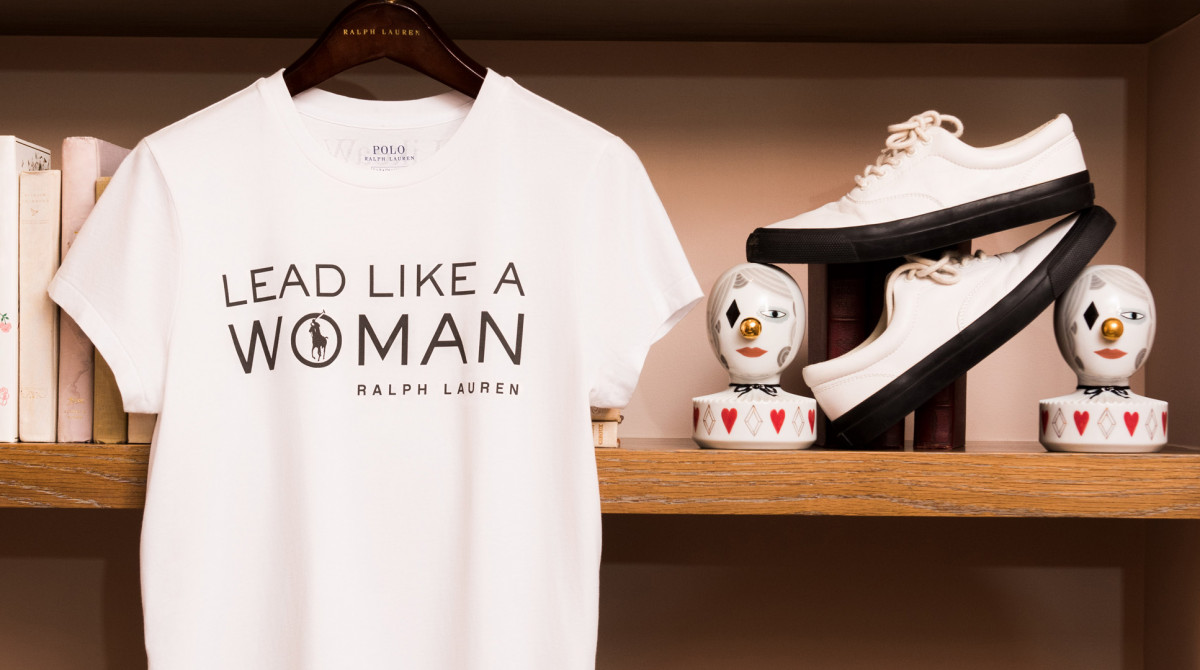 Bec Adams; Founder, Les Filles, DJ, Music Lawyer
WHEN IT DAWNED ON HER WHAT SHE WAS MEANT TO DO:

"I was in my second year of law school when it dawned on me I simply had to work in music within some capacity, as it consumed my life and made me happy. I still had no idea to what capacity it was going to evolve within, but I knew my studies would elevate me and I knew I was going to make it work. If you told me at 20 what I was doing today, I would of laughed at you."

HER WORKING WARDROBE STAPLES:

"I keep it all as one. What you see is what you get. If I had it my way I would forever be living in a silk slip, or high-waisted Mom jeans. Working with more corporate clients with the legal side of the business, you do have to dress it up with a blazer or a suit pant."

THE BEST PIECE OF FASHION ADVICE SHE'S EVER GOTTEN:

"Don't follow trends and wear what feels good - it's obvious when you don't feel comfortable in your own clothes."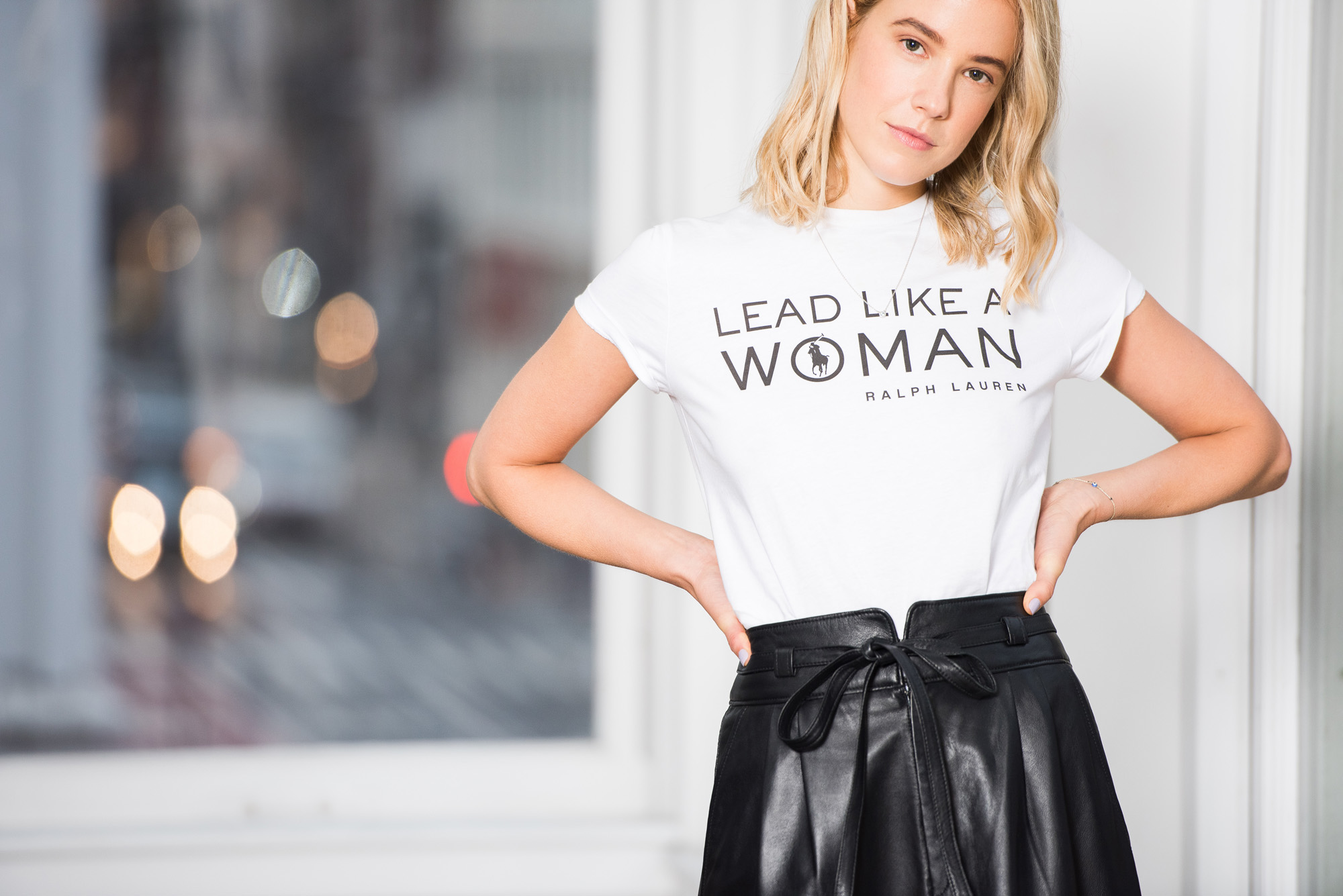 HER GO-TO OFFICE ACCESSORIES:

"Keep it simple. I'm really attracted to elements that endear me. For bags, I am classic, I love a simple leather black shoulder bag. For shoes, good luck catching me in anything but a black chelsea boot, black loafer, or hightop sneaker."

THE HARDEST LESSON SHE'S HAD TO LEARN:

"I think I never understood just how hard it was going to be to get my foot in the door. But I learnt that if you want something badly enough, and you keep on going, you will always succeed as time is the biggest rewarder. My first year in New York I was literally knocking on doors and trying to meet as many people in the music community to just let me in. I didn't realize being a female was a detriment to me getting the jobs that my male counterparts were getting so easily - I still have to take a deep breath and smile when I look at the way I have managed to side-step this problem and work within a bigger, more creative capacity within the industry - all thankfully because I was never let in the normal ordinary route of working at a major label or corporations, hoping to get promotions."

HER BIGGEST PROFESSIONAL CHALLENGE TO DATE:

"The risk taking - The crippling vulnerability I felt when leaving the securities of my full time job to follow my dreams and really build out Les Filles, whilst living in one of the most expensive cities in the world. It was worth it though, but there were sleepless nights where I second guessed my decisions. Those feelings just really fueled the fire to keep on going."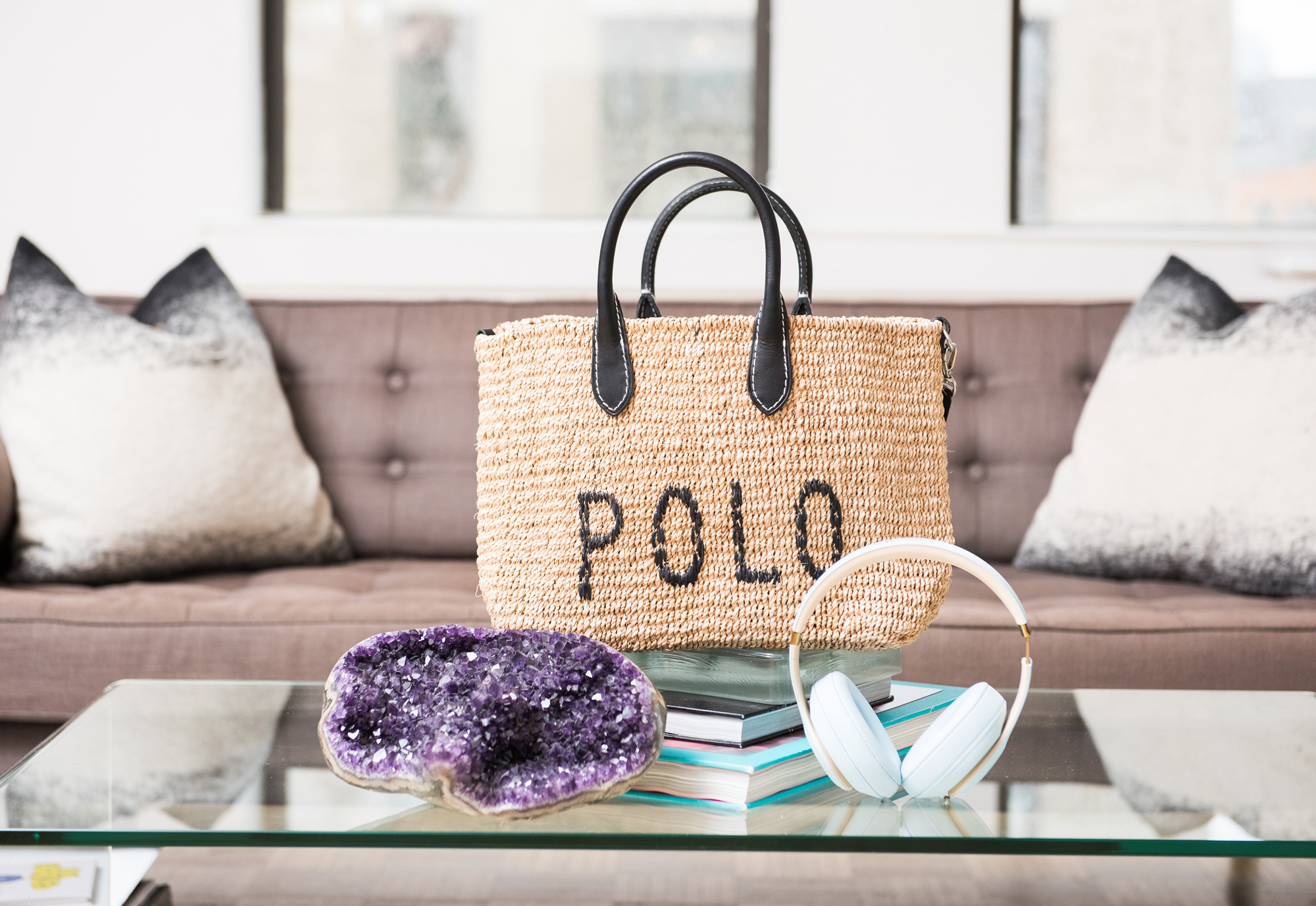 ON THE SETBACK THAT CHANGED EVERYTHING:

"Rob Stone from the Fader once said 'So many good things happen after the worst possible thing' - and this is the most honest quote to me. When something horrible has happened to me, it leads me down a new path to discover something richer and more fulfilling for my life and career. This simple mindset helps you adjust from playing the victim, to using a set back as something to make you better and benefit from."

THE STYLE ADVICE SHE'D GIVE TO ASPIRING CREATIVES:

"Don't dress for the job, dress for yourself and how you want to feel within the job. Work today is about finding your passion, so that it no longer feels like work. Why dress in a way that isn't you, if you're trying to find yourself? You have to create your destiny, not find it."
WHEN SHE FIRST REALIZED SHE WANTED TO BE AN ARTIST:

"I was always making things with my hands as a kid, I just wasn't really aware of an industry or career born out of that until later. For a while I thought I'd pursue writing as a career but after doing photography GSCE aged 16 I started to pour my time into image-making which then lead back to object making."

HOW HER PARENTS DIDN'T APPROVE AT FIRST:

"I dropped out of a formal and prestigious university age 20, because I realized I wasn't on the path I wanted to be on. My parents were concerned by that. Not so much the dropping out, but about the fact that I'd made that decision over the summer break when I was back working in nightclubs as a cocktail waitress and earning more steady money than I'll probably ever earn as an artist! I think they were worried I would become a career waitress—enticed by the "glamour" of that world. I ended up using things I'd over heard in the ladies loo at the club for my end of year show at International Center of Photography."

THE HARDEST LESSON SHE HAD TO LEARN IN ORDER TO GROW:

"That some people will hate your work. Some people will tell you to stop making it. Men, in particular, will try and explain a different way you should make it. The lesson is to trust your inner voice and instincts. Not everything you create is worthy of showing and sharing, fine, but anything that you are burning to make, you should make… even if you throw it in the trash after, or turn it into something else. Ideas shouldn't be trampled on because everybody's ideas are sacred."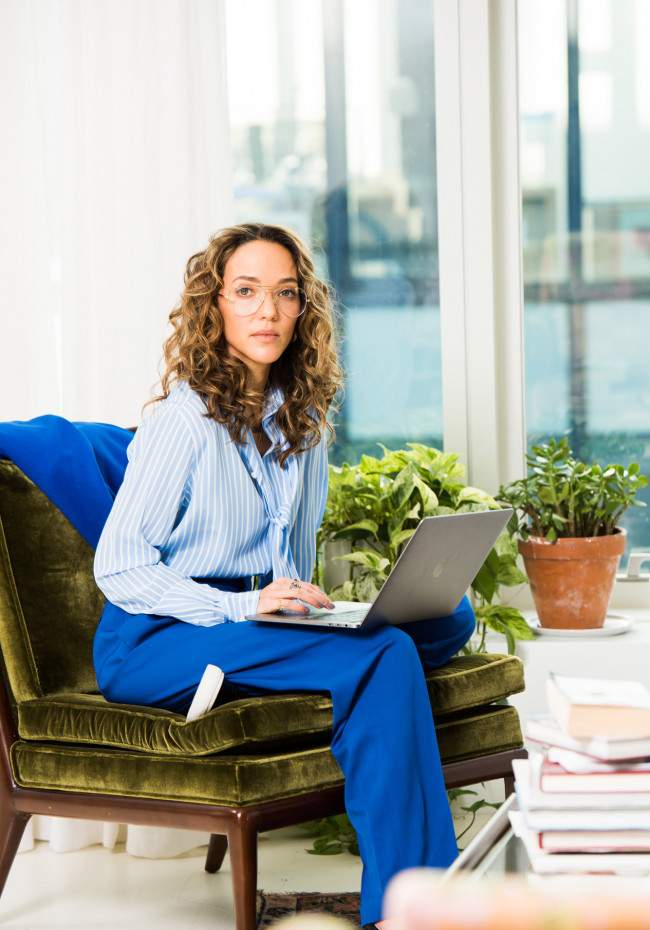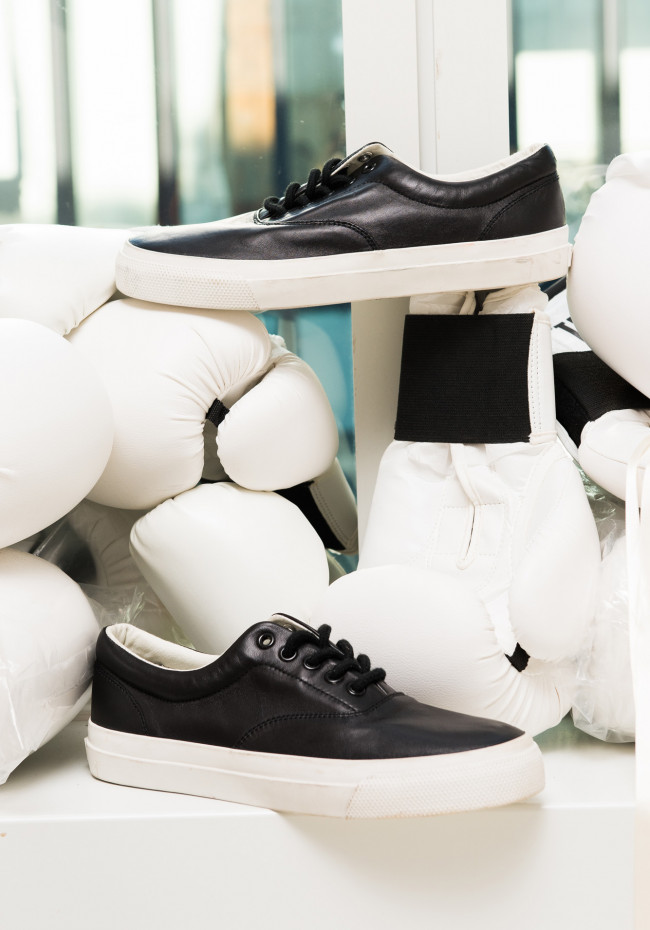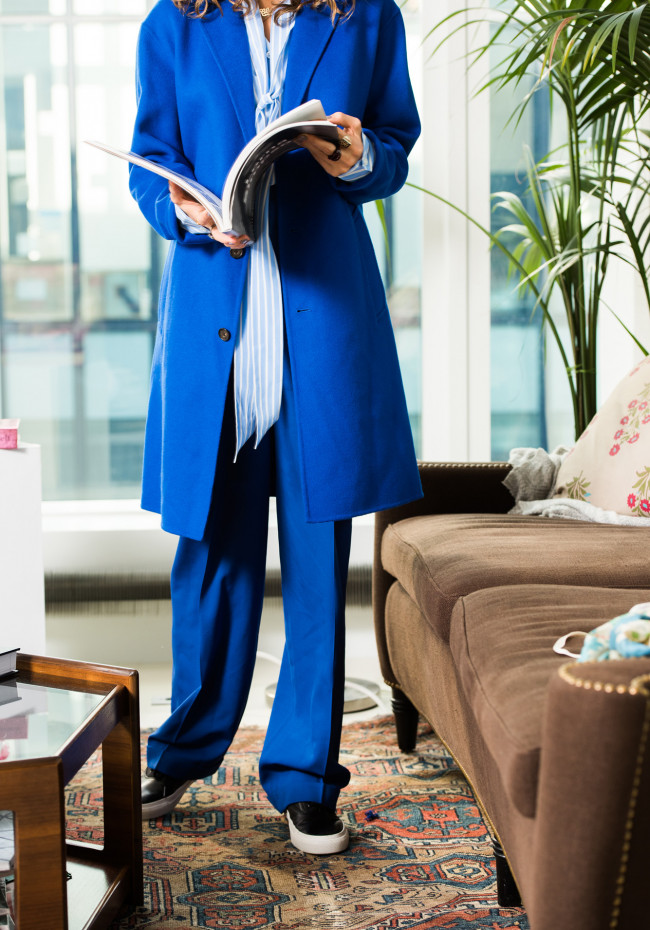 THE BEST PIECE OF FASHION ADVICE SHE'S RECEIVED:

"One of my best friends in an amazing costume designer named Molly Rowe. She told me to spend money on tailoring the clothes I already have instead of buying new ones. Now I make sure that my stuff actually fits me right and it's made a big difference."


THE ESSENTIAL ITEM SHE LOOKS FOR IN HER WORKWEAR:

"I work with a lot of small objects such as needles, thread, pins, scissors, spools of ribbon, paintbrushes... so I need pockets. Cardigans, robes, jackets, jeans etc... all with pockets are things that I wear on a daily in the studio."


THE MOST CHALLENGING MOMENT IN HER CAREER:

"Fundraising for my public sculpture, Champ, was incredibly difficult. I thought the hard part would be getting it signed-off and green lit. I didn't realize how very few people would want to chip in to putting a giant neon uterus on the Sunset Strip, deeming it too "controversial" to financially support."
A TEMPORARY CAREER SETBACK THAT ACTUALLY PROPELLED HER FORWARD:

"I wrote something quite personal for a big publication. An essay of sorts, but my approach was more abstract and disjointed/poetic. They didn't like it, which was totally their right and their prerogative. In the end I wrote something more traditional for them, but took the first piece of writing and started embroidering snippets of the text onto vintage dishcloths (which happened to pertain to sexual & domestic violence). Those pieces have informed my new series and will be part of my next solo show, as well as on view at Dallas Art Fair in April."


HER ADVICE FOR DRESSING FOR WORK TO OTHER CREATIVES:

"Dress authentically to how you feel. If on a particular day you want to hide, hide. If you want to play, play. If you want to share or accentuate a particular part of your body, do it. If you're depressed and need to be in black, do it. If you want to look like a man for the day, do it. If you want to feel like you're a 1940's Governess, do it! We are so lucky to be living in an era and location that gives us freedom, and so I would encourage men and women to cherish and exercise their freedom constantly."


HER STYLE ADVICE FOR ASPIRING CREATIVES:

"There is a lot of pressure on women to look a particular way. Socially, professionally, personally. It can be overwhelming and the "rules" are often contradictory. Women need to be put-together, but not look too good, or too sexy, as to threaten other women or make men uncomfortable. If a woman looks like she spends too much time and money on her appearance she may not be taken seriously. If she looks like the doesn't spend enough of her paycheck and time on her appearance, she may be perceived to not take herself seriously enough, this is all [fully unfair] of course and is something that really needs to be examined."
Art Credits: Samantha's Home; Susumu Kamijo at Marvin Gardens. Bec's Home; Constanza Vallese, Wu York, and Virginie Schroederz.