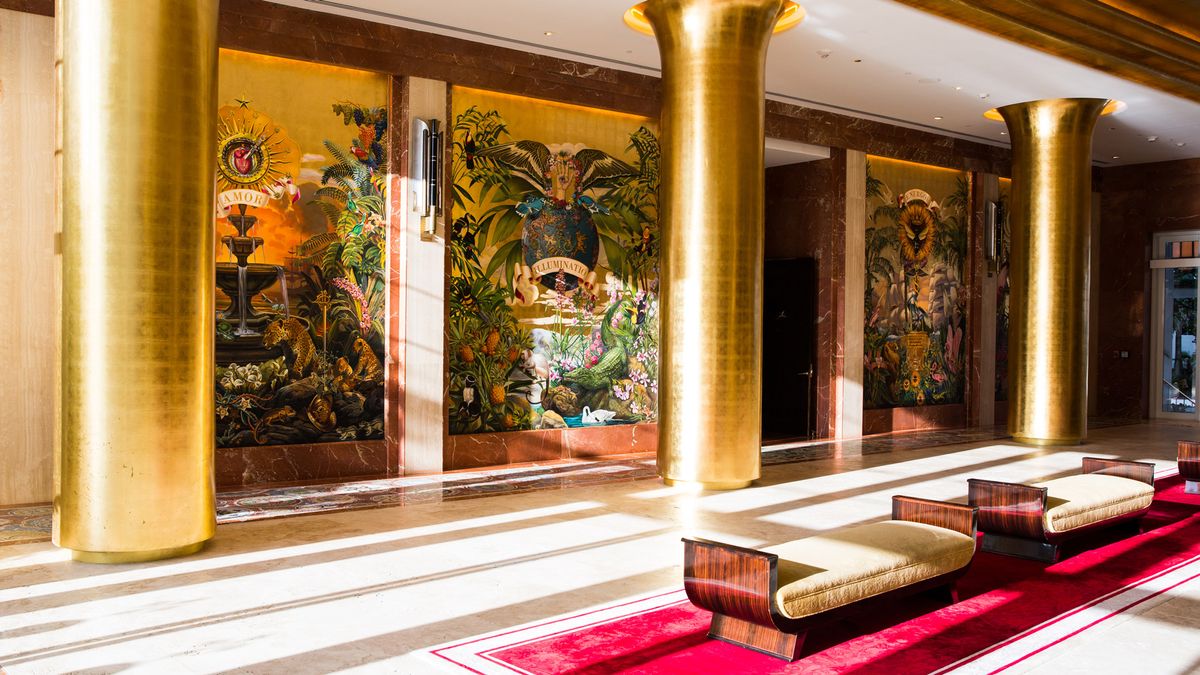 Culture
Dubai Hotel Concierges on the Most Over-the-Top Requests
In which a Rolls Royce Ghost is procured in 24 hours.
Luxury concierges all over the world are expected to drum up tickets to exclusive shows, reservations at overbooked restaurants, and out-of-stock gifts at a moment's notice. But a special level of extravagance exists in Dubai,
where concierges have been known
to go beyond what you might guess to please important hotel guests (and, we imagine, procure a hefty tip).
Perhaps the most
over-the-top example
of this, in a recent CNN story, is the concierge who was tasked with sourcing and delivering a Rolls Royce Ghost as a present for a Qatari sheikh's wife—in 24 hours. It was 2012, and the car had just hit the market. The request came in at the end of a Thursday, just before the holy day, Friday, in Dubai, when most shops would be closed.
But concierge Harold Abonitalla found a way. The keys to the $300K car were in hand by sundown that night, and he arranged to have the car flown 400 miles to Qatar by the following evening, thanks to a fellow concierge with an uncle who had a connection on a cargo plane. Raising the total price by almost a third, the present made it to Qatar within the time specifications.
In such cases, concierges are more like genies than humans, expected to perform the impossible under outrageous time constraints. There's even an elite group of concierges, set apart by a pair of interlocking golden keys pinned to their lapels, that distinguish them from the rest. These are the members of
Les Clefs d'Or
, who have proven themselves with years of experience and service and by passing comprehensive testing.
---
Perhaps our favorite story of these fabled golden-keyed concierges features a bottle of perfume, as every good fairy tale should. Once upon a time, the president of Les Clefs d'Or UAE himself, Abey Sam, was asked to replace a nearly empty bottle of perfume, unlabeled and without a concrete provenance. The guests only knew they had purchased it in Dubai years before.
Though Dubai has more than 200 shops that sell perfume, not a single one said the perfume was theirs. We wonder, though: How did Sam contact all of them? Is there an elaborate network of Dubai perfumeries? Surely all
200
couldn't have been contacted. But, then again, we're dealing with Les Clefs d'Or. So, maybe.
In any event, Sam ultimately brought the bottle to a perfume manufacturer, who was able to recreate the scent using chemical readings. And that, my friends, is how you throw down as a concierge.
Another tale of the gilded keys: There was the time when concierge Ela Lanzanas convinced a hairstylist to cancel all of his appointments, chartered a boat, and sailed the stylist out to sea to join a hotel guest as she finished a three-day cruise. She needed her hair done for a dinner that night, and she wouldn't have time to hit the salon once she reached land. It all worked out: Her hair was done to her satisfaction at sea, and she made it to her dinner on land later that evening.
For the president of the UAE arm of Les Clefs d'Or, it's all in a day's work. Of the hotel guests, Sam says, "You become their best friend, their best testimony, you are everything for them when they stay in a hotel." So what's a little molecular calisthenics, or throwing a Rolls on a plane, or setting a hairdresser out to sea among friends?
Want more stories like this?
A New Yorker's Guide to Dubai
Is Dubai the Next Big Wellness Destination?
How a Luxury Travel Expert Does a Trip to India