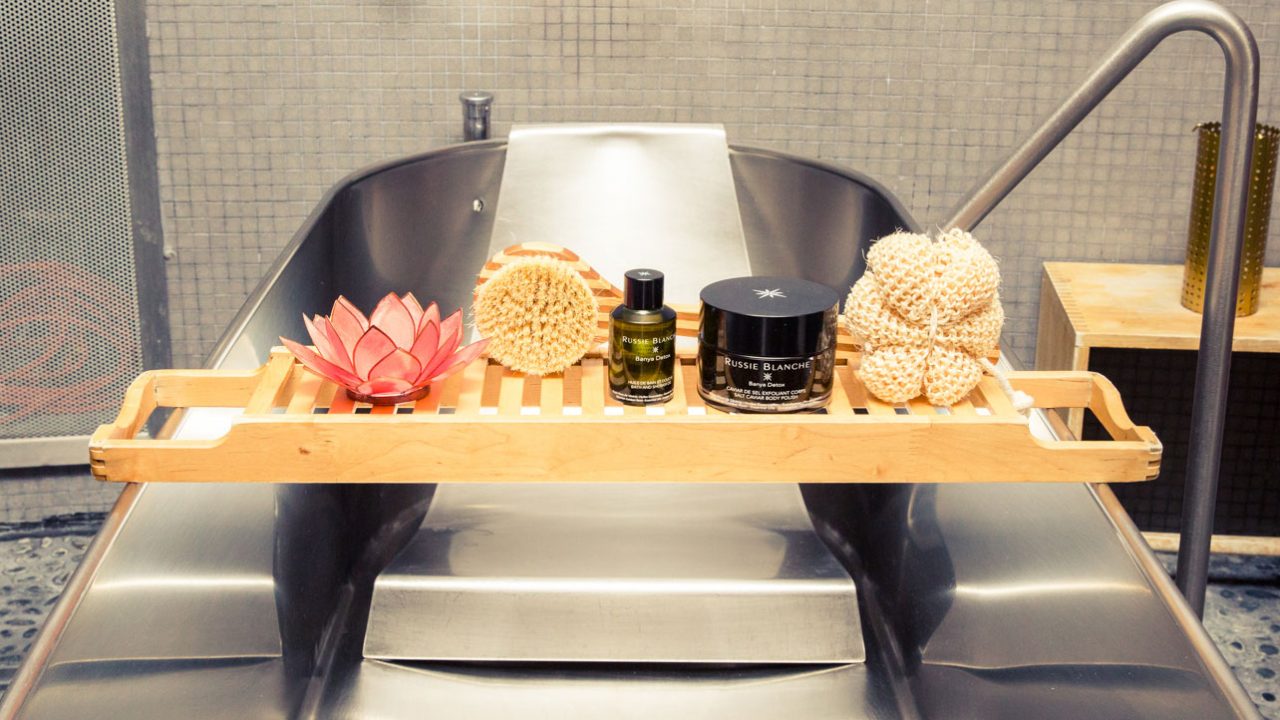 Turn Your Apartment Into a Spa
So you can forget about having to brave the snow.
It's the time of year where we spend as much time indoors as possible (legit, we would Uber Eats coffee if we could), especially when it comes to weekends. This allows more free time for things such as: Netflix marathons, learning *that* new recipe (finally), a bit of DIY, and (most important, in our opinion) self-love and pampering. There's only one thing we love more than a good staycation, and that's a spa-cation. That's right—this season we're pulling out all the stops (and doing all the shopping) to ensure that we are set up for a full spa experience, all from the comfort of our own couch(es). We suggest you follow suit and get your hands on the below products. You won't be upset you did.
STAY POLISHED
If there is one thing we can't stand, it's unmanicured nails—we (just like the rest of you) are guilty of facing Mother Nature and heading out into a full-on snowstorm in the name of perfectly shiny cherry-red nails, but let's be real, it's 2016—there's got to be another way. Enter the Red Carpet Manicure Starter Kit—aka an easy shellac manicure in a box that can so easily be done from your couch. Work the magic of your manicure set pre-use, add some Deborah Lippmann cuticle repair to the mix, and you'll be rocking five-star nails at home in no time at all (literally).
BE BARE
Even though it's hibernation season, we can't let ourselves go, guys—significant other or not—and although your aesthetician may not agree with this (obviously they'll miss you), you can totally get smoother-than-smooth skin from your cozy abode. We've got Tweezerman Smooth Finish for your facial peach fuzz (not that you have to get rid of this), Tria Precision Hair Removal Laser (for those comfortable with laser-ing their own body), and ingrown hair treatment because, well, shit happens. Consider these three your winter hero products for remaining beach-ready.
KEEP YOUR LOCKS LUSCIOUS
Nine times out of ten, when we're having a Netflix marathon wrapped up in the most cuddly blanket that we can find, our hair is sitting in a cute (but not as cute as we'd like to think) topknot. It's really no way to treat our locks, so we've set out to change that. First, by way of a Slip pure silk pillowcase—an anti-bedhead, anti-sleep-crease, anti-aging pillowcase (legit, there are too many pros to this pillowcase to not own it). Considering we're already being fancy (and saving all that money we would normally spend bar-hopping), it's the best time to try out the Peter Thomas Roth 24k Gold Age-Defying hair mask. If you're trying to save your pennies for Christmas (or you just like the OG way), coconut oil will always, without fail, give your hair enough shine to convince people you've just come out of the salon.
CONVINCE EVERYONE YOU HAVE A LIVE-IN FACIALIST
Four words: Do not be afraid—of being your own facialist, that is. It's 2016, and the devices available to us will give you results that will have everyone thinking you just came from a visit with your derm. Foreo is perfect if you're a beginner to this whole at-home spa business, and if you're the more adventurous type, go for Stacked Skincare's Micro-Roller (hello, plump and firm skin) or Dr.Jart+'s Contour Shaper (for those looking to lift and sculpt). You can't go wrong with any of these three options. Honestly.