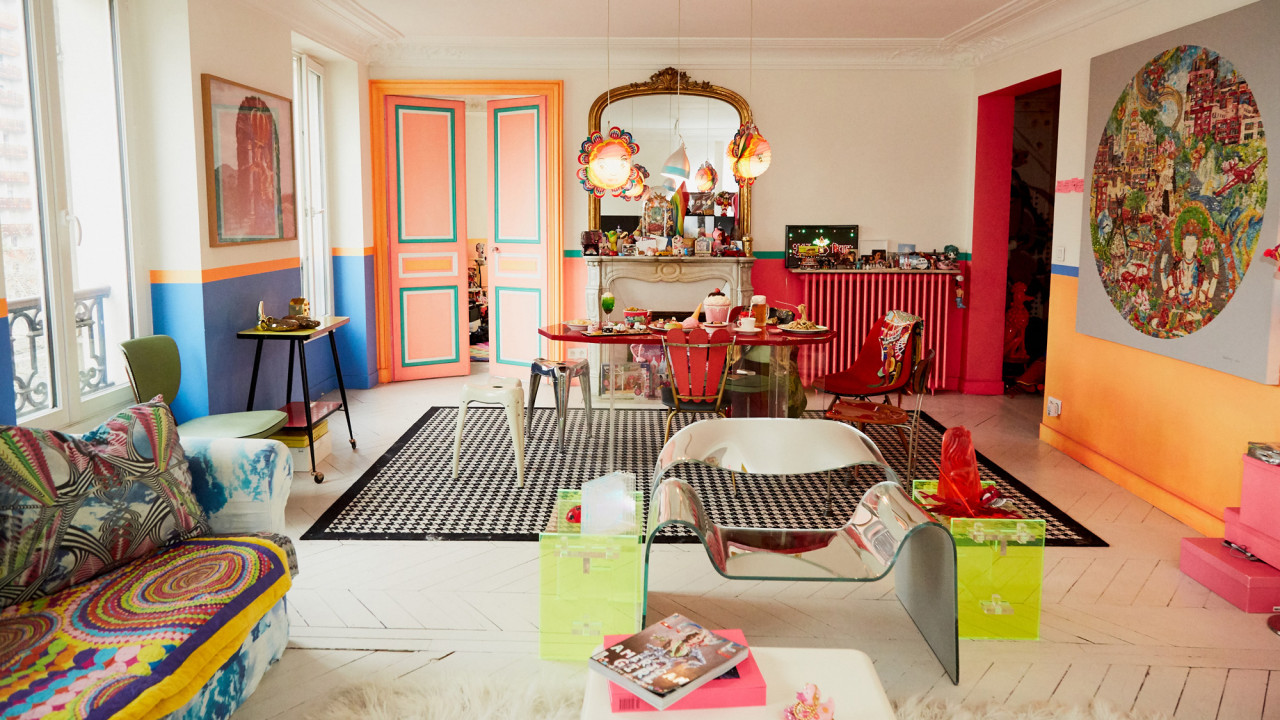 Inside Manish Arora's Colorful Parisian Apartment
A neon-pink bathtub, an insane magazine collection, and trinkets galore.
Adorable little bakeries, quaint food markets, and trendy restaurants abound near Canal Saint-Martin in Paris. The area has a very bohemian spirit, with plenty of cool kids hanging out by the right bank of the River Seine, blending in with locals, tourists, and transplants from all over. It's the neighborhood of choice for the eccentric Indian fashion designer Manish Arora, who presents his quirky and colorful collections each season in the City of Lights.
We were lucky enough to score an invitation to the designer's home, which he moved into seven years ago. When he originally bought the flat—marked by stunning views of the river where boats pass by nearly every 15 minutes—it had seven small rooms. Arora quickly decided to break down as many walls as possible to create an open living space. "I'm single, I live alone, and I don't have any guests, so I prefer to occupy as much of the space for myself," he says with a laugh. Along with that came a creative customization process that involved everything from having graffiti applied to the walls, to installing custom stained-glass panels in the bathroom.
Arora is a collector through and through. That means he has a storage space full of My Little Pony toys, and notes from friends, collaborators, and artists displayed throughout his apartment. You could easily spend an entire day just looking at all his fun stuff. Luckily, we were able to snap the highlights in a few hours.
Click through to hear about his neon bathtub, how he sources furniture from Belgium, and why pink and gold are his "religion."