WWWRN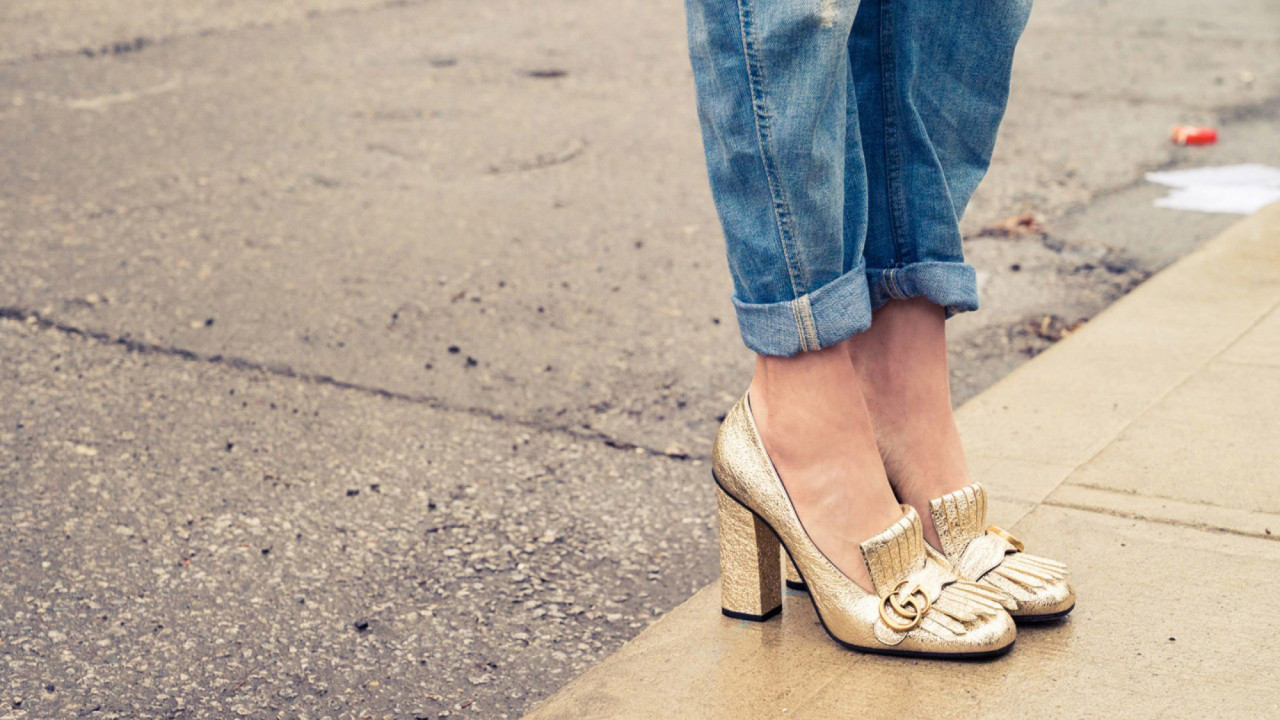 27 Shoes We're Buying for Spring
Rescue your feet from a winter of boredom.
Anyone else experiencing seasonal affective disorder of their wardrobe? Post–fashion week—after we pulled out the most street-style worthy looks we could find from the depths of our closets—we are officially ready to swap out our bomber jackets and wool trousers for spring dresses and floaty skirts. But more than anything, the sandals, mules, and pumps we've been eyeing for the past few weeks are just begging to make their debut. We're not the most patient shoppers, so we've been slowly adding our favorite styles to our online carts for weeks. Check out the 27 pairs of shoes our editors can't wait until spring to buy.
---
Hannah Baxter
Editor
1. Simon Miller F105 Blackout Platform: This is me in shoe form. I've been anxiously awaiting Simon Miller's shoe drop ever since I met the brand's co-founder Chelsea Hansford and she showed me a preview. Buttery-soft leather, a nearly four-inch platform, slime-green perfection—what else do you need in a sandal?
2. Carel Soraya Leather Sandals: I recently scooped this Carel style in white at a sample sale, and it is by far the most comfortable heel I own—so much so that I think I need its flashier cousin in silver. Now I just have to find a plaid flared trouser and matching cropped jacket, and I'm ready for spring.
3. Vince Edris Sandals: Sometimes you just want to channel your inner Olsen twin and wear a simple black leather sandal with slouchy linen pants and a paper-thin white t-shirt. It's minimalism in its finest form, which means these Vince sandals are a must for my warm-weather wardrobe.
---
Jodi Taylor
Editor
1. Alias Mae Ahara Bootie: I'm really not sure why I don't yet own a pair of white boots, but that's about to change. While I wouldn't dare leave the house in these just yet (in Toronto the sidewalks are engulfed by slushy puddles), there's no harm in grabbing them now so that I'm prepared for the first spring day we get.
2. Alexander Wang Jo Sandals: These crystal-embellished babies are the exact opposite of everything else in my closet, and I think that's why I love them so much. Can you imagine them paired with a fresh white tee and a pair of 501s? Dreamy.
3. Cult of Coquette Azar II: Really not sure what's gotten into me here, because I'm not one to opt for a pair of pumps either, but these *cruelty-free* ones are honestly too good to pass up. Need, need, need.
---
Leah Faye Cooper
Editorial Director
1. Stuart Weitzman Saffrom Wedge: Pardon me while I say a prayer that spring arrives sooner rather than later, because I need these stunning, sky-high gold wedges on my feet ASAP—preferably with a pair of dark straight-leg jeans, a white tank top, and a bright red lip.
2. Converse Chuck Taylor All Star Lift Low Top: I bought a pair of these in black when they first came out, and they quickly became my favorite everyday sneaker. I'm now considering a white pair for spring.
3. Tamara Mellon Deco Sandal: The next time someone asks why I wear heels if I'm already 6'1" (a question that random men feel the need to ask me daily), I'm going to show them a picture of these. Two shades of purple on a suede platform—how could I not want to wear them?
---
Monique Kamargo
Editorial Producer
1. Kalda Leather Sandals: I think I maybe own one green thing in my closet, but I'm 100 percent ready to change that with these Kalda leather metallic sandals. They're the perfect shoe to pair with both a wide-leg pant during the day or a sparkly mini dress at night.
2. Prada Logo Detailed Canvas and Rubber Sandals: I've never been big into athletic sandal-wear, but I have to admit these Prada sandals have really caught my eye. I'm not sure you'll actually find me wearing these on the hiking trail this spring, but you'll likely see me sporting these babies with a midi skirt, cropped sweater, and tie-dye socks.
3. Miu Miu Silver Patent Slingbacks: I've been having a major crush on crystal-embellished everything lately. I can't get the crystal-cut detailing on these Miu Miu kitten heels out of my mind, it's just SO GOOD.
---
Rachel Pickus
Social Media & Affiliate Coordinator
1. Rachel Comey Bose Low Clogs: Lately I've been toying with the idea of buying a pair of clogs for spring. Although not the most *practical* shoe for city living (i.e., walking down those treacherous subway stairs), these snakeskin babies are just too good to pass up.
2. Everlane The Boss Boot: Per literally everyone at the office, white boots seem to be the latest THING. Because I'm too afraid to scuff them up in the winter slush, I'm holding off till spring, when I get a pair of my own.
3. Maryam Nassir Zadeh Agatha Slide: I'm currently counting down the days to when the weather will finally let me break out my favorite pair of slides. This season I'm contemplating the expansion of my backless shoe collection, and there's no denying MNZ makes the best!
---
Daniella Deutsch
Producer
1. Suzanne Rae Heeled Smoking Loafer: Never have I ever wanted a pair of mint-green shoes as much as I want these loafers. The color exudes playful vibes, but the shape is serious business.
2. Gucci Embellished Sandals: I have been daydreaming about these Gucci jelly sandals for months. After many sightings of this strappy silhouette during NYFW, it seems only appropriate to go ahead and buy these. Truth be told, I am ready to slip them on now with socks and tights and brave these remaining cold days.
3. Reike Nen String Sandals: From the Row to (old) Céline, the naked shoe has made its way around. Teeny tiny straps and a barely-there heel are basically the equivalent of the no-makeup makeup look. In my eyes, this pair from Reike Nen is the epitome of effortless chic. The price point only further sealed the deal to add to cart.
---
Ivanna Martinez
Social Media Manager
1. Binge Knitting Pom Pom Sandals: These sandals are so fun and honestly so comfortable during spring and summer. I love the pom-pom detail on them, and this yellow is very in right now. I need it to be spring ASAP.
2. LOQ Frida Pumps in Piedra: Copy + Paste to my closet please. These Frida Pumps from LOQ are *the* heel for spring. Perfect with a dress, jeans... It's definitely going to be my go-to shoe.
3. Nike Air Max 720 Colourways in Northern Lights: These are the ultimate spring sneaker. I love the light blue and, wait for it…glitter on the entire sole of the shoe! They are so comfortable, it honestly feels like you're walking on a cloud.
---
Camille Freestone
Editorial Fellow
1. Souliers Martinez Sevilla Woven Leather Pumps: The Mary Jane silhouette will forever be one of my favorites, so I just buy an updated version every few years. I love the T-strap on this pair, and the woven leather makes them warm-weather-ready.
2. By Far Tanya Patent Leather Mules: I am convinced these barely-there shoes would go with absolutely everything in my closet. Not to mention, the square toe sets them apart from a lot of the spring shoes currently on the market.
3. Ganni Sabine Printed Snakeskin Pumps: Statement shoes are the perfect solution to the days when all your brain can muster up for an outfit is jeans and a t-shirt. This snakeskin pair of pumps doesn't have too high of a heel and is at a very reasonable price point.
---
Valeriya Chupinina
Beauty Fellow
Part of the series:
WWWRN