A History of Black Costume Design in Film and Television
From Gone with the Wind to Insecure, how the black experience has been portrayed through fashion over the years.
Fashion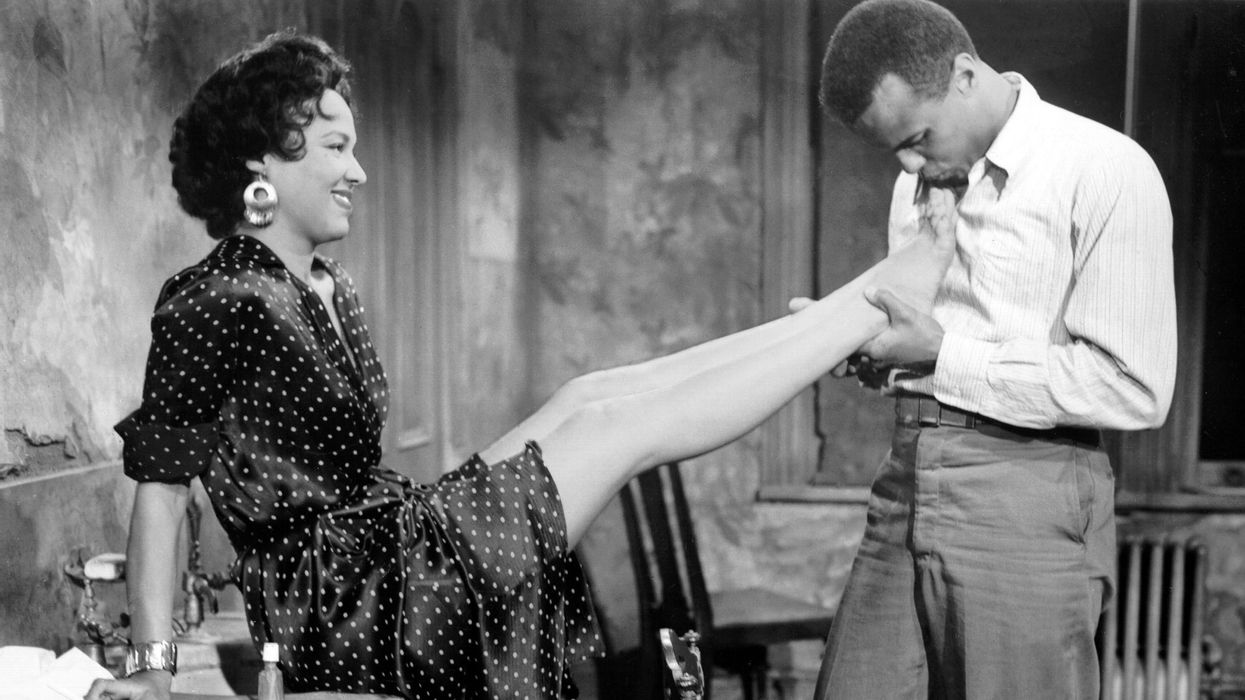 Over the last decade, Hollywood has produced some of the most amazing black TV series and films of our time. From
Issa Rae's Insecure
to the beautiful film adaptation of James Baldwin's
If Beale Street Could Talk
, the array of black storytelling has allowed millions of black people to see themselves reflected in various stories and characters. And while often overlooked,
costume design is central to these depictions
. For decades
black costume designers
have not only authentically portrayed black characters on screen, but they've also used costume design as a political tool to convey messages of freedom, triumph, tension, beauty, and pride.
Ahead, a look at how blackness has historically been portrayed on screen, and insights from the black costume designers working behind the scenes. 
---
1938–1948: Gone with the Wind and Song of the South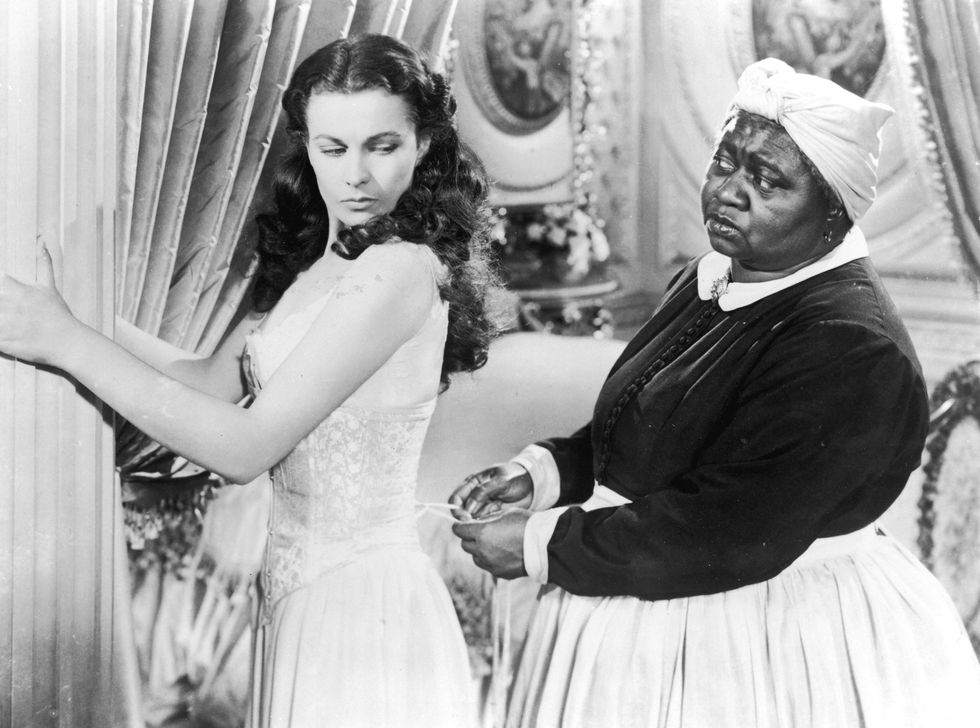 Hattie McDaniel in
Gone with the WindPhoto: Getty
Until the late 1950s, black actors appeared on screen mostly as slaves or domestic workers, leaving little room for creative costuming. Hattie McDaniel's Oscar-winning role as Mammy in 1938's Gone with the Wind is a prime example of this kind of caricature casting; her wardrobe was marked by a house dress, an apron, and a headscarf. Similarly, when James Baskett appeared as a plantation worker named Remus in 1946's Song of the South—a role he won an honorary Academy Award for—he did so in the the type of plain, tattered pieces synonymous with poor blacks at the time.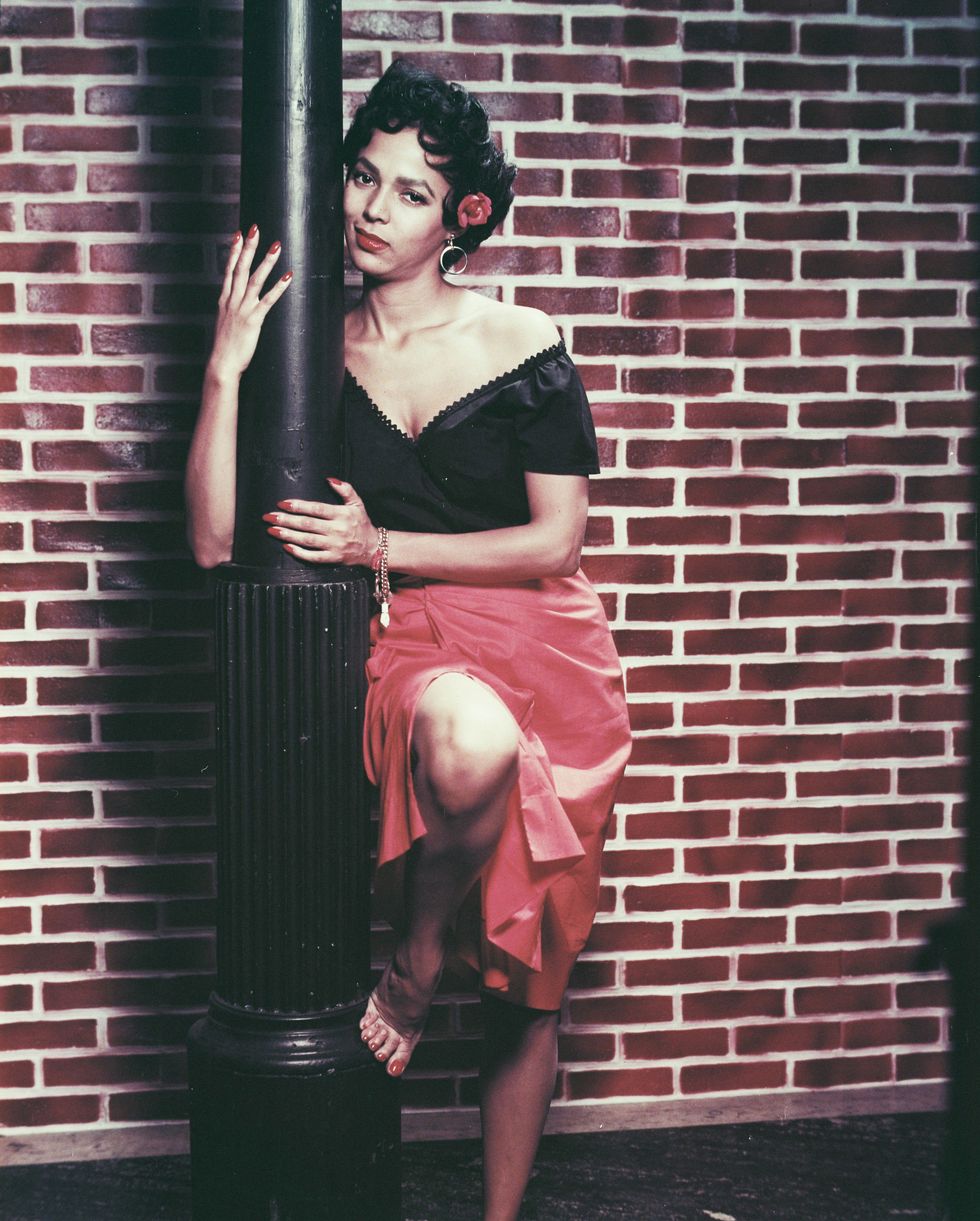 Dorothy Dandridge in
Carmen JonesPhoto: Courtesy of Instagram/@theacademy
1957: Carmen Jones

"I'd have to say my favorite costume moment is Carmen Jones," shares Stacey Beverly, a Hollywood costume designer who's worked on Girlfriends, The Game, and Black-ish, among other projects. The 1957 classic stars Dorothy Dandridge as Carmen Jones, a factory worker who, outside of her blue-collar job, wears a now-famous look: a curve-hugging red pencil skirt and black off-the-shoulder top. This was significant—not only were audiences seeing a black woman portrayed outside of a domestic role, but that black woman was also the epitome of glamour, dressed in luxe fur coats, dresses cinched at the waist, and hoops (gold hoops, to be specific, which were not de rigueur in 1957). Dandridge made history as the first black woman nominated for a Best Actress Academy Award, and while she didn't win, her portrayal of Jones did succeed in sending an empowering message to scores of black women.


1966–1968: Batman and Julia
In 1966 Eartha Kitt was cast as Catwoman in Batman—a role that saw her costumed in a tight leather catsuit and mask, bringing the sex appeal and allure of black women onto the small screen. Two years later, when Diahann Carroll became the first black woman to star in a TV series by landing the title role in Julia, the milestone was also a seminal moment for black costume design. A widowed single mother—which many black women could relate to, as the U.S. had entered the Vietnam War three years prior—Julia had an impeccable wardrobe reflective of the times. As the '60s ushered in a fashion awakening that saw a departure from classic A-line silhouettes and an embrace of mod styles, Julia was costumed in swing dresses, paisley prints, and leisure suits; her hair was worn in the short, asymmetrical cut popularized by Vidal Sassoon, and she completed her looks with round-toe shoes and nude lipstick. Black women finally saw themselves as active participants in American pop culture and trends. They weren't just the women who scrubbed the floors and burped the babies, they were now professionals, earning their own money and curating trendy wardrobes. Mattel partnered with Carroll to create a Julia Barbie, and in 1969 Carroll won a Golden Globe for the role.


1970s–1980s: From Blaxploitation to School Daze
Blaxploitation films come on the scene in the 1970s as exaggerated, camp-filled clapbacks to the black caricatures of the '40s and '50s. Movies like
Super Fly
were marked by outrageous and imaginative costuming. And who can forget Shaft—a character who epitomized style and swag for black men with his iconic leather jacket.
Fast-forward to 1988, and politically charged costuming continues to be prominent in black films. "One of my favorite costume design moments is Ruth Carter's work in
School Daze
," says stylist and costume designer
Shiona Turini
. "My alma mater is an HBCU (the
real
HU), so it was an incredible experience to watch the film come alive through the visual cues. Anyone familiar with HBCU culture knows that costumes and uniforms are intrinsic to the identity of students, and [Carter's] work was quite an education for me on relaying culture and tradition through clothing." In particular, the Jiggaboo vs Wannabee dance scene was costumed to convey the history of skin tone and hair texture as a class qualifier in the black community; it highlighted the nuances of the long-standing dark-skin-vs-light-skin ideology.
The 1980s and Early 1990s: Black Teen and Young Adult Characters Take Center Stage
Teen characters in the '80s and early '90s opened up the costume floodgates for more youthful, playful, and colorful fashion on television. Think Regina King in 227, Kim Fields in Facts of Life, and Lark Voorhies in Saved by the Bell. Another shining example is A Different World, which black Hispanic costume designer Ceci brought to life with Whitley Gilbert's tweed skirts, Dwayne Wade's flip shades, and apparel emblazoned with black pride messaging and the names of various HBCUs. Ceci, who currently costumes Dear White People and previously worked on Living Single, also skillfully took Jada Pinkett-Smith's character, Lena, through a style transformation many young black women can relate to. She goes from a freshman in baggy jeans and door-knocker earrings to wearing dressier, more grown-up looks.


1990s–Early 2000s: Girlfriends, Belly, and More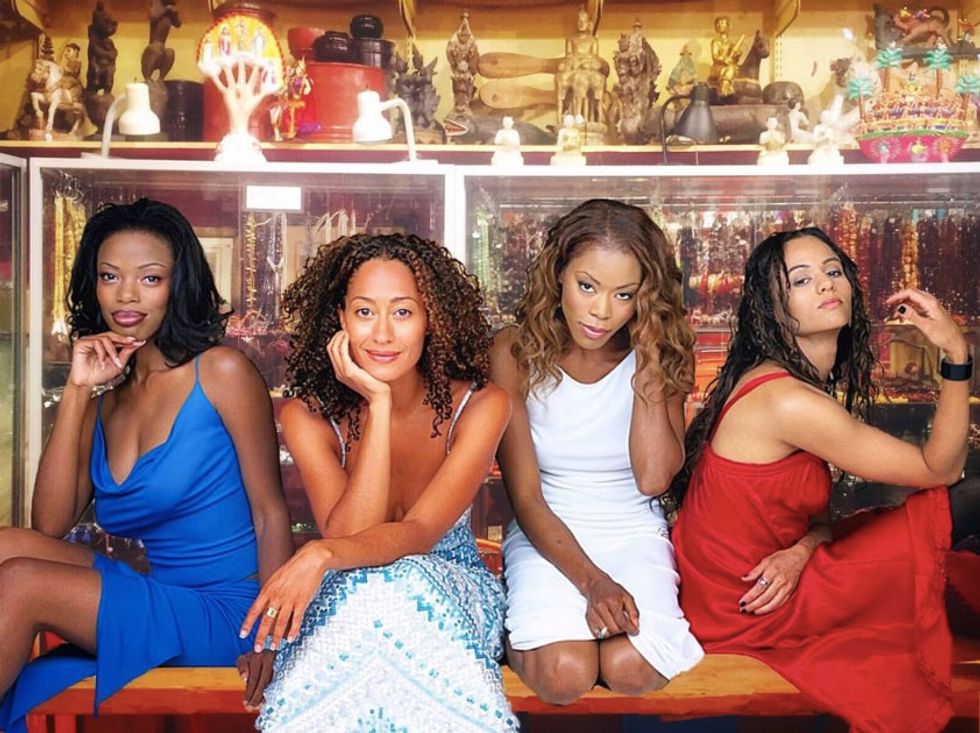 GirlfriendsPhoto: Courtesy of Instagram/@beadsofparadisenyc
The 1990s and early 2000s were a full-circle moment for black characters and costuming. Roles were no longer limited to just token black characters, as all-black casts graced screens in projects such as
Boomerang
,
The Best Man
,
Two Can Play That Game
,
Living Single
, and everyone's favorite:
Girlfriends
. Costumed by Stacy Beverly,
Girlfriends
portrays
Tracee Ellis Ross
's character, Joan, a lawyer, in Manolo Blahniks, tailored suits, and designer bags. Around this time looks and brands that had long been embraced by black and urban communities started being heralded as luxury and aspirational to the mainstream. "
June Ambrose
's work on
Belly
is chilling," says Turini. "The all-white glowing scene—iconic." The 1998 Hype Williams–directed film helped to accelerate black urban wear into popular culture with its slick, edgy, and gritty costuming.
Present Day
From Olivia Pope's white coat in
Scandal
(a juxtaposition to the "dirty" work she did) to looks seen on
Insecure
, the wardrobes of black characters on film and television are more nuanced than ever. "Molly in particular...as a black woman with a great job and immense buying power, it was crucial for me to demonstrate that through her clothing," says Turini, who began working on
Insecure
in season three. She continues, "For black characters, small touches and emblems in costuming, like the black power fist necklace we used from Sewit Sium in Insecure, let the viewer know that the character has depth. He or she was black long before the cameras started rolling and will be after."
As the push to diversify storylines and characters on screen continues, so do efforts to increase opportunities and visibility for black costume designers. "For me, being a costume designer really is like a triple-edged sword," says Beverly. "Being black, being a woman, and having so much responsibility for what's being being portrayed on screen—yet being the lowest paid of all of the department heads on a production—is pretty frustrating, to say the least." That hasn't stopped Beverly and others from continuing to break down barriers, though. "In my short time as a costume designer, I've had the privilege of working in L.A., NYC, and New Orleans, [and] it's been interesting to discover how many black costume designers, assistants, and supervisors are in the union and able to be a part of the bigger picture of storytelling through costumes and wardrobe," Turini says. "Diversity and different perspectives from the teams behind the scenes can add so much depth and texture to characters' on-screen appearance. I'm excited to be a part of a field where there is much space for growth in that respect." We're excited to watch.
Top photo: GettyWant more stories like this?
4 Fashion Insiders on What Black History Month Means to Them
12 Great Books on Black History, Culture, Sexuality, and More
28 Viral Nail Art Designs—Each Inspired by Black History