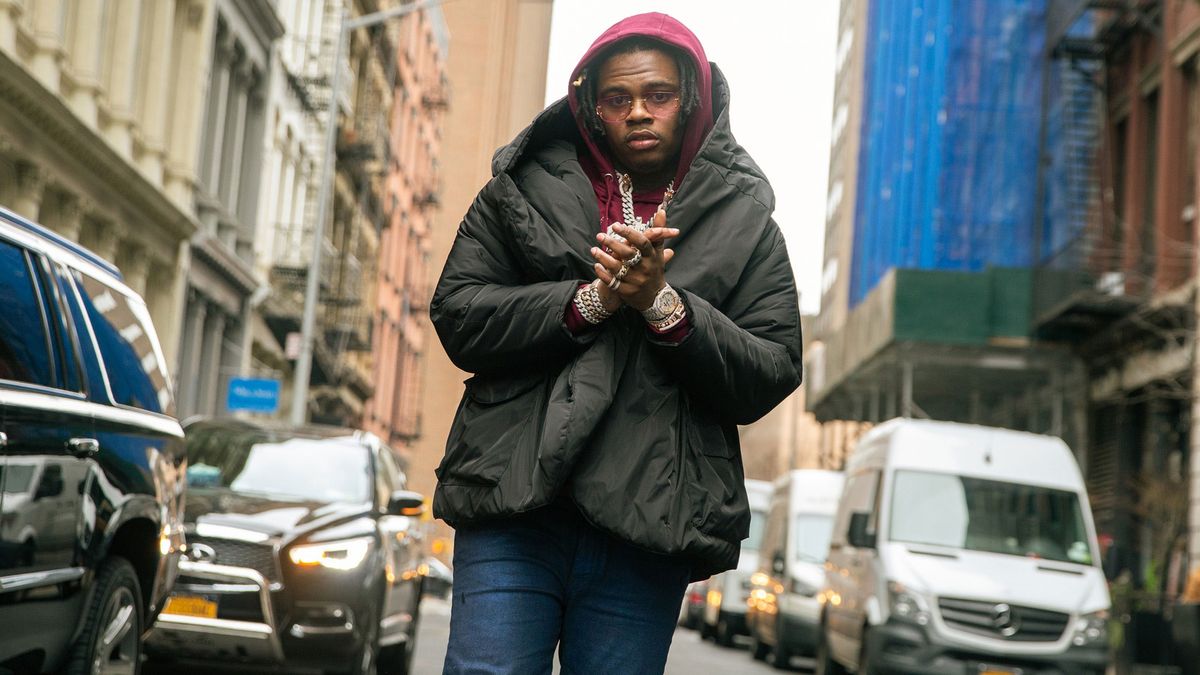 Celebrity
But you already knew that, didn't you? We caught up with the rapper ahead of his Drip or Drown 2 album release.
Alec Kugler
Gunna is sitting in the middle of our SoHo studio on a sunny afternoon, peacefully smoking a blunt, and in between exhales, the
Atlanta-born rapper
is giving us the rundown on his music career thus far, touching on everything from his first studio session (in a closet) to how
Drip Season 3
catipulted him to the main stage. Plus, what it was like working with Mariah Carey on "Stay Long Love You," and what we could expect from
Drip or Drown 2
(out tomorrow). While his captivating flow and individualistic style both already hint to it, Gunna's stories solidified the fact that he's always remained true to himself, never wavering, throughout his come-up.
---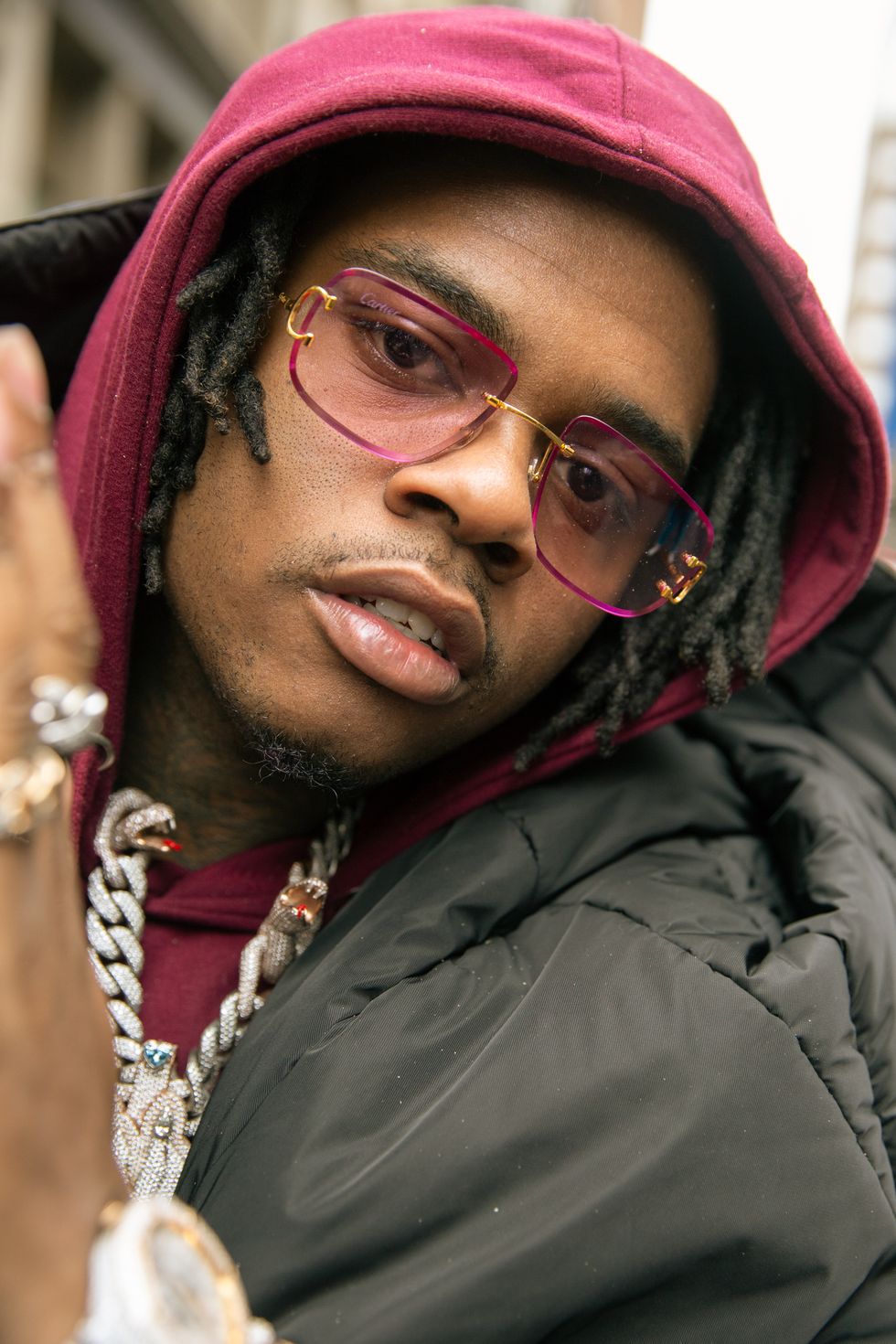 Where it all began:

"My friend had a studio across the street from my house, in his closet, and me and a bunch of my older friends used to go in there and record ourselves. I always wanted to rap, ever since I was 14, 15. I always wanted to make this my career."

And what those first few years were like:

"I was in a hungry mode then, which I still am now. I might be a bit more hungry now that I've had a little taste—I want to lock down. The grind that I had back then, I have that now, too."

Drip Season 3 was a turning point:

"Since Drip Season 3 dropped, I feel like my life has [been] taken to another level. I'm more of an artist now instead of being a rapper that's coming up or a local rapper. I feel like more of a mainstream artist."

He's had a core group of mentors along the way:

"Behind the scenes, I mean, my closest friends. Young Thug, Troop. These [are] my people who really came out of my neighborhood with me. They really supported me and believed in me before [anybody] even knew what I looked like, you know what I'm sayin'? I gotta give my props to them first before anybody."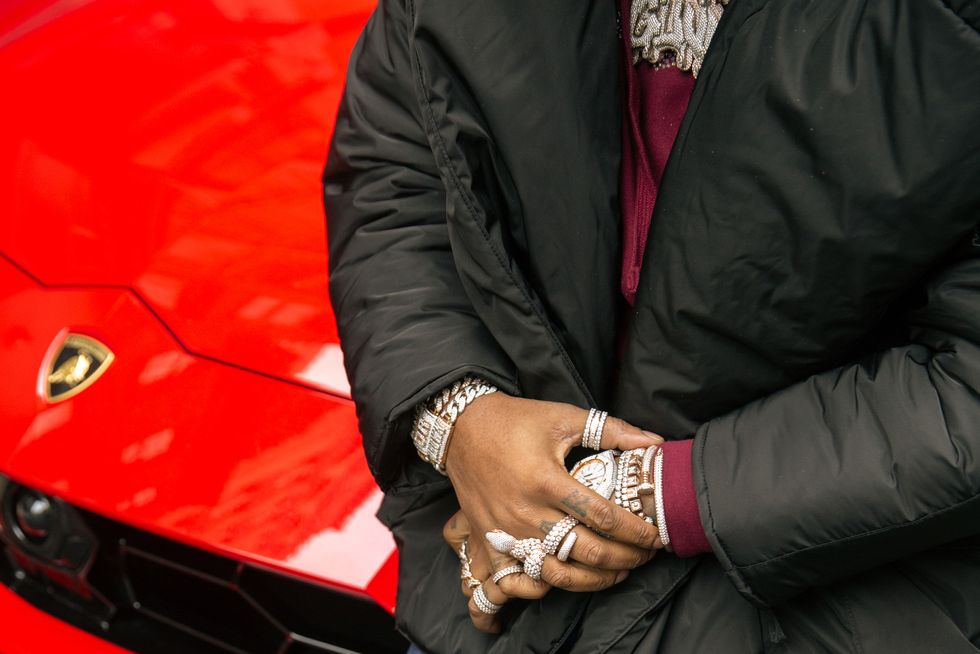 Car provided by Gold Executive Transport
On other rappers imitating his sound:

"You ever heard the song I made called 'Style Stealer'? That song is on Drip Harder. I feel like a couple rappers try to steal your style, you know, which is cool, I don't mind because I feel like they're fans, too. They're rappers, but they're fans of mine, too. I don't have rappers being like, 'Did you hear this?' but they'll say they got this sound from [me, and] I respect that, I don't have no problem with that. But when you try to deny it, that's when you're a style stealer for real."

The song he wishes he'd held off on releasing:

"'Money Don't Change Me'... I should have waited to put that song out. I feel like sometimes artists are making songs that are before their time. Not before their time for themselves, but just for people to grasp it. I make a lot of music, so I shouldn't have put it out so soon. If I would have put it out today, it would have got a bigger look."

What we can expect from Drip or Drown 2:

"It's me. It's a project that's a lot of me, not a lot of features. I've been working on it for a while, so I got a lot of hits on there. Like hits, not just a one, two, three thing. Hits.

"I feel [the inspiration behind it is] the whole year of 2018 and how everybody just dripped—new songs, new drip. This album inspired me to let you know what I live and die by. I be fresh every day. I've been doing it since a child, no exaggeration [laughs]. So that's me. I'm explaining a little bit about how I feel about my drip."


On working with Mariah Carey:

"Honestly, I was so shocked that she even knew me. Still to this day I haven't met her personally, but I just love the fact that she reached out, you know what I'm saying? A real legend. Shoutout to Mariah, man, that album did good, too."

His friendship with Lil Baby:

"Lil Baby, that's my brother. Our relationship grew together 'cause we were somewhat the same. Not the same age, but just young and knew how to dress. Before doing music we were known for being some cool, fresh, young n*****, you know what I'm saying? So when the music came about—I've been doing music, Baby wasn't. Baby did it just 'cause, people kind of forced him to do it like, 'Man, you need to rap, you're a star, you need to rap,' but when he let me hear it, I was like, 'Oh yeah, you can go,' and he went. He told me the same thing. He believed in me just like I believed in him."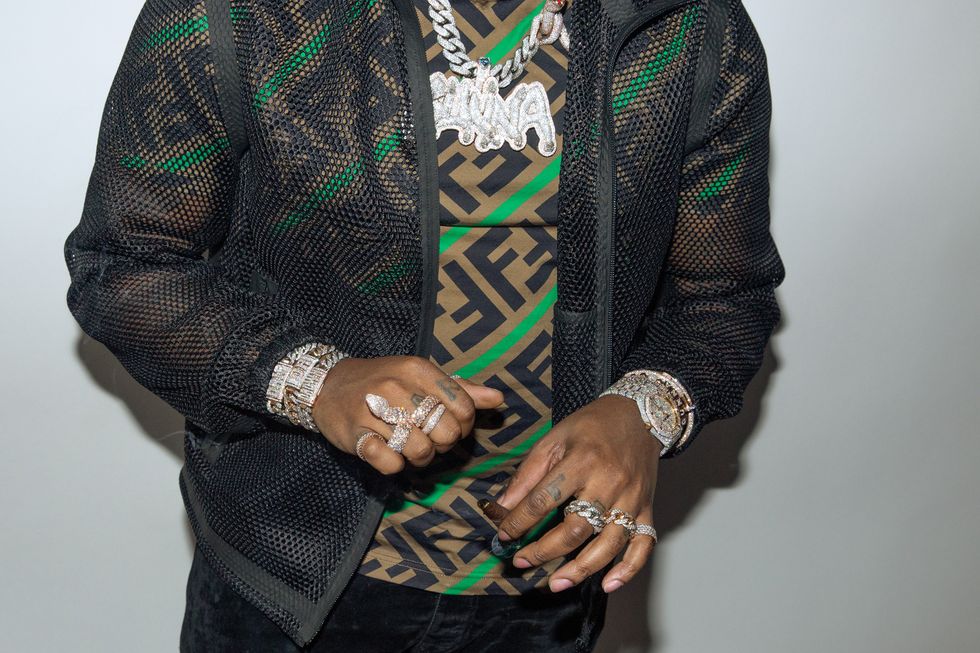 Touching on his personal style:
"Right now I feel like I'm getting more into the fashion world—and not just name brands, because it's deeper than that. Even when I was coming up and didn't have any money, I would still look good. You've got to have style first before you can have anything else. You've got to know the style, you've got to be in it. Some people just really can't figure out style."
If he'd ever be interested in collaborating with a fashion brand:
"Of course. I'm definitely going to launch my own brand soon. I wouldn't mind doing something with Maison Margiela, I wouldn't mind doing something with Dsquared2. Mike Amiri, Alexander Wang, Stella McCartney—I'm into a lot of different brands. Of course, Virgil, we could collab. There are too many to name."
The design process behind his jewelry:
"
Eliantte
does all my jewelry. We come up with the styles together. The style for my chain right now, with the snakes coming through it, he came up with it because I told him that I didn't want to do no regular cuban chain, I wanted something different. He was like, 'what if we try two snakes on each side?' And it came out crazy."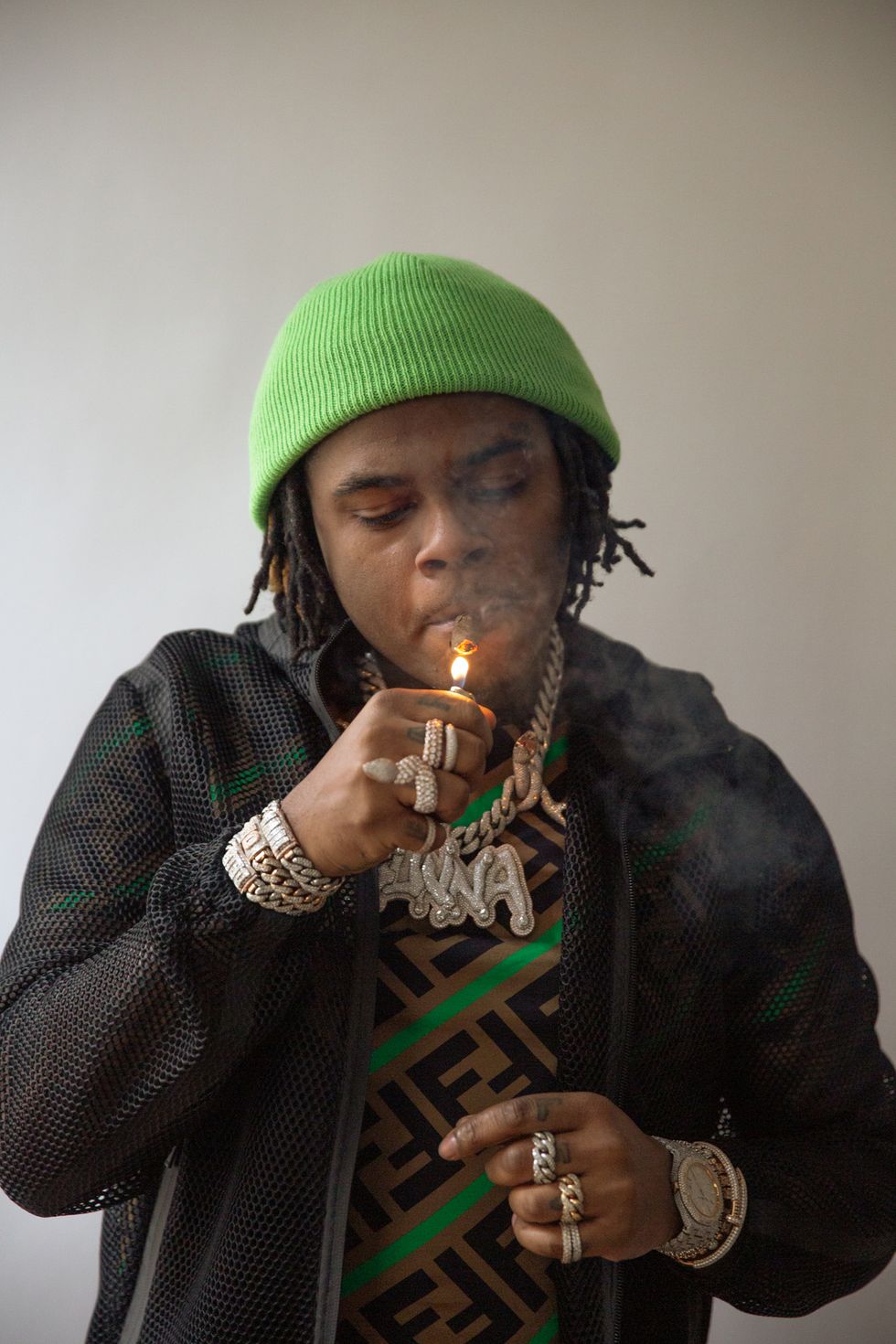 His advice to those looking to get into the industry:
"Do music because you want to do it; don't do it because somebody else is doing it. Then, once you do it, stay with it, and don't let nobody stop you from going hard. Even if you feel like ain't nobody paying attention, there is always somebody paying attention. You need to always know that. Out of all the projects I've put in, I still gain fans every time."
And the best advice he's ever received:
"Always remain humble, that's one thing that's stuck with me. You start to look funny when you put yourself on a higher pedestal than everybody else. You can't do that. We're all made the same."
His year will focus on storytelling:
"This year I want to be more, I don't want to say
'
open to people,
'
but I want people to know me more than just being like, 'Oh, he be fly.' I want people to know where I come from, how I was raised, how I feel about certain people and certain situations in life—just how I think."
What he wants to be remembered as:
"I want to be remembered as a young legend who was fly and rich and took care of everybody and stayed humble."
Want more stories like this?
When Migos Wants One-of-a-Kind Tracksuits, They Call Natalya Amres
Exclusive: Everything That Happened on Rae Sremmurd's Recent Tour
30 Years Later, Slick Rick's Closet Is Still Rammed with Color & Fur