Career
Get familiar with Warp + Weft.
Alec Kugler
The first time we ever slipped on a pair of
Warp + Weft
jeans (their
JFK style
, if we
'
re being specific), we couldn't get over how
soft
they felt. Plus, the brand is entirely sustainable, shape- and size-inclusive, and at a $98 price tag, there
'
s no reason 
not
to stock up. That hard-to-ignore softness is a result of a very special, ultra-absorbent fabric called Tencel used in every pair. Founder Sarah Ahmed combined this innovative fabric with the
sustainable practices
she picked up from her family's luxury denim brand, DL1961, and now Warp + Weft is being snatched up by women and men across the globe. Below, we chat with Ahmed about everything from launching the brand to why all of the silhouettes are named after airport codes.
---
The business of denim is her business:

"Denim has been in [my] blood since I was born. All around me was indigo. I think our blood color is indigo [laughs]. For me, seeing the ecosystems around me of creation—creating products and creating it in a mindful way (all of our factories have always been at the cutting edge of technology in terms of sustainability, water conservation, energy use)—had a huge impact on me. I wanted to be part of the community, and I wanted to support [it]. It's really something very special, and I wanted to take the manufacturing mind-set and create a consumer-facing brand that is very transparent about its practices. We did it with DL, but I think it was too early for the time. The millennial customer is very conscious and is very mindful about their purchases, so to be able to leverage our supply chain and create a brand that is under $100, inclusive, direct-to-consumer, sustainable, and for men, women, and kids [of] all sizes, heights, and body types, is very special."

Nothing was going to hold her back from launching Warp + Weft:

"I was so ready and itching. I was sick of the lack of inclusivity, and the market was very untapped in the $100 space. You used to go to department stores and clearly see who the favorite customer was, and that favorite customer is not the majority. Creating a brand for the masses that feels fresh and modern, and is sustainable, is really something I was itching to do. It had to be done; the space had to be disrupted—no one has done it for denim before.

"Everyone asks, 'What's the difference between Warp and DL?' DL is truly a premium denim brand, Warp is an essential. It's your jean that you're wearing without thinking twice. It's really [about] building that wardrobe. I [wear] Warp as my workwear, and DL is more—you take that risk. It's more a designer mind-set."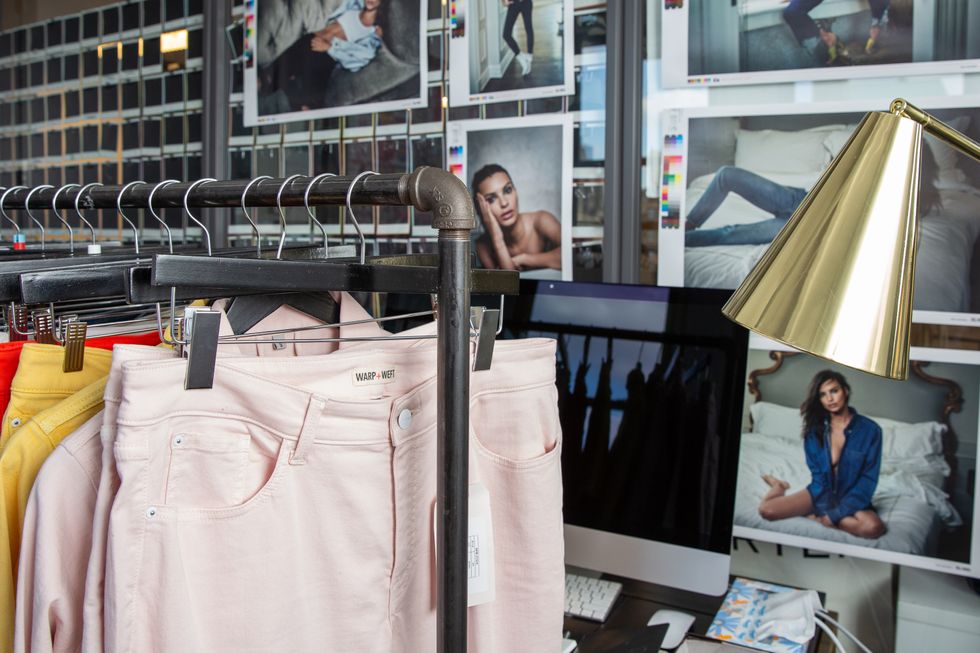 A 101 on the brand's sustainable practices:

"Our sustainability comes in two parts. We do everything in-house in one complex, and it's huge. We work with a company called Lenzing, and they make Tencel. That fiber itself, when we incorporate it in denim, is ultra absorbent. [We use] half the dyes, half the water, half the energy, because it's ultra-absorbent and [goes] through the processes quicker. Also, we have solar panels and our own power plant—a lot of the factory is powered by solar, and we have our water treatment plant where we recycle up to 95 percent of the water that we use. All of our dark to light [washes] go into something called an Ozone machine—an oxygen machine—so it's all waterless."

What a typical day looks like for her:

"I wake up at 5:30 AM every day. These days I'm learning how to speak Mandarin, so I try to do that in the morning to wake up my brain. Then, to be honest, a few years ago I was always so stressed out, and instead of getting on the train of drinking this tea or doing that meditation, I just lived. I [decided] not to put so much pressure on myself, and that helps my day a lot. [After practicing Mandarin,] I do emails. I like to do work before everyone gets in the office. Then I go to the office. I usually have morning meetings with outside people trying to do collaborations and business-development meetings. Then the latter part of the day I spend on creative and in-house stuff. I'm done at five."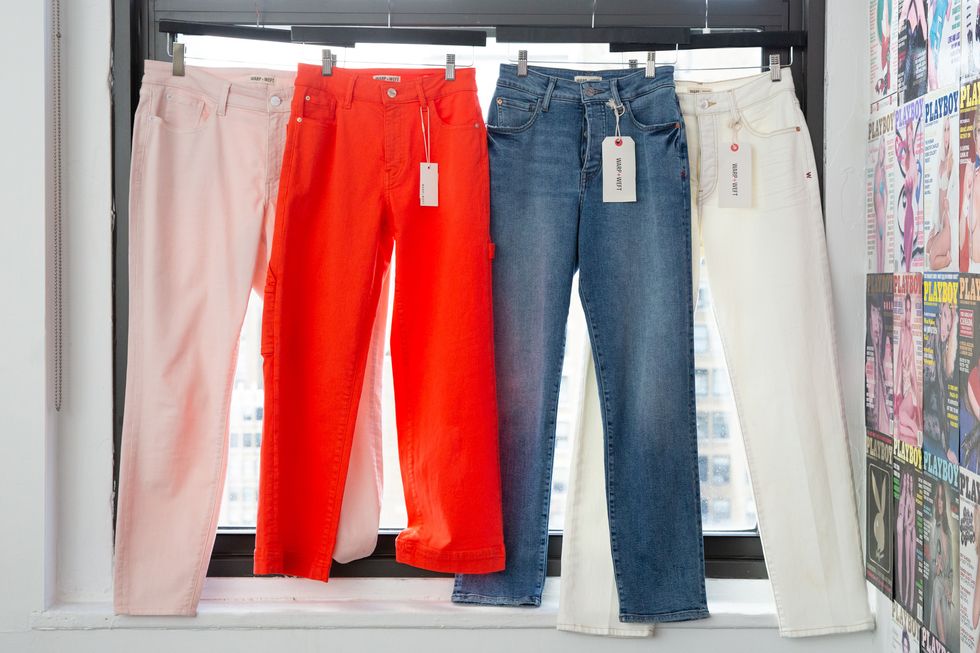 Each silhouette is named after an airport code:
"There was a time in my life where I was taking two red-eyes a week—it was insane. In 10 days I was in five cities. London, Paris, L.A., New York, because we had offices there. I remember only packing one pair of jeans. At the time it was [the silhouette] that became JFK, but it didn't have a name, as I was wear-testing it. I was like,
'
Wait, it's not sagged, nothing has happened, and it's so comfortable. I've worn it from the plane to meetings to beyond.
'
That was it, we decided to name them off airport codes."
It's very much still a family biz:
"My dad is my silent partner, but he's really a not-so-silent partner [
laughs
]. With [Warp], my dad runs the factory, and he is the supplier, but he's also a very amazing businessperson and my mom is an incredible product person. She's consulted for all of these big brands around the world, and she's really the reason why the fit is so on-point. I'm always consulting them and always working with them. I'm kind of office-squatting on them right now [
laughs
]."
They have a new product coming soon:
"We're launching underwear. When we were fit-testing [the jeans] and meeting so many people, everyone unanimously was like, 'We hate the underwear we have to wear with skinny jeans.' A thong is the most seamless version of women's underwear, but it's not the most comfortable. Not everyone likes that, so we thought to create a seamless, affordable, universally shaped [pair of underwear] for everyone. It's coming out in April."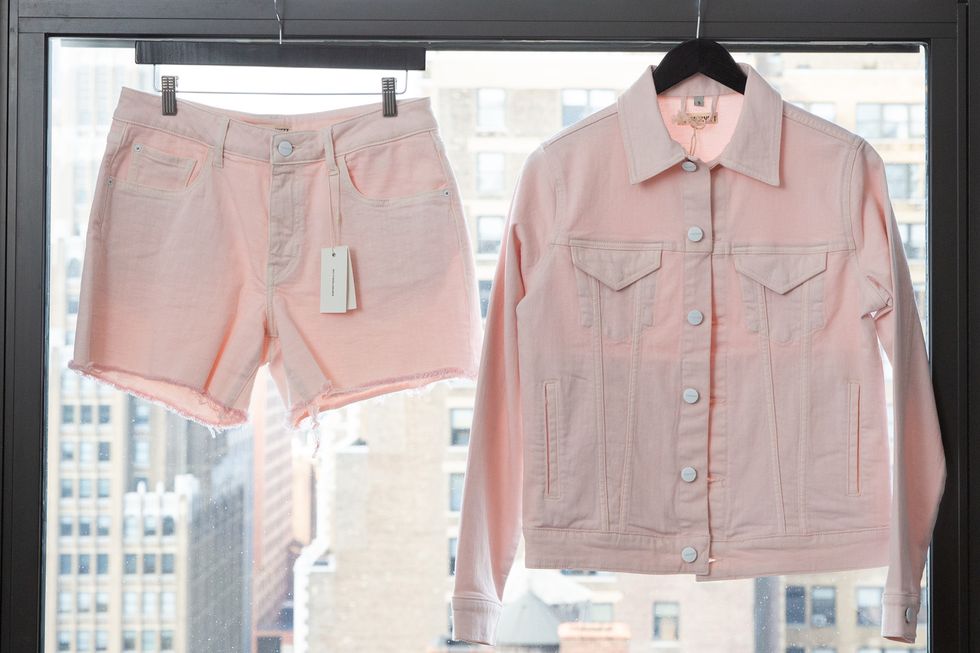 The dream brands she'd love to collaborate with:
"Very unexpected—I love
Huda Beauty
. I think she's a nice person, and I like her messaging and how she celebrates other brands. I think she's very real, she talks about her struggles, and I think she can relate to our customer. I want messaging brands like
Bumble
. I would love to collaborate with
Away
, you know, the idea of the jeans that go with you. And we're huge fans of Charity Water. We want to do a program with them."
What else we can expect to see from Warp + Weft in 2019:
"We're hoping to collaborate with a cool artist this year to come on as a creative director to really push a quirky vision. I don't think a luxurious brand experience exists in mass, but I think that thanks to social media and transparency, a lot of people are looking for more content that is organic, fresh, interesting, artistic, and fun. I'm imagining our Instagram six months from now just to be memes—I'm not even kidding you. High-quality memes, and I think there is a way to do it artistically. Also, including found objects in our ad campaigns and having quirkier casting. Really representing optimistic energy that is international and universal."
Want more stories like this?
Meet Your IRL Fairy Godmother
How Procell Vintage Became a Goldmine of Inspiration for the Fashion World
Meet Sandrine Charles: The Woman Helping to Grow Your Favorite Menswear Brands