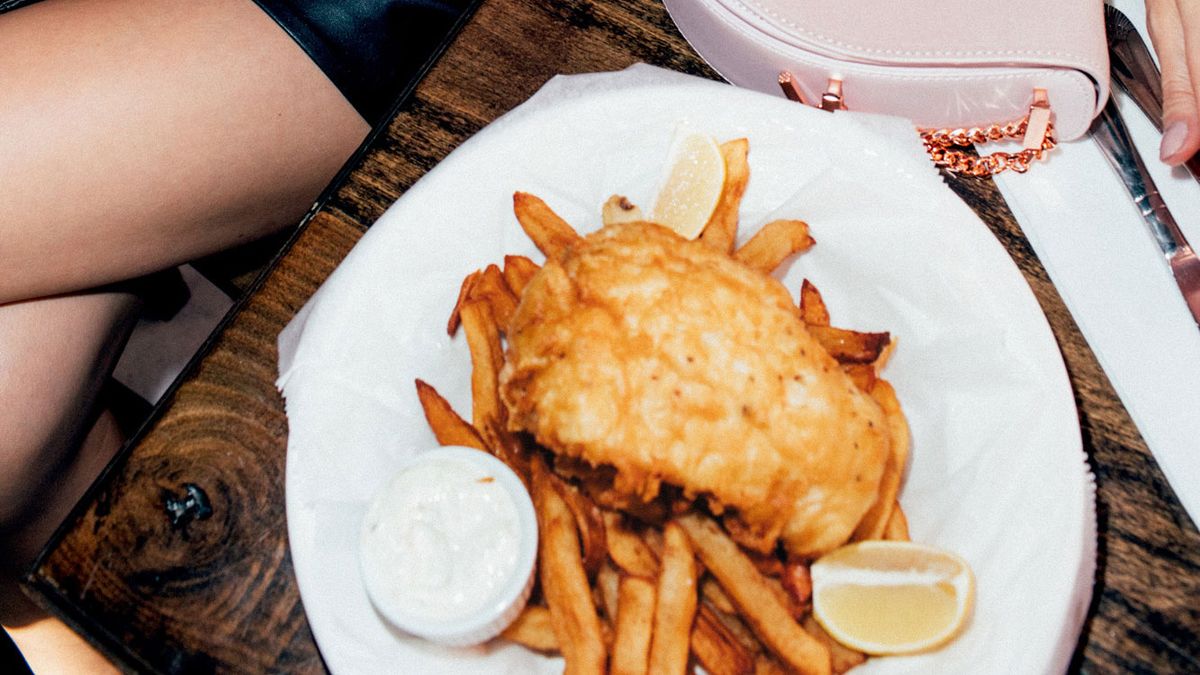 Food
Where to Find the Best Fish 'n' Chips This London Fashion Week
What she order?
A fish-and-chips stop is as essential to a London trip as adding "innit" to the end of your sentence and being confused about why there isn't an outlet in your bathroom. (Londoners: Where do you blowdry your hair?) But you can also easily tumble into the tourist trappings of a city's claim-to-fame dish: spending £16 on a soggy, pallid fillet at a Shoreditch shawarma shack—ahem, speaking from experience here. With LFW right around the corner, we rounded up our list of must-try chippies to snack on between shows. London Fashion Week < London Fishin' Week, amirite? (Sorry.)
 

THE BOUGIE: The Mayfair Chippy, Mayfair
If
Meghan Markle
were to be papped licking the malt vinegar off her fingertips, it would probably be at the
Mayfair Chippy
. Daintily plated and sprinkled with rock salt with tin cups of condiment dolloped like perfect meringues, you can choose between cod, haddock, or vegan (jackfruit and tofu with dairy-free tartar sauce) in small or large. We'd go for the Mayfair Classic: a Goldilocks-worthy fillet (not too greasy, not too crispy) with a basket of half-moon fries, mushy peas, tartar, and chip-shop curry sauce or HP gravy. Still hungry? Top it off with a cocktail and sticky date pudding. 
THE HIPSTER: Shoreditch Fish & Chips, Shoreditch
Slip past the generic IKEA patio sets (recently made infamous by Toronto's #ChairGirl) that greets you at this nondescript storefront off Brick Lane in Shoreditch, and sidle up to the glass counter, where they serve the no-nonsense kind of fish and chips: grilled or fried, served with a wedge of lemon, Styrofoam cups of sauce, and their delectable house Caesar salad. Best part: the crispy-crunchy coating that cracks like a crème brûlée when you dig your fork in. 
THE CLASSIC: Poppies, Spitalfields & Camden
It doesn't instill much confidence that the first item on the menu is "jellied eels." But
Poppies' fish and chips
—with its branded jars of ketchup and tartar, nautical British decor, and fillets the size of your forearm glistening brighter than a Fenty beauty kit—is the realest of deals in the chippy game. Grab a pint, and remember not to clink drinks. (They don't cheers in London—but they do say "cheers" a lot. It's a whole thing. We won't get into it.) 
THE IDRIS ELBA–APPROVED: Rock and Sole Plaice, Covent Garden
Need we say more? 
Want more stories like this?
The Only Guide to Portugal You Need: Lisbon's Best Tarts
Tel Aviv: The Next Big Destination for the Fashion Set
How to Stay Healthy While Traveling