Brand New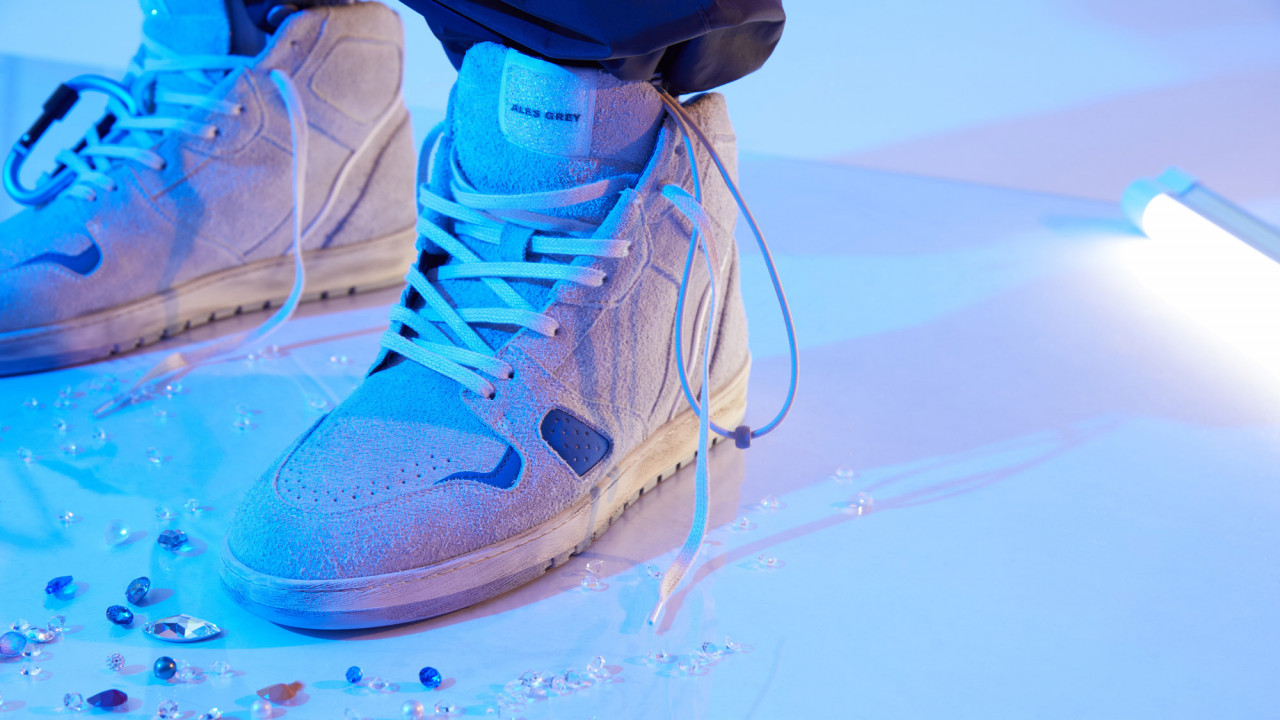 Ales Grey: The New Luxury Brand You Need to Know
"Sneaker" Steve Patiño dusts his clothing and sneakers in Swarovski crystals while simultaneously giving back to L.A.'s art community.
It was only a matter of time until "Sneaker" Steve Patiño launched his own brand, and he did just that this past December. Allow us to introduce you to Ales Grey, a luxury lifestyle brand built from Patiño's extensive knowledge of both the sneaker and fashion industries (he spent years at footwear brands DC Shoes and Android Home). Patiño's brand, named after his son, is a collection of Italian-made sneakers and clothing, the majority dusted with Swarovski crystals.
Patiño had wanted to "build a luxury company with purpose," he told us, and so a portion of proceeds from each pair of sneakers sold goes towards supporting the Inner-City Arts organization, an L.A.-based arts education program. The first sneaker dropped was The Battalion, inspired by "retro vintage basketball shoes, skateboard sneakers, and Motocross boots from my days at DC Shoes." Keep reading to find out more about Ales Grey's connection to the arts, the story behind the Swarovski crystals (it's good), and what the brand has in store for us.
How the company came to be:
"After 20 years in the sneaker industry and after the birth of my son, Greyson Alessandro (where name of [the] brand is derived), it was important for me to create a way to leave legacy and pay it forward. Art saved my life, so I am committed to giving back and created Ales Grey to be a company that is focused on giving back to youth arts for future generations through the Art Saved Me campaign."
A long history in sneakers aided Patiño in the creation of Ales Grey:
"My past experience has helped me curate the vision of the brand. I started working as a kid for free for sneakers—that's how I got the name, 'Sneaker Steve.' This led me to being hired as the first global director of lifestyle for DC Shoes in California and moved me to the West Coast. We were part of the team that took DC Shoes to Barneys, Colette, Dover Street Market, and Atmos in Tokyo. Later [I] became a partner and President of Android Homme. I moved to China to learn every side of the manufacturing process and helped the company make luxury footwear. I was able to learn and work with some of the best luxury factories and suppliers in the world."
The inspiration around the first sneaker silhouette:
"The process of creating the first silhouette was me going back into my youth, playing basketball in Queens, NY. I also included pieces of my childhood, living in Miami and seeing Airwalk skate shoes for the first time. The Battalion shoe itself is named after the recreation center in Queens, NY, and the silhouette is derived [from] retro vintage basketball shoes, skateboard sneakers, and Motocross boots from my days at DC Shoes, in the action sports industry. In terms of creating the colors and the soles, I used my [experience from] going to Japan and being exposed to vintage sneaker shopping and deadstock sneakers. They would wear shoes even if the sole was yellow and old from oxidation. I took this outsole color concept and developed it in Italy to re-create a vintage yellow effect with one of the best suppliers in the world, Margom."
On the importance of the brand having a charitable component:
"I believe the luxury market has the highest margins, and the highest forms of art are created in the luxury market, so why not create a company that gives back to the form that created it. I've been fortunate to see a lot of the world and create an incredible career for myself, despite coming from harsh economic conditions and growing up poor. I felt like it [was] my duty to give back as a conscious brand owner and someone [who] is benefitting from the market. We are approaching the year 2020, and Ales Grey is a company built on improving the new world we live in and being a part of fixing the future."
The story behind the Art Saved Me hoodie:
"[We wanted] to create a graphic for a sweatshirt that celebrated the amazing launch of Ales Grey. Art has given me the opportunity to create this brand, so we paid that forward [by] giving an opportunity to a 19-year-old designer from South Central L.A., Erick Rodriguez, to design the 'Art Saved Me' graphic. Erick had the opportunity to have his graphic showcased in Paris last month and shown to the biggest buyers and fashion influencers in the world—a life-changing opportunity for a young student designer."
What made you choose to use Swarovski crystals on both the sneakers and clothing?
"I chose Swarovski crystals for a few reasons. The first being that Ales Grey was conceived out of a very reflective period of my life; the second was because I was looking to make a beautiful application logo that I could add to the shoes and clothing. The third was a more deeper meaning. One of my dear friends and former business partner from the past had passed away in an accident. He did a lot of custom work for Usher, Miguel, and Tracy Morgan's Michael Jackson jacket. Leo loved Swarovski, so it's a subtle way of keeping him close to me."
The dream brands he's hoping to collaborate with one day:
"Nike, MIT Innovation Lab, Ikea, Sacai."
Photos: Ales Grey
Want more stories like this?
Templa Makes Alpine Outerwear You'll Want to Wear Off the Slopes
The Vintage-Inspired Denim Line on Every Editor's Wish List
The Anti-Trend Bag Brand About to Blow up Your Instagram