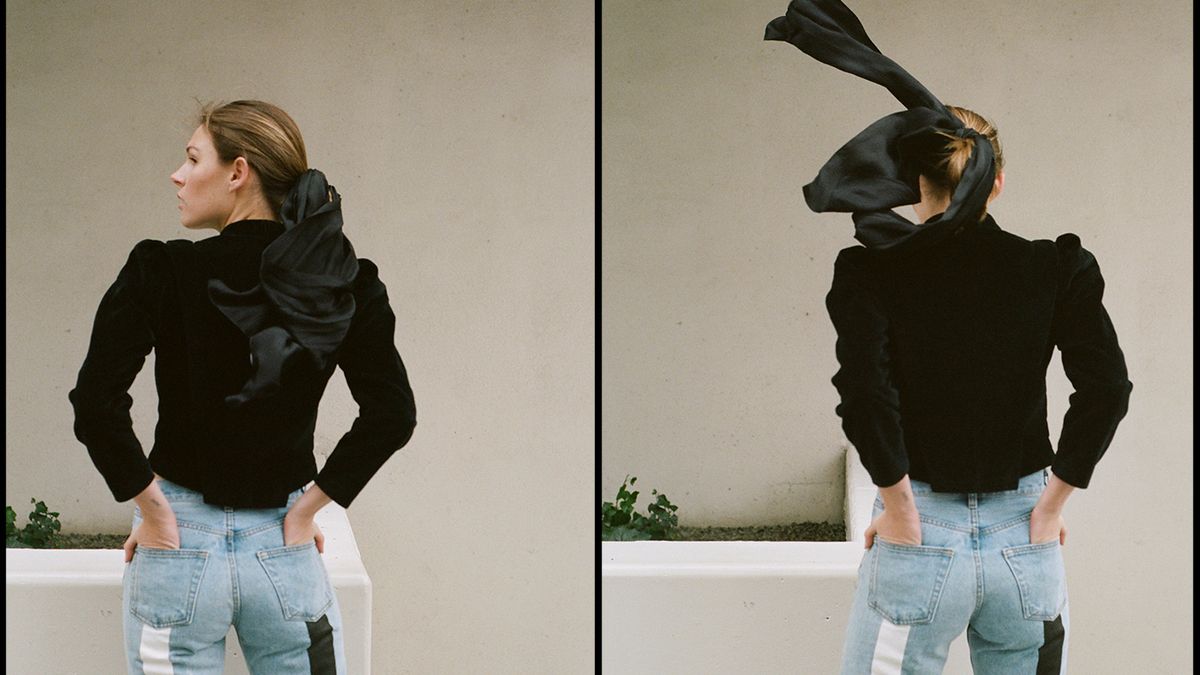 Designers
The Vintage-Inspired Denim Line on Every Editor's Wish List
The hand-painted details make Still Here the newest label to watch.
When it comes to jeans, the
perfect vintage pair
is always at the top of our must-have list. You know the silhouette we're talking about—high waist, straight leg, and the pocket placement and structure that gives your butt the lift that inspired the peach emoji. But since everyone has scoured their local thrift store for a pair of their own, we've been craving a new twist on this wardrobe staple to make ours more unique. That's why, during a recent Instagram scroll, a pair of painted light-wash denim made us stop in our proverbial tracks.
---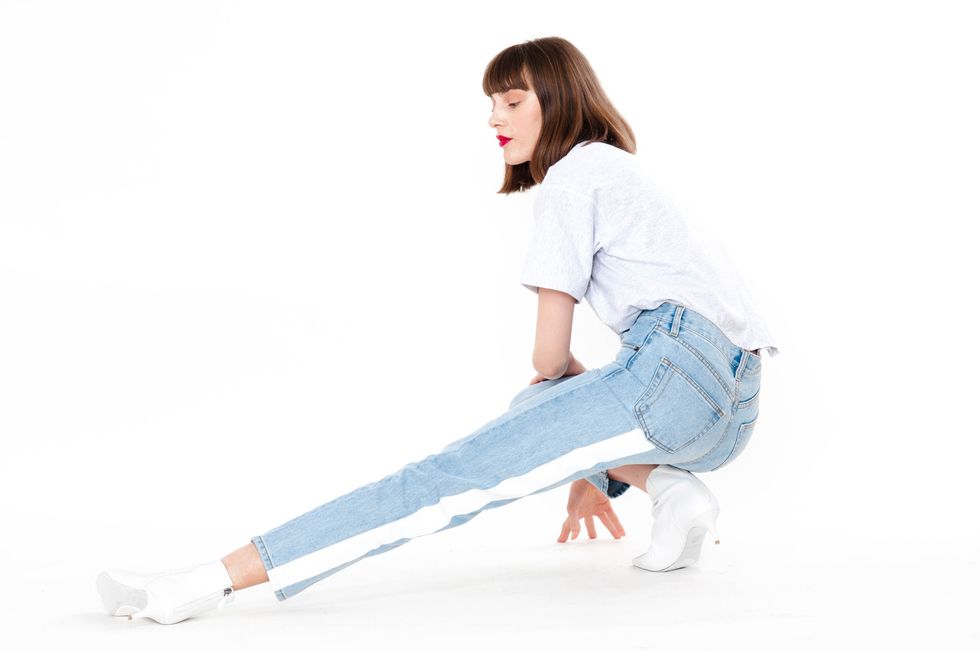 Photo: Courtesy of Still Here
Sonia Beyda Mosseri is the founder and designer behind
Still Here
, a debut line of six denim styles that incorporate hand-painted details, constellations of snap buttons, and embroidered designs. "I really think that women have a rebellious uniform in 2019," she says of her love of jeans. "It's like blue [or] black jeans, cool sneakers, a t-shirt, and a sweatshirt or blazer. Things have become much more casual. You walk around New York, and every single person is in jeans. I wanted to be part of that."
After a childhood spent customizing her mother's jeans with chains or turning the legs into a purse, she further cultivated her interest in fashion with an internship at Rosie Assoulin and designing costumes for her brother-in-law's feature film, 
Cheerleader
. Eventually her interest in painting and craft led her to customizing a pair of her own vintage denim, and after wearing the painted style to a trade show for her first collection of t-shirts, the response was massive. As she says, "I made an executive decision to stop what I was doing about a year and a half ago and just climb right into the denim world and try to build my own pair from scratch."
The Still Here jean incorporates the brand's signature silhouette, called the Tate Crop, with a vintage-inspired wedgie fit (again, the focus is on lifting and flattering the tush) with handmade details down the back of the legs. This writer's favorite is the black-and-lime-green striped Hunter + Sage pair—they're made for complementing an oversize 
cashmere sweater
or your favorite vintage t-shirt.
At a $250
–
$380 price point, the jeans are a bit more of an investment than the average vintage pair, but Beyda Mosseri thinks of her pieces as a reflection of customers' desire for more conscientious shopping. "With all of this fast fashion, everyone is craving pieces that are just a little more special, that identify with their core beliefs, that they actually want to spend money on." And now with the brand's capsule collection—a robe, two jackets, and a tee—the designer is getting even closer to her ultimate goal for the line. "We want to show the consumer an overall aesthetic of what Still Here is about, and if someone gravitates toward the jeans, that's amazing, but they have this picture of the coolness that we're trying to push that is beyond jeans. It
'
s a look."
Photos: Courtesy of Still Here
Want more stories like this?
How to Find Vintage Denim That Actually Fits
Our Favorite Winter Footwear for When You're Sick of Boots
Shop 15 Pieces Inspired by Lynette Nylander's London Street-Style Wardrobe