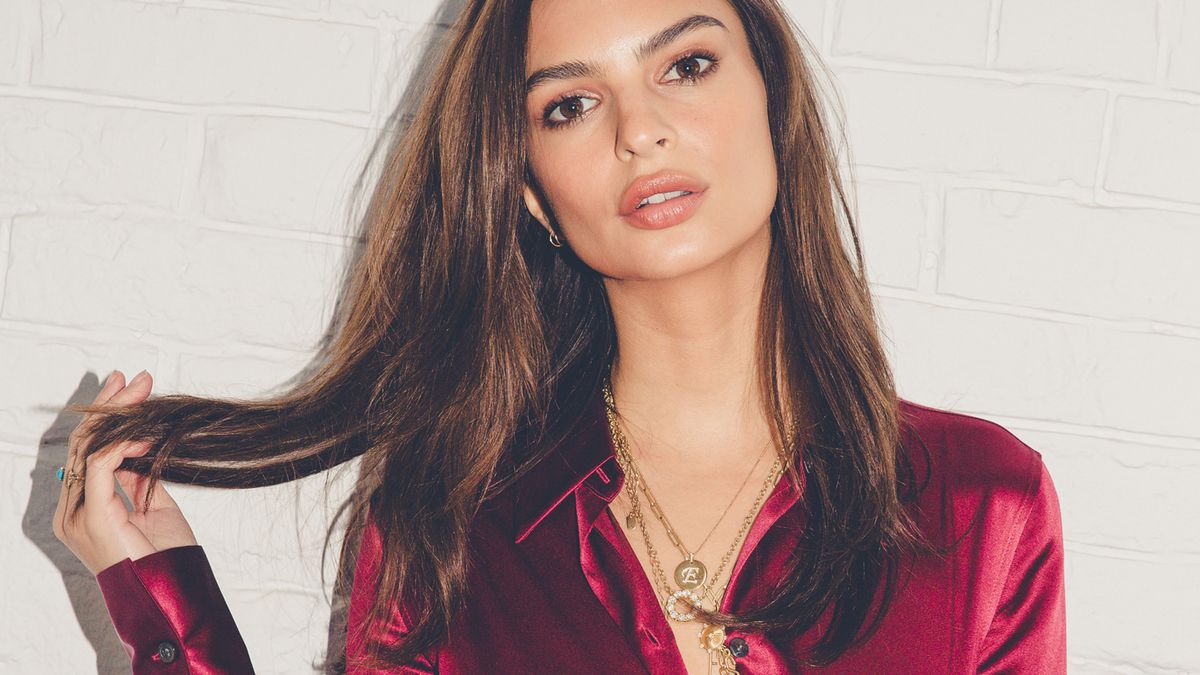 Hair
We take a minute to talk about the chill moments with the model, actress, and activist.
There is no more iconic way to film great hair than in slow motion—each strand slowly floating past the camera in one fluid motion, time nearly standing still. So on a sunny fall day in a pretty New York City loft on Houston Street, when we meet with
Emily Ratajkowski
, the model, actress, activist, swimwear designer, and face of Kérastase hair care, we want to talk about life in the slow lane. We wondered, for someone whose life is constantly on, what does it look like when it's off? Is it ever off?
This question is particularly pertinent today: A team from Kérastase, Ratajkowski's makeup artist
Hung Vanngo
, and hairstylist
Jennifer Yepez
(celebrities in their own rights) as well as their assistants, stylists, and her own personal professional team fill the loft. It's busy. There's endless healthy food and a fridge with every beverage you've ever wanted. A bag of Pat McGrath makeup arrives for Ratajkowski to her excitement (more on her beauty routine below), and she ducks into a corner near the window with Vanngo to snap pictures for Instagram. In other words: It's not a slow day today. So after shooting the images and videos you see on the page here, we sat down on a pink velvet couch with Ratajkowski to ask if she ever gets to live life in slow motion.
---
Do your friends describe you as a slower-paced person, or are you fast and rapid?

"I would say I'm more fast and rapid, but I feel like my husband sees me in my slower moments. Then I'm with friends and excited. I sort of function on a frequency of going really, really fast and then crashing. [Then I have] a day of nothing that's slow. Usually, it's a Sunday. I wake up late, I order food. It's a self-care day. Face masks. Not a lot of internet."


Have you always been someone that's kind of fast and goal-oriented?

"I think there was a switch as soon as I left high school. I graduated in 2009 when the housing crisis happened. It was just a very specific time where I was unsure of my future. I developed a really serious work ethic then. I also wasn't doing like, cool, chill editorial days, I was doing more e-commerce, and that's a lot of work. I started to wake up earlier and grind in a new way. I'm so grateful for it now because I think it's really helped me in my work."
When you find something you love to do, grinding can take on a different meaning:

"One hundred percent. I think there was a point where I just grew up. You have to treat the business like it's your business, even if you're being hired by a client. You show up early, you come with energy. It's so important to build relationships with people. The more connections you have working with people, the better your days are. I also will say, I know some really strong women in this industry and in film that people would maybe label as difficult, but I think they really care. Also, I think they just don't put up with bullshit."


People can mistake being nice for being a doormat:

"Totally! I told my manager the other day, 'I don't like being bossed around.' and he started laughing and said, 'No, you certainly don't.' Well, yeah, it's kind of funny, but you have to be that way because no one is going to care about your career or your professional life like you do. You can totally [be nice], but you still need to draw a hard line because people will take advantage. Especially of women, and young women."
That comes back to having moments to slow down and give yourself a day when you're not talking to anyone:

"I give myself a pass sometimes. I'll tell myself today is going to be a non-thing. I'll answer a couple of emails, but in general I'm going to take care of myself and rest. I don't meditate; I really wish I could. The only healthy habits I've developed recently that are close to that are not sleeping next to my phone—that makes a huge difference. In New York I sleep in a lofted bed, so I just leave it downstairs, and I have an alarm clock next to the bed, so it's fine. In L.A. I'll put it in another room to charge. It's really not OK to wake up and go to sleep to that."




What's your bedtime beauty routine like?

"No matter how crazy my day is, I always take the time to take care of my skin. I take my makeup off, do a little exfoliating, and depending on what's going on, I'll use different products. I'm using a tea tree exfoliating face wash, and I'm also using a Kiehl's exfoliating cleanser that's actually for men, it's really nice. For everyday, my go-to is just the simple Kiehl's cleanser if my skin's looking OK and I don't want to screw with it too much. I use a retinol; I really love Joanna Vargas' Super Nova Serum, that product in particular is amazing. Lastly, I put on Barbara Sturm's face cream rich so they all sort of seal together, and in the morning my skin is good. If my skin's really dry, I use Sisley Black Rose Oil. I also love [products from] By Terry."
When you're doing your hair yourself, are you quick or slow?

"I'm really quick. I'm truly not as good with hair as I am with skin or makeup. Hair is harder for me, so what's really been helpful is making my hair really healthy. I swear to God, I love the Kérastase Résistance Extentioniste, it totally changed my hair. I'll shampoo my hair just at the roots, rinse it pretty quickly, and then I'll put the conditioner in mid-length down, but not too much. Then I'll shave or whatever, then rinse. You can actually feel it thickening your hair. Then when I get out and my hair's a little wet, I'll do one of two things. If I'm just chilling, I'll put on a little bit of the Kérastase Elixir Ultime and just use it on my ends. It's really important for me because I get so much heat on my hair. Even though I have a lot of it, I have fine hair, so it breaks. On days where I'm going to a bunch of interviews or meetings, I'll use the mousse from mid-length down, and then blowdry it with Kérastase L'incroyable Blowdry. It adds a nice texture. My hair's really straight, so I have no curl at all, and getting a little bit of volume in it is super important. And then I can kind of leave that for a couple of days."


How long does it take you?

"I mean, honestly, like, three minutes. I'm so quick. But here's the thing, I want short hair, I've wanted it forever, but that's the reason I don't have it, I don't have the patience for it."


Is there anything else in the world that you wish happened more slowly?

"I need to learn to eat more slowly. I grew up in a family that eats really fast, and that's actually a thing that we talk about, like, why do we eat so fast? I think exchanges with people happen too quickly. We think that we've seen someone or communicated with them with the bare minimum contact. I feel like especially with people you're close to and with new people, [we should be] taking the time to look at them and pay attention to what they're actually saying. Human beings are so amazing at how they communicate, we can give with so little. I feel like we're now missing so much because we're on our phones. If we just stuck our antennas out a little bit... I feel like so much of work, family, and friendships are communication. And it's not just sitting down and expressing how you feel, but also listening."
Want more stories like this?
Nina Dobrev on Creative Inspiration and Her Favorite Beauty Products
21 Savage Talks About Fashion, Fragrances, and Music
Getting Ready for the Golden Globes with Kristen Bell