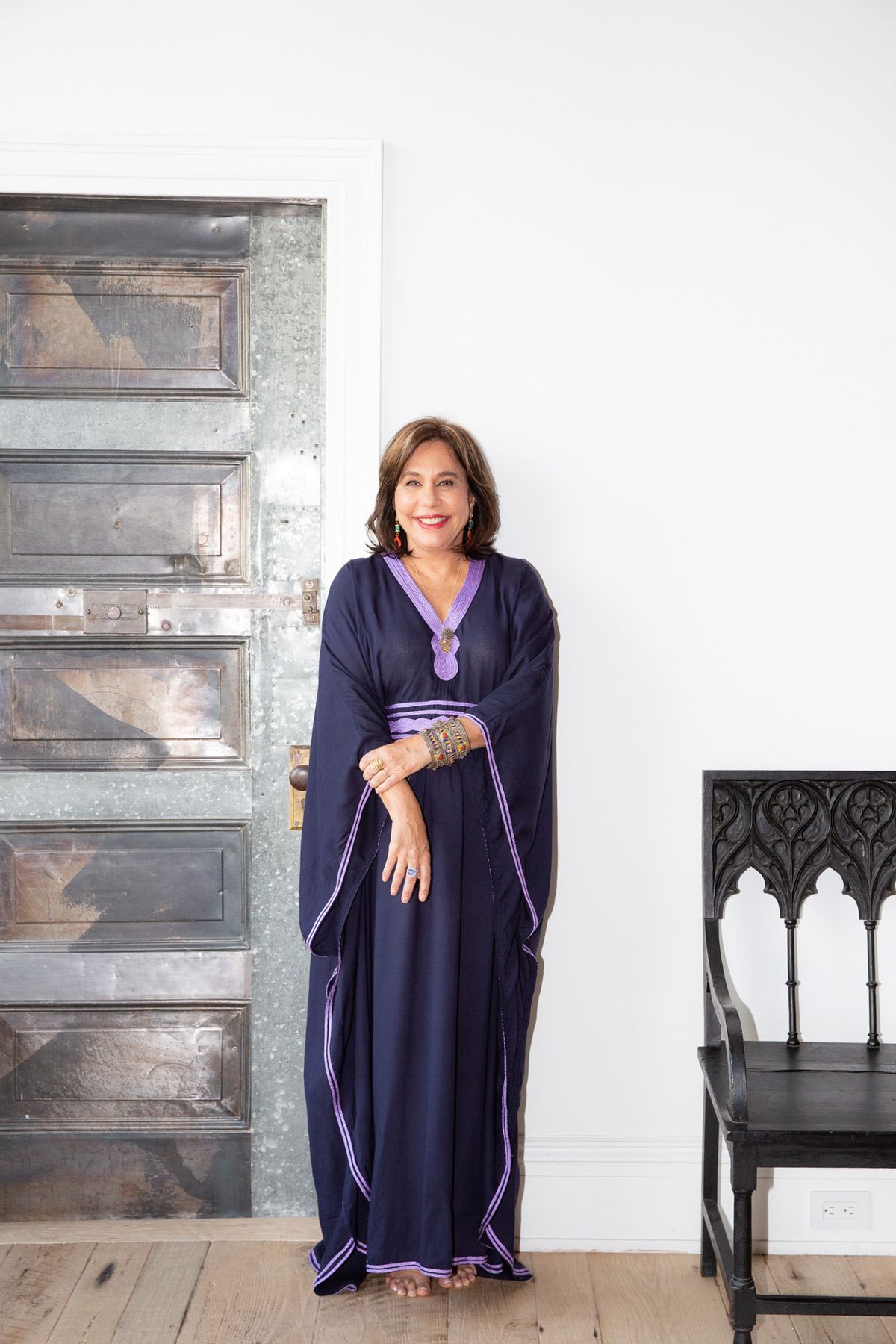 Closet
The textile designer has a pretty luxe collection of kaftans, too. New York.
Alec Kugler
It was the shock heard 'round the the textile-enthused world. Last year, when Madeline Weinrib announced that she was shuttering her now-legendary business—known for purveying an enviable cache of Moroccan rugs, ikat pillows, and hand-painted textiles—design lovers were none too pleased. Would they have to find their own vintage dip-dyed drapes? As as mad dash to purchase the last of the stock from Weinrib's New York and San Francisco studios ensued, we penciled in a more intimate outing to the designer's downtown Manhattan home. That way, we could learn all about Weinrib's decision to fold her company *and* browse her dorm-room-size closet. Something told us that Weinrib's excellent taste and jet-set lifestyle made for a wardrobe filled with dreamy resort wear, one-of-a-kind jewelry, and statement bags. We were correct, and as we eyed vintage CHANEL purses and stacks of bangles, we also chatted about Weinrib's ascent in the design world. Born and raised in Westchester, Conn., Weinrib studied art at Marymount Manhattan College, spending a semester in Paris. Afterwards she dedicated herself to painting, landing at a gallery in NYC. "I was a painter, which meant I didn't do textiles or interiors," she says. "It was a very strict system." A system that Weinrib eventually left in favor of trips to
Marrakech
and
Jaipur
, where she worked with
local artisans sourcing and designing the textiles
that became the cornerstone of her thriving business. "It takes a really long time—if you're lucky, ever—to be satisfied professionally," she says. "A lot of very creative and very talented people never have that opportunity. So I was really excited and grateful when [people] started recognizing my work. It was a very exciting time in my life to have all these clients coming in." After a while, though, there were more clients than Weinrib could cater to while maintaining the quality of her work, hence the decision to bow out—albeit not completely she told us. "I've taken a studio space and I'm going to see clients and keep the business small and artisanal," she says. "What happened was [my company] just kept growing and growing, and I felt like I got lost in it. I wanted to bring it back down to me being an artist." We expect her appointment book to fill up quickly, but in the meantime here's a glimpse of her wardrobe, which is just as stunning as you'd imagine.
Click through for more on Weinrib's career, love of textiles, and closet. Plus, shop pieces inspired by her wardrobe here.