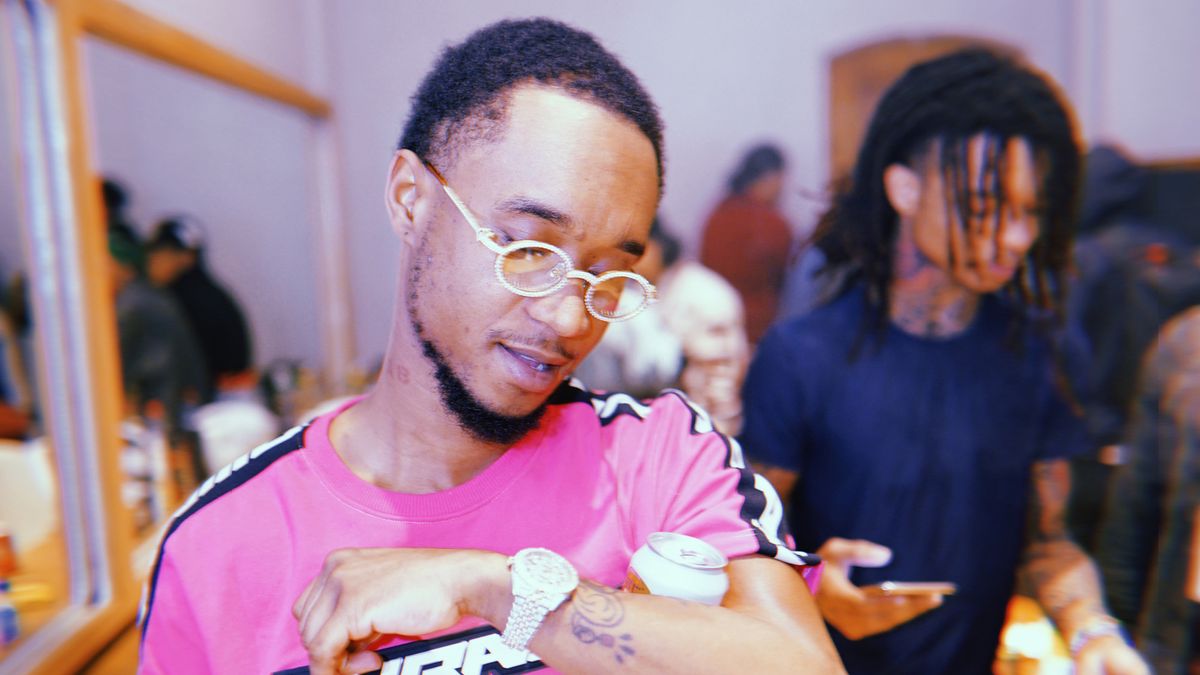 Celebrity
Exclusive: Everything That Happened on Rae Sremmurd's Recent Tour
Swae Lee & Slim Jxmmi also divulged the strangest DMs they've ever received.
The Twittersphere went into a frenzy three weeks ago, when one half of the
Rae Sremmurd
duo, Slim Jxmmi, hinted with a 54-character post that he and brother Swae Lee were going their separate ways. Mere hours later, they squashed the rumors—"
brothers gonna be brothers
," right—and we all collectively let out one big sigh.
Cleary we're fans, and when they started sending us pics from their latest tour, SR3MM (named after their latest three-disc album), we had to share it with the world (ahem, you). From diamond-encrusted watches and glasses to shopping sprees at Bape and, well, a whole lot of blunts, the tour seemed to be every bit as glam as one would expect. After chatting with Swae Lee and Slim Jxmmi about everything from weird DMs to pre-show rituals, the only thing we've really left to wonder is, what
really
happened when you jumped in a poisonous lake, Slim Jxmmi? 
---
The best part about being on tour:

Swae Lee: "Getting to travel and see different places—getting them passport stamps. And hearing your music resonate in foreign places."

Slim Jxmmi: "Seeing different places, experiencing different cultures."

Three things they always pack:

SL: "Condoms, some fly-ass clothes, and cologne. For real facts."

SJ: "My Nintendo Switch, Macbook, my hard drive."

What it's like to work alongside a sibling:

SL: "Man, we know each other, so we just turn up."

SJ: "From the cradle to the grave type shit."

And their least favorite part about it:

SL: "You know, Slim Jim my big brother, so he tells me what to do [laughs]."

SJ: "The little petty stuff."


On who Swae Lee is hoping to collaborate with next:

SL: "I ain't pressed like that. I just go with the organic vibes and whoever I end up in the studio with—it's meant to be. I don't really ever put no pressure on nothing."

The most hilarious moment from tour:

SJ: "I jumped in a poisonous lake."

Their favorite places to perform:

SL: "I like to perform standing on a bar, I don't know. Standing on something good."

SJ: "I like to perform on the planet Earth because I just get those people. Humans are cool [laughs]."

The pre-show ritual:

SL: "I bounce up and down like I'm a boxer."


The strangest DMs they've ever received:
SL:
"Strangest DM I've ever received is 'look outside,' and then I looked outside and the motherfucker was standing out there waving. On God."
SJ:
"Damn, lemme see. The craziest DM I ever got was somebody asking me for real to pay their rent. It was a real crazy story, and I can't repeat it."
Wildest fan encounter:
SK:
"For some reason everywhere we go, there's a group of people at our hotel [and] at the airport. I don't know how they find where those places are going to be."
Most surreal moments of their careers:
SL:
"Most surreal moment of my career so far was just having the number one song in the whole world. I think that was super dope. And just putting out my fucking first album."
SJ:
"Everything has been surreal."
What we can look forward to in 2019:
SL:
"Great things. I'm putting out my first debut album, so that's definitely top of the list in what to look forward to from Swae Lee."
SJ:
"More work, more music, more projects."
Top photo: 99 VisualsWant more stories like this?
Inside the Closet of Fatima B
How to Dress, Eat, and Wash Your Face Like Rae Sremmurd
How Ivan Berrios Went from Studying Criminal Justice to Photographing DJ Khaled & Jay-Z