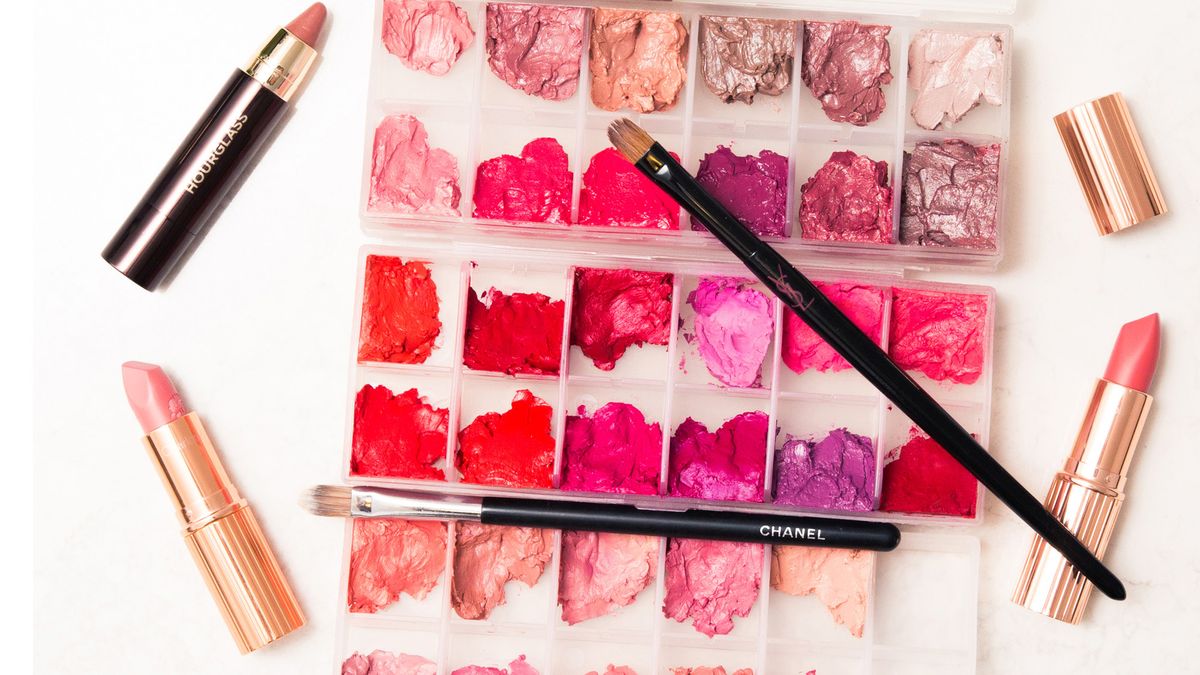 Makeup
A World-Famous Makeup Artist Taught Me This Life-Changing Makeup Rule
Plus, the three beauty products he thinks every woman should own.
For being as
all-things-beauty-obsessed
as I am (open my
bathroom cabinet
at your own risk), I still wonder whether my minimalist approach to makeup disqualifies me from any real product expertise as an editor. A strong distaste for waking up early might be a factor in my daily 10-minutes-or-less face—on average,
excluding skin care
—but truth be told, a product rut might be to blame as well. Am I exceptionally loyal to a select few brands, or just lazy to a fault?
In order to overcome the budding lack of confidence in my beauty routine, I decide to consult one of fashion's most beloved and respected makeup artists:
Tom Pecheux
. The
YSL global beauty director
—and one of the loveliest people in the industry—agreed to sit down with me and the (haphazard) contents of my makeup bag just before the holidays. I brought along only the products I use on an everyday basis—meaning my
electric blue eyeliner
and favorite magenta shadow stayed at home—so that he could decipher whether or not I had a regimen that fit my makeup goals, what I needed to invest in, and essentially help transform me into the glowiest version of myself.
I brought the below 10 products for Tom to review:
1. 
KEVYN AUCOIN The Sensual Skin Enhancer Concealer No. 3
2. 
Glossier Cloud Paint in Beam and Puff
3. 
Becca Shimmering Skin Pressed Highlighter in Champagne Pop
4. 
Anastasia Brow Wiz in Medium Brown
5. 
Glossier Boy Brow in Brown
6. 
RMS Buriti Bronzer
7. 
RMS Living Luminizer
8. 
Make Up For Ever HD Powder
9. 
Burts Bees Tinted Lip Balm
10. 
Giorgio Armani Eyes to Kill Mascara
As you can see, no foundation, no eyeliner, and if I'm running late to work, rarely any shadow. Lots of cream formulas, highlight, and extra attention to my brows. Again, not discounting the four other drawers of products that I play around with on weekends or mornings when I'm craving a little bit of oomph makeup-wise.
Read on to learn everything Tom had to say about revamping my beauty essentials.
---
Hannah Baxter:
"So, this is basically it. I like a lot of things that I can apply with my fingers."
Tom Pecheux:
"Great, because that's my thing, too."
HB:
"Really?"
TP:
"Well, I love brushes when they are very high-quality, and high quality is usually very expensive, and also I'm a bit on the lazy side
[laughs].
"
HB:
"On the lazy side?"
TP:
"Yeah, you know, when you're finished work at night, and have to go back home and clean your brushes for your work the day after. It's much easier and faster to wash your hands than to wash your brushes. If you want to keep brushes [for a long time], you need to clean them with the right product. One trick to keep them very soft is also to put hair conditioner on it. Not on the synthetic brushes, but on natural brushes."
HB:
"I'll have to try that! So, what do you think I'm missing in my makeup kit after looking at all of this stuff?"
TP:
"For me, there are two different kinds of makeup: the makeup that you see, and the makeup you don't see. Everything you are using, you don't see. I think your talent is in the face. You have gorgeous skin. I don't know what treatment you are doing to your skin—I know what makeup you're doing—but don't change anything. So I can say, 'Oh, you have a beautiful lip color.' But not a lipstick color. 'Your lashes are long and healthy.' But it
'
s not 'What mascara are you using?' Your approach to makeup is [that] you have a lot of tools—the right tools—but you don
'
t have any makeup products like a foundation [that] are going to [suggest] something about your character, like a red lipstick or a smoky eye or a bold color on your eyelid. It's nice. You definitely have a point of view about yourself. If I was you, [looking for] an upgrade, I would slightly extend your eyebrow. Just a little bit. I would play with your eyes more than your lips."
HB:
"Consider it done! So you don't think I need to start diversifying my products, or using more dramatic makeup?"
TP:
"It
'
s funny because what I'm looking at—everything you use—is what I love: see-through products. You don
'
t have anything opaque [or] very dramatic. Take it as a compliment, not as something you are doing wrong, but I would say in a way, you don
'
t use any 'makeup.' You use makeup products. That means that everything you use, from the concealer to the bronzer to the shimmery highlight, shimmery contour—everything is transparent. You do everything to prep the canvas, but you don't have anything to overpower your natural beauty."
HB:
"I love it—you just summed up everything I could never express about my daily routine! What about for when I want to go out and get glammed up? What should I look for?"
TP:
"For any special occasion, I don't like completely changing your routine. For me, it's just adding or taking off something. So if you do a smoky eyes, I would either make it slightly smokier, or if you want [something] more fun, add a color—a smoky, navy blue. It's different when you are [more of] a makeup lover and you like to play a character every day, but most women stick to a look, and you [go through] an evolution. Every couple of years, you will cut your hair; you will create a certain drama. But most of the time, you're just an evolution. And I think that's what you need to do. Keep what makes you feel good."
HB:
"That's really lovely to hear."
TP:
"I think what's going on in cosmetics today is very simple. I think everybody is looking at Instagram, everybody is looking at YouTube, everybody is looking at tutorials. And that's why I'm so happy [about] what I'm looking at now in your makeup kit. When you do a tutorial, transparency don't have any payoff. That's why you have people [putting] on brighter, stronger, more coverage. Fuchsia, yellow, gold, glitter. Showy, you know? If you do a transparent CC cream, you don't see any difference in a little tutorial. It's an Instagram trend, but not everyone should hide themselves under foundation. For me, I like to see the truth."
HB:
"Exactly
—
embracing who you are, but still having fun and looking like yourself. So what three products do you think every woman should have in her kit, no matter her approach to makeup?"
TP:
"I think you need to find a skin-care product, [anything from] a very good oil to a primer, like
YSL Top Secret
. I think the second product that we all need is a concealer, if one day you're tired, you have a little bags, or a little pimple. [Last] is going to be a multi-function product—a lipstick. Just use two dots as a blush or it can be something that you can use [as] an eyeshadow."
HB:
"I actually use red lipstick sometimes as eyeshadow! How do you feel about the red shadow trend?"
TP:
"I love it. I've been doing it for a long time. It's not an easy one to play with, because you either have to use a very light hand, or you need to be very bold and powerful. If you do it in-between, it could look like you caught a bad cold, you know? Or you have an allergy or something. [But] I love it. I love it because it's twisted beauty. It's a good twist."
Want more stories like this?
The 25 Best-Selling Beauty Products of 2017
21 Products Editors Swear By for Their Winter Skin Routine
The One Anti-Aging Product a 55-Time Vogue Cover Model Swears By