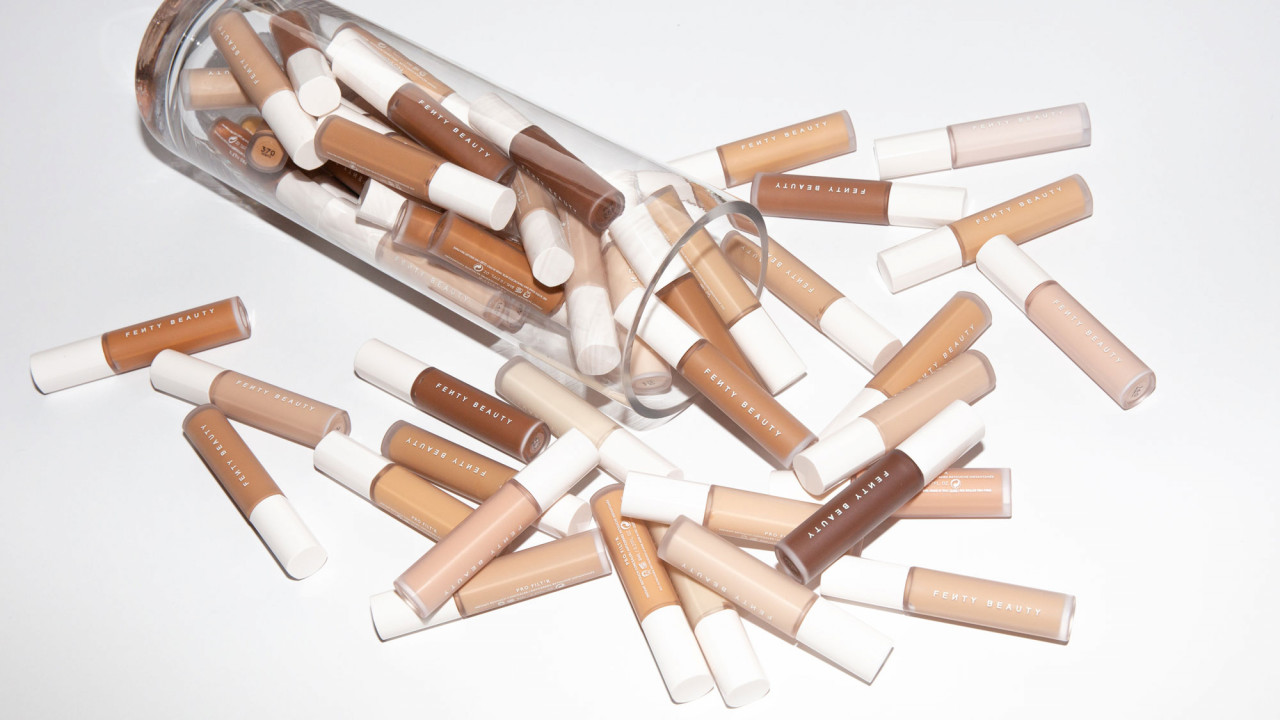 It Took Us an Average of 2 Minutes & 51 Seconds to Find Our Fenty Concealer Shades
No, 50 shades of concealer is not overkill.
Sorry, Dakota Johnson, but anytime someone says "50 shades" from now on, our first thought is going to be makeup. When Fenty Beauty announced their 50-shade concealer launch (it goes on sale today) right around the time Morphe announced a 60-shade foundation range, the internet began to ask: Are we reaching peak shade range? Is it getting too difficult to find your color?
So we timed a dozen staffers of varying skin tones while they shopped the 50 shades. The average time, all things considered, was pretty reasonable: 2 minutes and 51 seconds. Ten minutes was the longest (we guess debilitating perfectionism plus some ADHD—just a guess), and 13 seconds was the shortest (that's either just plain luck or some kind of psychic power).
The truth is that Fenty's lengthy shade range is less about creating "in-betweener" shades that could potentially lead to overlaps and way more about extending the spectrum of offerings for skin tones that have long been neglected, especially darker skin tones—there's a large void to fill. So once you zero in on your cluster of shades, you'll probably have just as hard or as easy of a time finding your shade as with any other brand. That said, many of us noted that there was a tinge of anxiety that we hadn't really gotten the *perfect* shade.
And getting just the right one is pretty important, because this formula is high-pigment—it's designed to perform. That means it's on the thick side and, to some, a little on the dry side, too. Others felt that this was as classic and effective a concealer as you can get, especially since a thicker type of formula usually sticks to skin best—perfect over blemishes and under the eyes. Or to cover up marks of another kind… We're looking at you, Anastasia Steele.
Want more stories like this?
Pat McGrath's New Mascara Will Give You Seriously Fluffy Lashes
What Most People Don't Know about France's Best-Selling Beauty Product
Nikki DeRoest Is the Makeup Artist Rosie Huntington-Whiteley Has on Speed Dial