Deskside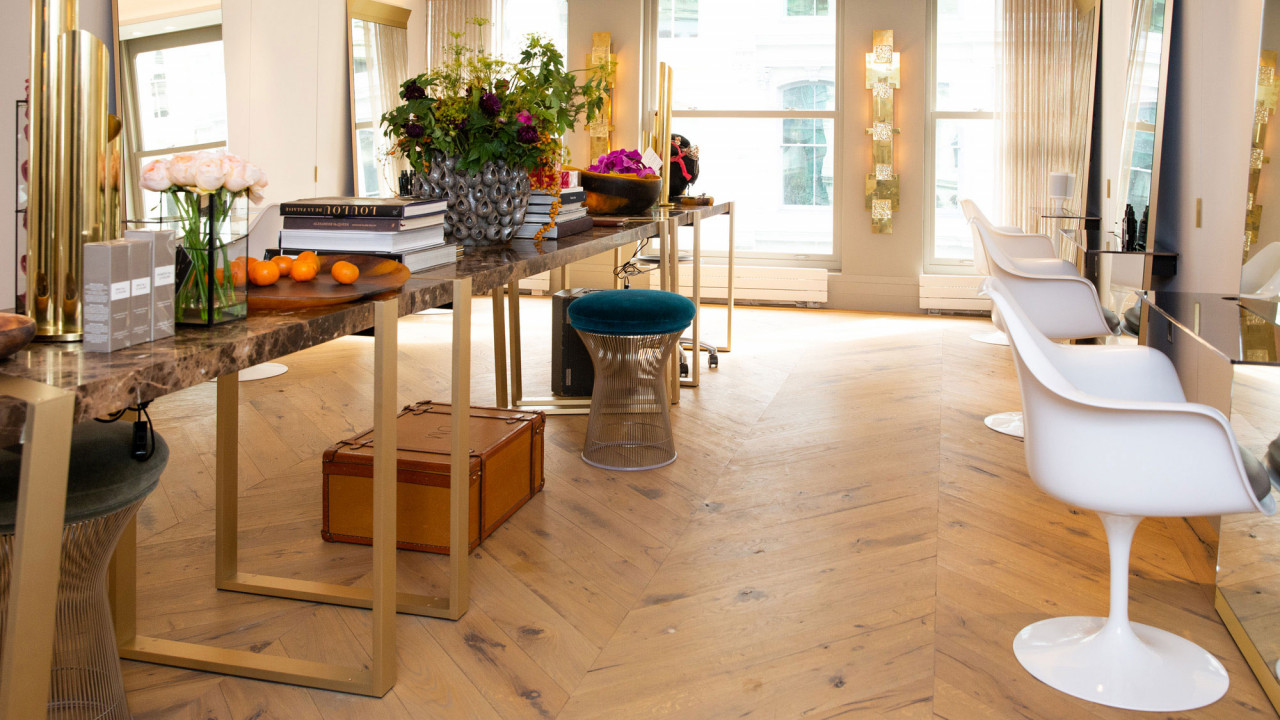 Paris's Most Exclusive Salon Opens in NYC
Yes, it's just as chic as you'd expect.
Here at Coveteur (and on the Internet in general) a highly discussed topic is the French Girl. French Girl beauty, French Girl diets, etcetera, etcetera. Thus, it only made sense that we would, of course, get right to the heart of French Girl hair. Enter David Mallett. After working in editorial and creating iconic looks for countless fashion spreads, Mallett decided to open his own salon. Naturally, the French women came flocking. Mallett and his team really nailed that "I woke up like this but my hair looks perfectly un-perfect" style we're all constantly trying to achieve. And as Mallett's fame grew, so did his customer base. Women (and men) from all over the world were booking regular appointments at Mallett's salon, so when the opportunity to open a second Paris location at the Ritz Place Vendome (home to the most stylish international travelers) how could he say no?
Recently Mallett opened his first salon stateside. Collaborating with his good friend and founder of shopping mecca The Webster, Laure Heriard Dubrieul, the doors for his third salon opened on the 5th floor of The Webster's newly-minted Soho location in New York.
We were able to sit down with Mallett and get some words of career wisdom, hear about his design philosophy and, of course, get some insider tips.
Sometimes no plan is the best plan:
Before talking about the New York location of The Webster, Mallett had no intention of ever opening a shop in the U.S.. "The idea came over a glass of wine in Paris, in my office with Laure. She's been a longstanding client in Paris. When she told me she was opening The Webster in New York I popped over to see it."
Mallett's easy going attitude is also what created the home-y and anti-salon vibe he has become known for. "I'm not a big fan of traditional hairdressing spaces," he explains. "Before opening my first salon in Paris, people used to come to my house and rinse in the bathroom." After a while, that was not feasible anymore and Mallett opened a traditional salon. "We didn't like the light, we didn't like the smell, we didn't like the vibe." The next day they recreated the entire space to be exactly like Mallett's original apartment.
On the importance of remembering your roots:
For Mallett, recreating the ambiance of his Paris mothership (as he calls his flagship salon) was an absolute necessity. To help bring this to life, which is a tall order in NYC, Mallett worked with French architect Charles Zana. "Charles is immensely talented and he is also a client," Mallett says. "When I told him we were thinking about moving to New York, he asked if we could work together. He's been a client for 15 years so he knows the wood I like, he knows the color I like, he knows the vibe I like, he knows the smell I like. We spent a long time together choosing all of the objects to bring over here, and had everything custom made in France, including the suitcases that we use." Though everything was handmade to match Mallett's signature look and feel, he and his team still weren't sure that they'd gotten it right. "All of the furniture was stored and used in the Paris salon so we'd have the vibe and smell of Paris, and the energy of my team, before we brought it over here."
In addition to the furniture, Mallett also brought members of his original Paris team to run the NYC outpost. With people (Mallett included) having children, families, and entire lives in Paris, making sure this new system worked for everyone was paramount. "There's a whole lot of things to plan in the project in a way where all the collaborators have good conditions, they feel happy, they feel challenged and satisfied and that was demanding. French work is demanding."
What he looks for in young talent:
"Integrity. I look for people who strive for talent and quality and they to not rush education. Take your time or YouTube tutorials."
On the importance of communication:
For Mallett, it's necessary that his employees can articulate to clients their ideas and the outcome they envision. "When people come to see you, whether they agree with you or not, they need to know that you know what you're talking about and that your opinion holds its own ground," he says. "Unfortunately, a lot of hairdressers are really busy and don't always have the time to connect. That's a fault. We always sit down. I never put a counter on someone. I want them to tell me everything I need to know before we start on their hair."
How to recreate David Mallett at home:
Mallett saw a void in the market and has launched his own line of haircare—one that focuses on the basics and making your hair as healthy as possible. "The entire product is designed and developed in France. We were very particular about odors and perfumes because French women don't like a highly perfumed product and for allergic reasons," he says. "We tried to keep the products simple without any sexual masculine or feminine connotation. Packaging is all the same—really simple black." Ease also factors into the line. "The flip tops are the shampoos. So when you're taking a shower and you're blind like I am, you flip. With the conditioners, we wanted to keep it simple because we had so many complaints from clients saying ranges have become super complex. We have conditioners for color, hydration, and volume, and we also have body lotion and body wash. We also have styling products—a salt spray, a volume spray, and a volume powder, which is a gold dust we made to celebrate the opening of the Ritz."
Want more stories like this?
Shop 9 French Beauty Products Parisians Swear By
Inside Colorist Christophe Robin's Paris Hair Salon
Inside Hairstylist Laurent Phillippon's Home and Salon