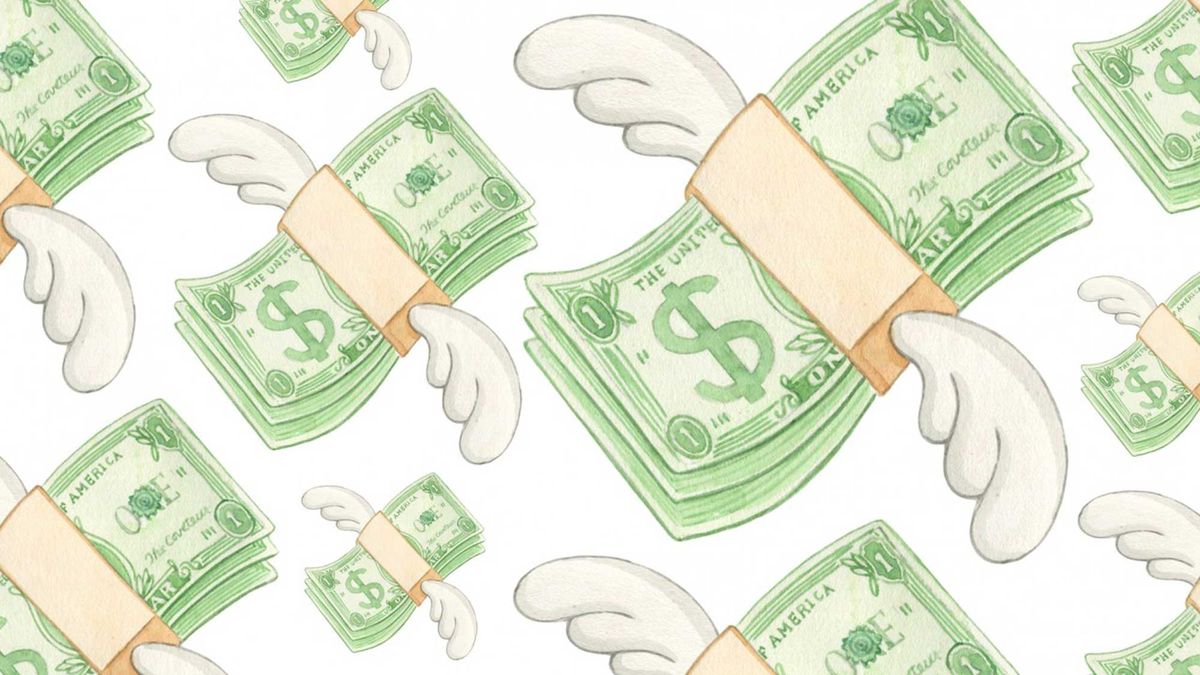 Living
Without sacrificing your social life.
Illustration
Meghann Stephenson
We're in recovery mode from one helluva expensive season. Nay, year. Nay, adulthood. Sure, we're suckers for a Net-a-Porter sale, too, but the time is nigh that we get a handle on our bank accounts. But what is an attainable goal for racking up our savings? How do we get started? Thank goodness we have financial advisor
Kristin O'Keeffe Merrick
on speed dial to lay out a few simple ground rules on how to save a big chunk of change. With a bit of ingenuity (based on an average salary of $55,000 a year) you can save almost $4K in a year. Here's how.
---
Step #1: Look at Your Budget
"The first step in being able to save is to do a deep dive into your budget. No one likes this task, but it's crucial. The first part of budget exploration is to distinguish between the fixed vs. variable costs. Fixed costs are the budget items that don't go away, no matter how austere you try to be. Your fixed costs are your housing costs, insurance premiums, car payments, commuting costs, cable, phone bills, etc. Of course, you can get a less expensive apartment, cancel your cable, or go on your parents' family plan, but at the end of the day, you can't get rid of your fixed costs. Your variable costs are the costs that you can control. This is where most of the work can be done."
Step #2: Figure Out Where to Cut Spending
"First, go through and check out your subscriptions. Do you need three music streaming subscriptions? Do you need Netflix, Hulu, and Amazon Prime? Evaluate your memberships (gym, clubs, and so on), and determine if you are getting adequate value from them. If you think you can eliminate any of your monthly or quarterly subscriptions, you have already 'found' some money that you can start diverting towards your savings goals."
Step #3: Determine Where Most of Your Money Is Going
"Outline where most of your discretionary income is going. Is it going to travel, gifts, entertainment, dining out? Dig deep, go back over your spending in the past six months, and become fluent in your spending. Ideally, you have gone through the budget and found that your cash in each month (income) exceeds your cash out each month—at least on a fixed and variable-cost basis. If your cash out exceeds your cash in, you are living beyond your means, and you need to do some serious evaluation."
Step #4: Sexy Math
"If, according to your spreadsheet, you are cash-flow-positive, you need to start figuring out ways to start moving money towards savings. If you make $55,000 a year, you net (after tax) about $3,200 a month, depending on where you live. If you are ambitious about saving, aim for 10 percent of your net. If you save 10 percent of your income, your annual savings goal will be between $3,000-$4,000 for the year.
"If you are starting from scratch, let's be realistic and use $3,000 as a realistic goal. In my opinion, savings goals should be tied to your income streams. For example, if you get paid weekly, you should have a weekly savings goal, and so on. Assuming a $3,000 per year savings goal, you need to save $58 per week. This is a dinner with friends, a round of drinks, or a well-priced sweater. It's achievable.
"
Step #5: Set Up Automatic Transfers
"When you break it down on a weekly basis, it doesn't seem that daunting. How you execute that is key. If you tie it to your paycheck, you can have the savings automatically transferred on the same day your paycheck hits. Therefore, you don't miss the money. My suggestion is to have a separate savings account that is not easily linked to your checking account. That way, in the future, it is less tempting to move the money into your checking or withdraw the money and spend it!"
Extra Tips
"
Track your saving:
Make sure to make it an active part of your life. Mark it on your calendar, and start to set bigger goals. If you find that you don't miss the money at all, increase your goals—even if it's by $10-20 per pay period. That money adds up over time.
"
Tell your friends & family:
I have found that the more people you tell about your goals, the more encouragement you will get. Also, if you have to skip out on a trip or a night out, you can be honest and tell them that you are trying to save money.
"
If you fall behind, create a plan:
What happens if you miss a few weeks of savings goals? Don't give up. Just devise a plan to get back on track."
Kristin Merrick, Financial Advisor, O'Keeffe Financial Partners, LLC. Opinions expressed in the attached article are those of the author and are not necessarily those of Raymond James. All opinions are as of this date and are subject to change without notice. Securities offered through Raymond James Financial Services, Inc. member FINRA/SIPC. O'Keeffe Financial Partners is not a registered broker/dealer and is independent of Raymond James Financial Services. Investment Advisory Services offered through Raymond James Financial Services Advisors, Inc.
Want more stories like this?
How to Make Money Less Weird
3 Tips on How to Properly Budget
The Biggest Investing Mistake Women Make