How to Know When to Throw Out Your Makeup Collection
According to a KonMari expert.
Makeup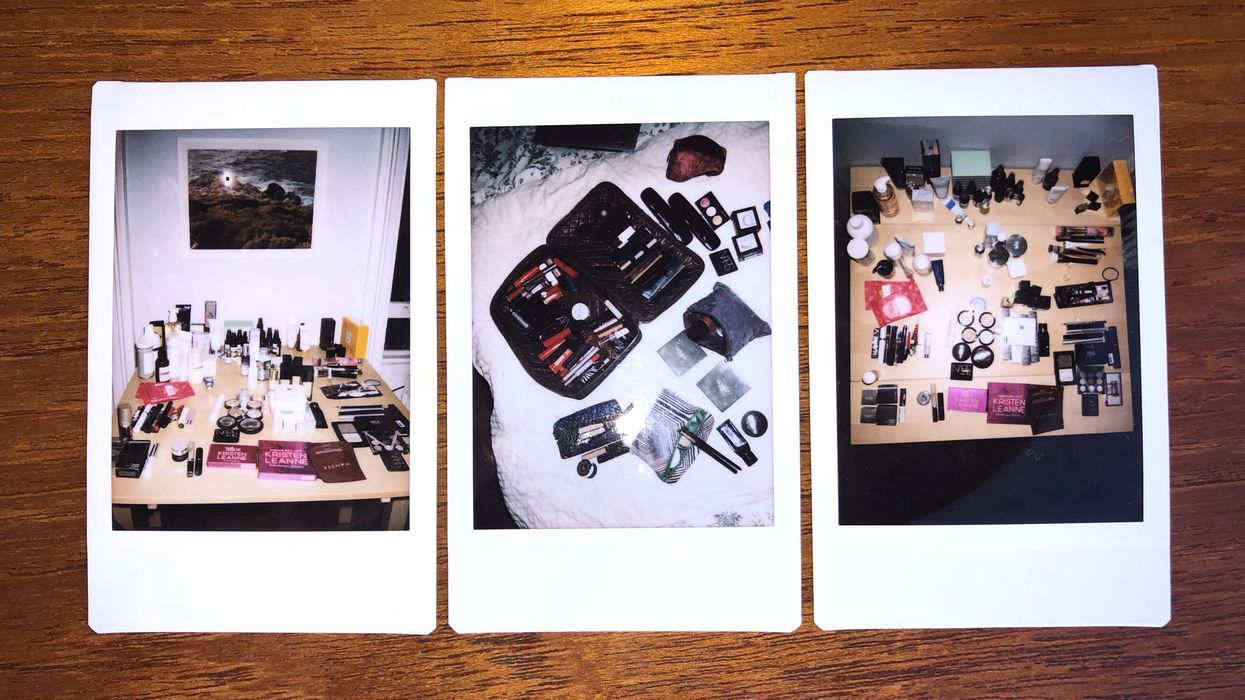 As Coveteur's beauty director, I bring home A LOT of
beauty products
to test. Every week is like a Sephora shopping spree landed in my apartment. There are bags of skin care, makeup, and hair care by the front door, next to my desk, in the bathroom, and even sitting in the middle of the room. (And that's even after my picky selection from the mountain of samples we receive at the office.) To be honest, I tried counting the number of beauty products in my apartment, and I couldn't get through them in time to write this. Of course, I don't feel sad about having an endless stream of fun, happy stuff to play with—I've discovered some
absolute winners
that have changed my hair and skin for the best—but the truth is, over the years it has *piled up*, and in a 350-square-foot studio, it was feeling overwhelming and
not so fun and happy
.
Thankfully, the frigid winter weekends in New York City gave me time indoors, and I knew I should finally tackle my product overload when Vicky Tsai of the Japanese-inspired beauty brand
Tatcha
read my mind and offered me an appointment with organizing expert
Karin Socci
 (not coincidentally, Tatcha just launched a gel cleanse called
The Deep Cleanse
—get it?). She specializes in the Japanese-born
Marie Kondo
style of tidying up, which is about clearing mental clutter by purging literal clutter. The two-hour session was a master class. Here's what I learned:
---
First, Organize Everything by Type

We cleared my papers off my desk and lined up all—and I mean ALL—the foundations, primers, blushes, serums, cleansers, mascaras, lipsticks, etc., in groups. This way I had to unearth everything from the recesses of my cabinets and makeup bags to make decisions with some context about the rest of my collection. This is a major pillar of Marie Kondo's KonMari method.


Read and Smell
While beauty products can last a long time—some for a few years—they do expire, and that's your first filter to toss. As you lay everything out by type, look for:
1.
Expiration Date.
The date will be printed on the bottom of the bottle, on the crimp of a tube, or, if that sucker is still in the box, on the back of it. This is especially important for something like sunscreen that can be totally ineffective and pointless once it starts to head south.
2.
Period After Opening (PFA) Logo
. Look for an image of a little open jar with a number printed inside. The numbers tell you how many months (e.g., 12M) it will remain good after you've cracked it open and exposed it to air, fingers, etc. If you can't remember exactly when it was opened, think about what was going on the first time you used it: Which apartment were you living in, for which occasion did you buy it, etc? You can also try the
cosmetics calculator
.
3.
A Funky Smell.
When in question, do the sniff test. This is especially important for mascaras (which are designed to be tossed after three months, by the way!), as they tend to turn the fastest and have the worst consequences (hello, eye infections) if they aren't fresh. If it smells kind of sour or old and damp, say goodbye.
Get to Swatching
Once everything is in groups, the purging goes fast. For example, if I have a bunch of highlighters to test, I can swatch each on my cheek or hand and immediately compare. Or if I see the serum I was jazzed about sitting next to the one that was supposed to be great but didn't really do anything for me, I know which one to toss. You'll definitely want some non-harsh cleansers at the ready so you can clean your slate and keep on your testing streak. I set myself up with the aforementioned 
Tatcha The Deep Cleanse
 at my sink and
Ole Henriksen Truth on the Glow Cleansing Cloths
 at my desk.
Make Yourself Some Piles
As you discard, there are a few places things could go. These were my piles:
-  Keep (I love it)
-  Maybe (Need to revisit in another hour)
-  Test Next Week (a few things that need some time)
-  To the Office (products I want to write about to be photographed)
-  Donate (unused products I knew I wouldn't use)
-  Trash (expired or not that great)


Follow the 20/20 Rule
Socci had some clutch advice for the "maybe" items. For example, the 20/20 rule from
The Minimalists
: "For 'maybe' items, can you replace it in less than 20 minutes for less than $20? If so, toss it. Everything takes up real estate—there's a cost in space and anxiety."
The Real Secret
By the end I realized that the big trick to getting rid of stuff is just having a person to help you. With Socci next to me, I had to be practical and honest with both myself and someone patiently watching me about whether each item was really worth taking up physical and mental space in my life. Staring with uncertainty for more than 10 seconds at a half-used body wash feels pretty silly pretty fast. Having someone else there forces you to see your odd habits with fresh eyes.
As for how I go about organizing all of it? Well, that's for a different post and a whole other weekend. Wish me luck!
Want more stories like this?
This Is What Happens When You Get a 12-Hour Closet Makeover
How to Make Your Bathroom Look Presentable Once and for All
The Top 5 Home Decor Trends of 2018