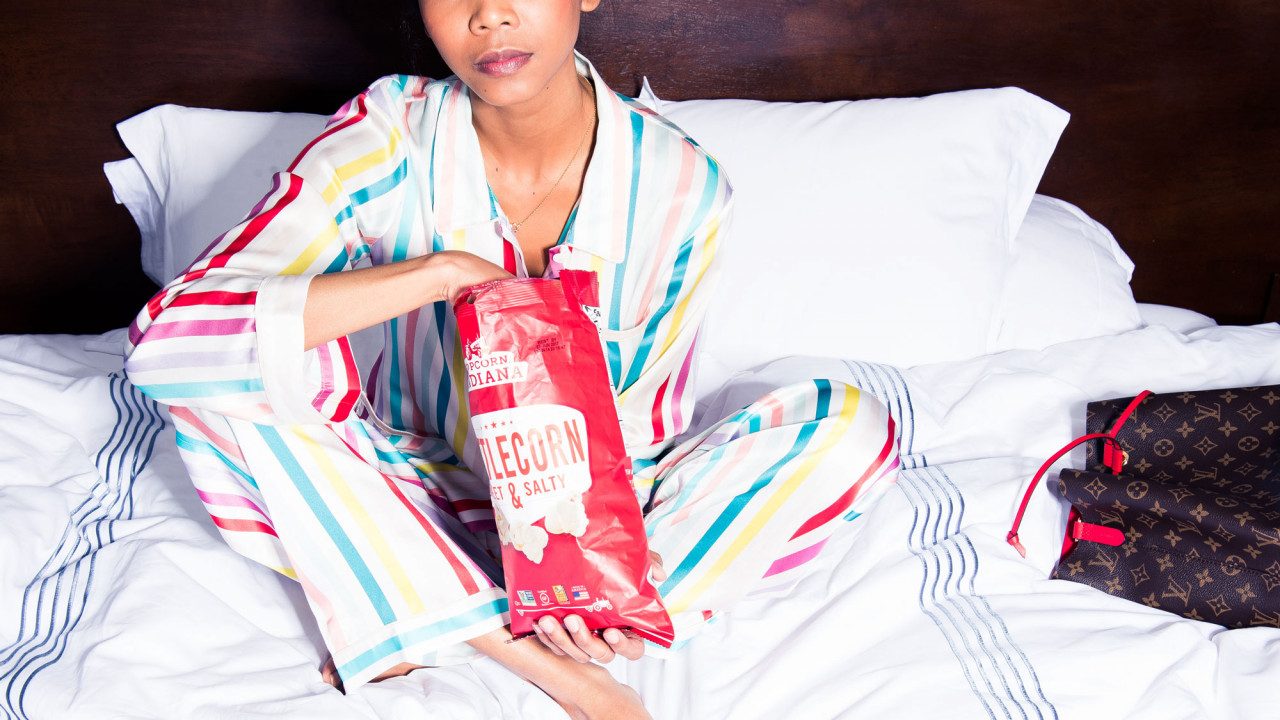 11 Amazing Movies & TV Shows Now Streaming on Netflix
And for the overachiever, more than 60 other new titles.
One of the all-time best things to do over a cold January weekend is stay in and watch movies. Hear me out: I know at the beginning of the new year we're all supposed to wake up early, dash to pull on workout gear, sprint to the nearest gym, and eat something insanely healthy for breakfast, but let's be real—it's just so cozy to stay snuggled in bed, watching something captivating.
If you're into that, Netflix is facilitating it in spades, debuting more than 70 new shows and films in January (about half of which are Netflix originals). For something lighthearted, try Across the Universe, a sweet, trippy love story, or Definitely, Maybe, which goes down as one of the best romantic comedies of all time.
Speaking of best movies of all time, the violent and powerful movie City of God shocked and captivated me back when I saw it 16 years ago when it first came out; it has stood the test of time. I would file Hell or High Water in the same category—the neo-Western crime flick will grab your attention like it's a hook and you're a fish, and it'll keep it through all 102 minutes, until the last frame.
If you want to relive the '90s (or if you're a young millennial or part of Gen Z, live them for the first time), I Know What You Did Last Summer is a terrifyingly tingly good time, as is watching Jennifer Love Hewitt and Ryan Phillippe in their prime. And you can't go wrong with Pulp Fiction or Swingers, also classics from the '90s.
For a feel-good feminist drama (a phrase you don't hear every day), Mona Lisa Smile is uplifting and delightful. The same can be said of Grace and Frankie, which is finally debuting season 5 a little later in the month.
Also later in the month, American Crime Story: The Assassination of Gianni Versace comes to Netflix, which got rave reviews when it debuted on FX earlier this year and promises to deliver some serious fashion. You won't find fashion in Unbreakable Kimmy Schmidt (season 4, part 2), but Ellie Kemper is plucky as hell.
Last but certainly not least—in fact, this really could be the best thing coming to Netflix all month—Netflix has given organizational mastermind Marie Kondo her own show, and I feel a serious binge coming on. One part Queer Eye, one part Hoarders, and one part Extreme Makeover: Home Edition, Tidying Up with Marie Kondo seems like the kind of show one could watch all day.
For the complete list of everything else debuting on Netflix this month, scroll down.
January 1
A Series of Unfortunate Events: Season 3 (Netflix Original)
Across the Universe
Babel
Black Hawk Down
City of God
COMEDIANS of the world (Netflix Original)
Definitely, Maybe
Godzilla
Happy Feet
Hell or High Water
I Know What You Did Last Summer
Indiana Jones and the Kingdom of the Crystal Skull
Indiana Jones and the Last Crusade
Indiana Jones and the Raiders of the Lost Ark
Indiana Jones and the Temple of Doom
It Takes Two
Jay and Silent Bob Strike Back
Jersey Boys
Mona Lisa Smile
Mr. Bean's Holiday
Pan's Labyrinth
Pinky Malinky (Netflix Original)
Pulp Fiction
Swingers
Tears of the Sun
The Addams Family
The Boy in the Striped Pajamas
The Dark Knight
The Departed
The Mummy
The Mummy Returns
The Strangers
Tidying Up with Marie Kondo (Netflix Original)
Watchmen
xXx
XXX: State of the Union
January 2
Monty Python and the Holy Grail
January 4
And Breathe Normally (Netflix Film)
Call My Agent!: Season 3 (Netflix Original)
El Potro: Unstoppable (Netflix Film)
Lionheart (Netflix Film)
January 9
GODZILLA The Planet Eater (Netflix Original)
Solo: A Star Wars Story
January 10
When Heroes Fly (Netflix Original)
January 11
Friends from College: Season 2 (Netflix Original)
ReMastered: Massacre at the Stadium (Netflix Original)
Sex Education
Solo (Netflix Film)
The Last Laugh (Netflix Film)
January 15
Revenger (Netflix Film)
Sebastian Maniscalco: Stay Hungry (Netflix Original)
January 16
American Gangster
January 17
American Crime Story: The Assassination of Gianni Versace
January 18
Carmen Sandiego (Netflix Original)
Close (Netflix Film)
FYRE: The Greatest Party That Never Happened (Netflix Original)
GIRL (Netflix Film)
Grace and Frankie: Season 5 (Netflix Original)
IO (Netflix Film)
Soni (Netflix Film)
The World's Most Extraordinary Homes: Season 2 Part B (Netflix Original)
Trigger Warning with Killer Mike (Netflix Original)
Trolls: The Beat Goes On!: Season 5 (Netflix Original)
January 21
Conversations with a Killer: The Ted Bundy Tapes (Netflix Original)
Hotel Transylvania 3: Summer Vacation
January 25
Animas (Netflix Film)
Black Earth Rising (Netflix Original)
Club de Cuervos: Season 4 (Netflix Original)
Kingdom (Netflix Original)
Medici: The Magnificent (Netflix Original)
Polar (Netflix Film)
Unbreakable Kimmy Schmidt: Season 4 Part 2 (Netflix Original)
January 27
Z Nation: Season 5
January 29
Gabriel "Fluffy" Iglesias: One Show Fits All (Netflix Original)
Marvel Studios' Ant-Man and the Wasp
January 30
Disney•Pixar's Incredibles 2
Photo: Shot on site at 6 Columbus, a Sixty Hotel. On Jonelle: Pajamas, Morgan Lane; Bag, Louis Vuitton; Rings, Catbird; Hair, Angela Soto; Makeup, Andriani.
Want more stories like this?
How to Tone Your Abs While Netflixing
DeWanda Wise Is Embracing Her Stomach Rolls On She's Gotta Have It
Netflix's Glow Trained Actresses to Wrestle and Now They Can Kick Anyone's Ass