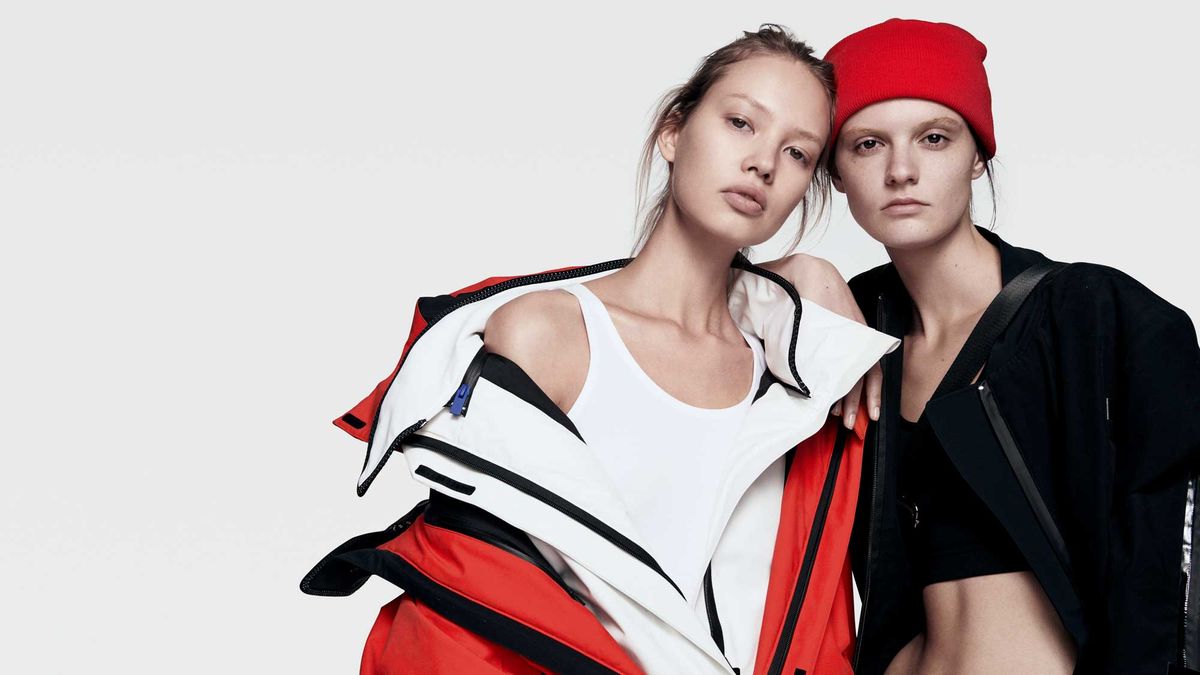 Fashion
And every day from here on out.
Anati Rakocz spent the better part of seven years working as the global commercial director for Ann Demeulemeester and Haider Ackermann until upscale outerwear brand
Templa
came and swept her off her feet. Inspired by the slopes, Templa launched in 2017 with a collection full of high-performance alpine and urban gear that can withstand extreme weather conditions both on and off the slopes. But as we mentioned, this is an upscale brand, meaning that Templa jackets and snow pants are more likely to be spotted at an Aspen chalet than they are at your local man-made ski hill. The pieces aren't only technical (some even have an avalanche rescue system embedded), they're also super chic. So much so that Rakocz urges you to live in them, no matter what your day might hold.
Ahead of the launch in 2017, co-founders Rob Maniscalco and Dellano Pereira approached Rakocz about having her join the brand, and after
many
phone calls and emails between the three, Rakocz flew to New York to get an up-close look at the collection. The now founding partner fell in love, and with the nod of approval from a lifelong friend (more on that later), she agreed to jump ship from her previous job and join the Templa team. A year after the launch, Rakocz sat down with us to talk about her journey and how
the brand
isn't just for avid skiers and snowboarders.
---
How Rakocz first became involved with the brand:

"I was approached by Templa in December 2016, and [we] began sharing strategies, ideas, dreams, and thoughts. I haven't stopped talking with them since. I will never forget the first phone call; it was very early in the morning, due to [the] time difference between Antwerp and Melbourne—we were on the phone for almost two hours."

Why she initially held back from joining the team:

"My background is sales and marketing for high-end brands that are far away from the sports arena—my personal relationships are based there. I wasn't sure that I could deliver the best results, [and] I don't like to disappoint anyone, [even] myself."

"I [based] my [decision to join] on the reaction of a key person in the industry I trust very much: Jay Bell, who at that time was vice president of men's at Barneys. If he saw the potential I saw, I felt I could navigate the launch of Templa [and bring it to] that level of boutiques and department stores."


It's not just for skiers and snowboarders:

"I am not a skier or a snowboarder, but this was never the sentiment or motivation that drove me to Templa. I was intrigued by the visuals [and] elevated silhouettes that were designed for the slopes, but I could envision them in all the cold cities [that] fashion dominates. It has been my personal addition [to forge] that bridge between Alpine and Urban. I think anyone who appreciates quality, craftsmanship, and discreet branding will find [themselves] protected from the cold in a Templa piece."

What a typical day looks like for her now that she is Founding Partner:

"Our days are very long, and the nights are very short, creating and managing Templa with our intimate group of partners. We all devote and give the best we can every day. Running an international team between two continents is a mission we work on every day. It's [something we] never [take] for granted."

The innovation behind the brand:

"Templa [pays attention] to technical details: fabric (new recyclable fabrics will be in the next edition), zippers, and lengths, [and] interchangeable components that allow the person wearing the garment to live in it, [showing] their independent style and personality while remaining safe (there are Recco avalanche detectors in the [Alpine collection]), warm, and dry. [You'll never look] like you're wearing your ski jacket to the bar or on the subway."


How it stands out amongst competitors:
"Once you touch it, put it on, [and] discover all the possibilities in one piece, you fall in love. The way it hugs you, protects you, defends and defines you is unique."
The most surreal moments so far:
"Launching Templa out of season, not according to the fashion calendar. Winning the ISPO Award for New Apparel Designer [during] the first year."
Where you can purchase Templa:
"On our website, at Barneys and Paragon in New York, [on] Net-a-Porter and Matches, and at other international locations."
What can we expect to see in 2019?
"Pushing boundaries, creating more extremely addictive coolness."
Photos: Courtesy of Templa
Want more stories like this?
Editors Are Wrapping Themselves in These Cashmere Sweaters All Winter Long
Madhappy Is the Optimistic Lifestyle Label You All Need to Know
The Jewelry Brand Celebrities Are Flocking to for Custom Pieces