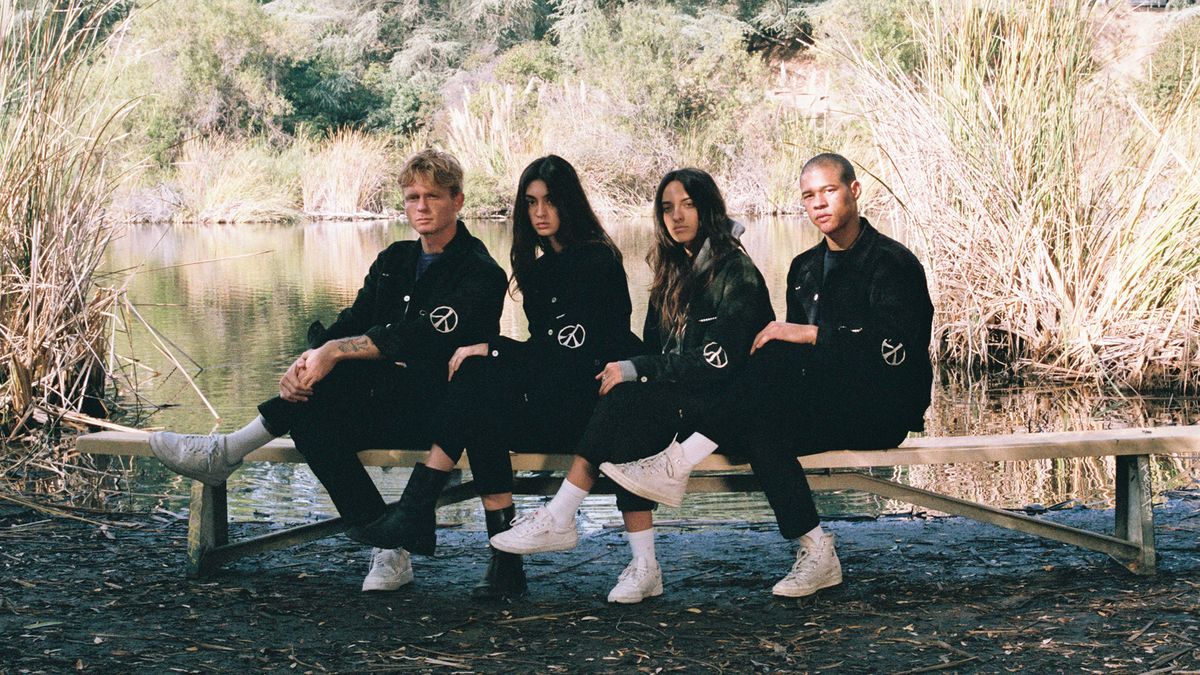 Fashion
Have you ever met a piece of clothing that will change your mood?
You know that super cozy feeling you get when you wrap yourself in a fresh hotel robe? Now imagine you could have that exact same feeling walking down the street. Because you can, thanks to L.A.-based lifestyle brand 
Madhappy
. And what's even better is that they're an "optimistic lifestyle label" constantly promoting positivity through their colorful branding and messaging (you'll notice smiley faces and the words optimistic and optimist embroidered and printed on many of their pieces), mental health panels, and pop-ups (amongst other things), and have even partnered up with
three charities
for an ongoing charity program.
Noah Raf, one of three co-founders, expressed to us that this is a huge focus of theirs as they build the Madhappy community. They made sure that the three charities they partnered with—DonorsChoose, American Foundation for Suicide Prevention, and National Alliance to End Homelessness—were not only reputable organizations, but ones that they were passionate about. Madhappy took their charity program to Instagram this past October, where they donated $1 for every reshared post. We aren't kidding when we say that this brand is the epitome of feel-good.
---
A former clothing line was the stepping stone to Madhappy:
"Around sophomore year of high school, I knew that I was into the fashion industry. Which aspect of it, I didn't know, but that's when I reached out to
Ugo [Mozie]
, who I actually interned for when I was 16 or 17.
"Out of high school I started a line with my buddy [Mason Spector] called US. by Mason and Noah. With no experience—we weren't in the fashion industry, we invested close to $100,000. Two years later, the company was going nowhere, we just had this one line of luxury, premium goods—leather jackets, leather backpacks, and high-quality t-shirts at really high price points. We were super frustrated, and we had a couple of rough months thinking about next steps, and that was how Madhappy was created."
And it was natural for them to take the optimism angle:
"Optimism was really important to us because personally—the founders—we were either dealing with mental health issues or close friends around us were. We thought that we could tap into the market while being unique—especially because we were coming into the market at a streetwear angle. Every streetwear brand we were seeing had this dark persona, and we wanted to turn that on its head. In the months where we were struggling and figuring out our next steps, we put it on one of my partners, Mason—who is always thinking of creative and different things that we can do—to figure out the name. He was at his friend
'
s basketball game, and he said to him, 'I'm mad happy I came to your final game,' and then he immediately called me saying he had come up with an amazing name. A quick, funny story about that is we didn't actually own the trademark for the first eight months of our business—not many people know that."
How the founders' roles are divvied up:
"So you have Peiman [Rafiezadeh]—who is actually my brother—and Joshua [Sitt], who are on the business end of things, running operations, finances. My brother is also head of production. And on the other side, you have me and Mason on the more creative side. Anything from design to pop-up buildouts to collaborations, social media. Then we have a full-time designer who was the designer previously at Nick's Fouquet, the hat company."
The Madhappy consumer in three words:

"Optimistic, colorful, and young."

Quality is a main focus of theirs:

"All of our fabrics are locally sourced in downtown L.A. We use sustainable, organic cotton, and everything is also produced in L.A. Moving into our new collection, we've added a heavier-weight fabric, which is 16-ounce cotton. We've moved into new categories like premium-grade corduroy, which [was released this month]. All of our washes are the best as far as the feel and durability of them—everything is super soft."

Giving back is important to them:

"We launched a donation portal on our website that features three charities that we're extremely passionate about. So you can choose your favorite one out of the three, and we'll donate $1 on your behalf. The three areas of focus were education, mental health, and homelessness. We wanted to make sure that the charities were not only inspirational, but they were also objectively the best organizations out there. We used this charity watch, which shows the top performing charities by fund-raising efficiency and the percent of funds used on these programs. All of the ones that we ended up choosing had at least a grade level A or above. The three charities are DonorsChoose, American Foundation for Suicide Prevention, and National Alliance to End Homelessness. This was our first attempt [at] including the Madhappy community, and it's our first large-scale giving experience. We see this as an opportunity, as we continue to grow, for us to be able to donate more and more."


And so is their community:
"We did two pop-ups in L.A., one in New York, and one in Aspen and [then] Miami. We go there for a few months to build the Madhappy community, do mental health panels, have yoga sessions at our shop, and just build the local optimist community in these different cities."
The dream brands they'd love to collaborate with:
"We love Nike, we love Converse. We think that Converse is very on-brand for what we're doing. We style most of our shoots with Converse because we feel that Converse has that nostalgic feel that our brand has. [They're] probably the best example of a brand that we aspire to collaborate with."
The most surreal moment so far:
"I think collaborating with Colette was the most surreal moment. They did over 100 collaborations for the closing, and Sarah Andelman was wearing our hoodie on the closing day and on the cover of
WWD
. We actually have a Collette hoodie framed in our headquarters."
Photos: Courtesy of Madhappy
Want more stories like this?
The New Bag Brand That Has Fashion Editors Reeling
Introducing Inactive Wear & the Coziest Marshmallow Coat Ever
When Migos Wants One-of-a-Kind Tracksuits, They Call Natalya Amres