Brand New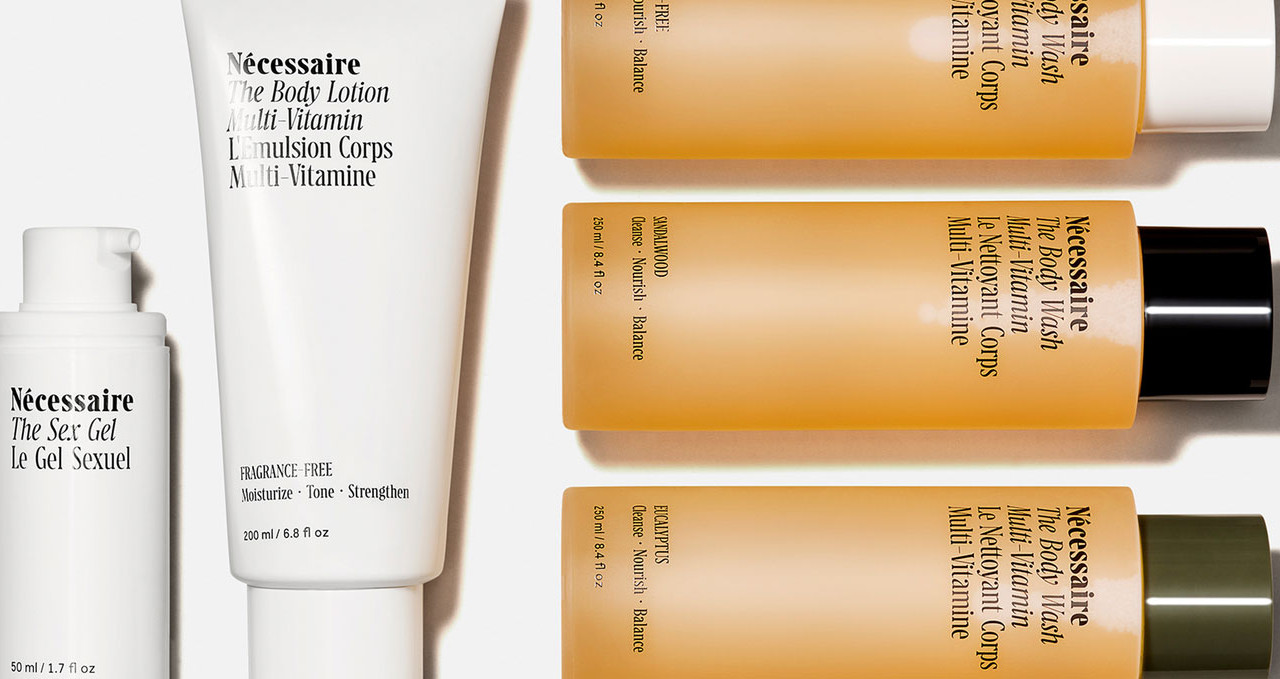 A New Body-Care Line Prioritizes Whole-Body Health and Sexual Wellness
Five products that will look great in your bathroom, and the bedroom.
For all the time and money we spend investing in skin care for our faces, we haven't always given the same consideration to the rest of our bodies. But since the skin is our largest organ (or possibly second-largest, since the discovery of the interstitium), it leaves a lot of room for a line of products that would inspire us to give our bodies the love they deserve. Nécessaire, from founders Randi Christiansen and Nick Axelrod, is shining the spotlight not only on skin health but also sexual care as an oft-overlooked component of body care. The resulting five-product collection—a body lotion, a body wash in three scent options, and a personal lubricant—is perfectly streamlined, aesthetically divine, and leaves your skin feeling really, really good.
"We wanted to design ethical and necessary products for skin health [and] be highly transparent as to our ingredient choices," explains Christiansen, a longtime executive at Estée Lauder. "We also wanted to deliver a platform—a community platform—for a conversation about body care, sex care, and deliver content inspiring people to care for their body," adds Axelrod, a former WWD and Elle editor and co-founder of Into the Gloss. While both had been heavily involved in the beauty industry for years, it took a mutual friend's introduction to eventually connect in Los Angeles. They quickly bonded over their attempts to incorporate more clean, green products into their lives. "Randi and I joke that she is The Class by Taryn Toomey and I am CrossFit—different approaches to the same end goal. It makes for a fun cocktail."
Keeping their products sustainable as well as maintaining utmost transparency as to their formulations was essential to both founders. Everything from the plastic bottles to the shipping boxes is recyclable, and each of the five products is promised to be active, clean, and pH-optimized (meaning a pH level that closely matches the body). "The pH is especially important in skin care and even more important if you think about intimate areas," says Christiansen. "If you're applying a product that has too high or too low of a pH level, it can throw off your skin's balance, which can lead to inflammation. We wanted to preserve and protect skin's natural pH while also delivering highly active ingredients to the skin."
Whole-body wellness is a fundamental pillar of Nécessaire, and both Axelrod and Christensen believe that means more than just body wash or lotion—sexual health should also be included. That's why the Sex Gel is a part of the collection and the driving force behind the community and some of the interviews on their site. Says Christiansen, "Sex is a fundamental activity that we do with our bodies. It was important for us to include it in the collection because we believe body care is about caring for your whole body and prioritizing wellness."
While we're major fans of the sandalwood body wash (especially paired with a steaming shower in the morning), both founders have their personal favorites. "The body lotion," says Christiansen. "I can't tell you how many months I spent going back and forth with our chemists, trying to achieve this soft gel-cream texture in a super-clean formula, [while] also adding vitamins and nutrients that actually deliver on skin health." Axelrod is more indecisive as to his preference. "My boyfriend and I go through two bottles of body wash and one bottle of lotion a month. We're addicted. And the lube, I love. It's clean, it functions well, and it actually looks good on your nightstand." Now, that's a design priority we can get behind.
Photo: Courtesy of Nécessaire
Want more stories like this?
The New Plant-Based Hair-Care Line That Will Save Your Irritated Scalp
I Always Get Compliments on My Skin—These Are All the Products I Use
How to Indulge Your Beauty Addition and Still Pay Your Bills