Denim Week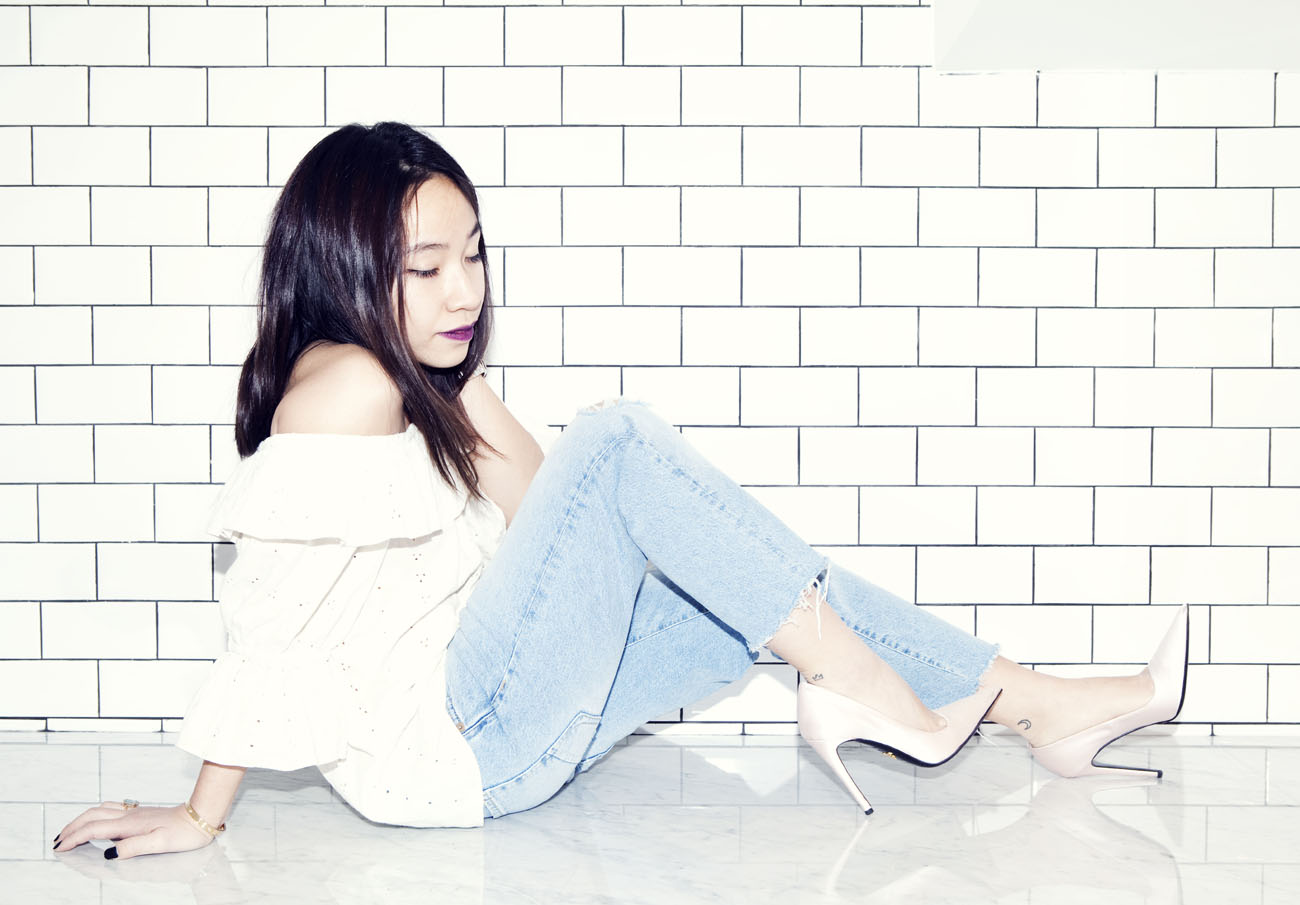 How to Find Vintage Denim That Actually Fits
Those Levi's will be yours.
Shopping for vintage is a journey. We mean, you obviously didn't know you needed those sparkly sneakers or that embroidered bomber until they were staring you in the face and you were smacking your credit card down (just when you mentally promised yourself to start budgeting). But isn't that the whole point? You never know when you're going to stumble upon a treasure trove. In our opinion though, vintage denim—specifically that elusive pair of Levi's that fits just so—should be easier. At this point they're a necessity, and when you're staring at a rack of denim with no size or style tags, well, you need a game plan.
Here's the thing: You can never, ever own too many pairs of jeans. So we figured we'd finally break down exactly what to look for when you're searching for vintage denim—most important, how to nail the fit.
Admittedly, we're not exactly experts in this area, so we hit up Samantha Elias, one half of the sister duo behind The Vintage Twin, all-around denim expert extraordinaire, and self-named "Jeanius"—she fits the likes of Bella Hadid and Alexa Chung at her New York City-based shop. Consider this your comprehensive guide to finally finding your own pair of perfect, one-of-a-kind 501s.
1. Fit Is Everything
"Outside of our store, it's extremely challenging to find the perfect fit in vintage jeans because the sizes are so off; even if you determine that you're a 'vintage 32,' a 32 from the '90s is drastically different from a 32 from the '70s! So there is no way to home in on your vintage size— that's how the JEANius Bar at The Vintage Twin was born, because people could not find the right fit themselves. We offer a complete service where you don't even touch the piles of jeans because we pick them out for you. Even if this is something you don't think you want, you do; vintage denim is a science, and we have mastered it! Because when you're looking for vintage jeans, you can try on 25 or 30 pairs, and trust me, girls have. But nine out of ten times, they go back to the first pair that we gave them to try on."  —Samantha Elias
2. Try, Try, and Try Again
"When you come into The Vintage Twin looking for a pair of jeans, we will first ask you to unzip your jacket so we can see your waist. We eyeball, looking at your hip-to-waist ratio, the size of your waist, butt and hips. What makes our fitting process so effective is the size of our collection—we literally have a pair for everyone. If you have an obscenely small waist and really big butt, we have a special pile called 'the bell shape pile,' and it's just for people with that shape. Then we give you your first pair, you give tons of feedback on the fit, and that is how we get you the perfect pair. That's how it works, it's all about the feedback!"
3. Find Your Body Shape
"In our vintage denim collection, we cover every conceivable body shape, so even if you're that person that says, 'I never find jeans that fit me because they won't go up my butt, and if they do, then I have a huge gap in the back!'—we got you. We have straight-fitting ones for girls that don't really have hips or have no butt. And 'mom jeans' for girls who have a bigger butt or thighs, and everything in between."
4. Do DIY Customization
"Our customers either find one or five pairs that they can't live without. And then we can rework them for you—put holes in them, crop them, patch them, keep them plain—there are so many different options. Customization at The Vintage Twin is free, and we do it right on the spot; it only takes a few minutes, and basically right after you pay, we'll chop, patch, and distress any way you like.
"The way we distress them is with a razor blade (a lot of people recommend a cheese grater, but only use this if you want to sit there for six hours), but if you want holes in your jeans, use an exacto knife. Don't push too hard because it'll go through the other side. And if you want the holes to be really stringy, make the slits closer together. If you want a more hole-y look, you can make the slits a little more further apart.
"Everyone is into the cropped flare thing now—so what we do is we have a really big collection of bootcut jeans that flare out a little on the edge, and we just crop with scissors at ankle length so you get that cropped flare look."
5. Tailoring Is a No-Go
"We have every conceivable type of jean, but we do not have skinny jeans because that is a thing of this century, and we sell authentically vintage jeans. If you are looking for laser-cut, super-tight-everywhere jeans, I'll save you energy—you're not going to find them in a vintage store. Because of our selection, we can find ones that are like laser-cut, that fit perfectly and our Instagram shots are evidence of that, but they're still not skinny jeans. So we don't recommend tailoring. If you don't find what you're looking for, you should keep looking. We take a lot of pride in every single butt that walks out of the store, so we want each fit to be awesome. So even if we don't have them that day, which doesn't happen often, we recommend coming back in a couple days."
6. Ignore Size Labels
(Actually)
"At our store, people usually come in and tell us their size, and we politely cut them off. Modern-day sizes don't matter, they are completely irrelevant because vintage tends to run so small. Plus, people don't usually know their size because you might be an 8 in some stores—but also a 14 in another. So we don't talk about numbers here—they are not important and might freak people out. Just trust your JEANius, and head into the dressing room!"