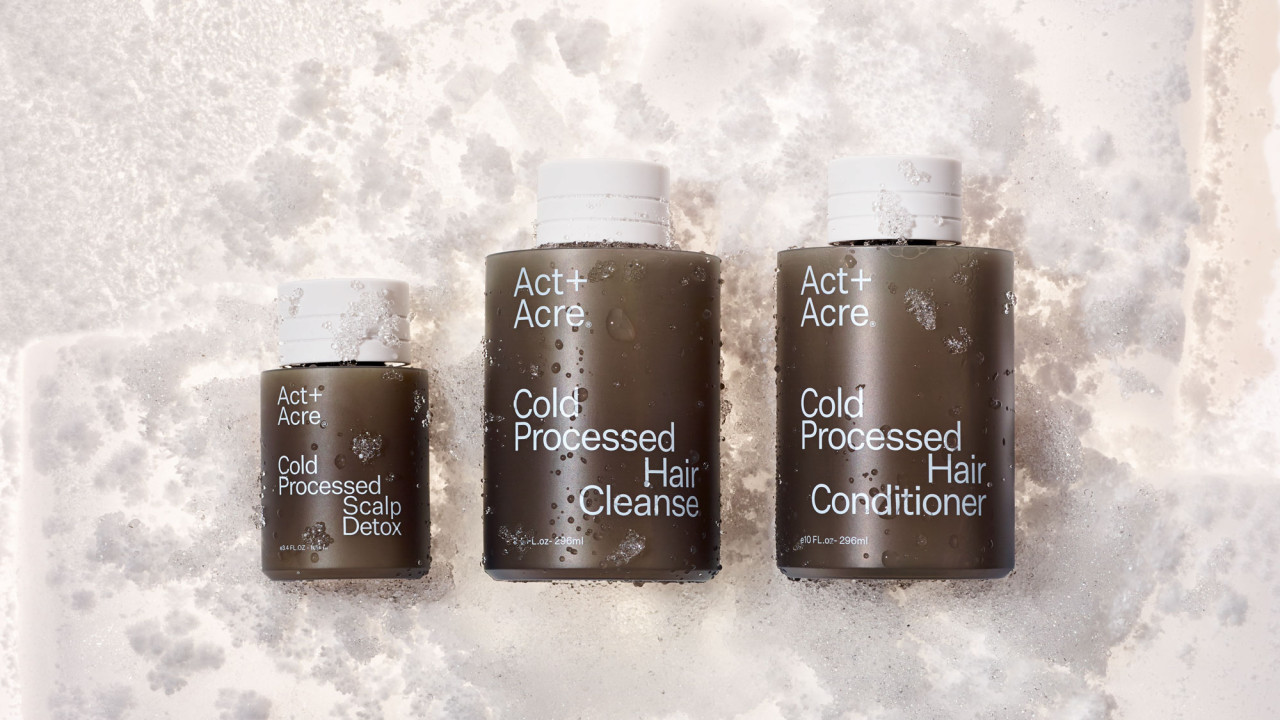 The New Plant-Based Hair-Care Line That Will Save Your Irritated Scalp
It's also environmentally friendly and smells amazing.
While we're always searching for products that will keep our hair healthy and manageable, sometimes the environmental impact becomes an unfortunate afterthought. Never mind if the packaging is recyclable (and you take the time to empty and sort), but what about the amount of energy it takes to produce them? As the beauty industry continues to grow more aware of its impact on the planet, new brands are emerging that take conscientious consumption to the next level and still make kick-ass products. Such is the case with new hair-care line Act + Acre, aka our latest must-have addition to our beauty routine.
Helen Reavey and Colm Mackin are the husband-and-wife team behind the three-product line with a shampoo, conditioner, and scalp detox. Originally hailing from Ireland, Reavy has funneled her expertise as a stylist for clients like Tilda Swinton, Harry Styles, and Alicia Keys into the scalp-first collection. The founders have created a patented cold-process technique to create their plant-based products, skipping the traditional heat-based production, which can lessen the potency of seed oils.
A sulfate-free shampoo—the Hair Cleanse—follows the Scalp Detox pretreatment, which utilizes a blend of vetiver and moringa oil to dissolve buildup and soothe the scalp. Next up is the conditioner, which uses amaranth oil to smooth the cuticles and provide a frizz-free finish. Like most plant-based beauty products, the entire Act + Acre line is exceptionally gentle, although this editor found that it took a second pass with the shampoo to eliminate the oily finish of the scalp treatment. But overall, the hair was surprisingly bouncy post-wash, freed from the weight of previous buildup and without the drying effect of some shampoos. And with the fully recyclable packaging, 90 percent less energy used during production, and entirely cruelty-free, it's a brand that we feel zero guilt about adding into our beauty routine.
Photo: Act + Acre
Want more stories like this?
GlamSquad Just Launched Our New Favorite Texture Spray
Why the Not-Washing-Your-Hair Trend Is Over
The Best Hot Tools for Every Hair Type