21 Savage on Fashion, Fragrance, & "I Am > I Was"
Just before the release of his second studio album, the Atlanta rapper talks fashion, fragrances, and celebrating the holidays.
Celebrity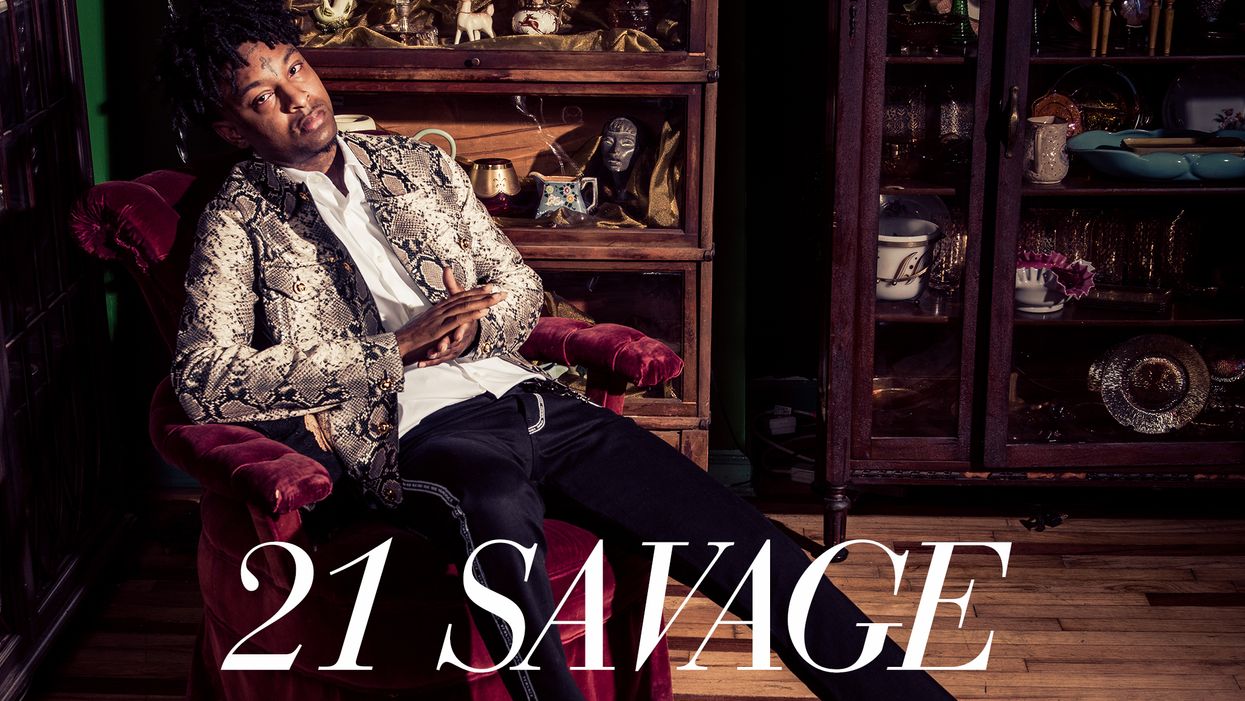 On a cloudy Monday afternoon in NYC, a comedy of errors ensued as
21 Savage
arrived at the West Village mansion slash art gallery slash party venue where we were shooting the rapper for our holiday cover. He didn't love his hair (relatable), so there was a last-minute scramble to get a barber on set. After unpacking multiple trunks of designer clothes upstairs, we realized we needed to move all the pieces downstairs, where Savage could have more privacy getting ready. And have you ever tried to plate a celebrity's Benihana steak-and-lobster lunch like a
Bon Appétit cover
(we take aesthetics very seriously), then reheat it in a 1980s microwave? It's harder than it sounds. Eventually, everything came together, though—albeit three hours past our scheduled start time—and the result is a dark, opulent, deadpan portrait of the rapper, complete with Savage lip-synching "Jingle Bells" and a special appearance from Coveteur's unofficial mascot, Bitters the pug. By the time we wrapped, the private plane booked to fly Savage back home to Atlanta had already been waiting on the Teterboro tarmac for two hours, so there was no time to chat. "Call me," he said, walking out the door and hopping into a black SUV. So we did, that Friday night.
---
Much more talkative on the phone than he was on set, the admittedly introverted 26-year-old, born Shayaa Bin Abraham-Joseph, has a past selling drugs, committing robberies, and getting shot six times—all of which is well documented in his music and past interviews. Also well-documented are his seventh-grade expulsion for gun possession, his prescribed and recreational use of painkillers, and the many personal losses he's suffered—friends, family members, more friends, more family members. Would it be trivial to start the conversation off with fashion? Perhaps to those who find fashion trivial, but Savage, the self-proclaimed Saint Laurent Don, isn't one of those people.

"I've always wanted to be fresh," he says. "The way you dress says a lot about you and your character, and I've always wanted to represent who I am, even if I wasn't wearing the most expensive things." A fan of Gucci, Versace, and Alexander Wang, he describes his style as "unique and very manly" and is quick to opine on fashion's current more-is-more trend. "People have taken dressing overboard," he bemoans. "There's a lot of extra shit going on right now—people wearing too many clothes. I like to be clean; I don't like to overdo it. It ain't about how much you got on, it's about how it looks and how you wear it. Less is more." If that's the case, we ask what he'd buy if he were at Barneys but could only leave with one thing.

Silence.

"That's a very hard question. I couldn't just go get a pair of shoes—I would have to get a whole outfit. So if I'm going there to get one thing, it would either be a scented candle or cologne."

What cologne do you wear?

"I wear a lot of Clive Christian, a lot of Le Labo… I can't give it all out because, you know, niggas be trying to bite my swag, but Maison [Francis Kurkdjian], Le Labo, and Clive Christian would be my top three. I like a lot of oud wood, that's my favorite scent."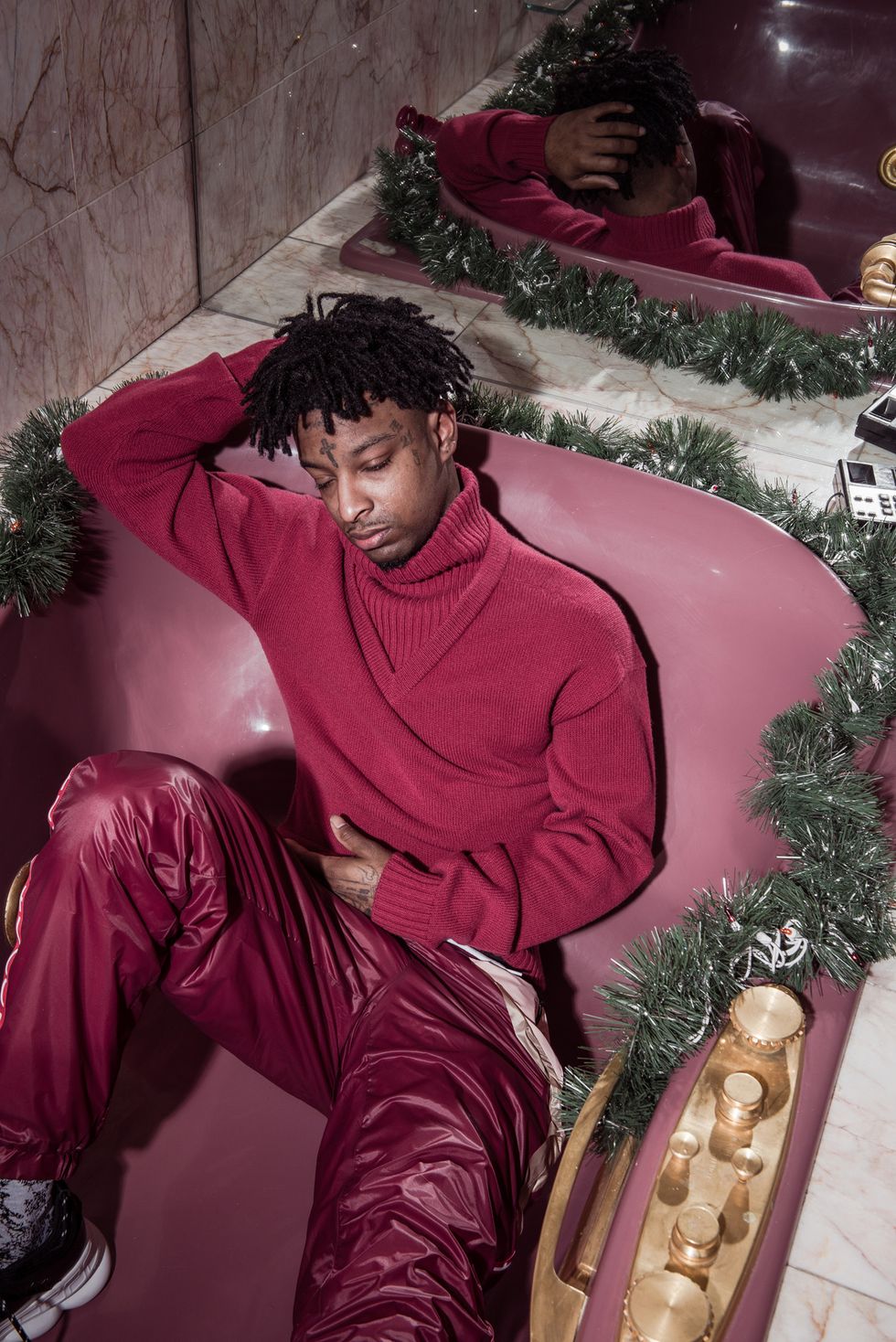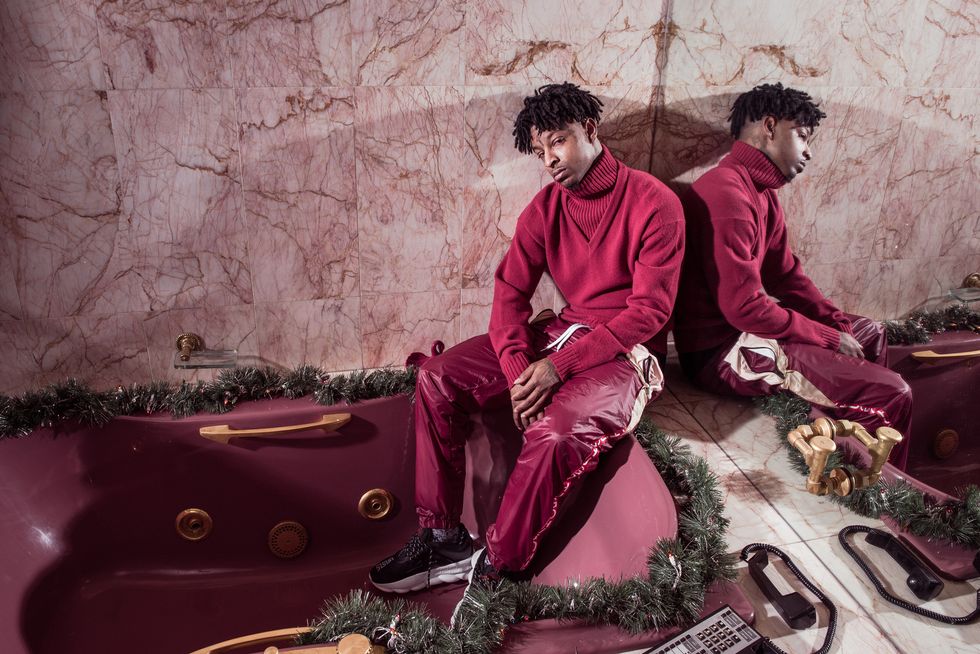 His penchants for fashion and fragrance are matched with hobbies that include restoring antique cars and beating his friends at NBA 2K. A lifelong fascination with planes inspired him to earn his pilot's license last year, and when he has time, he likes to practice, either with a flight simulator or by flying a small aircraft. (He's working his way up to flying a jet.) Philanthropy is another passion. In March, during an appearance on Ellen, the rapper launched his 21 Savage Bank Account Campaign, aimed at teaching financial literacy to low-income youth. Fast-forward to August, and he was hosting his third annual Issa Back to School Drive, providing haircuts, clothes, and school supplies for kids in his old Atlanta neighborhood. Of course, he also spends a lot of time in the studio, most recently working on his sophomore solo album, I Am > I Was, out Friday.

While he's mum on most of the album details, it's long been public that J. Cole, Childish Gambino, and Offset are among featured artists, and Savage tells us we can expect an original, unique sound—devoid of what he calls "microwave music," made strictly for radio and mass popularity. He continues, "I'm solid—like, as a rock. I'm real at all times, [and] people attach to authenticity… Being true to myself, I think that prevails more than anything."
The demand for Savage's time and attention—be it in the studio, onstage, with fans, or for interviews and photo shoots like this one—has heightened as the I Am > I Was release date draws near. Add to that a Record of the Year Grammy nomination for his verses on Post Malone's "Rockstar," and autonomy is currently a foreign concept to the rapper.

"I'm shy, [and] fame takes your privacy away. I love the love that I get, but it's also kind of annoying when you want to just be regular. You want to just go out and not be bum-rushed. Certain places I can't go just because I know how it's gonna end up. [Fame] shines a light on you—sometimes it's positive, and sometimes it's negative—but you gotta take the good with the bad. It is what it is."
Regardless of how much he has going on—like having a nine-person crew ask him to lip-synch a Christmas carol in a bathroom that hasn't been renovated since 1977—the father of three does plan to enjoy the holidays. "I love Christmas," he says. "It's a great time to be in the house, to enjoy a warm home. I'm probably going to have my family come over, cook a big dinner, play some games..."

His contribution to the menu?

"I cook a little bit of everything; my specialty would probably be jerk chicken, though."

As the topic switches to gifts, he shares that he didn't really get any as a child, and hasn't gotten many as an adult either. "All the stuff that I really, really want, I strive to buy it myself. I don't really like people spending a lot of money on me."

His kids can expect presents, but his holiday wish for them—this year and every year—is that they're happy and pay their good fortune forward. "I want them to enjoy their childhood," he says. "And more than anything, I want them to be givers." Coming from a man who used to steal from people, that signals a lot of growth. He's trying to be > he was.