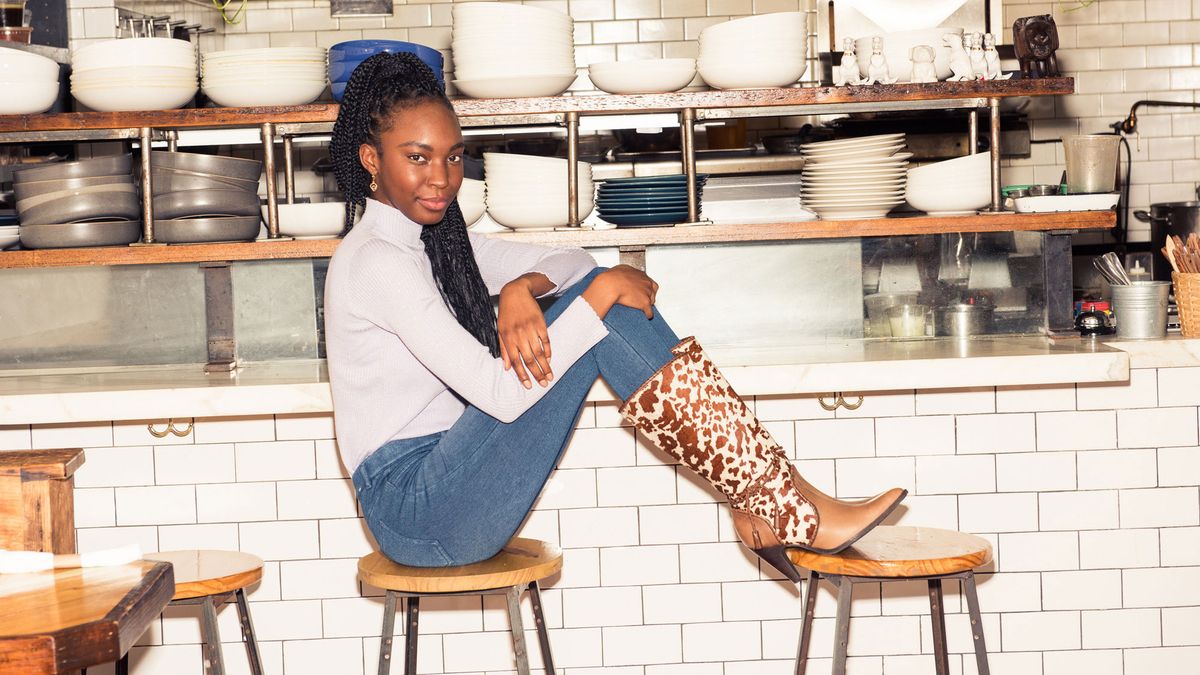 Fashion
Meaning you can never claim it's too cold to look cute again. In collaboration with UNIQLO.
Daniella Deutsch, Meagan Wilson
Contrary to what you may assume, we really like to think of ourselves as being (relatively) easy to please. In fact, the holidays are one of our favorite times of year for that exact reason: Give us a little sequins and sparkle, some fried and/or chocolate-covered food items, a roaring fire (or really, just a holiday-y Diptyque candle), and we're pretty close to peak happiness.
Now, actually finding said happiness can be a different story entirely. All of New York's holiday magic means hanging out here can come with a side of seriously frigid temps—leaving us to seek refuge in our favorite
"
hot
"
spots (see what we did there?) around the city. We spent an afternoon by the High Line—an ideal way to beat the chill—with model, musician, and
@piecesbyanonymous
founder
Anzie Dasabe
, hitting up
The Wild Son
and the vibrant holiday scene outside The Standard Hotel to get into the spirit. Here's all you'll need the next time you find yourself wandering around in frigid city temperatures—plus, according to Dasabe (who's currently working on her first project, a fusion of 2000s R&B and jazz, to release this spring), the holiday essentials you simply can't cozy without.
---
---
ON HOLIDAY TRADITIONS
---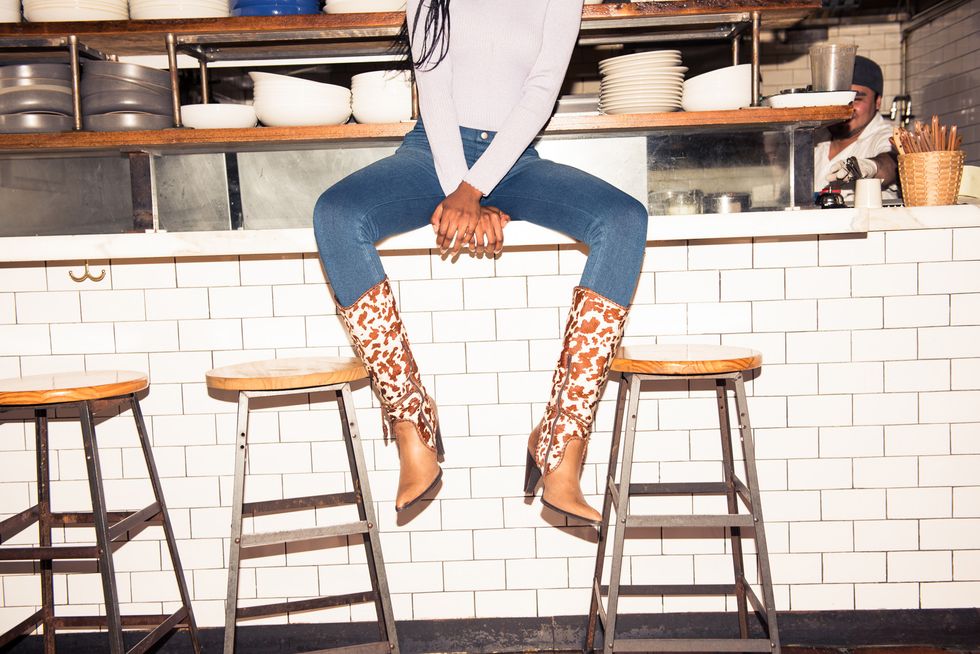 "I'm going home for the holidays—I'm from Dallas, Texas. My mom wanted to go on vacation, but she hasn't planned a vacation [laughs]. We used to do big holiday decor when I was younger, and the older we've gotten, we've just gotten a bit lazy. The spirit is still there, but we don't exchange gifts—we just eat food and talk about how much we love Christmas.

"Every year, my mom has us make this Cameroonian dish called Chin Chin. It's basically little fried breads, like little crackers. You cut up the dough and fry it. They're a dish you put on the table when friends come over, like peanuts.

"Fifth Avenue is just so pretty. They really do go all out. I will make it a destination for myself. I'm from a small town where they go all out for decorations—this one lakefront area has a whole bunch of lights and reindeer. It's a couple miles long."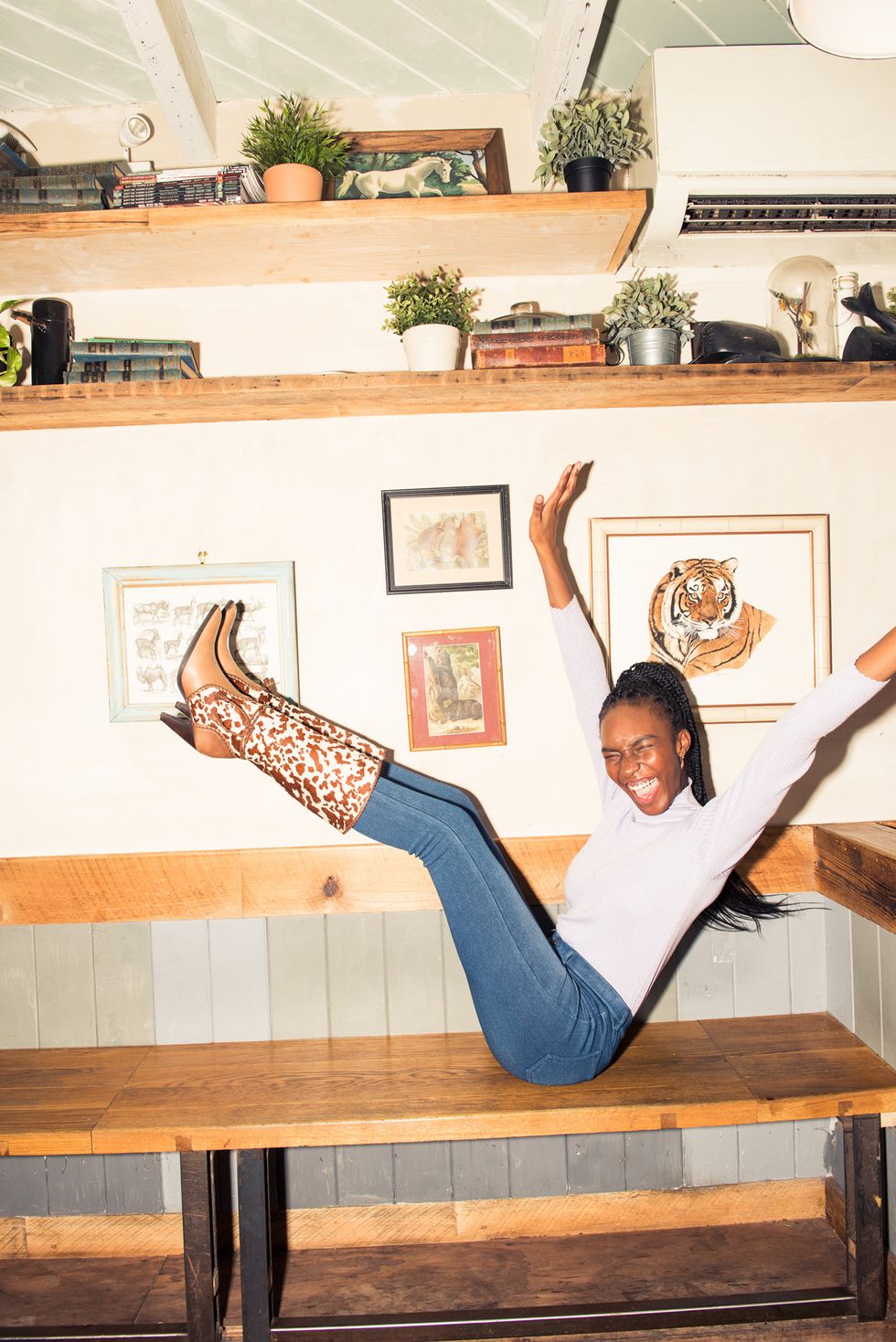 Hot Tip: Whoever said lavender's not a neutral? Subtly embellished with sparkles woven into the knit, this turtleneck is our new go-to for the holiday party season ahead—we swear the pastel hue pairs just as well as your usual beige standby.



"I have three favorite Christmas songs. 'Silent Night' by Mariah Carey, from her first Christmas album. My aunt used to play it all the time. Of course, the original, 'All I Want for Christmas,' and then Destiny's Child's Christmas song, 'Doesn't It Feel Like Christmas,' because the harmonies are so nice and the video is super cute.

"My favorite thing to drink in the cold weather is anything seasonal and delicious. I love a caramel apple cider. And I've really grown to like eggnog, actually. Also, cookies! I love cookies year-round, but I turn into a cookie monster at Christmas. I am Santa Claus—you have to leave out cookies for me."


---
ON FESTIVE DRESSING
---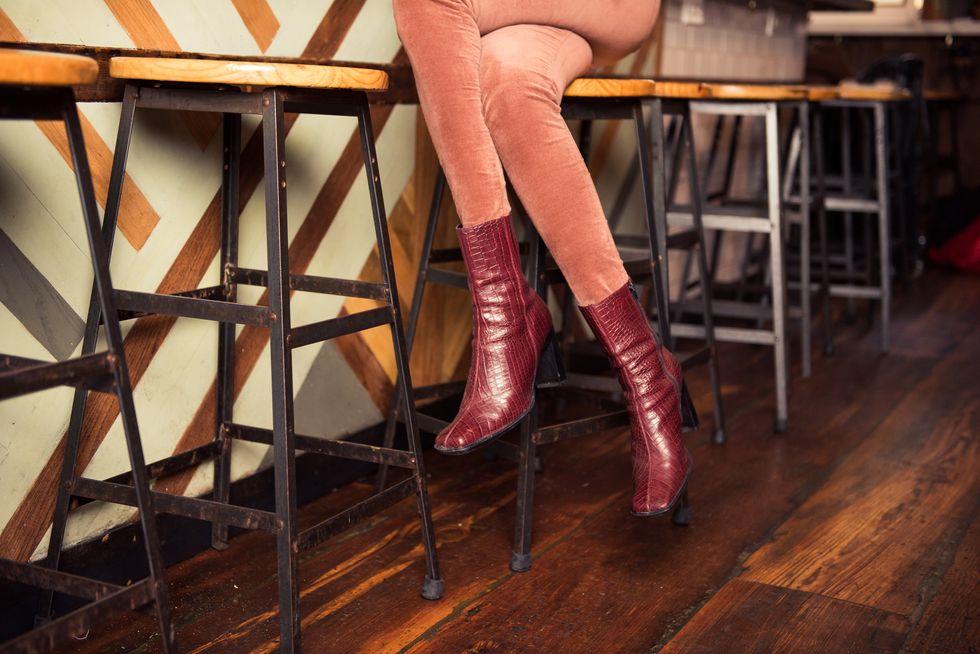 "I wear more color in the winter, which I feel improves your mood. I also like to give a little body for the holidays [laughs]. I usually wear pretty baggy clothing, so during the holidays, I'll wear tighter-fitting dresses, and maybe I'll wear heels more instead of wearing sneakers.

"For a get-together with friends, I really like an Aaliyah-type silhouette, where one piece is fitted and everything else is baggy. So you could have an oversized sweater, and you'll wear tights and a mini skirt, then maybe do a French tuck in the front. Or a fitted turtleneck with a baggy jean or something low-rise. It feels more effortlessly sexy."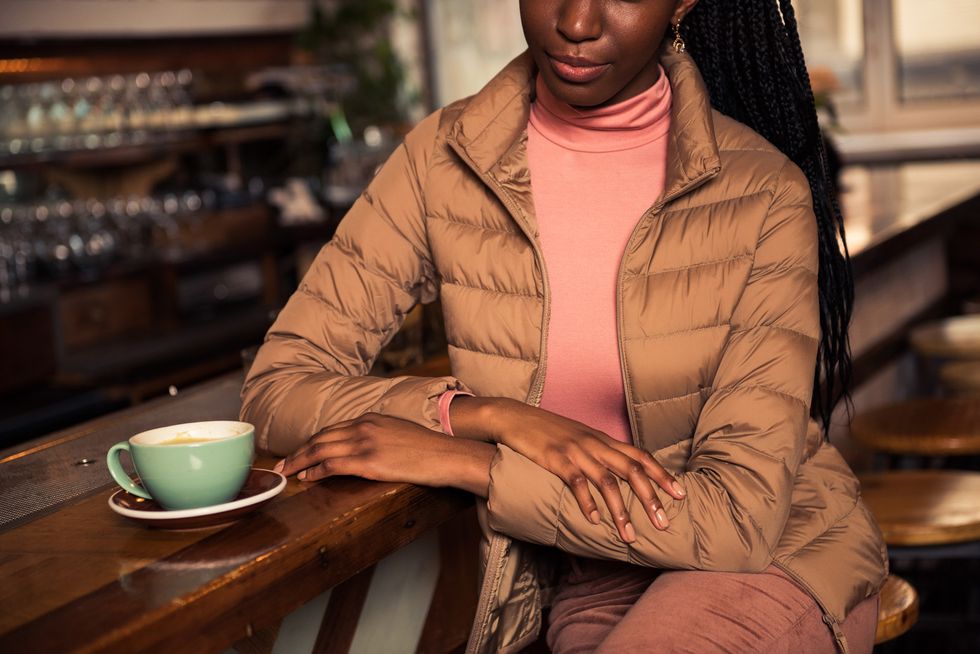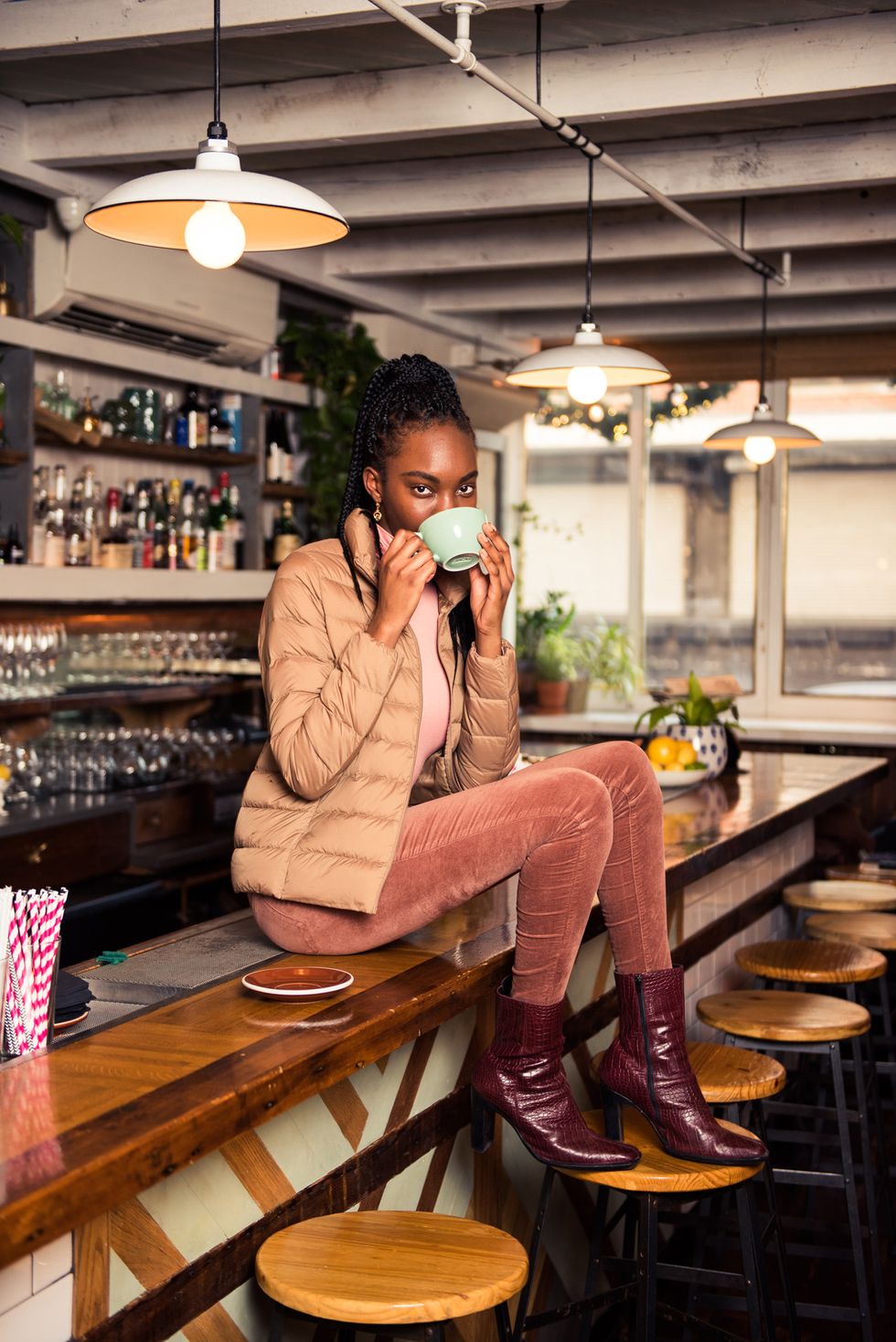 "Every time I go home, I borrow things from my mom's closet. She'll be like, 'Dad showed me a photo of you last week… Is that my dress? Did you thrift that? I just looked in my closet, and it's not there…' Don't know, sorry, Mom!
"The
white sweater dress
, that was really cute. I would wear it with jeans, like an actual sweater, but the way you'd style an oversize one. It's really cute! I'd wear it as an all-day look—like, where I know I have to go to a casting, then I'm hanging out with friends, then afterwards we end up at some party. You can take
the jacket
off at nighttime and put on a boot… It's real cute. And those, I used to hate jeggings. But
those jeans
!
UNIQLO
got me with those. They're so comfortable. I saw their HEATTECH bodysuit on Instagram, and it's really cool. It's like a turtleneck with long sleeves. Really futuristic."
---
ON GIFTING
---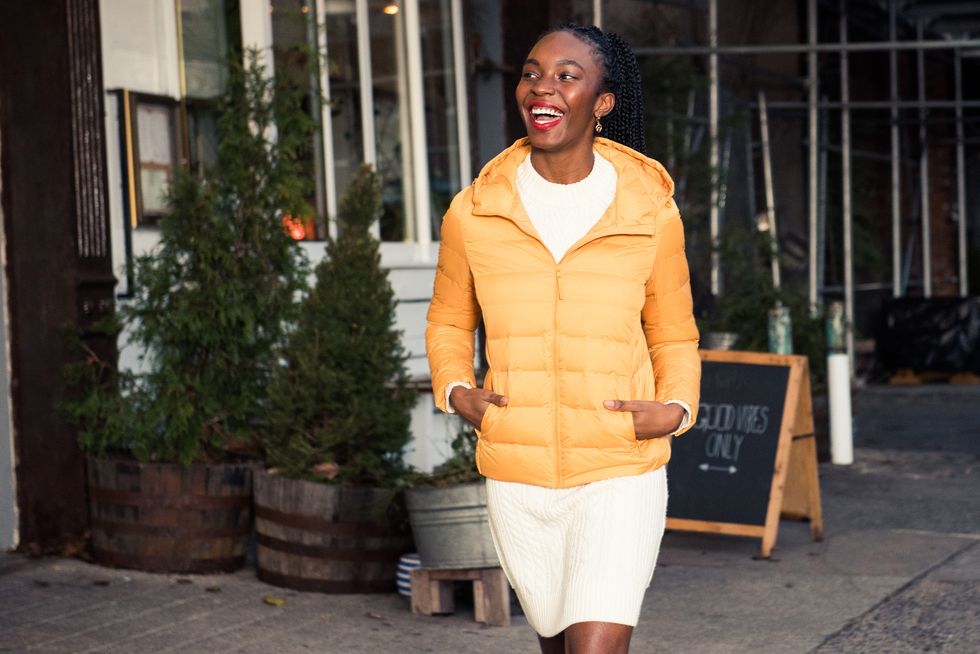 "The best gift I ever received was in third grade. Some of my extended family was over, and they had gotten me this Bratz bike. So cool. And they all hid it from me! We opened all of our gifts, and thought everything was over, so I went upstairs. When I came back, they had a princess tiara and the bike, and I was like, 'Oh my god!'

"The best gift I've ever given—it was small, and I was young—that same Christmas, my uncle was staying with us before moving to Canada. I gave him some American money, wrote to him about how sad I was that he was leaving, but wrote that I was happy for him starting his life in Canada. He cried!"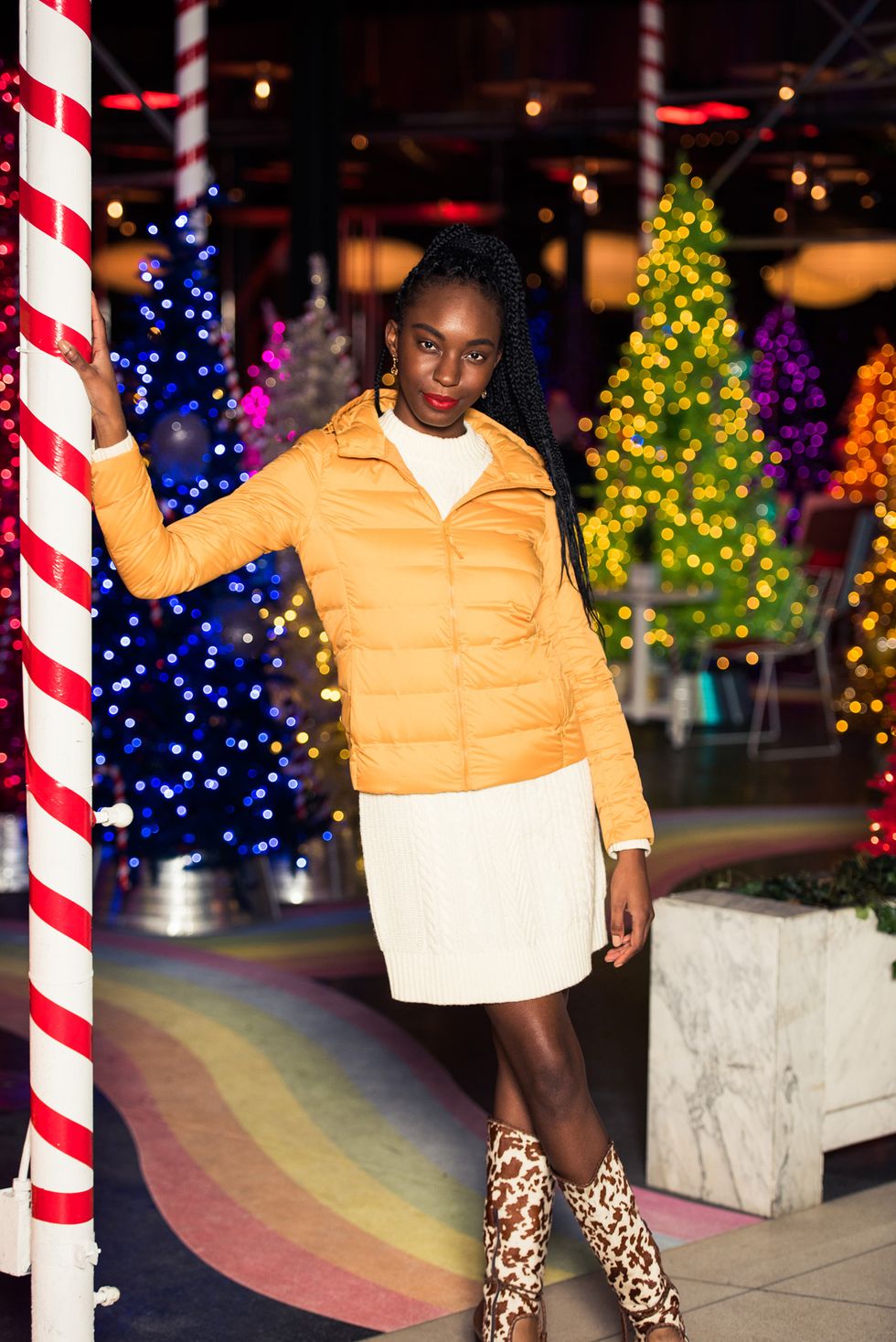 Hot Tip: The hardest-working staple in your wardrobe this season? A light, highly layerable down jacket that's equal parts practical and gorpcore. (Google it.) Bonus points if it's a fun color, like this yellow number.



"For my family, I pick things they've been talking about for a while. My dad was complaining about his wrist hurting when he was opening wine, so we got him an electric wine opener. A practical gift!

"My go-to gift is a book I think they'll enjoy, or a nice notebook, and then I'll write a little note inside."