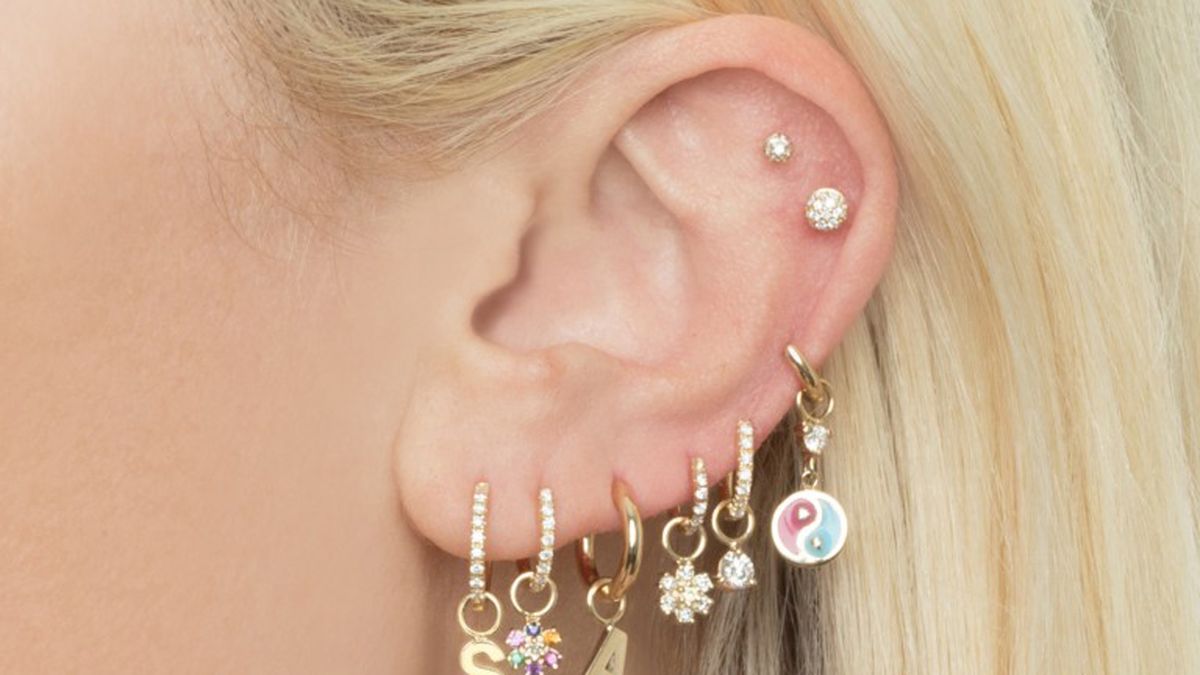 Fashion
Why we've embraced the stacked ear look.
Dating back to ancient times and popular across the globe, ear piercing has long been a means of self-expression—and also a fun way to adorn oneself with jewels. Over time, multiple piercings became synonymous with teen angst and rebellion in some places (i.e., our suburban hometowns), but that mind set has changed *a lot* recently. Today, the multi-earring look—sometimes known as constellation piercings—is being embraced more and more, with people far past their teens adding numerous holes to their ears. So what exactly makes someone jump from the standard single piercing per ear to three, four, or even 12 more?

Several Coveteur staffers have been increasing their piecing counts lately, opting for a variety of delicate hoops and baubles in gold and silver, some with gemstones. Ahead, five of them share what prompted the new piercings and the earrings they've been adding to their jewelry collections.


---
Ivanna Martinez-Gonzalez
"When I moved to NYC last December, I had two piercings. When I went back home three months later, I had seven (oops!). I was dying to wear these super-cool snake threaders that required three lobe piercings, so moving to NYC just sped up the process. Adrian Castillo (a piercer we've worked with in the past) is the man behind my curated ears. It's funny, because people will go in knowing what they want, but I never do. I got my rook and conch pierced the first time I met him, and it's been piercing after piercing since. I think it's super important to find someone you're comfortable with, especially when they are more intricate ones."


Jordan Guskind
"I went from two piercings (that I have had since I was seven) to six piercings just this year alone. I never thought of myself as a multi-piercing person, but I quickly discovered it was another way to express myself through my wardrobe. As a jewelry lover, specifically diamonds, it's also another great excuse to buy myself more jewels! I wear the same staple jewelry pretty much every day, so I have chosen pieces I truly love and see them as investments to be worn for years to come."


Hannah Baxter
"I've had double-pierced ears since middle school, but I was always more into tattoos than piercings—faster healing time. But as I read more fashion websites, and Instagram really got going, I could see my favorite editors, stylists, and celebrities debuting multi-piercing looks that I loved, and discovered piercers like Adrien Castillo,
J.Colby Smith
, and Cassie Lopez that I admire and trust. I've also got somewhat of a jewelry obsession, so I see it as an excuse to discover new designers and treat myself to gorgeous, interesting pieces. No two heavily-adorned ears are the same—that's the beauty of it. Even if you have the same number of piercings as someone else, the earrings can be different, the layout can be different, and it's perfectly unique to you. Plus, it's a little badass, you can't deny it. Now I have 12 earrings, one septum ring, and a very outdated belly-button ring that I'm considering bringing back with a simple gold hoop. Stay tuned!"
Dani Nahabedian
"I used to have a lot more piercings when I was starting college, but took them out when I started working to conform to a professional appearance. As a young woman starting out, I found myself being confined to the past ideals that shaped the professional appearance. It was refreshing when I actually entered the professional sphere in New York City to see that personal expression is actually embraced rather than repressed! I think that piercings have become more popular as our perceptions on what defines a professional have shifted to be more individual. Piercings are just another form of self-expression! I realized that I don't like presenting myself in the traditional feminine manner and often felt that I had to restrict the way I dressed to align with that realization. Having multiple piercings allows for me to carry my edgy, grungy vibe with me on a day-to-day basis, alleviating some of the emphasis I would put into dressing a certain way. Now I have seven visible tattoos and seven piercings—and I plan on adding to my collection. I want to get my rook pierced and my upper lobe still!"


Valeriya Chupinina
"I chose the anti-helix piercing because it was one that I had wanted for a long time. It's unexpected, looks good with a hoop or stud, and adds the tiniest dash of sparkle to my other nine ear piercings. I picked a sparkly steel stud because you can't heal with a hoop (boo), but once that process is over, I'm ready to experiment with all other kinds of colors and shapes. I think piercings are becoming increasingly popular because they're a way of expressing yourself, taking your accessory game to the next level, and they're sort of addicting. It's just different and not as permanent as other forms of self-expression. The more you dress up your ear, the faster you want to get to your piercer for your next gem. I've been planning on my rook for a few weeks now."
Looking for something sparkly to accent one of your piercings? Check out our
two new earrings
(
one is a cuff
, so no piercing or pain required) which we made in collaboration with
The Last Line
. There's no such thing as too many diamonds!
Want more stories like this?
The 8 Piercings You're Going to See Everywhere This Year
Why Fashion's It-Girls Are Flocking to This Los Angeles Piercer
The Biggest Mistake You Can Make When You Choose a New Piercing