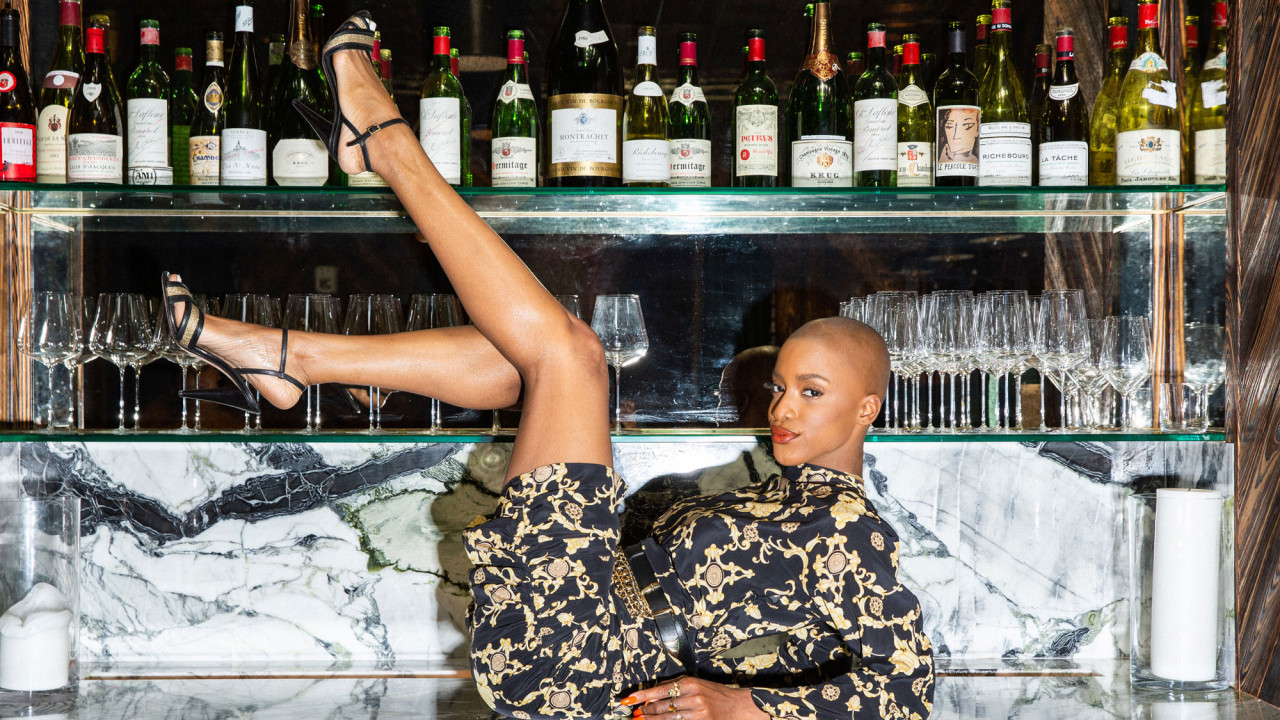 A Chic Strategy for Party Dressing, Courtesy of a New York Creative
Adrienne Raquel shows us how it's done. In collaboration with Veronica Beard.
A half-dozen holiday parties, picking out just-thoughtful-enough gifts for everyone on your list, whipping up contenders for the most addictive dish at your holiday potluck (or just re-plating that appetizer you picked up at Dean & Deluca—zero judgment here). Somewhere in there, it can be hard to remember that the holidays are more than just a time to indulge, eat, drink, and indulge some more—they're also a time to reflect, and "manifest new energy" (more on that later) for the year ahead.
It begins the moment you decide what you'll be wearing. Shimmying into a chic jumpsuit, or slipping into a badass blazer—it's all a part of stepping into who you are and standing in the moment around you. This season, there's been one name that's been seeing us through: Veronica Beard, the NY-based contemporary label we're steadily turning to for the pieces we consider the backbone of our wardrobe. Whether it's their cool cocktail dresses, trademark smart Dickey jackets, or feminine tailoring, their entire collection has the potential to suit just about anything currently taking up real estate on your social calendar. To demonstrate, we tasked Adrienne Raquel, a New York-based art director and photographer whose soft, tropics-tinged imagery—all captured through her signature hazy (and often pink) lens, and who is probably dominating your Instagram saves—to break down her looks for the party season ahead.
Adrienne's plans for the holiday season:
"This year I plan on spending Christmas on an island with my mom. I've worked so hard this year, so I figured, why not bring in the new year in paradise, on a beach! I really want to spend this time unwinding and reflecting, and also take time to manifest new energy and experiences for 2019. We're currently deciding between Costa Rica or the Dominican Republic. I'm looking forward to spending some one-on-one time with my mom, amazing food and drinks, good vibes, and laying out on the beach."
How she describes her holiday style:
"I love a simple, minimalistic look that also makes a statement. I tend to stick to garments that create a clean, chic silhouette. I'm a huge shoe lover! I normally accessorize my looks with a pair of killer heels or booties. For holiday parties, I tend to wear a lot of different fabrics—velvet, rich knits, and sequins."
Her favorite look from our shoot:
"My favorite look would have to be the Veronica Beard leather pants paired with the white knit top. This was such a classic, clean silhouette. I could easily wear it casually during the day and then dress it up into the night."
Favorite holiday jam:
"'8 Days of Christmas' by Destiny's Child."
Karaoke song of choice:
"'This Is How We Do It' by Montell Jordan."
Favorite places in New York over the holidays?
"My favorite sight to see in NYC during the holiday would have to be the Rockefeller Center Christmas tree. Central Park is also beautiful during this time of year, especially when the snow falls. It literally looks like a winter wonderland."
Pitch-perfect hostess gift:
"You can never go wrong with a bottle of wine!"
What you'll find her wearing this holiday:
"For something more dressy, lately I've been dying to wear a long slim-fitting silk maxi and leg splits. For Friendsgiving and more intimate occasions, I love to keep things cozy. You'll catch me in a pair of my favorite jeans or sweats paired with a sweater and a cool sneaker or high-heel bootie. I love to mix sporty and dressy looks together. For a late-night holiday party, my go-to would be a sexy fitted holiday dress, preferably in black velvet or covered in sequins."
Holiday cocktail of choice:
"I love a good lime margarita all year round!"
Fail-safe hangover cure:
"A glass of cold OJ and sleep."
Her favorite holiday treat:
"Apple pie à la mode—warm apple pie topped with vanilla caramel ice cream."
The tradition she looks forward to all year long:
"Decorating the Christmas tree and Christmas Eve parties! Growing up my parents would host one every year, and we'd have all of our friends and closest family members over for dinner. We'd blast all of the classic R&B Christmas carols, dance, laugh, and eat an amazing meal and dessert."
Her gift-giving style:
"I'm definitely more of a planner when it comes to gift-giving. I love for the gifts that I give to be personalized and symbolic!"