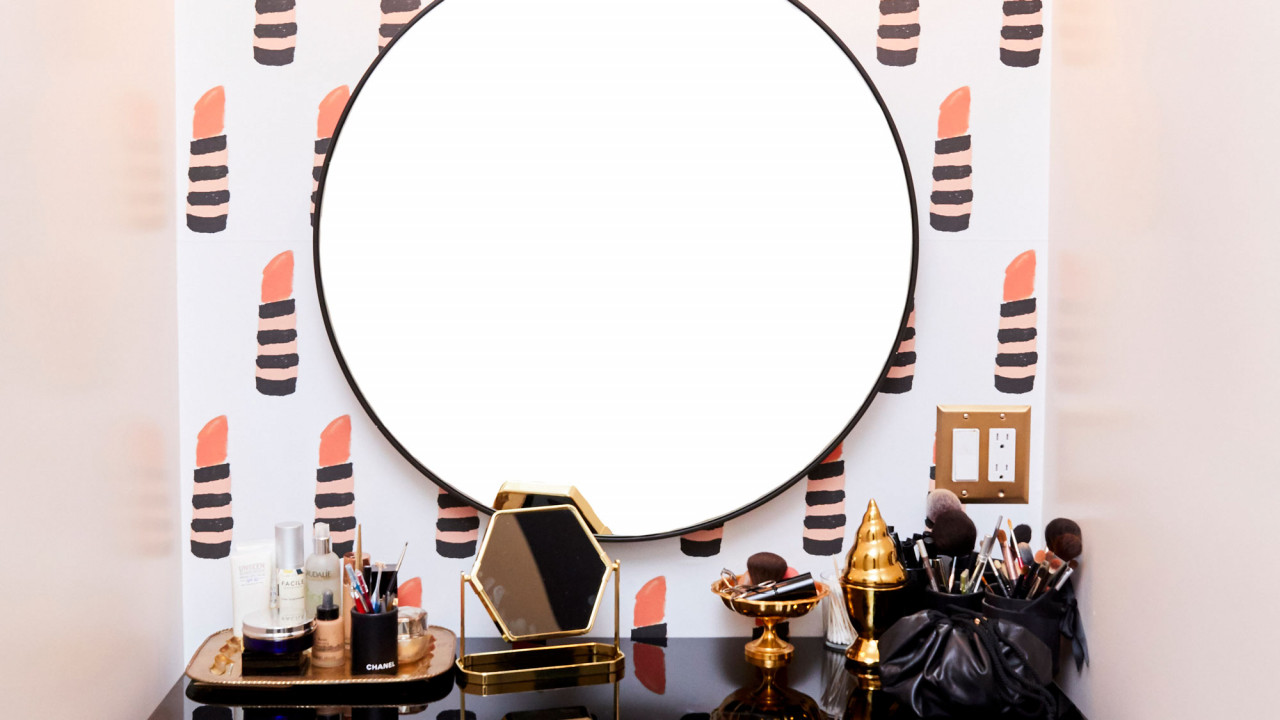 Every Product Makeup Artist Jenn Streicher Swears By for Glowy Skin and Big Lashes
Prepare to update your beauty routine.
When we visited makeup artist Jenn Streicher's gorgeous Laurel Canyon home, we obviously needed to inspect her beauty setup—she does have custom lipstick wallpaper, after all. She's a bonafide expert when it comes to makeup and skin care, and was more than willing to spill all of her favorite products. With clients like Mandy Moore and Emily Blunt always looking fabulous on the red carpet, it was no surprise that she has curated her own routine for dewy skin, voluminous lashes, and best of all, she does it all in five minutes or less. Check out her recommendations for the most effective neck cream on the market (she has something of an obsession), the everyday mascara she's used for years, and the natural deodorant she prefers to use as a fragrance—seriously!
What do you like to use on your clients to prep their skin for the red carpet?
"Most of my clients, especially the girls, they're so into their own skin-care regime that I don't normally like to mess with that. I usually just [try] to make sure that they're moisturized and then do a primer. I like to use Charlotte Tilbury Magic Cream. If I feel they're too moisturized, I'll do something a bit drier like that Hourglass Veil Mineral Primer, especially if it's for the red carpet."
How does that compare to your own skin-care routine?
"For myself, I try to keep it simple. I really do like to try everything, but I've been getting into natural, organic products—products that aren't bad for you. I've been experimenting with that a lot. I've been using a lot of True Botanicals. The Beauty Counter Overnight Resurfacing Peel—it actually burns when it goes on—and it's good for you, they don't put in any bad ingredients. I think what's hard is to carry them over into your work life, [because] you still need products that have really good pigment and are long-wearing. But I think they're getting better all the time, [although] I still like using my luxury products. Caudalie doesn't say they're all-natural, but they're really good. They're very conscious. The Aesop deodorant doesn't work, but I like to spray it on my clothes. I keep telling them [they] need to make a fragrance."
What does your morning routine look like?
"I get out of the shower and I do Biologique Recherche P50 1970. I do it almost every day. Then I'll use a face oil, usually the True Botanicals Radiance Oil. Sometimes I use this Melanie Simon Serum C. She wants you to use it and not put anything over it for a while, so usually I'll do this at night. It makes your skin look really pretty. I personally love the Ziip. That, you can see. I've been trying this La Prairie Essence of Skin Caviar Eye Complex. I don't use eye cream all the time—I know it's important to moisturize—but it doesn't really soak in, so there's no point. I've been kind of obsessing over neck creams. This is the Sisley one. I will try whatever somebody gives me. The Caudalie Vinoperfect Brightening Essence is so good. Sometimes I'll put the Tata Harper Regenerating Cleanser on right before I get in the shower. Have you tried this True Botanicals Resurfacing Body Mask? I rinse it off, but I suppose you could even leave it on. I've been using this vegaLASH Volumizing Serum because they say it's so much better for you."
So what's your everyday makeup regimen?
"I just love to try everything. This is my latest obsession, the La Prairie Skin Caviar cushion compact. It's really nice [but] not very makeup-artist-friendly. I use my Laura Mercier rose gold Caviar Stick Eyeshadow. It just depends on what kind of day I'm having. If I don't have to work, I'll use this Erborian CC cream or the Chantecaille Just Skin Tinted Moisturizer. If I'm doing a photo shoot or something, I'll use this Clé de Peau Concealer. I do love a blush. I've been using a lot of this Hourglass Luminous Flush in Ambient Lighting. I've been trying these Beautycounter shadows, and I think they're really good—a beautiful palette. Mascaras are funny because everybody has certain things that they like. I have been using this L'Oréal Voluminous for years and years. It's a good everyday. I've been obsessing about this one, the Marc Jacobs. That's kind of like a big lash mascara. We do this lash lift at STRIIIKE, so when I have that, I don't use the curler."
What are your favorite lip products?
"I usually just have on Chapstick or lip balm. Burt's Bees tinted ones are really nice. I have tons of lipsticks in my purse. I'll put them on either when I get to work or going to an event or something. I don't like to wear lipstick in the house. It's usually the first thing I'd take off when I get home."
How do you like to take off your makeup?
"Bioderma—I do that first for mascara. Then I'll use an oil cleanser on dry skin with a cloth, and that's it."
When you were designing your makeup corner, how did you decide on the perfect lighting?
"I like warmer bulbs, but I really didn't think too much about it. I always tell people that they should be doing makeup by a window. So I always go check it. This isn't great lighting, but I don't go crazy—I just slap it on and then go."
Want more stories like this?
6 Holiday Detox Essentials For Skin, Mind, and Body
Inside Makeup Artist Jenn Streicher's Serene Laurel Canyon Home
The Best Skincare Tools For Lifting, Sculpting, and Smoothing Your Face