Beauty
Parisian chic makeup, hair, and fragrance for a soiree.
When I imagine a classic French girl at a holiday party, I picture her sitting around a big table at a late-night dinner party with candles flickering, wine glasses strewn about, and her loose chignon complementing her subtly faded lipstick. You can smell a hint of fragrance if you're sitting next to her, probably floral with woody notes like Chloé, and she's talking about art or something else subjective and deep. It's all sumptuous and romantic, but never too perfected or polished.
Having been blessed to spend the spring in France, and then again over
Paris Fashion Week
in September, I feel like I'm maybe getting a knack for the laid-back French beauty thing, and I love it. Now it's a matter of translating that relaxed feminine look to my upcoming cocktail parties in New York, while still looking dressed up. Below, the French beauty essentials for a holiday soiree.
---
The Perfect Fragrance
The quintessential French girl style is effortless and sophisticated. That means a grown-up scent that's feminine and alluring, but not sugary-sweet. My favorite aspects of Chloé eau de Parfum are the green, musk, and woody notes that make the rose and white florals more spontaneous and complex. For a holiday party, I
'
ll spritz all across my body before getting dressed, as well as two spritzes into my hair. Let's just say it's the season of generosity.
Blotted Red Lipstick
Go for a true red lipstick, but to really make it French, apply straight from the tube and then blot, blot, blot. What's particularly nice about applying straight from this beveled bullet is that the sharp edges act almost like a lip liner. Plus, the hydrating ingredients inside, like hyaluronic acid, keep your lips moisturized as you deliberately let the color fade into a stain through the evening. Trés chic.


A Low Chignon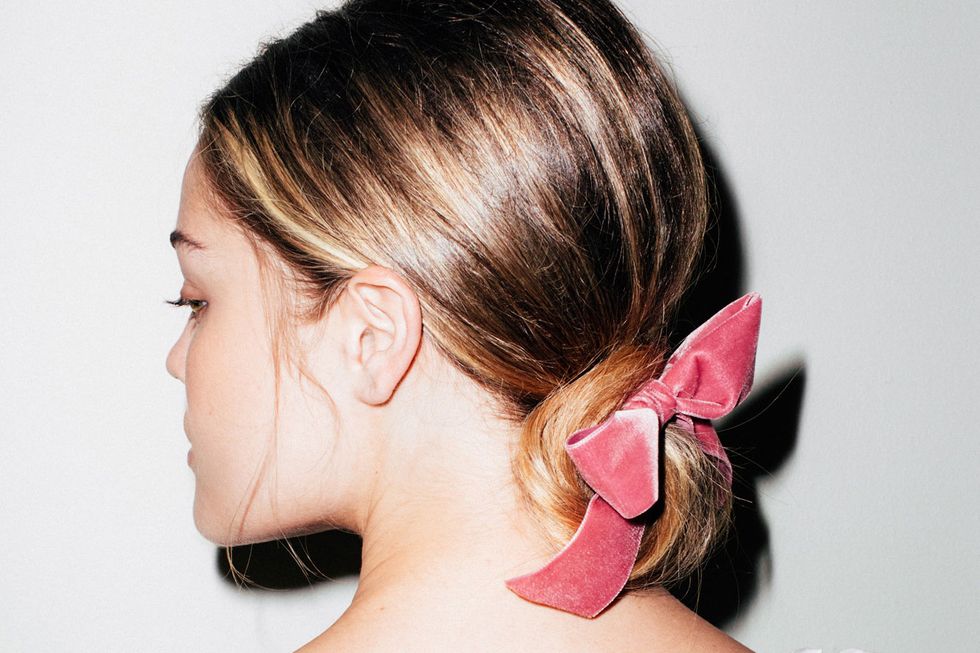 The best thing about this romantic and pretty style is it's actually pretty easy to do for those with long enough hair. We learned how to create this look above from one of our favorite hairstylists,
Allen Thomas Wood
, who prepped hair using dry shampoo powder and
Bumble and bumble Bb.Thickening Dryspun Texture Spray
, then tied a low pony with a pretty ribbon before wrapping the ends around the base of the bun. Let a few pieces hang loose to frame your face.
Black Mascara
A few swipes of an inky black mascara—nothing too big and glamorous, but still more noticeable than a lash tint—is how you'll see most French women emphasize their lashes for a party. This French pharmacy brand has made one of France's favorite mascaras for years, and it recently came to the US. For a cold evening, when my eyes are prone to watering, I like to use the waterproof version, which is specifically formulated for sensitive eyes.