Skin
Just keep drinking that green juice.
Weston Wells
Alicia Cesaro
If in an alternate universe (or maybe our next lives?), we were A-list celebrities whose jobs literally required 
HD-camera-ready
flawless skin all the time, we would trust only one person with our faces. That person is bicoastal aesthetician
Joanna Vargas
, whose menu of no-joke facials paired with half an hour spent in her red LED light bed (basically a skin time-machine) promises perfectly glowing skin that would give just about anyone—celebrity or not—the confidence to walk in front of a billion camera flashes. Vargas' roster of fountain-of-youth-drinking clients speaks for itself: Julianne Moore (um, how old is she actually?), Naomi Watts, and Rachel Weisz among them. But as Vargas pointed out when we sat down with her in her Fifth Avenue office in New York, there's no actual fountain of youth—rather it takes time, work, and a super-regimented routine to make all that glow appear natural. So what exactly does it entail? We had her break it down for us (spoiler alert: dry-brushing, sunscreen, and green juice) after she finished detailing her career path and in-flight skin-care routine.
---
The CliffsNotes version of her career path:
"I studied photography and women
'
s studies at the University of Chicago. I moved to New York with the intention of working in that industry, but realized that personality-wise I wasn't cut out for it. I ended up going to esthetics school to get a license and falling in love with taking care of people and the one-on-one client experience. So I decided to give myself a year to see if I liked it—that was a really long time ago, and I never looked back.
"A few months into my first job, I looked at my book and realized it was full of requests, which made it real that people were actually coming back! I knew then I wanted to make it my career."
Why celebrity clients come to her before the red carpet:
"My first celebrity client was Rachel Weisz—she's been coming for eight years. I adore Julianne Moore, she
'
s great. Helena Christensen is cool and very sweet. I'm very lucky because I love all of my clients for different reasons. If you sat outside my door and listened to me working, you would know my facials are the loudest ever because we're hysterically laughing. Emily Mortimer is a client; we just make each other laugh. It's fun to hang out with a girlfriend and make her feel good about herself.
"The thing I'm most known for is that I vet all the current technologies on the marketplace and create a customized protocol for every individual. Right now the combination of the Forever Facial plus my patented LED light bed is popular. The facial shrink-wraps the face and increases collagen production, which is great whether you're 25 or 85. For red carpet I recommend the Triple Crown facial because it contours, lifts, and sculpts.
"For something like the Emmys, I use exfoliation because then you need less makeup and it sits on the skin better. When you see celebrities walking a red carpet, they're not actually wearing a lot of makeup on their skin. If you're over the age of 35, makeup tends to sit in lines of dehydration, so you have to be exfoliated and hydrated. I then do microcurrent treatments to lift and contour the face, so, again, you really don't need to wear contouring makeup on the red carpet because the face is contoured, de-puffed, lifted, and fresh-looking.
"These treatments work the day of and also within the week of. Celebrities are professionals at personal appearances. They're juicing, they're being healthy, going to the gym, drinking lots of water. So if you have a microcurrent facial the week of an event, you're still going to be sculpted and look incredible. I encourage people to use sheet masks; I have clients who mask every day before hair and makeup because their skin is dry, and it makes them feel better and more hydrated."
Debunking facial and skin-care myths:
"The biggest myth about facials is that people think you have to look horrible after. You don't need downtime—if you do, that facial isn't right for you. You don't need a lot of peels, lactic and glycolic acid, or retinoids in order to have a good facial or skin-care routine. There are a lot of less harsh and inflammatory things that encourage cell turnover.
"The biggest myth I debunk for people in general is that you don't have to be born with great skin—it's an option for everybody. People always want to hear the magic solution
—
a magic pill or cream
—
and the truth is that celebrities have great skin because their routines are spot-on, there's no room for error. When an actor has a movie coming out, they're doing massive press junkets, on planes every other day, really tired and worn-out, so their routines have to be like clockwork, and that's why they don't break out. They eat well, rest whenever they can, exercise, and follow a solid skin-care routine."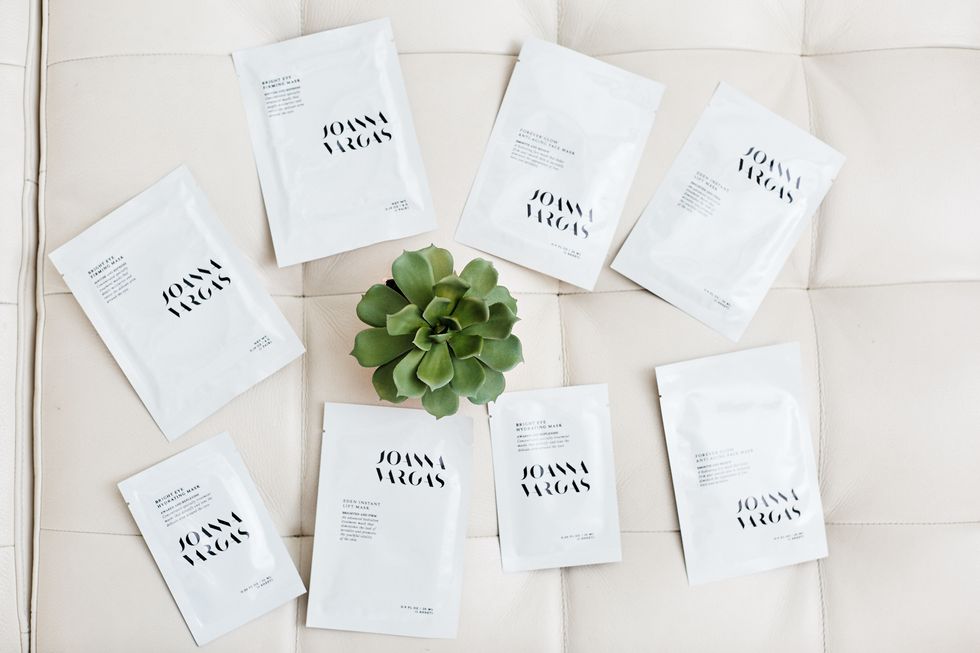 Her daily and in-flight skin-care routine:
"Every day when I wake up in the morning, I dry-brush my whole body before showering in an effort to keep the face and the body matching. Dry-brushing is great for elasticity and keeping away cellulite. Twice a week I sleep in my
Joanna Vargas Exfoliating Mask
to fight fine lines and even my pigment. During the day I wear
Joanna Vargas Daily Serum
,
Rejuvenating Serum
,
Daily Hydrating Cream
,
Eye Cream
(I wear eye cream every day because I like a lot of hydration underneath my makeup), and sunscreen. I don't leave the house without it; I wear an
MD Solar Sciences SPF 50 BB Cream
. At night I wash with
Vitamin C Face Wash
 and follow with all the aforementioned products.
"When flying I wear my
Bright Eye Hydrating Mask
with a
sheet mask
on top. Honestly, nobody's looking at me; they're sleeping. Every flight, though, all the flight attendants come over and ask questions, and I give them masks, and we'll have a skin-care clinic in the serving bay. On my way to California for the Emmys, I was sitting in the first row, and the pilot saw me with my mask on and asked the flight attendants about it. They were all explaining, 'She's in skin care, that's a stem cell mask.'"
Which products and treatments newbies should try:
"My charcoal soap
Miracle Bar
is a favorite; it's detoxing and, because charcoal tends to be drying, I balance it with olive oil and shea butter. Older customers can use it for detox purposes and younger ones to prevent breakouts. Amongst my celebrity clientele, the
Eden Lift Mask
is the most popular in my line—a lot of clients including
Jessica Alba
use it.
"The LED light bed is a full-body treatment developed with proven technology. It reduces inflammation, speeds the healing of the body by 300 percent, and grows collagen in quantifiable percentages. Ever since I was a young aesthetician, it's been a goal of mine to make sure that the face and the body match. With face-lifts, the body doesn't match, and that's a little bit creepy to me."
Five skin-care must-haves:
"The top things I recommend are dry-brushing for your lymphatic system and general overall health; sunscreen, a must; green juice, which hydrates you from the inside out, is good for the digestive system, keeps away breakouts, and strengthens facial capillaries if you have sensitive red skin; and wash your face every night. Most people
still
don't do that, which I think is gross. The pollution on your face fast-forwards the aging process tremendously. Nighttime is your body's time to repair itself, so you're robbing yourself of the repair cycle if you don't wash your face. Everybody should do LED light therapy—it's an amazing non-invasive treatment that makes your skin healthier, shrinks your pores, stops breakouts, and gives a natural glow the more you do it."