Deskside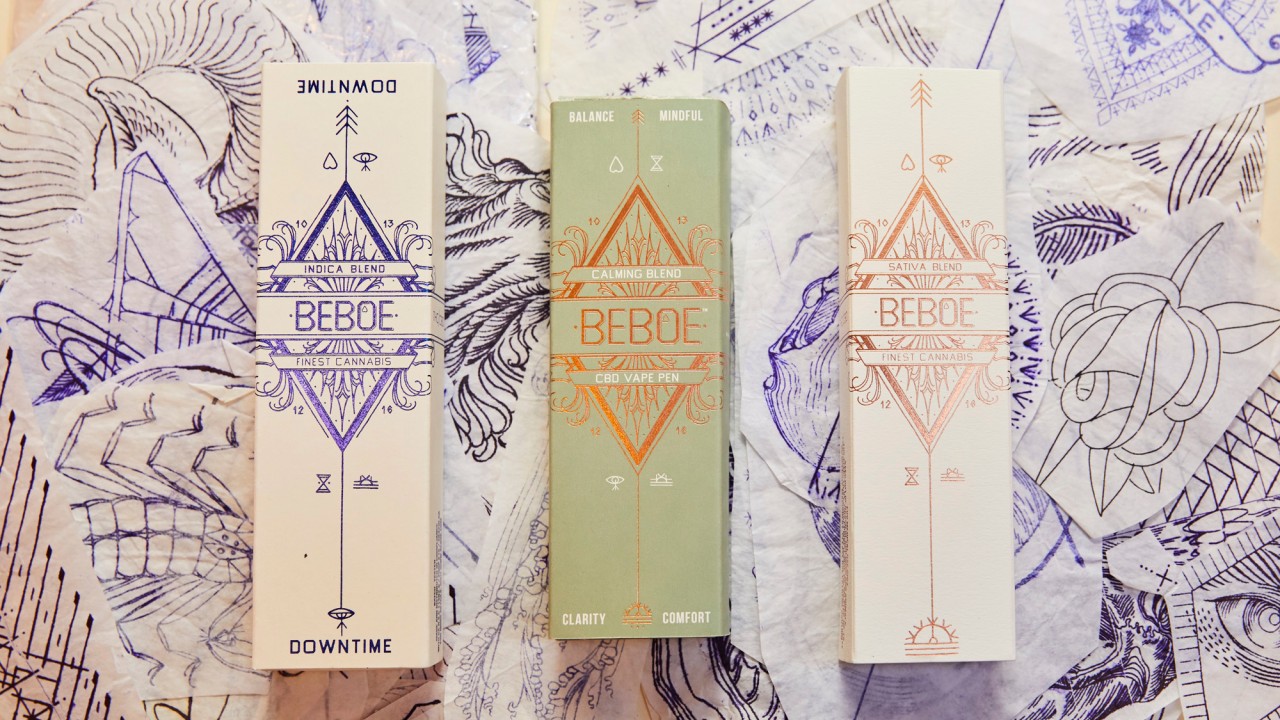 The Men Behind Today's Most Glamorous Cannabis Pens
These aren't your average stoner accessories.
As disheartening as the political landscape seems right now, there's one issue that continues to unite partisan voters across the country: cannabis. With three more states legalizing weed in some capacity as of the November 6 election—bringing the total to 33—and 64 percent of Americans approving of legalization, this wave of reform is most noticeably spilling over into the lifestyle space. Gone are the days of the seedy head shop selling five-foot bongs—the new marijuana consumer is far more discerning, and many consider the various forms of cannabis to be welcome additions to their wellness regimen. Few have capitalized on this growing interest in elevated smoking accessories better, or with more style, than Scott Campbell and Clement Kwan of Beboe.
"For the past 20 years I've been a tattoo artist, but branched out into other things," says Campbell when we visit his Los Angeles shop. "I spent the last 15 years as an executive in the fashion world," adds Kwan. The two met in New York through mutual friends and discovered a shared interest in cannabis and the surrounding culture. Kwan explains that growing up in L.A., weed was always in the mix, but he didn't fall in love with it until he sold it as a means to pay for his Berkeley tuition. Campbell approached marijuana in a similar way—as a self-described punk-rock scumbag—but he was always acutely aware of how destructive getting caught could be on those who partook. "I had friends of mine whose lives were truly derailed because it was a felony offense in Louisiana and Texas," he says. "It was so harsh that they get pulled over and have like, a roach in their car, and next thing you know, they're kicked out of school and it's on their permanent record. It really became so stigmatized that the idea of now being able to participate in this movement that brings it out of the darkness and celebrates it, and lends real medicinal and social credibility to it, is awesome."
Although many might consider Beboe the most high-end of all cannabis accessories (in fact, The New York Times dubbed the brand "The Hermès of Marijuana" in 2017), the founders are hesitant to embrace such a label. "I have a weird relationship with luxury," says Campbell. "In making this product, it's quality-driven first and it's made for me. I'm a high-functioning adult who makes decent money, who only has time to get high maybe once a week. So I don't care what it costs—I want the best possible experience. And in designing to accommodate those needs, it has to be the best."
The pens come in two varieties—indica and sativa—and the oils are formulated using cold-water processing, keeping the plant as pure as possible with little alteration. Connoisseurs will recognize the high-quality distillation process, whereas newbies can still appreciate the smooth, mild flavor of the vapor. As Campbell describes it: "It's like the cold-pressed juice of weed." Kwan elaborates on the more mild effects of the pens, as well as the pedestrian-friendly dosage in Beboe's candies (which clock in at 5 mg each). "It's about subtlety and social use."
It wouldn't be a stretch to compare the two founders to their two strains of vaporizers: one calming and one energetic. Campbell—the more loquacious of the pair—manages the bulk of product development and design, but he also seems to bask in Kwan's tranquil orbit. "You could probably guess which hemisphere of the brain we each represent," he says, smiling. "I'm more emotional and Clem makes sure it all works. He's the one who made it all possible."
With a now-signature aesthetic—the vaporizers are a luxe rose gold—and what they have dubbed as "the Beboe family" growing rapidly, the founders are seeking to use their platform to help destigmatize cannabis use and broaden the definition of a marijuana user. "With social media being a part of [our company], people in Ohio see that, and they're like, 'Well, wait a minute, these aren't junkies and criminals you're talking about, these are legitimate medical patients and just people like me who are using it.'"
As the cannabis landscape continues to shift almost daily, Kwan and Campbell have narrowed their focus towards developing a more conscientious consumer. "All of our marketing efforts are put towards education," explains Campbell. "We make a product that we stand by, so we work to teach people why this is a better way to do it. [The industry] is quickly becoming like wine—dispensary budtenders are like sommeliers where they know every strain." Kwan also acknowledges the rise of other brands that are seeking to elevate marijuana consumption and accessories in the same vein as Beboe. "People are starting to take our lead, which is humbling, but I think it's great because we've actually contributed to change. That's what we're ultimately the most proud of."
And if you don't have plans to be in California anytime soon (where marijuana is recreationally legal), don't worry—Beboe just launched its first-ever CBD vaporizer, which is available to ship nationwide. "The cannabis genie is out of the bottle," says Campbell as he shows us the newest member of the family. "People know enough about it, and they're not afraid of it. It's not going to go back in the dark."
Want more stories like this?
Meet the Women Who Are at the Forefront of the Cannabis Industry
How to Turn Your Cannabis Habit Into a Successful Lifestyle Brand
What Happened When I Went to a Secretive Marijuana Supper Club