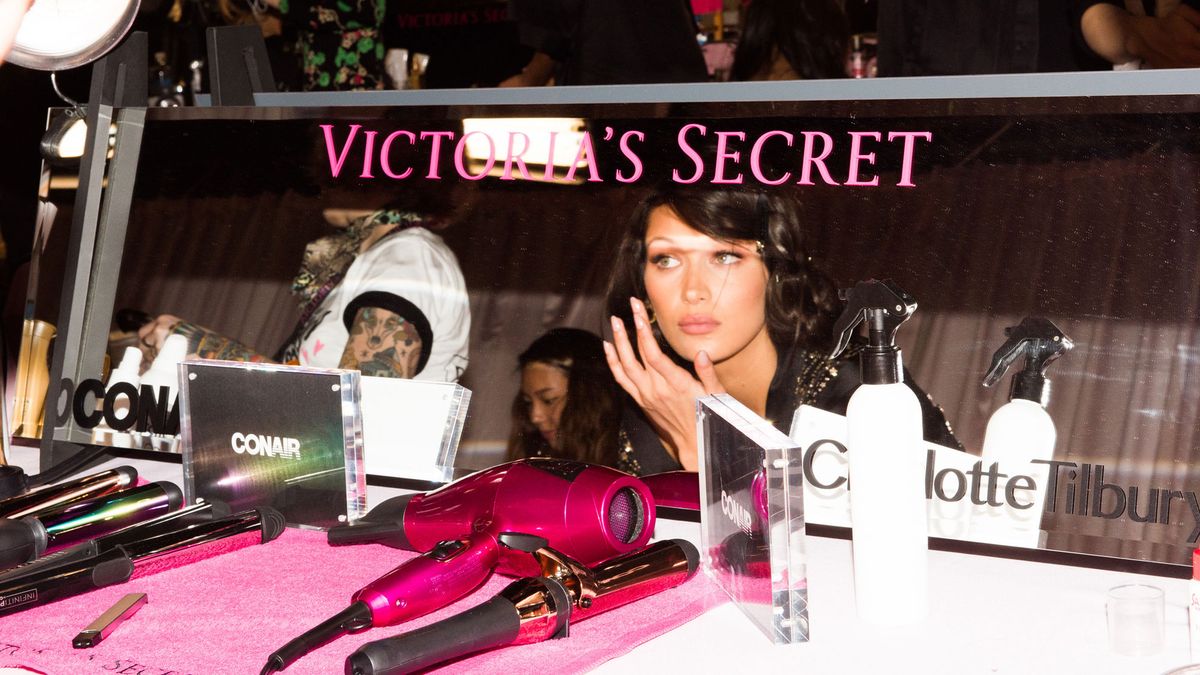 Models
And what she's going to do to relax after walking the runway.
The 23rd annual
Victoria's Secret Fashion Show
took place last night, with over 60 models (the biggest lineup in its history) walking the runway in the season's most over-the-top lingerie—including the infamous $1M Fantasy Bra. Backstage at the show's Manhattan venue, models were happily snapping selfies with friends in between their turns in the hair and makeup chairs. The signature angel waves were on full display from hairstylist Anthony Turner, as was an ultra-dewy makeup look courtesy of Charlotte Tilbury.
In between touch-ups, we caught up with supermodel
Bella Hadid
—who walked in
her third consecutive Victoria's Secret show
—to hear how she spent the morning, her go-to cocktail for the after-party, and who she thinks has the greatest runway walk of all time. Plus, how she's planning to spend time with
The Weeknd
after the show is over.
---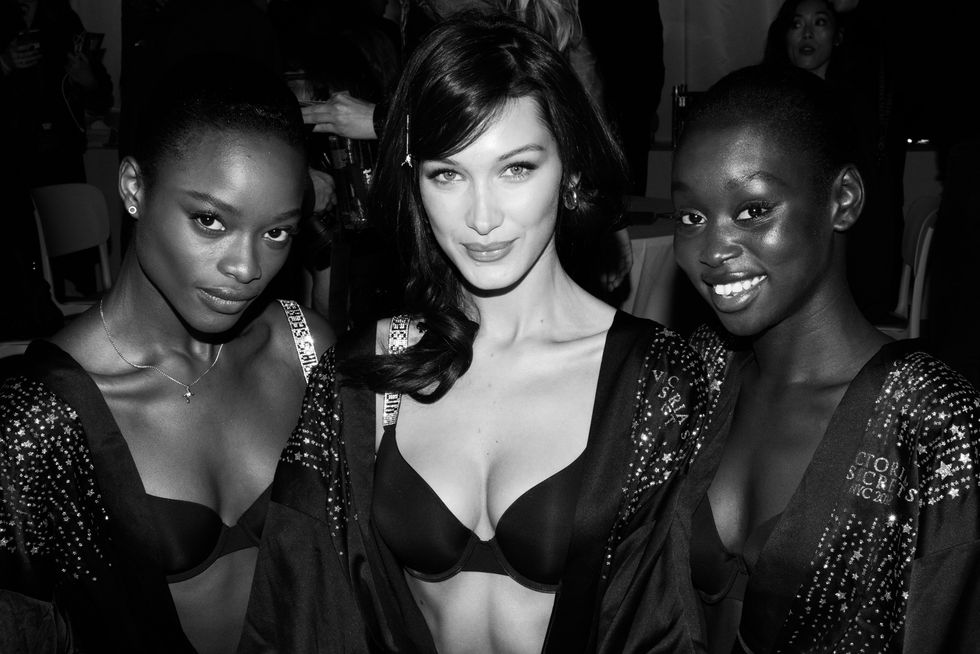 What was the first thing you did when you woke up this morning?

"In the morning I usually don't look at my phone for a while, so I just kind of lay there. This morning I had a lot to think about, so I laid and thought and just kind of tried to center myself. A lot of butterflies this morning, it was good."

How do you calm those pre-show jitters?

"My favorite thing is to go around to all the girls and get them excited, because it makes me feel that way if they're excited. I usually just try to sit in a corner and listen to music and try to meditate, but there's not a lot of room over here to do that."

What's your hype song before a show?

"There's a song called 'Hungry Hippo.' It's a one-minute-long song, and it's my favorite right now. You should look it up."

Who was the last person you FaceTimed?

"My boyfriend…"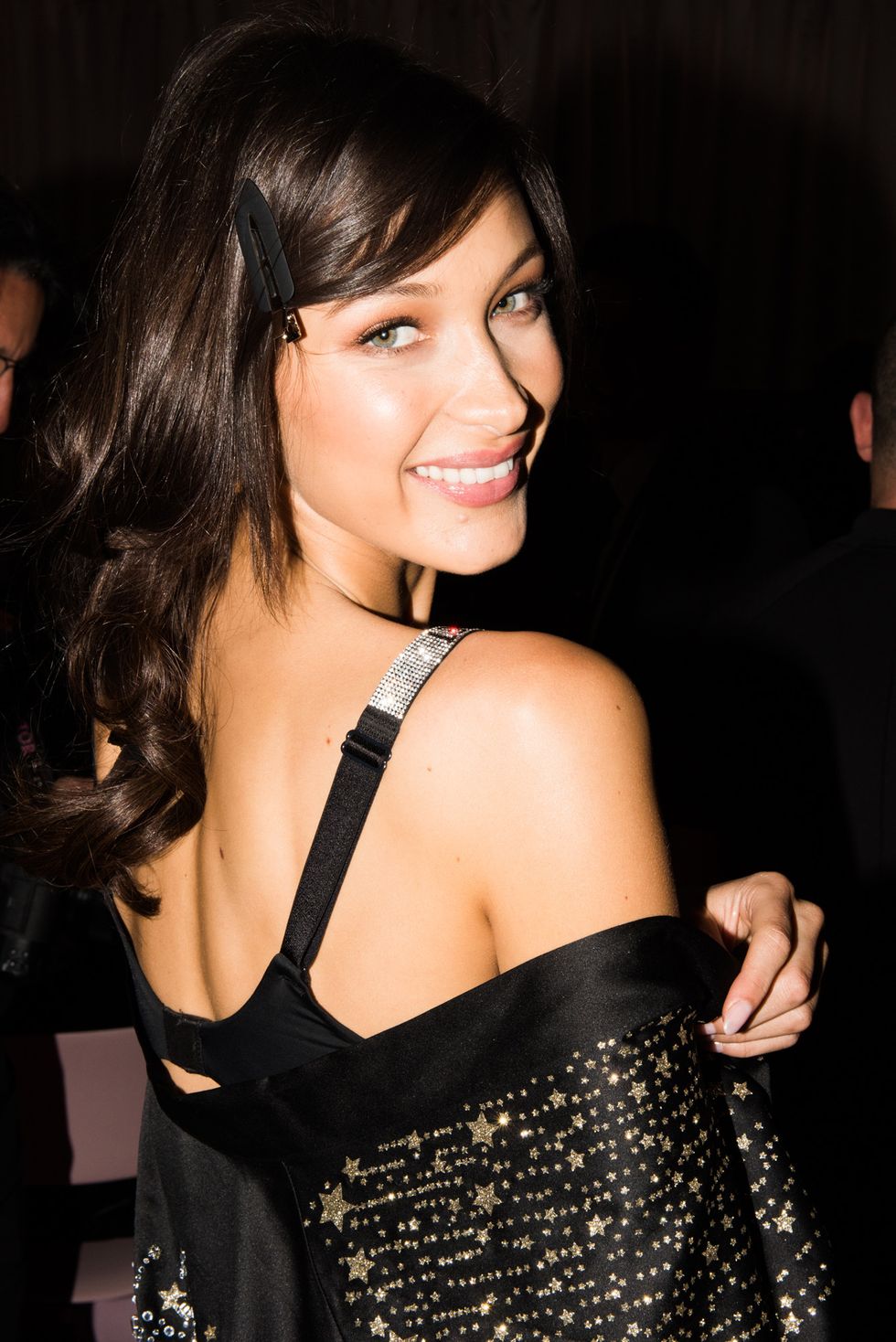 What are you bingeing on Netflix right now?
"On Netflix, I'm on the seventh season of
Dexter
, it's the best, and I watch a lot of
American Dad
. We binge
American Dad
—all the seasons."
If you had any superpower, what would it be?
"Maybe to teleport."
What OG Victoria's Secret model has the greatest walk of all time?
"Gisele."
If you could cast a Victoria's Secret men's show, who would open and who would close?
"Oh my gosh, that's a good question. I don't know! That's very hard. I'm going to have to think about that."
What's your go-to cocktail for the after-party?
"I love Hendrick's Gin, so a gin and tonic. But I'm really dreaming about a glass of red wine. And everyone's like, why wine? And I don't know! It's just what I want. But I think all the girls here are excited about the tequila."
What does the first day after the show look like for you?
"I just really want to sit on my couch and sleep and go on a walk with our dog and pretty much do nothing, but just enjoy the moment."
Want more stories like this?
Everything an Angel Does the Night Before the Victoria's Secret Fashion Show
The Secret Behind All Our Favorite Victoria's Secret Runway Looks
Backstage at the Victoria's Secret Show with Bella Hadid