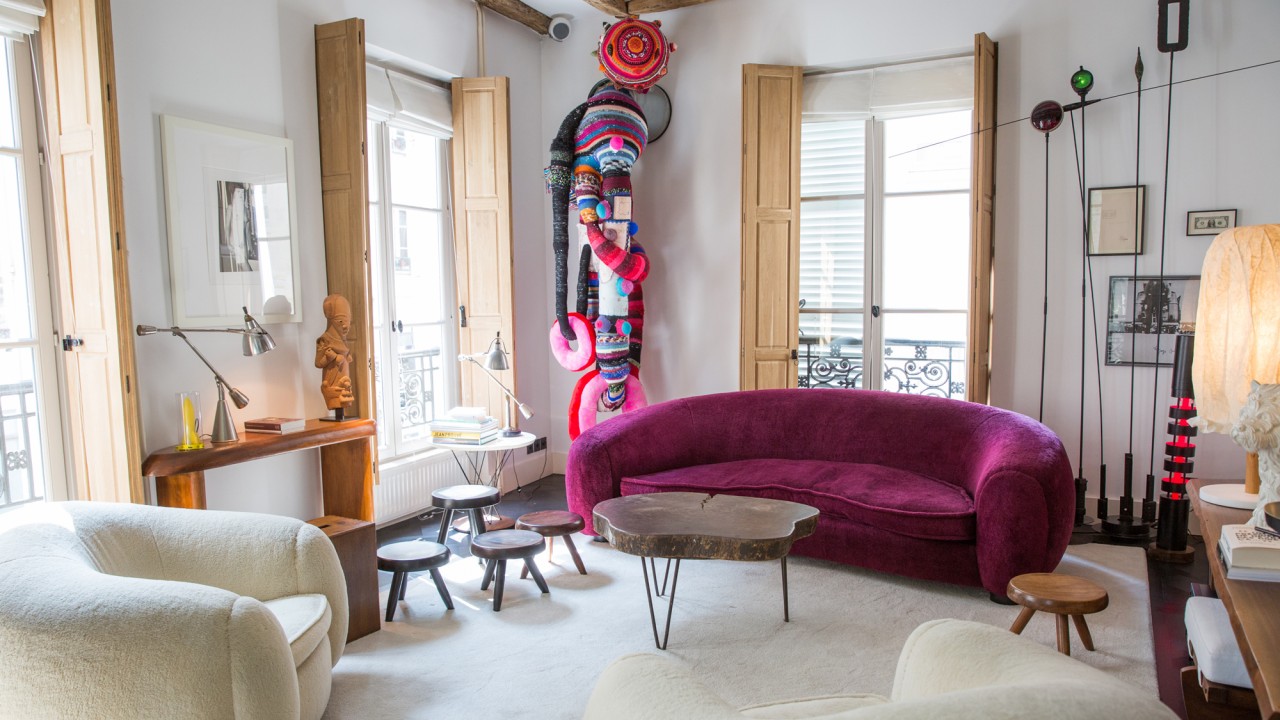 Meet the French Perfumer Whose Paris Townhouse Doubles as an Art Gallery
And Alexandra Roos is a badass guitar player, too.
On a small street in Paris' Saint-Germain-des-Pres neighborhood, Alexandra Roos buzzes us into a garden courtyard, which serves as the front yard of the perfumer's town house. It's romantic and quiet, and the front door to her home is propped open. After we enter, with no Roos yet in sight, we're suddenly startled by a figure leaning against the wall. We're just about to try speaking to her when we realize it's just a very, very (very!) realistic statue. Add gallery owner to the list: Roos' place doubles as her family's home as well as an extension of her husband's gallery. The entire space is covered in modern art statues and canvases.
The figure in the entryway won't be our only surprise of the day. We find room after room filled with coveted modern art and spin around a custom-made revolving peek-a-boo closet in the foyer. It also turns out that Roos, who recently launched the fragrance line Roos Roos at Bergdorf Goodman, Aedes des Venustas, and The Webster, is best known as a musician. Not only does she have her own solo records, but she's played with bands like Calexico. Lucky for her, she got to co-create Roos Roos with one of the best in the business: Her mother, Chantal Roos, has created some of the biggest scents of all time, like Yves Saint Laurent Opium and Issey Miyake L'Eau d'Issey.
Below, Alexandra tells us about her career as an artist, growing up around fragrance, and her cool-girl French perfume brand.