Celebrity
Teyonah Parris on Black Representation in the Media
The actress stars in Barry Jenkins' If Beale Street Could Talk.
Renée Rodenkirchen
Teyonah Parris is well on her way to making a serious mark on the film industry. From her role as Lysistrata in
Chi-Raq
 to Colandrea
"
Coco
"
Conners in
Dear White People
, to Missy Vaughn in
Empire. 
If you can't already tell from the aforementioned list, Parris is devoted to meaningful roles. That same modus operandi goes for her latest character, Ernestine Rivers in Barry Jenkins'
If Beale Street Could Talk
. Based on the novel by James Baldwin of the same title, Jenkins retells the story of Clementine "Tish" Rivers [KiKi Layne], a sales clerk whose fiancé, Alonso "Fonny" Hunt [
Stephan James
], has been wrongfully imprisoned for a rape accusation. The family, including Tish's sister, played by Parris, come together for a fight for his freedom.
Ahead of the premiere, we sat down with the Washington-born actress to find out how she got involved with the film, hear the details on the one hilarious time they fit the entire cast and crew inside a Harlem brownstone living room, and chat about the importance of telling the many diverse and pained stories of African Americans in the United States. 
---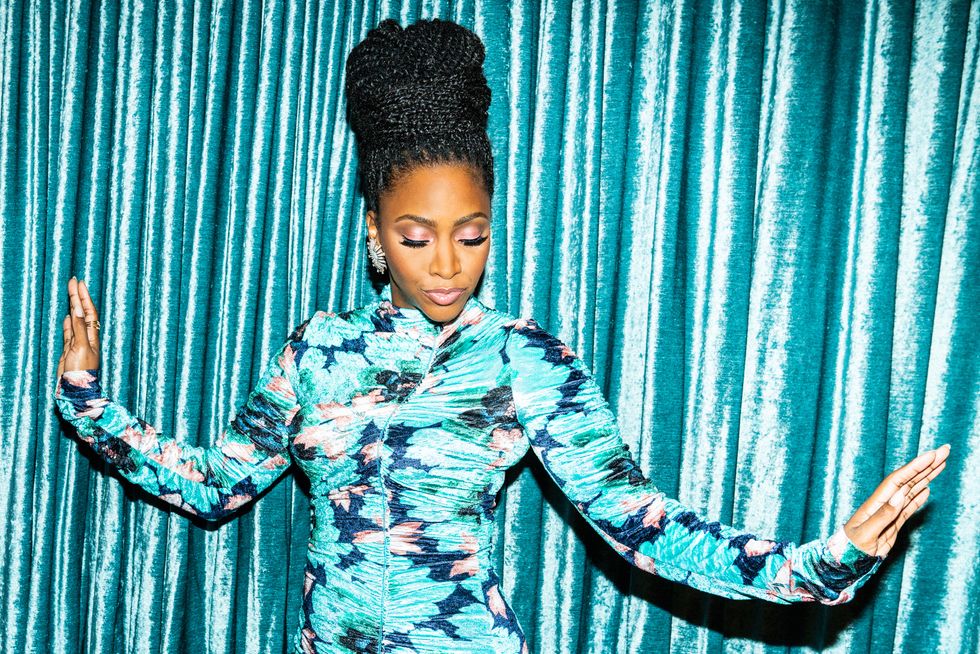 How she got involved with
If Beale Street Could Talk:
"Barry [Jenkins] and I met up for a coffee and were getting to know each other as artists. I, of course, knew this was percolating somewhere, but you never know what someone wants to meet about, and I just wanted to meet Barry, he's dope. A few weeks later, I got offered the role, and here we are in
Toronto at the International Film Festival
. It's amazing."
What originally drew her to her character:
"I love that Ernestein is a firecracker. She's deeply passionate about her family. One of the main thematic elements is love
—
how love will carry you when everything else falls apart. The love between Tish and Fonny, the familial love that we all have, and how beautiful it is to see the black family fight for a common goal. It's unfortunate, what they're having to come together to fight for, which is injustice and being wrongfully incarcerated. Underneath all of the social issues, there is that love and that fight, and that's something I feel that black people have had for years—it's part of our DNA, it's who we are—we are always having to fight and prove ourselves. But throughout all of that, there's the love that carries us forward. It's special."
Her favorite memory from filming:
"The most challenging yet fun part of filming was the big scene with both families. It was in a real brownstone in Harlem [that] they were about to gut and renovate until we got it—it was really beautiful. It was really fun with eight cast members and the crew in that very small living room. It also happened to be one of the most intense scenes in the film, so there was a lot going on that day—it felt like twenty of us in that small room."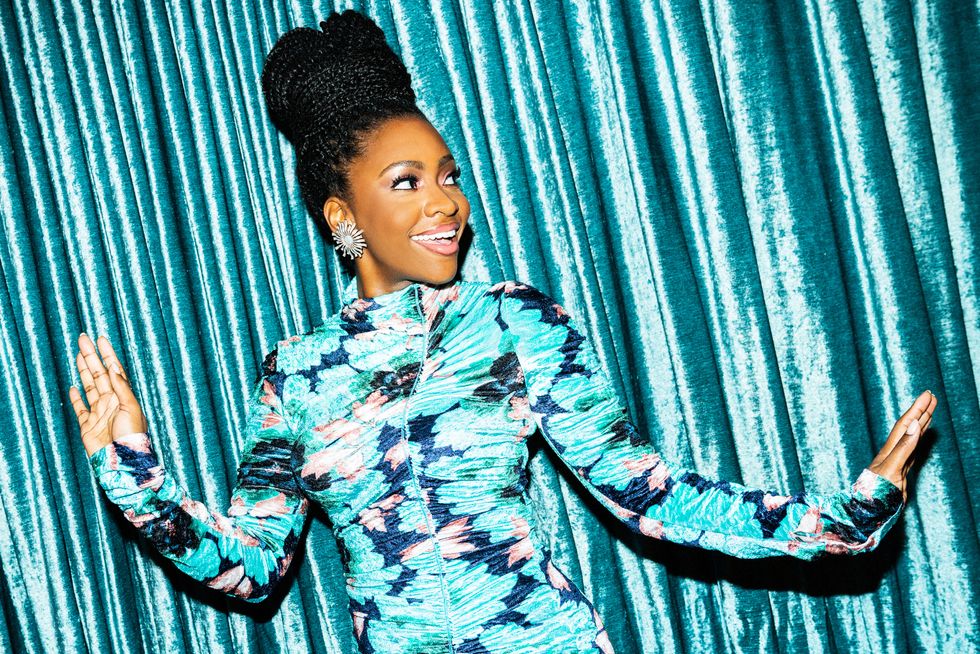 On choosing impactful roles:
"I want to be a part of telling our stories, no matter if they're
'
good,
'
'
bad,
'
or whatever—just being part of expanding the narrative as it pertains to what it means to be an African American in the United States. That is my goal, because we come from so many places, we have so many different walks of lives, and it's important to show the richness, the texture, the variety of those experiences. Right now in the industry, we're at a time where you can turn on the TV and see multiple shows that have black characters in a prominent role. I think, yes, that's exciting, but it's important for people to see versions of themselves represented in the media. As a young person, you expand your possibilities and what you think is possible for you. Even if you don't want to be an actor, you look at a Taraji P. [Henson] in
Hidden Figures
, and you're like, 'Oh, she's a scientist! I can be a scientist!' And that's important."
The mentors she has in her life:
"I don't have a mentor for my career, but I do have a mentor for my mental health and well-being—a life coach, spiritual mom, and therapist. She's amazing! It's important, especially in the African American community, to deal with your mental health and traumas in your life. At a time when you're seeing a lot of people who seem fine on the outside, unfortunately, it's happening all too often that you hear later that they took their lives and weren't happy or [were] dealing with pressures no one knew about. It's really important for me to have a way to deal with my mental health, spiritual well-being, and God. My faith and my belief—all of that is huge for me."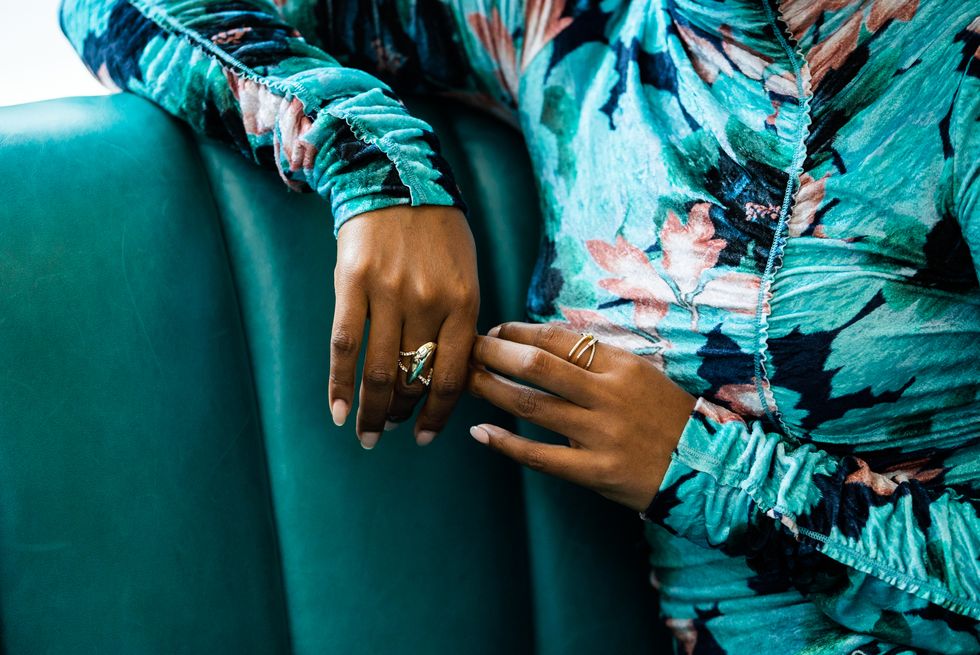 How she calms her nerves ahead of walking a red carpet:
"I always pray before I go on. I get butterflies [and] I'm trying to discern for myself if those are nerves or excitement. I remember my first red carpet, I was in the SUV and my dad was my date, and it was so cute. I was so glad it was him, because I burst out into tears right when we were pulling up, I was so scared. I [thought] the press was going to hate me. The driver had to do another lap, and my dad just prayed. He grabbed my hands, we prayed, and then I got out of the car and I had fun. I don't get those kinds of nerves anymore, but there are still things percolating."
Why everyone should go and see
If Beale Street Could Talk
:
"It's a beautiful story told by an amazing storyteller, Barry Jenkins, but the words [are] from a phenomenal, brilliant man named James Baldwin. It's a story that, yes, takes place in the 1970s, but it's still so relevant today. Unfortunately. At the heart of it, it's a love story and about a family fighting for what they believe is right. What they know to be true and right and just. For all those reasons, you should go see
If Beale Street Could Talk
."
Shot on location at Leña. Parris is wearing a Kenzo dress. Want more stories like this?
Elizabeth Olsen on Exploring Grief in Sorry For Your Loss
The Deuce's Jamie Neumann Talks Playing a '70's-Era Sex Worker
Troye Sivan Had a Very Different Coming-Out Story Than His Character in Boy Erased