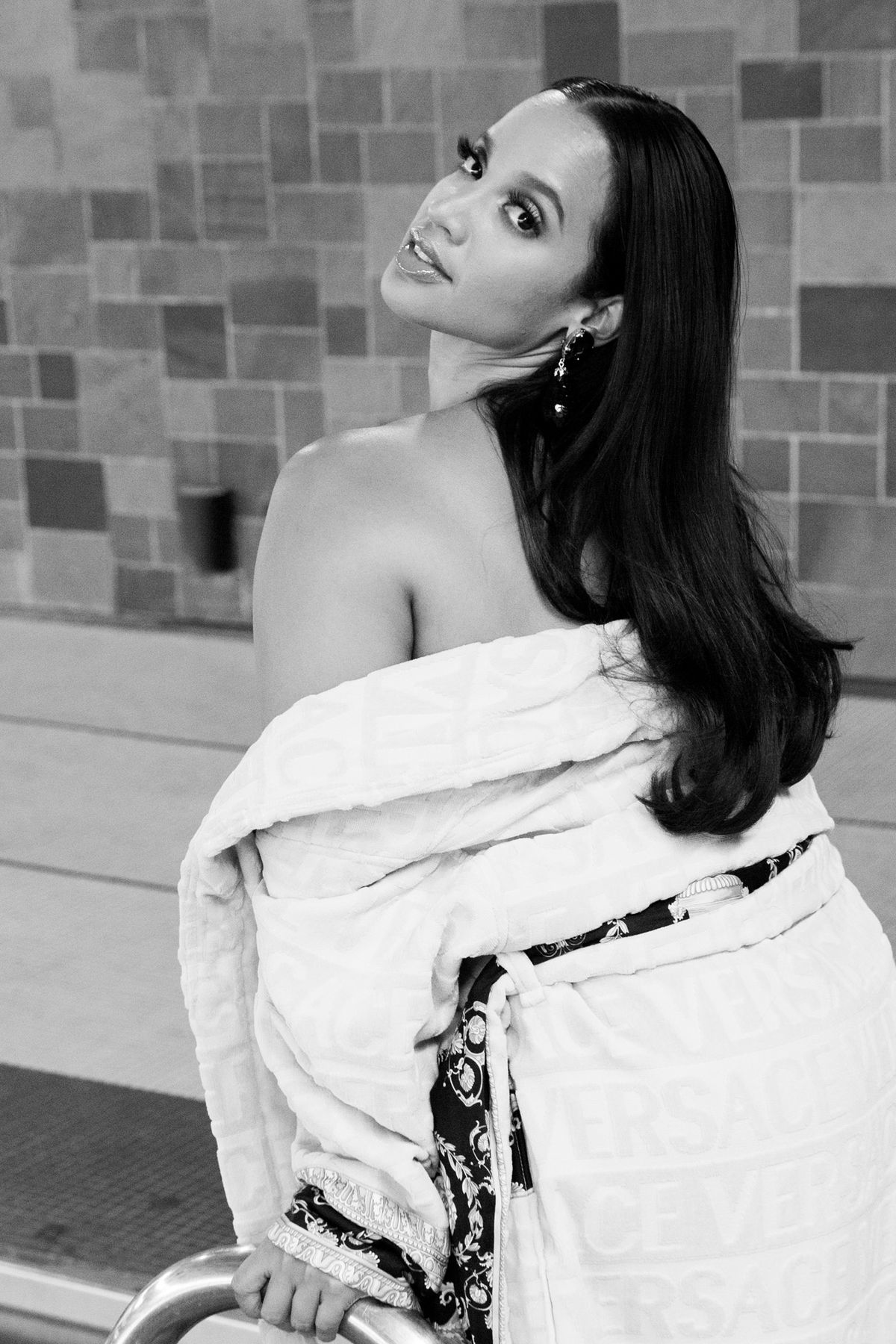 Closet
If orange is the new black, Dascha is the new cool. New York.
Alec Kugler
Monique Kamargo
There is a big difference between a house and a home, and after spending an afternoon in Dascha Polanco's sun-drenched uptown NYC apartment, we can confirm she resides in the latter. We could rattle off a million things that made for a warm, welcoming environment as we pored over the actress's wardrobe—the nostalgic sight of Cocoa Puffs on top of the fridge, Polanco's nine-year-old son, Aryam, teaching us how to play a video game, the family photos at Disney World—but it was Polanco herself who set the hospitable tone, opening the door and saying, "What do you guys want to drink? I got vodka, I got tequila, I got everything! Let me make you some drinks." With Polanco's tequila-cranberry cocktails in hand, we rifled through her closet, taking note of the
Orange Is the New Black
star's varied taste: a CHANEL bag here, a Fashion Nova dress there, and pairs of Jordans there, there, and there. Regardless of price tag or label, she has a way of making anything work. It's impressive but not surprising—this is, after all, a woman who earned two college degrees as a single mother, then pursued acting while working full-time in health administration. An interest in fashion, she tells us, runs in the family. "My dad and his family owned clothing stores that carried European designers—Versace, Yves Saint Laurent—all these brands that they'd bring to the D.R. and New York," says Polanco, who was born in the Dominican Republic and later raised in Brooklyn. Her mother and aunts were another influence. "They were into big hair and leather and florals—everything that was in and trendy, they were all about it." As for what Polanco is currently all about, she says, "I'm dressing simple and chic, but I'm also a risk taker, especially on the red carpet. I don't want to wear the same shape or cut all the time, and I always want to wear what I feel like wearing for my mood, as opposed to what's considered right or wrong." Lucky for us, she was in the mood for a Versace poolside moment, denim on denim, and furry slides when we showed up.
Click through for a look at Polanco's standout wardrobe pieces, her approach to shopping, and how she balances a busy acting career with raising two kids. Plus, shop her closet here.