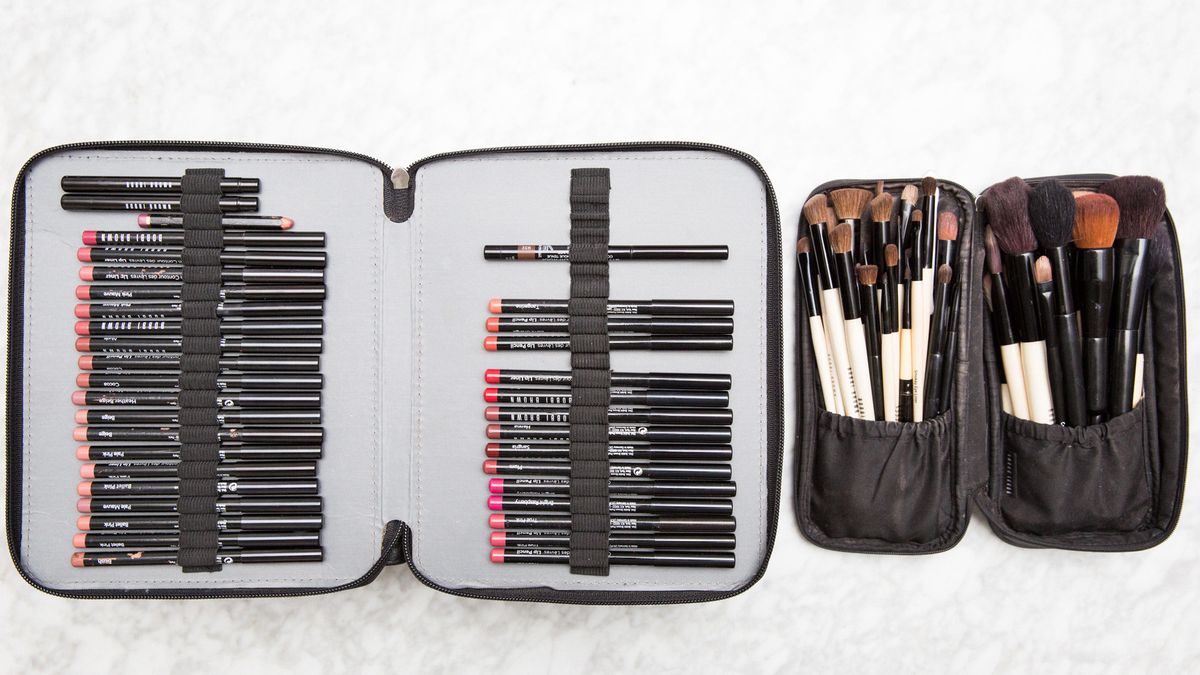 Makeup
Are seaweed brows good or bad?
For a beauty lover like myself, visiting Korea is like taking a trip to Shangri-La. If there ever was a product paradise, this would 100 percent be it.
Seoul
in particular is where makeup and
skin-care innovations
first take root (the
12-step skin-care routine
and cushion compacts, to name a few), and the locals are more than happy to wear the most outrageous new trends. There's no lip stain too bright or exfoliator too extreme, as long as it makes you look young, dewy, and more often than not, like a world-famous K-pop star.
I was lucky enough to travel halfway around the globe with pioneering beauty brand
AmorePacific
just last week, and it's safe to say that I've never met so many people as equally obsessed with makeup and skin care as I am. Just walking down the street on a Tuesday morning meant I saw no less than a dozen women sporting a juicy, blurred lip (or, as I learned, what they call a
gradation
lip) and pink-y coral blush. They all looked like they had just gone for a mile-long run before breakfast—flushed, glowy, but without all the sweat, aka my ideal face of makeup. By the time we got to the equivalent of Times Square for Korean beauty,
Myeongdong Street
, I was slack-jawed at everyone's beauty prowess.
Happily, instead of attempting to decipher the techniques for myself, we met with soon-to-be legendary makeup artist
Cat Koh
. After basking in her bubbly energy, every beauty editor in the room furiously took notes while she applied her model's makeup in the latest Korean styles. From "puppy eyes" to "autumn lips," these are the seven Korean makeup trends that are about to cross the pond.
---
I am a huge proponent of the red eyeshadow look, so I was pleased to find that Korean woman feel the same. They tend to use a brighter, more matte shade, because it mimics the look of having cried, and they believe that makes them more attractive to men—seriously! If a woman is upset, a man will want to protect them, which is why K-pop stars love a red eye look. Whether or not you agree, you can't deny that this shadow looks fabulous on just about everyone.


Koh told us that most Korean women enjoy a subtle splash of glitter, almost like a teardrop level of shine, again, as if you had been crying. Is she wearing glitter, or is she not? You'd have to get close to her to tell. She prefers a fine line of sparkle under the eyes, or in the corner to catch the light, making it super wearable, even for daytime.


I've never had a makeup artist reference a cartoon before for a beauty look, but that's exactly what Koh did when she described the hot new eyeliner trend. Instead of flicking the tail of your liner up in the usual cat-eye style, Korean women are following the natural downward slant of the eye to achieve "puppy eyes." Or, if you've seen the movie Puss in Boots, think of the scene when his eyes grow big and sorrowful—that's the look you're going for here.


Everywhere I looked in Seoul, women were sporting medium-thick brows, but instead of the clearly defined arch and overdrawn style made popular by the Kardashians, the Korean brow is as straight as possible. Koh told us that it makes you look younger, since babies don't have any sort of arch to their brows. Cushion compacts for brows are popular, as well as liquid formulas, because Korean women want to mimic the look of real hair and avoid making them appear too thick or fake. They even have a term for the Instagram brow trend—seaweed brows!


This style of makeup is especially popular for K-pop artists or anyone wanting to look like their music idols. Koh explained that to achieve fruit juice makeup, you should use a lot of color on the cheeks so that they appear like ripe fruit ready to burst. And instead of applying in the popular "C" shape—meaning from the apples up towards the temples—blush is swept over the top of the cheekbone to the ends of the brows, no further. This shape is thought to be more youthful, like a flush you'd get if you had just finished singing for an hour onstage. My favorite part of this trend is that many Korean women apply blush to the top of their ears—again, to appear flushed and youthful.


Every beauty editor I traveled with wanted to know how to achieve the infamous Korean blurred lip, where the center of the lips is more pigmented, with the color softly fading towards the edges. Koh corrected us, explaining that Korean women actually call this a gradation lip, and again, it's inspired by babies—they have darker colors in the center of their mouths, and as Asian women age, the outside of their lips get darker. That's why they prefer to concentrate the color in the center of the mouth, for a youthful, juicy finish. Koh applied roughly three coats of color to the inner part of her top and bottom lips, smacked them together, and miraculously, it looked perfect right away. I think it takes a bit of practice, but believe me, I am putting in the hours to make mine just like hers.