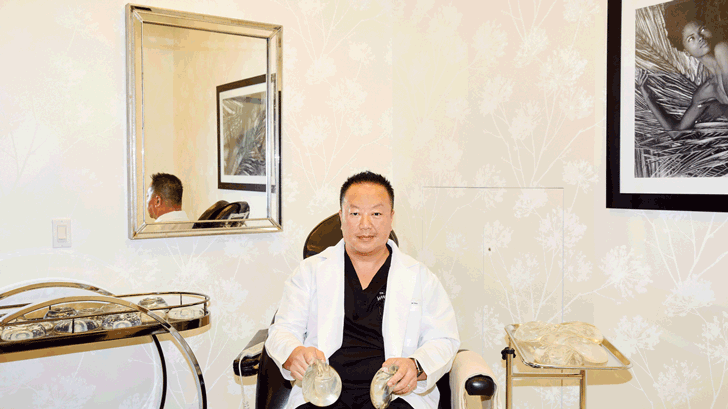 Skin
We visited a top Beverly Hills plastic surgeon for some real talk.
Tristan Kallas
Even if it seems like half the girls you went to high school with got nose jobs, there can be a bit of mystery about what exactly happens in a plastic surgery office. One thing we
do
know: Cosmetic surgery can have life-changing consequences for the good or not so good, depending on the doctor you choose and the knowledge you go in with. To get a better look behind the curtain, we flew out to L.A. to visit Beverly Hills plastic surgeon
Gabriel Chiu
. Chiu not only has a stellar reputation, but we also love that he can speak to how fashion influences his practice (just ask him how he got his Louis Vuitton x Supreme wallet). In fact, his wife and business partner, 
Christine Chiu
, who was on
Real Housewives of Beverly Hills
, is a regular at couture.
One of the most surprising things we learned from Dr. Chiu was about what to avoid. "A red flag would be [a surgeon] having an operating room in the back of their office," says Chiu. "It's usually not to the same calibre as a standard operating room. [Offices that have an operating room in back] will also use that room for Botox and lasers, but the problem is every time you do that, you've broken the sterility. It's not best practice." And that's just tip of the iceberg when it comes to what you need to know.
One of the most
important
things Chiu talked to us about was about the current state of getting work done. "Whether it is for body or mind self-improvement, support and acceptance seem to have replaced stigma," he says. "Personal or business, restorative or transformative, we do not find that plastic surgery needs to be something whispered or verboten anymore. The art of improving looks and self-esteem, or even more specifically, correcting and revising deficits, deformities, or discrepancies, creates incredible changes not just physically, but emotionally and mentally [improves] one's quality of life. To me that is not something to look down upon—it should be celebrated." In other words: women doing whatever the eff they want in 2017.
Here
'
s exactly what goes down in a plastic surgeon's office, from a first appointment all the way through recovery, plus everything a patient can do to make sure they end up with a look that feels right.
---
1 / 13
"Find somebody who doesn't just say, 'Yes, let's do it.' A good surgeon should explain to you the pros and cons. Say someone comes in with a bump on their nose; I have to teach them that you have to look at the rest of the face. If you get rid of the bump, you might have to do corrections elsewhere for balance, to get the most natural look to fit your face."
In Dr. Chiu's office.