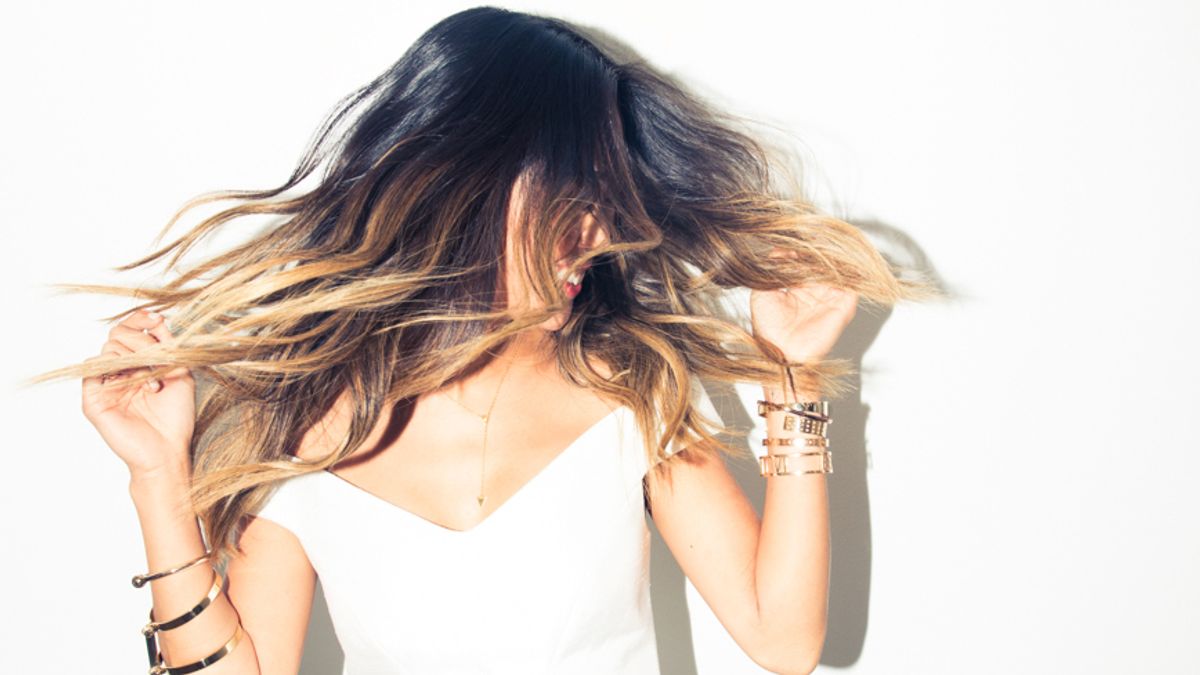 Hair
The Top Trending Hair Colors for Fall
Will everyone be rocking a "nude" blonde this season?
A change in seasons makes me want to metamorphose into the
newest, shiniest
version of myself. Typically that starts with updating my hair. My bleach-blonde color, in particular, takes a beating during the frequent beach outings and general disregard in the summer, which is why last week I walked my brassy mane into
Spoke and Weal
's SoHo salon for a dye job from master colorist
Colleen Flaherty
. I requested a full head of
champagne-colored highlights
, citing my typical desire to resemble the most expensive camel cashmere coat. Camel cashmere blonde has a real ring to it, doesn't it? Luckily, she's learned to decipher my atypical references and deliver my ideal blonde appointment after appointment.
As per usual, several other women sat around with foils in their hair during my three hours at the salon, which is why I decided to garner Flaherty's expertise on the hottest
hair color trends
this season. Check out what shades she's seeing the most of this fall, plus what she predicts will be the most popular colors for 2019. 
---
What colors are clients requesting now that it's fall?
"My blonde clients are either requesting to stay light or move more into a root shadow, where their natural color is brought in but their ends are staying light, giving the hair more contrast in shade. Or they want to tone down the shade of their blonde, giving it more of a natural look and not be so bright blonde. This is less maintenance for them, and they don't have to come in as often. My brunette clients are either asking to go darker, or wanting to go a little bit lighter with some more dimension [with] highlights and/or balayage."
How does that compare to what people wanted during the summer?
"For the most part, I feel like everyone always wants to go lighter, but I'll have a few clients that actually want go darker in the summer. Honestly, I feel like whatever hair color that's going to make them look most tan is the color they want. You can do that with changing their color to complement their skin tone—either a tonal contrast or a shade contrast."
If there's a certain shade that is popular, what is the tone?
"I think people aren't so caught up on shade or tone like they used to be. Everyone used to want ashy hair (no brass), but ashy doesn't look good with everyone's skin tone or eye color. Most people come in and want my advice on what would look good with their skin tone and what will complement them the most."
Do you think the old adage of going darker for winter is still relevant?
"Yes and no. I don't think it's as common for blondes to go brunette in the winter. I think when winter comes around, people want a change, or think they should change their hair color. I'll have blondes that want to go darker or to a more natural-looking blonde, and I'll have brunette clients that want to go lighter with their color, or go darker. Red-hair clients usually want to change the tone of their red or play more off the tone they currently have."
What colors do you predict will be big in 2019?
"For 2019, I feel people will be more adventurous. If they have been playing with fashion colors, such as pastel pink or lavender, I think they will move into more vibrant color/neon colors, like hot pink, orange, blue, neon green, or neon yellow. People love making statements with their hair color. [For] blondes, more of a 'nude' blonde, where it's more neutral tones, or moving away from ashy blonde and playing with honey and golden tones. Red and copper hair color will be big as well."
Want more stories like this?
The Zero Effort Trick for Perfect Waves Out of the Shower
Exactly What to Tell Your Stylist to Get the Perfect Hair Color
In Search of Products to Make Me Better, Brighter, Faster, Blonder