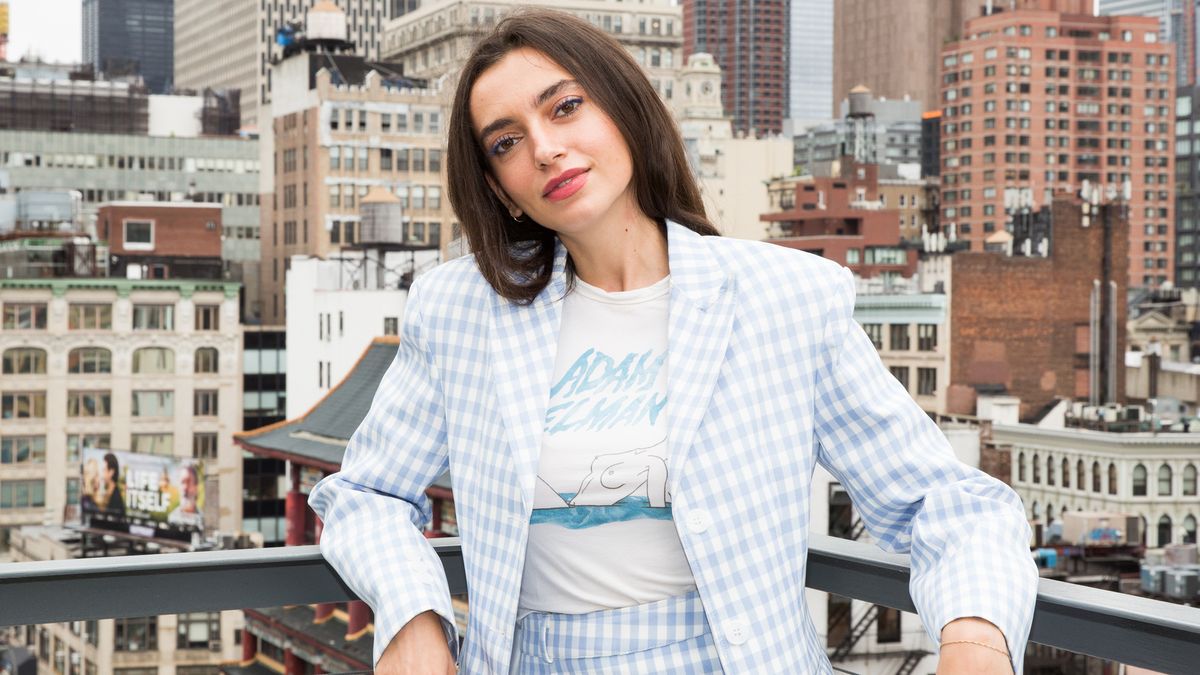 Career
Michelle Salem shares how she snagged her role at the fashion powerhouse.
Alec Kugler
As much as we hate to admit it, the fashion industry is notoriously difficult to break into. Whether you want to work in marketing, e-commerce, PR, editorial, design, etc., it all requires a specific combination of luck, timing, and tenacity, and once you've gotten through the door, you must scale the mountain that is your own
personal brand
to find success. Whenever we discover someone who has managed all of this while remaining a genuine delight to be around, we clearly have to learn how they did it. In this case, that person is
Michelle Salem
, the brand manager for 
Opening Ceremony
in New York.
"I remember flipping through my mom's
Vogue
magazines when I was 11," she explains when we stop by the OC SoHo headquarters. "She would always take me thrifting, which I really loved. That's how I started to love clothes." At our request, Salem brought a small sampling of her closet, including some epic Adam Selman pieces, bejeweled heels, and a pair of skirt
suits
. "I like to think of it as a corporate Barbie vibe," she laughs as we take mental notes for our autumn shopping list. Check out what the street style star keeps at her desk for a workday beauty break, how she carved out a role for herself at Opening Ceremony, and why Instagram really might be the key to your next big job.
---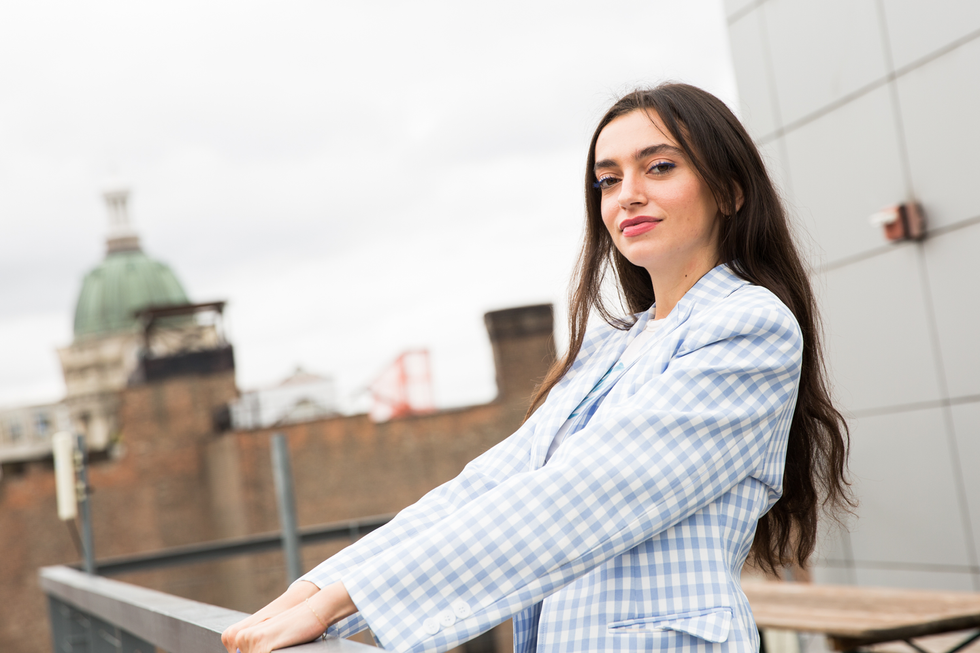 How did you find your way to your current role?

"I went to Pace. I wanted to go to business school—I didn't even think about fashion school. I ended up landing an internship at People's Revolution, and around that same time I was doing the door for parties at Bedlam. I was meeting so many people, and two of my friends referred me to who was then to be the VP of branding. We don't have that role anymore, but he really took me under his wing and taught me a lot. He didn't have an assistant at the time, and when I approached him, I kind of created a role. I was like, 'I just graduated, I really want to work in marketing, I still want to work for Opening Ceremony, but I hate retail.' He took a big risk with me and said, 'OK, we'll start you off as my assistant and see where this goes.' That quickly turned into marketing coordinator. Now I'm the brand manager."

What does your day-to-day look like?

"I think of my role as three-pronged because it is such a broad title. First and foremost, I manage all of our events. That includes producing our fashion shows twice a year. We do a lot of in-store events because we have so many collaborations. I'm always working with third-party brands to make their vision come to life. Second, I work a lot with our PR team, Black Frame, and then I work a lot with our VIP's and influencers, so any kind of stylist pulls, gifting, anything that falls under the umbrella of maintaining our VIP relationships, I manage as well. And then there's a special projects element, which is the third, broader bucket. If I have an editorial concept and I've met someone that we really want to shoot, I'll bring that to life. I'm lucky because it's a special role and I can really get creative with it."


How have you seen the industry change over the past few years?

"The thing that has changed the most is that there is so much more of an emphasis on digital. When I started out, a lot of the brands' focus was still very much print-based, and now with Instagram, everything has completely changed. When I started, a social media manager wasn't even a true role, whereas now it's a must within every company."

Why do you think it's important to develop your personal brand?

"I think it's super important so that you can move on to the next phase when you're ready. It's important to have a self-identity and to know what your personal brand is so that when you move on to your next job, you can sell that, too. It's such a competitive industry, and there are so many people fighting for one job, so anything that can make you stand out—even the way you're marketing yourself is, in a way, a skill. If you can show that you can do that, all the more power to you."

How would you advise people that want to work in fashion, and don't necessarily want to be a designer, but want to do something creative?

"I took a big leap when it came to approaching our VP of brand and sales and saying, 'Hey, I know this role doesn't exist, but I really want to shadow you.' It paid off big-time for me. That's not a possibility within every company, [but] I would see if there's an opportunity to shadow someone that's doing what you want. I think that's the best way to learn. Just picking up on little things, from the way certain emails are written to knowing what the brand vision is—things that are very specific. I think any advice from someone that's older than you really helps."


Has your personal style evolved the longer you've been here?
"I've been here for quite some time now, and it has really made me pick up what I like to think of as a corporate Barbie vibe. I love skirt suits, and I like to play on the fact that, yes, I do have to dress very office-appropriate at times. They say dress for the job you want, and I am so lucky that we're very casual, but I've realized that if I'm walking into a meeting with a huge corporation and I want to feel a little bit more of a boss-woman, I'll put on a skirt suit. It empowers you in a way. Just being surrounded by amazing, beautiful designer clothes all day doesn't hurt, and I've definitely discovered new brands that I love through OC, like
Area
and
Priscavera
."
What do you always have with you at your desk?
"I like to keep [my desk] pretty organized and professional-feeling, but I do feel like it has some Michelle touches. I love the
Caudalie Beauty Elixir
—I use it like, four times a day. Our men's buyer actually said something about it the other day. He's like, 'Oh, Michelle's always spraying her face.' I love it. I also keep a hand cream that I got at the Korean pop-up store that I love because my hands get pretty dry throughout the day. I keep lots of snacks at my desk, too—some protein bars and mini Oreos. If anyone gives me a card that is personalized with a really sweet note, I always keep those, too."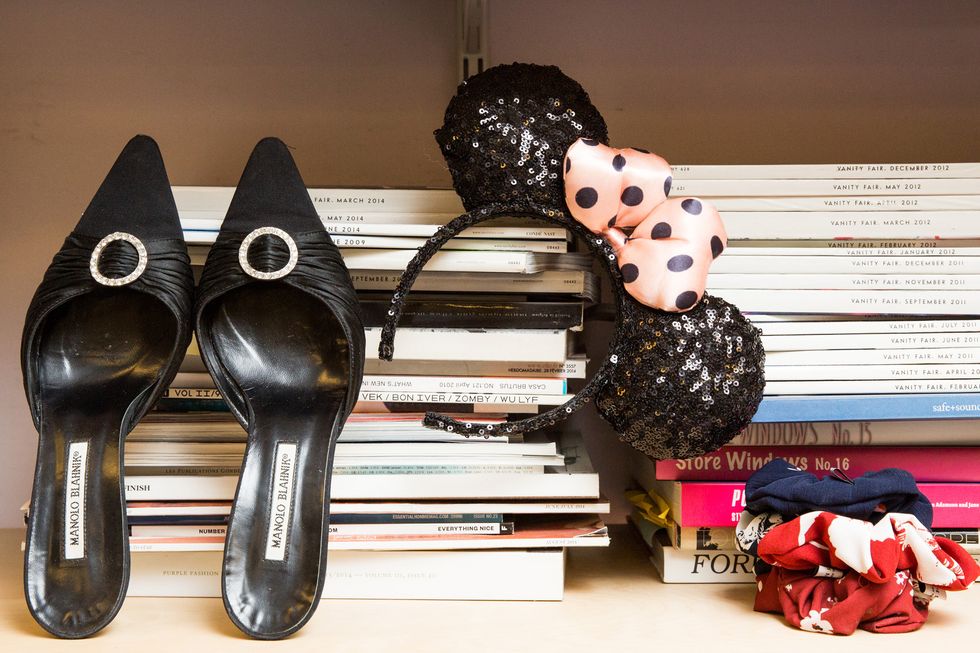 What about the Minnie Mouse ears?
"I picked that up doing our Disney show! I remember tearing up a little bit when Minnie and Mickey finally came out, because we'd been planning for so many months, so to see them finally come out was amazing. Then I have a little Hello Kitty toy at my desk. There're little random things where I'm like, 'You can tell this is a 26-year-old's desk,' [
laughs
]."
What is your favorite part about your job?
"It's so diverse when it comes to what role I'm playing. I can come in one day where I'm on set working on an editorial and directing what the concept should be, and then the next day I come in, we're like, 'OK, we're going to plan an event with Adam Selman.' Sometimes we'll do back-to-back events, and I'm like, 'Oh my gosh, this is going to be crazy,' but the payoff is always so amazing. I feel like we have so many projects happening, and they're all so different that it's always really rewarding to see those things come to life. It's such a small team—I work on a team of two—so I'm really there every step of the way. I'm constantly feeling like, 'This is finally coming into fruition and I can be proud of a lot.'"
Want more stories like this?
Remember That Amazing NYC Party You Went To? Matte Projects Probably Threw It
Everything You Need to Do to Build Your Personal Brand
The 5 Outfits Our Editors Are Wearing For Fall