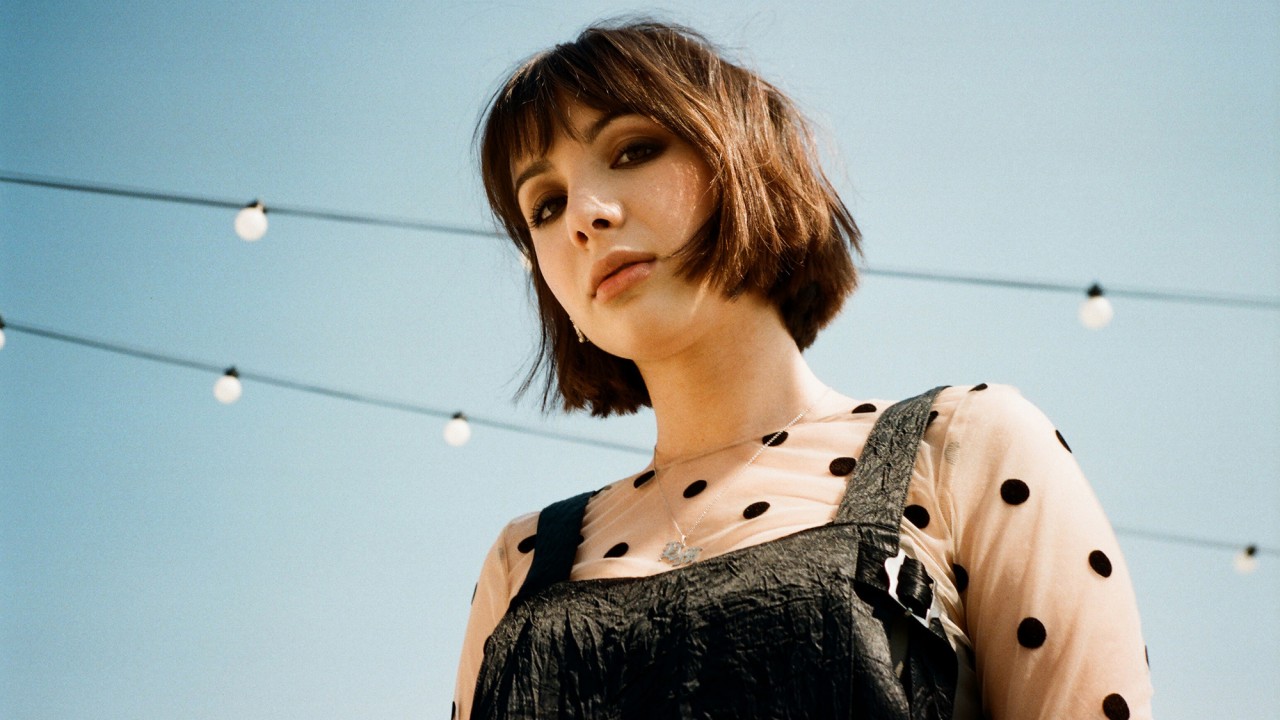 Hannah Marks Is Bringing Back the Rom-Com, This Time for Gen-Z
You're about to get really familiar with the actor, screenwriter, director and producer.
We see our fair share of heavy-hitting pros that make juggling multiple job titles look like a breeze. Take Hannah Marks: At 25, she's racked up screenwriter, director, producer, and actor monikers to make up her multi-hyphenate. Marks wrote her first screenplay, Banana Split, when she was still in high school—a sweet, romantic comedy about a breakup between April (Marks) and Nick (Dylan Sprouse) that leads to an intense and ephemeral friendship between April and Nick's current girlfriend, Clara (Liana Liberato). On the heels of its premiere this past September, Marks made her directorial debut with After Everything, starring Jeremy Allen White and Maika Monroe, which premiered in March at SXSW to rave reviews and was released in theatres this past weekend. Marks has real tact for capturing the nuances of relationships—from long-lasting friends to fleeting relationships. We sat down to chat about all her recent projects, how she finds time to do it all, and what's next in her rising career.
You've grown up in the film/television industry. Do you remember the moment you decided you wanted to start acting?
"I think I was about five years old when I saw a reel of my mom's acting work. She had done a ton of commercials and guest stars on TV shows throughout the '80s and I thought it was so cool. To this day, she is my inspiration."
When did you first realize that you wanted to screenwrite and direct?
"I first started to think about it as a real profession in my mid-teens, but it's something that has always been inside me. Since I was old enough to watch a movie, movies have been my passion. I'm lucky that other actresses have had success and paved the way."
What sort of challenges did you have to overcome in the process?
"Oh, man. Where to start. Well, the first major hurdle was just getting someone, anyone, to read what I had written. People don't have time to read scripts that are being made, much less the ones that aren't being made. It's vulnerable to ask anyone to read something you wrote, much less something that is a 100-page commitment of time too.
"As far as directing, you just have to go out there and do it. Finding the motivation is hard when you're not sure you know what you're doing yet. But it's so cool to live in a time where you can use your phone and make a short film with your friends over the weekend."
You wrote and acted in Banana Split. Did you find any challenges in oscillating between both roles?
"It was not as challenging as I thought, in terms of finding the character, because I am playing an exaggerated version of myself. So that part of it was really fun. But everything else, the lack of sleep, the crazy hours, the self-doubt that naturally seeps in when you act or write anything, was all a challenge."
What was the process of writing Banana Split like?
"I wrote Banana Split with my partner on After Everything, a fantastic screenwriter, Joey Power. Our collaboration was so important. He was instrumental in helping me see the story from an outside perspective, considering I was so emotionally close to the first draft. I was a teenager when we wrote it and I had a lot to learn about structure and discipline. Over the course of a few years, we shaped it many times and it kept evolving into something new and exciting, yet fictional. It always had the same girl-power spirit."
When did you know it was perfect?
"A movie is never perfect! Nothing is ever perfect! But having flaws is beautiful."
What was it like flexing that directorial muscle for After Everything?
"I've always been passionate about telling love stories in a different way. With Banana Split, the love story was platonic and between two girls. With After Everything, the love story happens when a couple is thrown into a life or death situation—yet doesn't actually know each other that well. I hope the movie shows that the little details in our lives are the fabric of who we are."
What were some takeaways from your directorial debut?
"I learned to be more patient and kind. The stakes were so high on the first film, because it's the first. So it's easy to slip into an intense stress mode. But it doesn't set a good tone for the people working so hard to help you achieve your dream. I know on all my future projects I will remember this, and hopefully stay as present as possible."
Did you ever consider playing the lead?
"Not in any real way, no. I knew I was going to act in Banana Split one day, and that was exciting to me. There's a ton of my personality in both Elliot and Mia in After Everything, but that's with anything you write if you're being honest. It was incredibly fulfilling to focus on the writing, directing, and producing and get to watch wonderful actors like Jeremy Allen White and Maika Monroe tackle the roles."
There's a common thread between Banana Split and After Everything, which is relationships. What draws you into that type of storytelling?
"I've always loved rom-coms and they need to have a major comeback! And I firmly believe all good movies are good because you believe the relationship at the center of them."
What does a typical day look like for you?
"I used to be a night owl. I sound like an old lady, but now I like to go to bed really early and wake up really early. I have my coffee and go on my laptop to do some reading and writing each morning. If I'm not acting in something, then I commit myself to writing a scene a day. Even if the scene is one sentence, it keeps me in a healthy routine.
"Then I like to hang out with my family, boyfriend, and dogs. Try new restaurants. Plan trips that will continuously get postponed because this business has a way of keeping you sucked in! And I pretty much always end my day by watching The Office or Friends on Netflix. For the soul!"