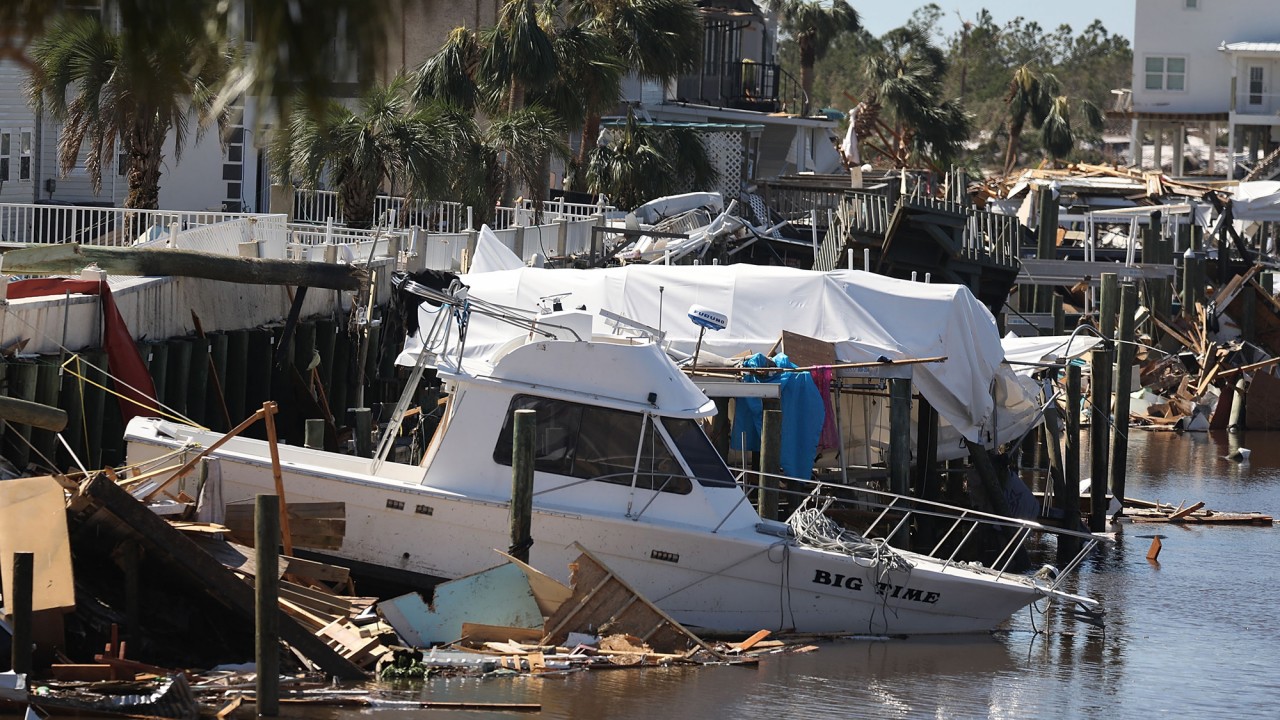 How to Help Those Impacted by Hurricane Michael
The Category 4 storm was unprecedented.
The scenes in parts of the Florida Panhandle today look as though they were lifted straight from an end-of-days movie. In Panama City, Mexico Beach, and other parts of the Panhandle coastline, entire areas were leveled by Hurricane Michael. One particularly shocking video showed a school gym in Panama City with a roof totally peeled back to reveal a gleaming maple floor, complete with a basketball decal still shining hopefully from its center.
With wind speeds of 155 mph, the Category 4 storm slammed into Florida yesterday with a force unprecedented in the Panhandle. It's the first storm of its kind to hit that area, and the third strongest storm ever to make landfall in the continental U.S. According to meteorologist Philip Klotzbach, a storm ominously known as the Labor Day hurricane in 1935 and Hurricane Camille in 1969 were the only storms with lower barometric pressure to hit in the past.
Which brings us to the question: Why did we only hear much about this storm the day before it hit? As it turns out, that's due to the fact that it started out as a tropical storm on Sunday, and only morphed into a hurricane on Tuesday. Though Michael hit wind shear, or changes in speed or direction of wind at various levels in the atmosphere, en route to landfall, the hurricane only gained force as it came toward Florida. "Michael's steady intensification over the past 48 hours in the face of 20-knot [23 mph] westerly shear defies traditional logic," hurricane specialist Stacy Stewart wrote before landfall.
The worst of Michael has passed, leaving at least six dead, including an 11-year-old girl, and untold millions in damage. Though it downgraded back to a tropical storm last night and is expected to traverse the Carolinas and head back out to sea by tomorrow, now is the time to spring into action if you want to help Michael's victims.
The American Red Cross, Heart to Heart International, and Global Giving are all solid choices if you'd like to donate money for various causes. The American Kidney Fund provides patients with renal failure with access to dialysis, lost medications, and housing if needed. Save the Children provides essential supplies for kids affected by the storm, including cribs, baby wipes, and toys, and sets up child-friendly spots in emergency shelters to bring a bit of cheer in otherwise abysmal conditions.
Or, if you're feeling really inspired, perhaps consider heading down to Florida to help in the disaster relief effort. Airbnb is pairing aid workers with hosts who are opening their homes free of charge, connecting people who still have homes to offer with those who want to help everyone who have lost their homes—a small but very bright ray of sunlight through the storm.
Photo: Getty
Want more stories like this?
Everything We Know About Hurricane Florence So Far
New Climate Report Predicts High Risk of Crisis by 2040
Everything We Know About Trump's Paris Climate Accord Decision