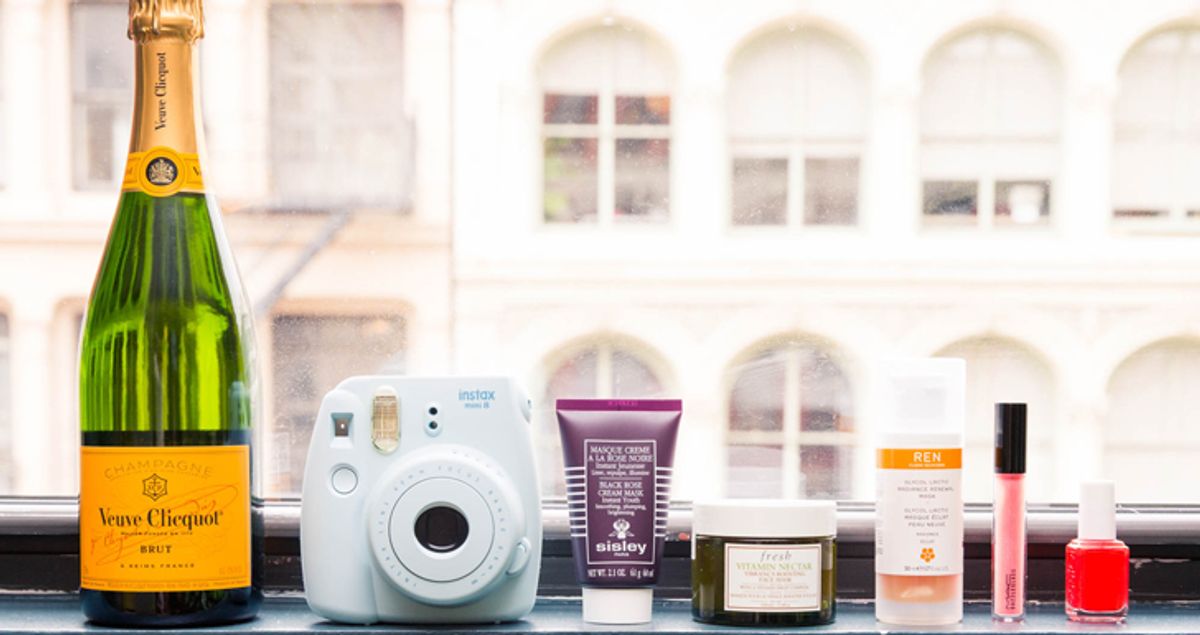 Skin
5 Face Masks to Try Before You Go Out Tonight
Add this one step to your pre-game ritual for glowing skin.
Alec Kugler
I don't know about you, but my pre-getting-ready-to-go-out process swings wildly between two extremes: manically dashing around my apartment and being forced to do my makeup
in the backseat of an Uber
, or an almost anxiety-provoking wealth of time to disco nap, drink wine by myself, and spend three times as long as I really need doing my makeup.
With this, I've come to realize there's a very specific gap in the market when it comes to one thing: face masks that are perfect to do while
you're getting ready to go out
. Now, hear me out: I love me a
clay mask
, and I love me a
sheet mask
. But to be frank, neither is appropriate for this occasion. Clay masks (while great for spot-treating—
may we suggest multi-masking
) sap your skin of moisture and vibrance. Sheet masks take forever to sink in, and can feel tedious, and are, well...goopy.
Instead, the ideal pre-game to the pre-game face mask has a few key requirements. First and foremost, its results should be instant. As in, the maximum time you should have to leave it on should be 10 minutes, and afterwards, you should be rewarded with firm, plump, glow-y (duh) skin. Second—downtime. There should be none. This is a case where your skin looks better afterwards, not worse. There is a time and place for cathartic facials where your skin freaks out for a few days before
looking like a newborn's bottom
, and it ain't here. And finally? It's all about presentation. You should feel like you're treating yourself (and your face) to
something nice
. After much rigorous, exacting testing, here are a few of my favorites. 
---
Fresh's latest release double-dips in the exfoliation department, with a one-two combo of fruit acids and physical exfoliation courtesy of citrus fruits. Meanwhile, it's still gentle enough to follow up with makeup and not feel like you're working overtime to cover up extra redness. Don't let the scrub effect scare you—in fact, it most closely resembles marmalade and is not at all grainy.
This guy is the queen bee of very pricey, very hydrating (and thus, worth it) face masks. First of all, it's French. Jaime King and January Jones are fans. It promises "Instant Youth," and that's more or less what it delivers: bright, plumped-up, insanely soft skin that's almost too pretty to cover up with makeup, so skip it if you can. If your skin is feeling dehydrated, go straight for this stuff—or pair it with one of the more exfoliating masks if you have time.
Pineapples! Gemstones! Need we say more? All
'
gram-friendly ingredients aside, this stuff smells incredible and gently resurfaces skin with pineapple enzymes and rice powder for light exfoliation (and prettier skin). It tingles a tiny bit, but won't leave you red or irritated—just wash it off before 10 minutes.
You know those days where your skin just looks…meh? This is the solution. The turmeric gently brings life to tired, sad complexions, and the ground cranberry seeds gently exfoliate without feeling scratchy or harsh. Promise. I'm terrified of physical exfoliators and get instant flashbacks to the too-harsh apricot scrub days just thinking about them. You won't feel a damn thing.
Consider this mask from Ren the proverbial pre-game big guns. It tightens the appearance of pores and does some voodoo optical-illusion shit to any fine lines. Think of it as the ultimate quickie chemical peel—only one that won't leave you looking like Samantha in that one Sex and the City episode.